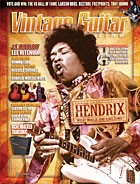 FEATURES
Into The New Rising Sun
Speculating on Jimi Hendrix's Later Career Moves
It has been 40 years since the passing of Jimi Hendrix. In his honor, this month we look at two unexplored aspects of his life and work, including the largely untapped oeuvre of Jimi's later studio work. By Pete Prown
Decades of Designs: The Story of
J.T. Riboloff
A guru is "somebody who has a reputation as an expert, leader, teacher, or practitioner in a particular field." J.T. Riboloff – part of the team that restored Gibson's reputation and market share, and now is now designing unique guitars for Samick – is a guitar-design guru. By Vaughn Skow
Reassessing Gibson Shipping Numbers Part 2: The Advanced L-5
Recent research on Gibson electric steel guitars has raised doubts about the accuracy of the company's oft-referenced shipping totals. In the second of three essays on the subject, we take a closer look at the pre-war Advanced L-5. By A.R. Duchossoir
The Gibson Super Jumbo 100
It has the undeserved status of being one of Gibson's more obscure models. But a closer look reveals that, in terms of aesthetics and performance, it should be ranked among Gibson's most noteworthy models. By George Gruhn and Walter Carter
The Harmony Cremona
Ever since the Spanish guitar took on its modern form, some would say its story has been about a march toward more volume. And not until the early '30s did archtops begin to replace banjos in big bands. One early mid-market contender was the Harmony Cremona. By Michael Wright
Robin's '80s Import Basses
VG readers are familiar with the Robin brand's reverse "imported then domestic" chronology. These basses are the first import models marketed by the company (and one of them is from the very first shipment). By Willie G. Moseley
The Rickenbacker Transonic
Having graced the U.S. tours of Led Zeppelin, the Jeff Beck Group, and Steppenwolf in the late '60s, then Cheap Trick after, the Rickenbacker Transonic series should have secured its shrine in the annals of geardom, yet it has all but vanished from memory. What went wrong? By Dave Hunter
DEPARTMENTS
The VG Hall of Fame Giveaway
Win a St. Blues 61 South!
Vintage Guitar Price Guide
Builder Profile
Ugly Amplifiers
Upcoming Events
Dealer Showcase
Vintage Guitar Classified Ads
Dealer Directory
Readers Gallery
FIRST FRET
Reader Mail
News and Notes
Seymour Duncan names CEO; New releases; Stolen Gear; more!
Ronnie Earl
Stratocaster Royalty
By Bob Dragich
Lee Ritenour's Six-String Theory
By Oscar Jordan
Rocky Mountain High
COC Guitar Festival and Workshop
By Debra Devi
Ask Zac
By Zac Childs
Josh Smith
From Blues to Pop, With Soul
By Oscar Jordan
VG on Facebook
George Cotsirilos
The Power of Three
By John Heidt
Charlie Musselwhite Plays the Blues… on Guitar
By Dan Forte
Graeme Taylor
Gryphon's Folk-Rock Wizard
By Pete Prown
Russell Dashiell
Satellite-Beep Secrets Revealed
By Willie G. Moseley
Bruce Forman
Swingin' Statesman of West Coast Jazz
By Pete Prown
COLUMNS
The (Way) Back Beat
Solid Eccentricity, 1963
Part 1: The Guild S-200 Thunderbird
By Peter S. Kohman
Q&A With George Gruhn
Acousticville
Acoustic Environments
By Steven Stone
Guitars With Guts
1882 Antonio de Torres
By R.E. Bruné
Fretprints
Tony Iommi
By Wolf Marshall
TECH
Shop of Hard Knocks
Bridge of Size
By Will Kelly
Dan's Guitar Rx
Pretty as a Picture, Full of Surprises
By Dan Erlewine
Talkin' Amps…
Pedalboards, Fact and Fiction, Part 2: Effects
By David Jung
REVIEWS
The VG Hit List
CD, DVD, and Book Reviews: Eric Clapton, Brian Setzer, Tom Petty, Derek Trucks Band, Roy Orbison, Walter Trout, Tony Jo White, Gretsch 6120: The History of a Legendary Guitar, more!
Check This Action
Close Enough For Jazz, II
By Dan Forte
Vintage Guitar Gear Reviews
Ibanez AF105, Epiphone Zenith, Nordstrand VP, Morley Minis, EWS pedals, E-H Deluxe Memory Boy, Xaviere guitars
Gearin' Up!
The latest cool new stuff!