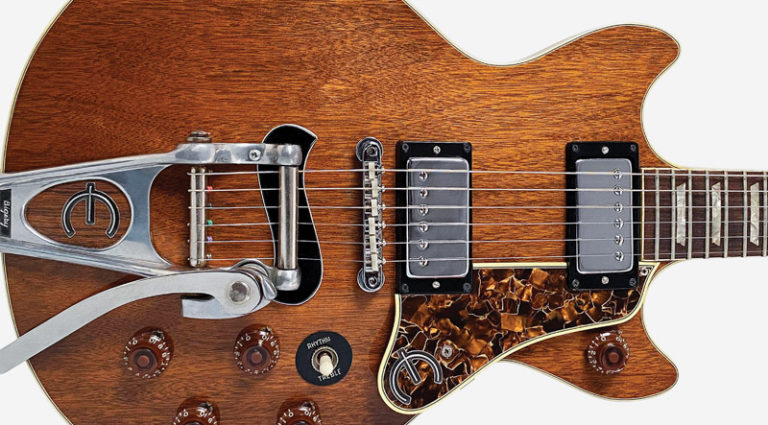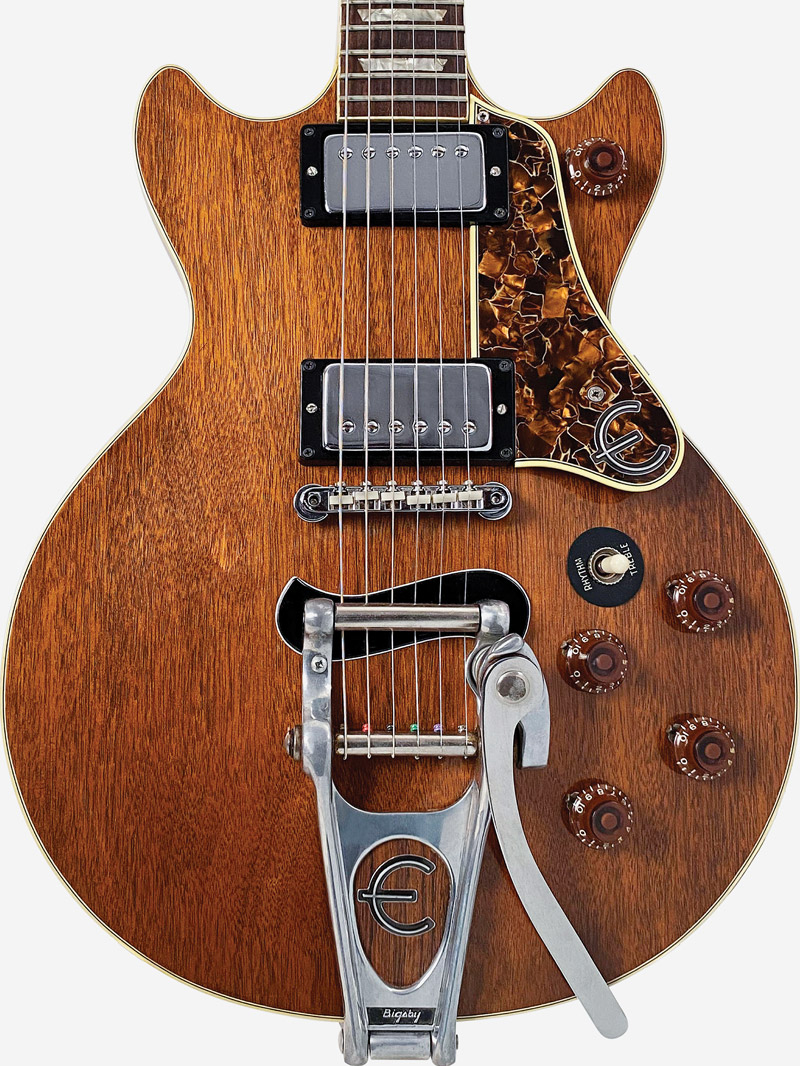 Ted McCarty's leadership at Gibson was highlighted by the introduction of top-shelf instruments created by knowledgable, intuitive designers and builders. Another brilliant move was his guiding the purchase of foundering Epiphone, which expanded Gibson's retail reach.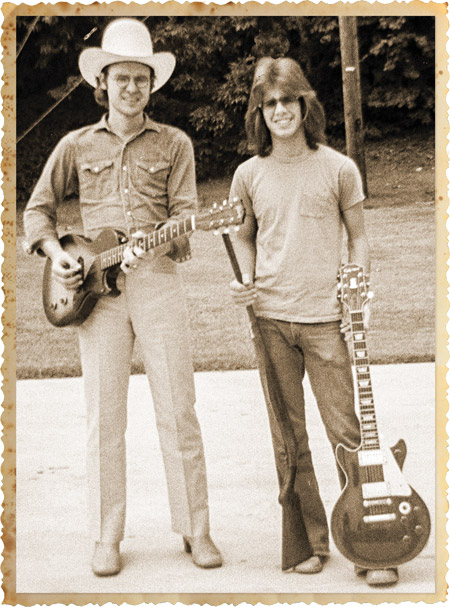 In 1969, Mike Ladd, who had just purchased a music store in Memphis, traveled to Kalamazoo for a tour of the Gibson factory. While there, he bought several instruments including this prototype Epiphone. Memphis native musician/collector Robert Johnson has owned the guitar since 1971, and recalled how it sat in the store for about a year before Ladd (1944-2021) gave it a complete re-work that included replacing its unique pickguard, black pickup surrounds, and black toggle-switch ring with common cream-colored pieces. He also replaced its Patent Number pickups with older PAFs and ditched its unhip Bigsby vibrato in favor of a hardtail setup. After putting wood filler in the Bigsby holes, he oversprayed the top in clear lacquer that Johnson says, "Did not look like Kalamazoo work." Fortunately, though, Ladd boxed up all of the original parts.
"He then put it up for sale in his store, Mike Ladd's Guitar & Drum City, for $599.99," Johnson said. "I'd wanted it since I first saw it in 1969; I was playing guitar for Isaac Hayes at the time, and the band would often hang out at Mike's."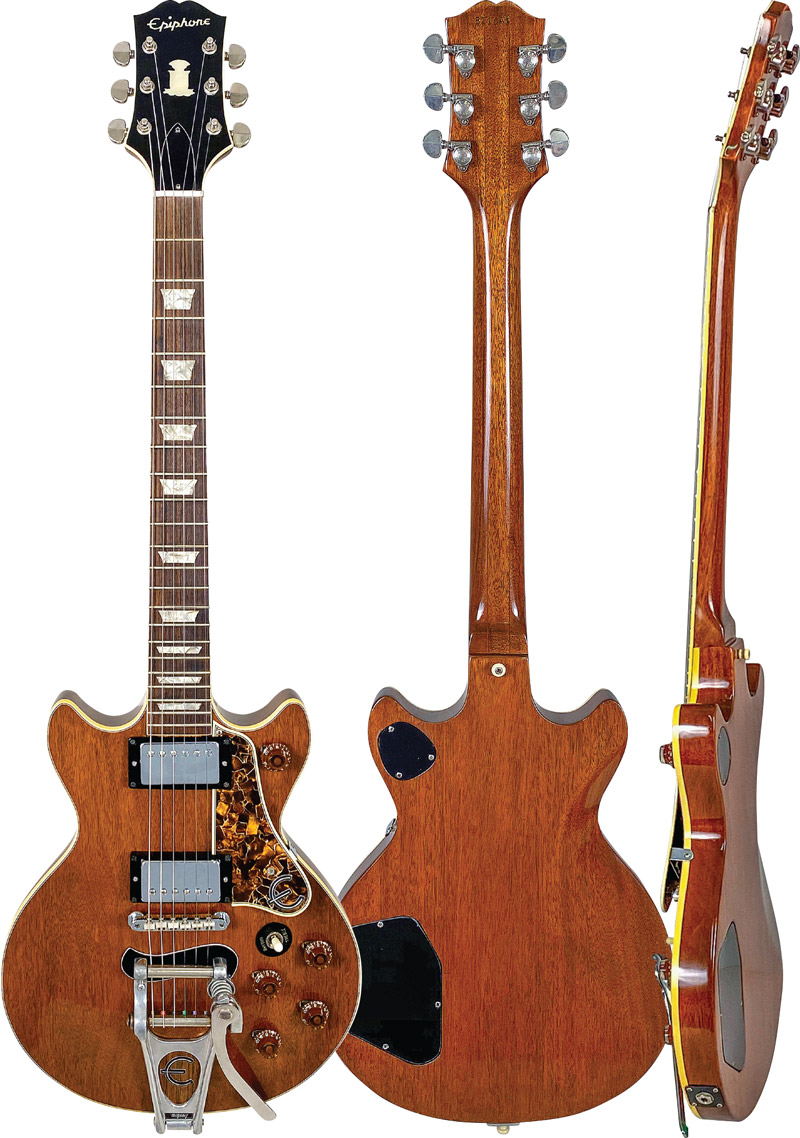 Years after it joined his collection, Johnson began periodic visits to Kalamazoo with the guitar. His research, which included perusing blueprints and talking to employees, revealed that an Epiphone Les Paul variant was first envisioned in 1966.
Completed in early '68, the body and three-piece neck of Johnson's guitar are mahogany, and the fretboard was originally ebony with oval inlays, though Ladd had Gibson replace it with a piece of rosewood with trapezoid inlays.
In addition to Gibson's standard two Volume/two Tone controls, there's a master Volume on the treble cutaway. The potentiometers date from the 26th week of 1966 except for the master Volume, which is from '62.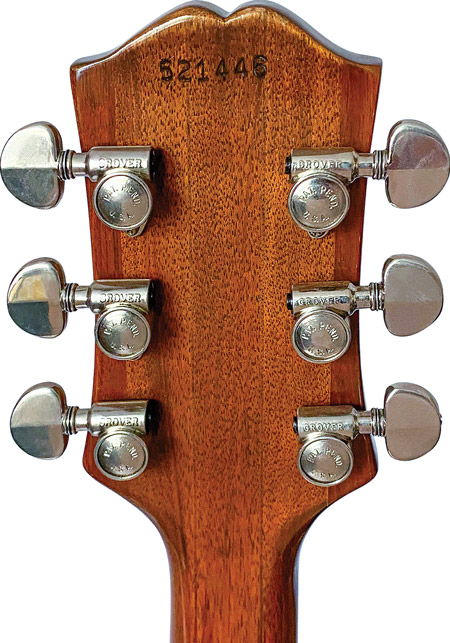 "The headstock inlay is uncommon, but did appear on some Epiphone archtops, and several employees told me the wiring harness is from the Tal Farlow prototype," said Johnson. "The Bigsby has Brazilian rosewood in its oval hole, and the early Epiphone 'E' logo. There have been a couple made like this since '68, but this was the first. It originally had an ebony piece, but Mike had it changed when the fretboard was replaced."
When the guitar was restored in '91, a mustache-shaped plate was installed to cover the holes drilled for the stop tailpiece.
Epiphone's Les Paul was to be introduced in July of '68, along with the revamped single-cut Gibson Les Paul. However, changes were in the works.
"Talks had begun with (guitar manufacturer) Matsumoku, in Japan, to license the Epiphone brand, and a number of employees were laid off at Epiphone," Johnson said. "With their departure, the Epiphone Les Paul was scrapped."
Imported Epiphones first hit U.S. stores in 1970.
---
This article originally appeared in VG's September 2022 issue. All copyrights are by the author and Vintage Guitar magazine. Unauthorized replication or use is strictly prohibited.