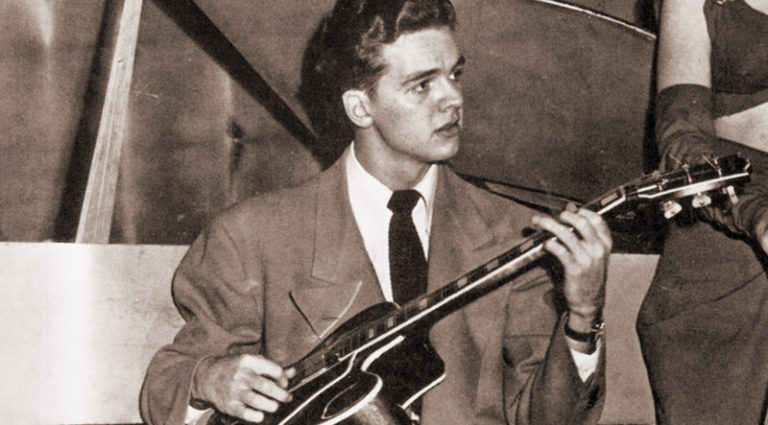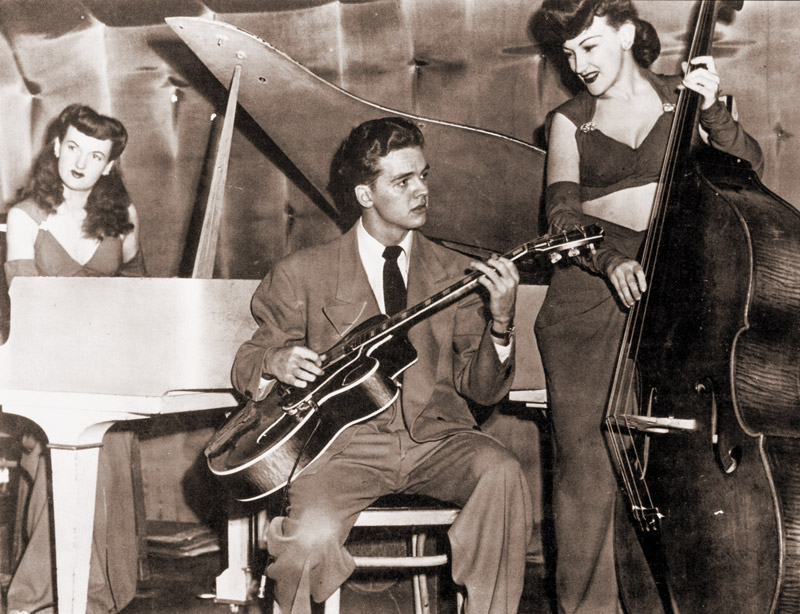 American music history is fraught with tales of forgotten heroes. In the '40s, jazz guitarists like Tiny Grimes, George Barnes, Chuck Wayne, and Arv Garrison occupied the space between Charlie Christian and Barney Kessel.
Garrison's star shone briefly at a crucial point. A pioneer of electric-jazz guitar, he was a favorite of Django Reinhardt, admired by giants like Charlie "Bird" Parker, praised by critics Leonard Feather (Encyclopedia of Jazz) and Matt Ulanov (Metronome magazine).
Arvin Charles Garrison was born August 17, 1922, in Toledo – home to Art Tatum, Teddy Wilson, and Jimmy Harrison. Intuitive and single-minded, Arv taught himself to play ukulele at age nine, then switched to guitar and was accomplished enough to play dances and local events by 12, even as his first guitar teacher advised him to give up. The rejection prompted diligent self-study, playing along with Django records from morning to night. His mother taught him to read music and let him drop out of high school to pursue guitar.
In 1938, Garrison was "discovered" by pianist Bill Cummerow, and a move to Albany, New York, led to guiding his own bands by '41. Quiet and unassuming, he experienced little success before forming a relationship with Vivien Garry, a singer who helped push him into the limelight. Arv taught her to play upright bass, and she soon became the first notable female jazz bassist. They married and worked together as the Vivien Garry Trio in Chicago and New York. By '45, the trio was a fixture on NYC's 52nd Street, the jazz mecca frequented by Duke Ellington, Billie Holiday, Thelonious Monk, and countless luminaries. They secured a residency at Kelly's Stable and appeared on Art Ford's prestigious "Saturday Night Swing Session" radio show. Their first single was cut for Guild in June '45 with Teddy Kaye on piano, flaunting an approach and sound based on the Nat Cole Trio.
---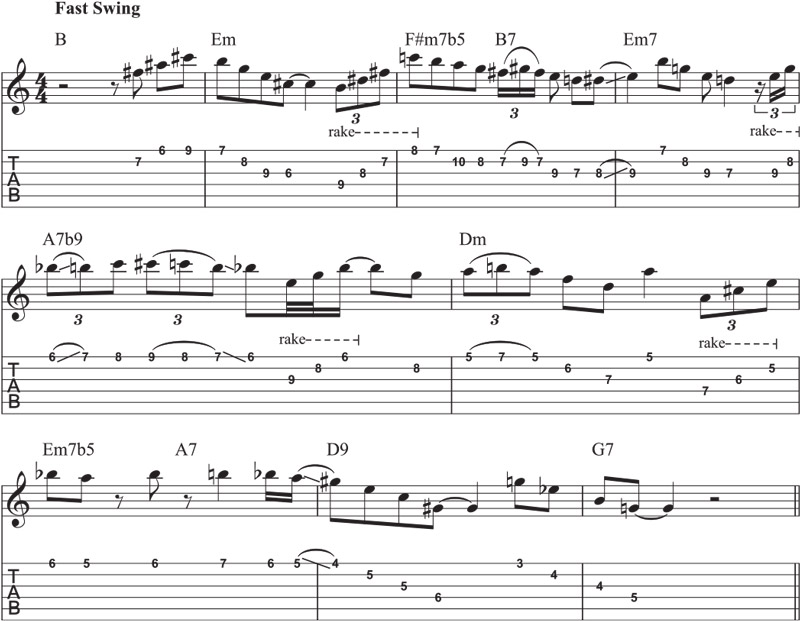 Arv Garrison's playing on "Yardbird Suite" represents an important moment in jazz guitar, as his playing assumes a horn-like role emblematic of bebop guitar. This excerpt from the bridge finds him improvising in two minor modes. Check the blend of emphasized chord tones and arpeggios, as well as mixed modes – Melodic, Harmonic and diatonic minor scale sounds are crafted into coherent bebop phrases. His trademark chromaticism is found in the slurred triplet line of measure 5. Also familiar is the raked (sweep-picked) articulation of arpeggio figures in 2, 4, 5, and 6. He exploits emphasizes altered chords with imitated bebop cells in the closing measures, using a G# augmented arpeggio over D7 (D9#11) and G augmented over G7 (Db9#11) very much in the manner favored by Bird.
---
The couple moved to Los Angeles to join the burgeoning West Coast jazz scene and, in December '45, recorded for the Sarco label, producing six tracks as a quartet with George Handy (piano/arranger) and Roy Hall (drums), a unit that looked to the future of small jazz combos. These sessions are distinguished by Arv's impressive playing on "Tonsilectomy," "Hopscotch" and "These Foolish Things," which led to Handy's recommendation for Charlie Parker and Dizzy Gillespie's first dates on Dial. Bird knew him as a regular at the Finale Club and welcomed his participation, having played with him on 52nd Street and in Hollywood, at Billy Berg's. Meanwhile, the trio was reconstituted with pianist Wini Beatty then worked on Central Avenue (L.A.'s equivalent of 52nd Street) bringing the cachet of a young jazz trio with two females.
1946 was a particularly productive and important year for Garrison, whose Dial sessions with Bird and Diz set new standards for jazz guitar via his featured turns on the bebop classics "Diggin' Diz," "Night in Tunisia," "Yardbird Suite" and "Ornithology." He made several successful jazz and pop records in the Garry Trio that included collaborations with diverse guests like Frankie Laine, Leonard Feather, Leo Watson, Vic Dickenson, and Rickey Jordan, as well as bebop dates with Howard McGhee and high-profile radio shows.
Also that year, he appeared on the cover of Downbeat (July) with Garry and Beatty, played the finest venues opposite titans like Errol Garner and Ray Bauduc and was hailed as a promising new voice. An Armed Forces Radio concert (Jubilee) showcased him in a medley playing his signature take on "How High the Moon" alongside Kessel, Irving Ashby, and Les Paul, and revealed his skills contrasting with the leading newcomers on electric jazz guitar. His crowning achievement came that October with "Five Guitars in Flight," an innovative arrangement for the Earle Spencer Orchestra in which his five-part guitar ensemble (with, Kessel, Ashby, Tony Rizzi, and Gene Sargent) was featured within a big band. Rizzi maintains the historic session inspired his Five Guitars sessions.
Just 25 years old at the time, Garrison began to suffer seizures thought to be stress-induced epilepsy related to a childhood head injury. The episodes affected performances, foreshadowing a rapid decline. When Beatty left the trio, the couple reunited with Kaye and returned to New York in '47, where they played radio shows, appeared at Royal Roost's Bop Concert, participated in an All Star Jam that included Lionel Hampton and Gonzales. Arv also recorded as a leader with Garry and pianist El Myers in '48, producing six songs that would be his last official studio dates. Garrison's five to six daily blackouts prompted Myers to leave in the fall of '48. Garry abandoned him shortly afterward to tend to her sick father, and never returned. Arv eventually returned to Toledo to be cared for by his mother, and played until '57.
---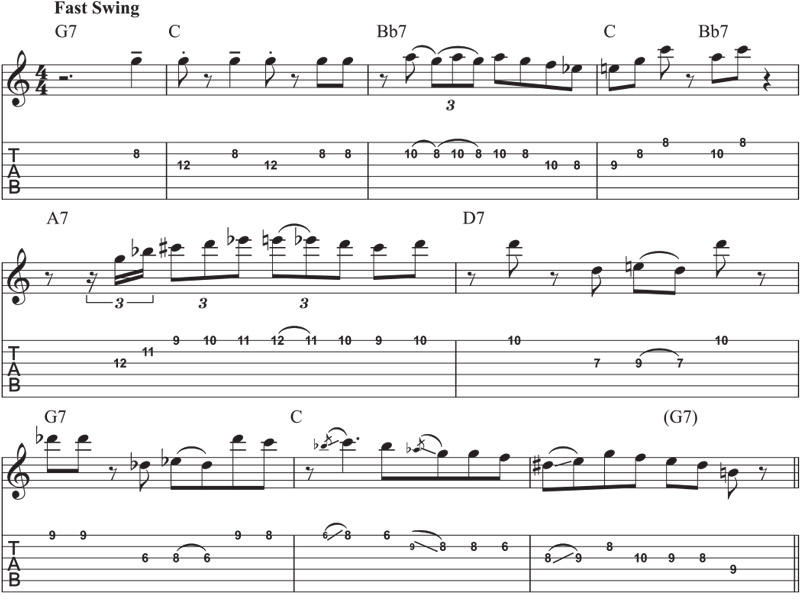 Garrison's soloing over major-mode changes in "Yardbird Suite" (above) reveals another side of his artistry. Here, he references swing-blues; the unison juggling in measures 1-2 is a favored tactic of myriad blues guitarists. His arpeggio triad and minor/major duality in 3-4 are also familiar ingredients. However, the chromatic line in 5 is pure bop, delivered with tremolo-picked articulation. Compare this approach with a similar triplet line in the bridge. Also noteworthy is the chromatically shifting theme, with its angular wide-interval leaps, in 6-7 played over D7 and G7 chords. He creates a tritone substitution (Db over G7) by moving the simple figure down one half step during the II-V-I changes. The closing includes further allusions to swing blues, with pentatonic melody and minor/major polarity mixed with bop embellishment and a final idiomatic G7#5 gesture.
---
His ailment forced him to venture outside the music business to work at the railroad and odd jobs including vacuum-cleaner sales. Mixing medications to counteract the headaches led to dependency, and in a tragic twist, he died July 30, 1960, after diving into Centennial Quarry. An ace swimmer, he drowned, possibly due to epileptic convulsion. He was just 37.
Robbed of the recognition he deserved, the local obit failed to mention his pioneering work as guitar innovator, cohort to Bird, Diz, and Miles.
STYLE
A transitional player, Garrison combined elements of the past and present with glimpses of the future, and personified an evolutionary stage for electric guitarists between '30s swing (Charlie Christian and Django) and '50s bebop (Barney Kessel, Tal Farlow, Kenny Burrell and Jimmy Raney). His pioneering mid-'40s work exemplified by "Where You At," "Baby, I'm Gone," and "How High the Moon" acknowledges concessions of the swing era and classic jazz as well as chromatic chord progressions, melodic angularity, dissonance, faster tempos, rhythmic jaggedness, and the increasing complexity of bebop.
Acknowledged as one of finest technicians of the period, Garrison was admired for fast, fluid tremolo-picked lines – vestiges of Django's influence exemplified by the theme in "Tonsilectomy" and passages with abundant legato embellishments throughout his repertoire, often played as slurred trills that hint at wind-instrument phrasing. The latter was also part of Les Paul's playing in the '40s, however, his advanced arpeggio-based chord outlining and horn-like execution, outgrowths of Christian's approach, revealed a new streak of harmonic modernism, particularly in the altered-chord tensions, side-slipping, and intervallic bebop sounds that were uncommon in the period. The combination is brought to an apogee in "These Foolish Things," where Arv takes center stage as the soloist. Also noteworthy is his prescient use of octaves (1:50) on "Where You At" (a Garry Trio radio date from March '46) phrased as parallel melody lines foreshadowing Wes Montgomery's signature use a decade later and sufficiently different from the purely rhythmic approach to octaves as fanfare or punctuation favored by Django and Christian.
A formidable soloist at the brisk tempos in "Indiana," "Mop Mop," "Dialated Pupils" and "High Wind in Hollywood," Garrison supplied complex double-timed lines – a distinguishing aspect of bop improvisation – to "These Foolish Things," "Baby, I'm Gone," "You Can Do It" and "Lover Man." Though capable of modern comping ("Where You At"), freer atmospheric textural backing ("Lover Man"), and block chording ("Just You, Just Me"), he functioned as accompanist in the traditional rhythm guitarist/timekeeper role where he lowered volume and strummed four-to-the-bar patterns, a holdover from swing and dance music in combos without drums. He also contributed muted-string strums to "A.B.C. Blues" and "Night and Day" and sometimes added percussive tapped and muted bongo-like effects to rhythm parts. A versatile ensemble member, he played main riffs ("Night in Tunisia" and "Drop Dead"), shared melodic fills ("Ornithology") and supplied tight unison lines ("High Wind in Hollywood" and the coda of "Up in Dodo's Room").
Garrison's command of the blues was highlighted in sessions with Rickey Jordan and Babs Gonzales. Jump blues, with its heavy swing emphasis, informed his work as he expanded single-note pentatonic and blues-scale phrases with chord figures and triad fills in "Blues in the Storm" and "Walk It Off," milked double-stop riffs in "Three Bears," and doled out a Charlie Christian-inspired solo laced with Django ornaments, double-stops, and proto-bop lines in "Rickey's Blues." On standards like "Stormy Weather," he blended swing, pop, and blues. With Babs, he matched the singer's scatting in "Blues in B Flat" with a mix of classic swing-blues, bebop chromaticism, and altered-chord sounds. His blues inclinations in the form of bent notes and swing-blues melody also graced tunes like "Where You At."
---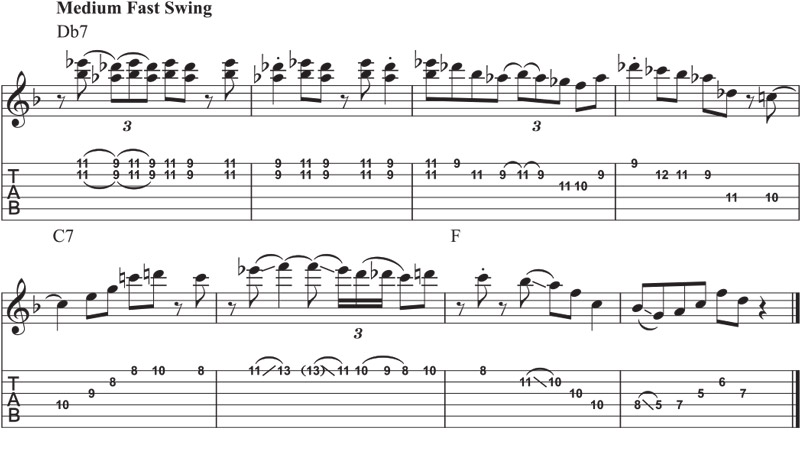 Garrison's blues-based style is exemplified by this grooving phrase in "Where You At" (from a Garry Trio radio date in March '46) where he builds a powerful statement over the tune's Db7-C7-F verse progression. He plays a rhythmically driven double-stop riff phrase in 1-2 not unlike Chuck Berry, Hand Garland, and others in the '50s. His swing-blues single-note lines dominate the transition from Db7 to C7 in 3-5. In 6, he addresses bebop with a trademark chromatic lick in the blues box. The move to F reverts back to basic major-blues with triadic sounds and an operative D note in the melody that suggest Charlie Christian's influence. This kind of swing/blues amalgam affected the next generation of bop guitarists but also inspired many upcoming Western-swing and rockabilly players.
---
ESSENTIAL LISTENING
Garrison's recordings of the mid '40s are documented on Wizard of the Six String: Classic and Rare Recordings 1945-'48 (Fresh Sound Records).
SOUND
His main guitar was a Gibson L-5 Premier with a DeArmond Rhythm Chief 1000 pickup that he positioned between fretboard and bridge due to the shallow space under the strings. The pickup moved along a shaft, its tone variable depending on location. He most likely used a small Gibson amp such as the EH-150 or EH-185.
---
Wolf Marshall is the founder and original editor-in-chief of GuitarOne magazine. A respected author and columnist, he has been influential in contemporary music education since the early 1980s. His books include 101 Must-Know Rock Licks, B.B. King: the Definitive Collection, and Best of Jazz Guitar, and a list credits can be found at wolfmarshall.com.
---
This article originally appeared in VG's September 2022 issue. All copyrights are by the author and Vintage Guitar magazine. Unauthorized replication or use is strictly prohibited.
---