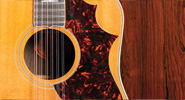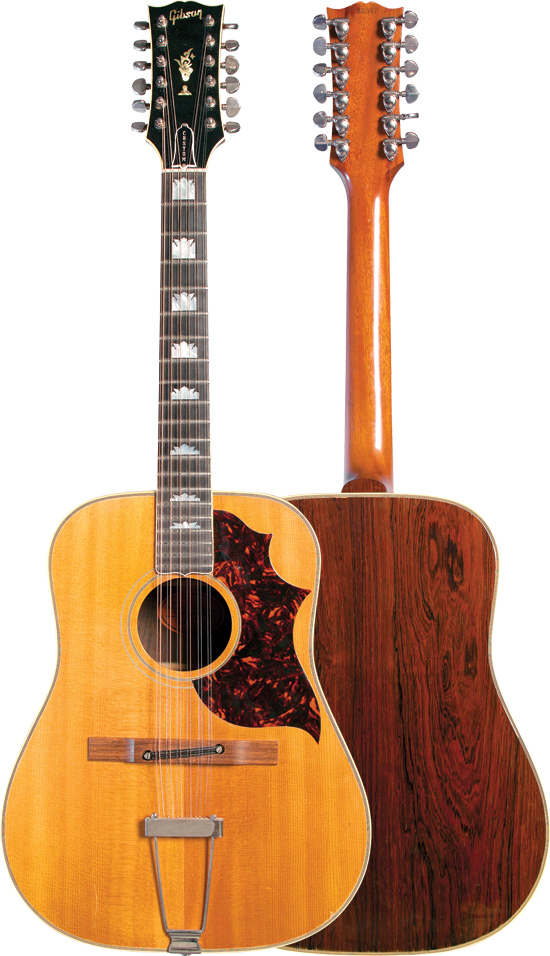 The term "rare" is applied to guitars in far too many instances. Usually an appealing term, its overuse can be attributed in part to the fact it's particularly catchy to the eye of anyone fond of a collectible vintage instrument. The subject here this month, however, is truly deserving of the label.
A custom-order Gibson B-45-12 bearing serial number 62997, this instrument was made in 1963 and is highly unusual. Its orange-oval label indicates model designation but makes no mention of it being a custom order; however, its specifications deviate greatly from a standard, and especially noteworthy is an accompanying letter on Gibson stationery dated May 27, 1963, and signed by department manager M.H. McConachie. It is exceedingly rare for an instrument to be accompanied by a letter of such detail. Based on this letter, it is reasonable to assume this is a one-of-a-kind instrument.
Typically, a B-45-12 made in the '60s did not have an interior paper label, and the model designation was stamped on the interior vertical center strip, whereas the back strip is not stamped. The truss rod cover is engraved "Custom," which is appropriate, however, this style of truss rod cover was routinely used on numerous high-end Gibson models which were in no way custom-order, such as the L-5, Super 400, J-200, Tal Farlow, and Barney Kessel models.
The paragraph in McConachie's letter describing the body shape of this guitar as deviating from a standard B45-12 by being based on the SJ or Hummingbird shape is interesting since we find no difference in this body shape versus a typical '63 B-45-12. The model was introduced in 1961 as Gibson's first cataloged acoustic 12-string with a round-shouldered body the same size and shape as a J-45 or J-50 and had a rectangular bridge and trapeze tailpiece, however, the standard B-45-12 specifications were changed in '62 to the square-shouldered body with an upper belly bridge with bridge pins and no tailpiece, and were altered again in '63 to the same bridge shape, but without bridge pins and still without a tailpiece. The specs for the standard B-45-12 were altered again in '66 to give it a rectangular bridge and tailpiece.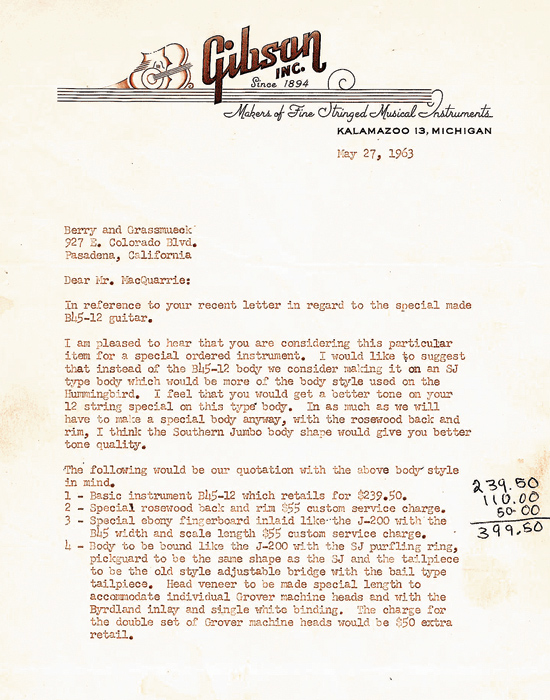 The special rosewood back and rim with $55 custom charge referred to in the letter are beautifully figured Brazilian rosewood, which was the standard with most American manufacturers at that time. The typical B-45-12 had mahogany back and sides and an unbound dot-inlaid Brazilian rosewood fingerboard, whereas this guitar has a bound ebony fingerboard with J-200-style crown inlays and a pointed end done for an additional $55. It's interesting to note this guitar's Brazilian rosewood bridge and ebony fingerboard – most American makers of steel-string guitars utilized matching wood for the fingerboard and bridge. And while this fingerboard has J-200-style ornamentation, the J-200 of '63 had a Brazilian rosewood fingerboard rather than ebony, as seen on this guitar. The body is bound with J-200-style multiple bindings rather than the typical B-45-12 triple binding on the front and single binding on the back of the body. Though the letter discusses SJ-style soundhole purfling, this soundhole ornamentation is no different from a standard B-45-12 of '63, though the pickguard mentioned in the letter is an SJ-style rather than the typical B-45-12 pickguard, which was essentially the same as a J-45 guard. The mention of a long peghead veneer with Byrdland-style inlay is interesting in that the same flowerpot inlay was used on the F-5 mandolin and L-5 guitar long before the Byrdland was introduced. On this particular example, the inlays are spaced to accommodate the long peghead, so the base of the flowerpot inlay is separated from the body of the pot, while on all other Gibson instruments featuring this peghead inlay there is no such space. Gibson charged a $50 fee for 12 Grover Rotomatic gears over and above the cost of a typical set of Kluson Deluxe gears normally used on the B-45-12. While the dollar amount of these custom surcharges may appear low, the inflation-adjusted cost of the tuners and fingerboard are quite high by today's standards, though the inflation-adjusted surcharge for the rosewood back and sides is less than the same material would cost today due to the fact that rosewood is an endangered and highly regulated commodity.
Twelve-string guitars have a long history, but by the mid '30s had fallen into relative obscurity. During the folk-music boom of the late '50s through early '60s, players such as Lead Belly, Pete Seeger, The Kingston Trio, and Don Gibson featured 12-string guitars in performances, but most American manufacturers were slow to respond to demand. Gibson's earliest catalogued 12-string guitar was the EDS-1275 Double 12 electric doubleneck introduced on custom-order basis in 1958. The Gibson B-45-12 was one of the earliest acoustic 12-strings catalogued by a large-scale/high-end maker.
All told, this guitar could well be the most deluxe acoustic 12-string produced by Gibson up until that time.
---
This article originally appeared in VG December 2013 issue. All copyrights are by the author and Vintage Guitar magazine. Unauthorized replication or use is strictly prohibited.
---