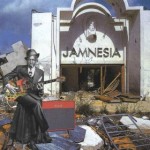 This CD can't help but grab any guitarist's attention, with its clever cover collage, depicting Robert Johnson playing Clapton's famous psychedelic "Fool" Les Paul/SG. If you check out what's inside the package before checking out what's inside the grooves (or whatever CDs have), you'll be further enticed and amused by the cut-and-paste spread of everyone from Mick Taylor to Jack Bruce to Electric Mud-era Muddy, all paired with vintage axes and amps.
And the shots don't just reveal the band's sense of humor; most (we'll overlook the pix of Whitney Houston, Sheila E., and Christina Aguilera – or try to) reflect where this L.A.-based quintet is coming from musically. Jamnesia plays blues-rock with a generous helping of the British version from the late '60s – which includes not being confined by 12-bar structures or retro rules (the vocal chorus on the opening "Tainted" being a good example).
Shouldering most of the composing, guitarist Daniel Hess is a major-league find. Flashes of Taylor, Clapton, Kim Simmonds, and Peter Green peek through without sounding recycled in the least, and on "DD Baby" he shows impressive jazz chops. Even on "Harpbreaker," obviously a showcase for harmonica player James Murphy, the intricate riff/bed he lays down is as original as it is cool.
The vintage sound Hess summons comes honestly. He used a '64 Shoreline Gold Stratocaster, '64 SG Standard, '61 ES-335, and, for slide, a plexiglass 1970 Dan Armstrong – all through a 1968 50-watt plexi Marshall – and a '50 Martin 000-28 and '56 Gibson J-185 for acoustics.
The set's only covers are tasty acoustic readings of Muddy's "The Same Thing," Al Kooper's "I Can't Keep From Cryin'," and a snippet of George Harrison's "Within You, Without You." Standout originals include the blazing "That Cannot Be Bought" and the timely "Can't Get My H-M-O-Jo Workin'."
---
This article originally appeared in VG's Dec. '09 issue.  All copyrights are by the author and Vintage Guitar magazine.  Unauthorized replication or use is strictly prohibited.
---