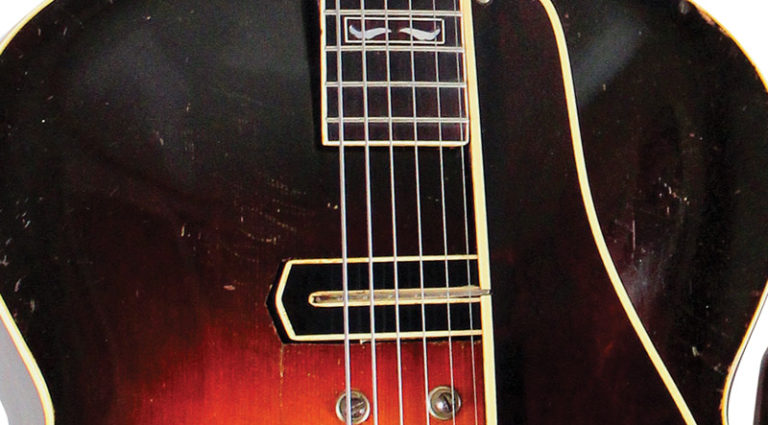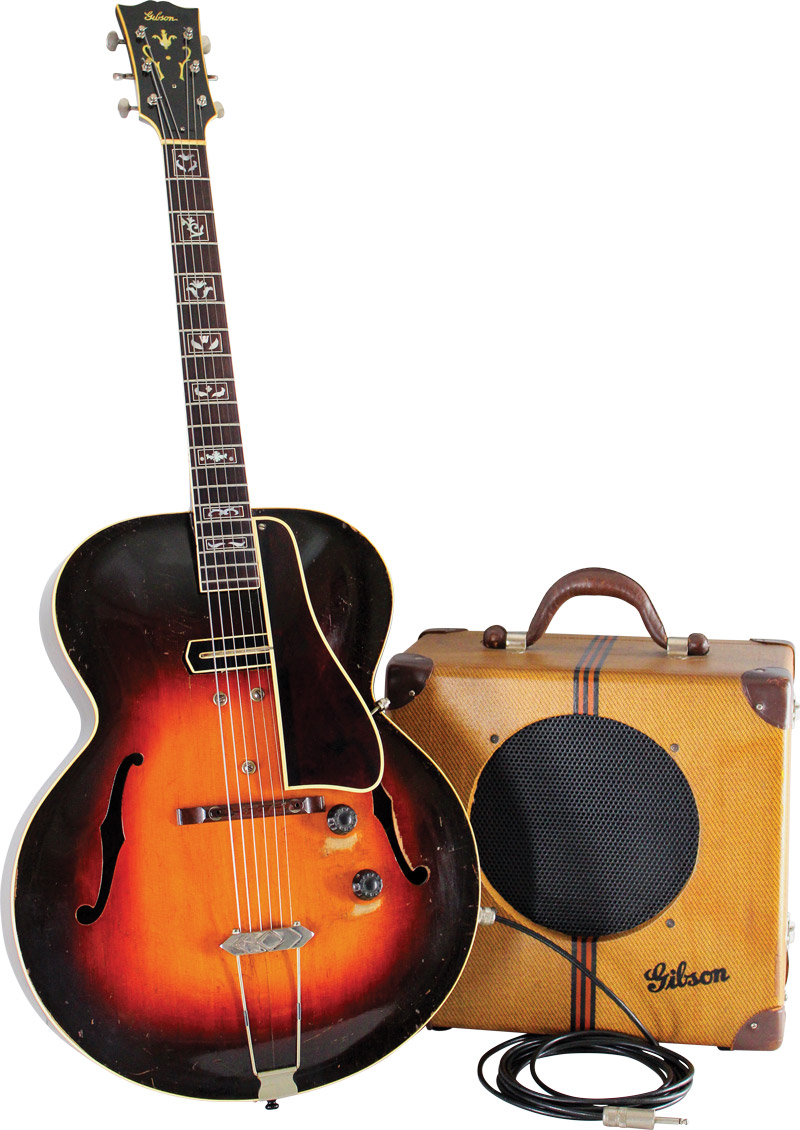 While scanning an Elderly Instruments ad in Vintage Guitar one day in early 2009, Billy Soutar spotted the description of a 1936 Gibson L-7, "Custom… with factory Charlie Christian pickup." The word "rare" especially caught his attention.
"I was curious, to say the least," he said. "I got into collecting with Les Paul and Strats from the '50s, and wasn't into jazz guitars," he said. "But after spending time with Les (their friendship is highlighted in the November '21 "Classics"), I started getting into early Gibson electrics – especially rare stuff."
So it made sense that this guitar tickled Soutar's jones, even if he had no idea what it was.
"I thought maybe it was some kind of ES-250 prototype," he said. "I knew from reading about Gibson that there was no such thing as a '17″ Advanced Bodied' electric Spanish Charlie Christian guitar from '36, so right away it was strange. I also knew that because of their proximity to Gibson's headquarters in Kalamazoo, many weird birds have gone through Elderly."
Having once passed on buying a vintage hollowbody that later proved to have been a personal instrument of Mr. Paul, Soutar wasn't chancing another miss. With a phone call, Stan Werbin and his staff assured him the guitar's ES-150 pickup was indeed a factory install, "So I took the five-hour drive from my home in Chicago to Elderly, in Lansing."
Back home, he began doggedly chasing the history of the instrument, starting with A.R. Duchossoir's Gibson Electrics: The Classic Years.
"In early '36, Gibson hadn't started making dedicated electric Spanish guitars," he said. "For a few years, they'd been selling electrostatic 'attachment' pickups for the L-7 and L-10, paired with an amplifier – the pickup and amp were made by Lyon & Healy in Chicago."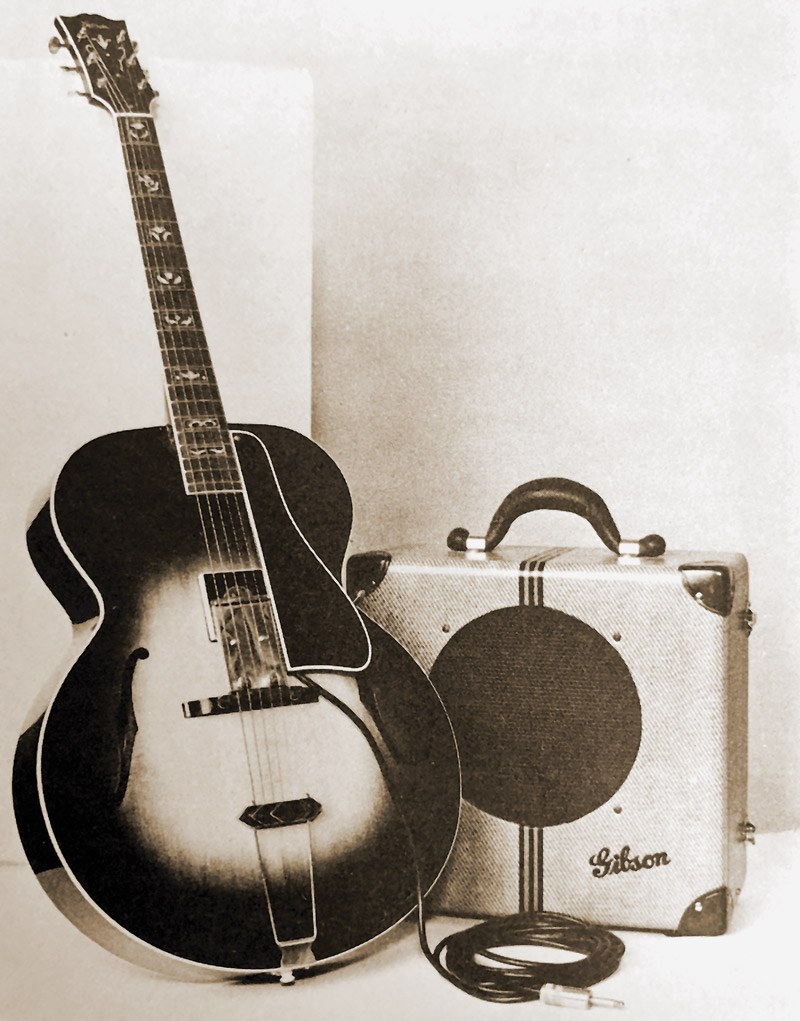 At the annual NAMM show in Chicago that summer, Gibson displayed an L-1 and L-10, each with a different pickup attached. At some point, they were approached by retail giants Montgomery Ward and Spiegel, who were specifically seeking jobbers to build Spanish-style guitar-and-amp sets for their catalogs. After meeting with Gibson general manger Guy Hart, orders were placed for each to receive 25 sample instruments.
Also at that show was Francis Grinnell, a professional banjoist/guitarist who wanted an electric Spanish-style guitar for his act. Beyond being a player, Grinnell worked in his family's business – the Michigan-based Grinnell Brothers Music House chain, which sold Gibson's full product line – and he'd helped design Gibson's All American banjo (he's shown holding the instrument in the company's 1932 catalog). In the 1920s, Grinnell performed with the finest instruments, including L-5 guitars and Bella Voce banjos.
Less than two months after the show, Gibson shipped prototype samples to Montgomery Ward and Spiegel. Hart decided the time was right to make what would be the first 10 prototype ES-150 guitars with a new pickup designed in-house by Walter Fuller. On Saturday, September 26, the company finished a batch of L-7 models, the last of which was fitted with an ES-85 attachment pickup. Bearing serial number 93622, it was followed off the line that day by this guitar – made for Francis Grinnell, with serial number 93623 and with that ES-150 "Charlie Christian" pickup.
Because those 10 ES-150 prototypes were deemed "too plain," Soutar says the model was reworked, so production versions (batch number 1098B) didn't ship until November 20. After reading this, a thought crossed Soutar's mind: "I might have the first dedicated Spanish electric to leave the Gibson factory!"
Reinforcing his case is the fact 93622 and 93623 have the same tailpiece, which was used for only a couple months. "You can even tell it was painted by the same guy, because the sunburst is so similar," he said. Also, the 2010 Official Vintage Guitar Price Guide listed a "1936 L-7 Custom Electric… with factory Christian style pickup, limited production, often custom ordered."
Soutar spent more than a decade gathering information on the L-7, learning that Grinnell played it until 1939, when he set it aside in favor of an off-the-line ES-250. The L-7 was then sold to William Tribble, a Detroit resident who played it for almost 70 years. After his passing, the family consigned it at Elderly.
"I've been collecting vintage guitars for more than 35 years, and she's my very favorite," Soutar said.
---
Do you have a classic/collectible/vintage guitar with an interesting personal story that might be a good fit for "Classics?" If so, send an e-mail to ward@vintageguitar.com for details on how it could be featured.
---
This article originally appeared in VG's August 2022 issue. All copyrights are by the author and Vintage Guitar magazine. Unauthorized replication or use is strictly prohibited.