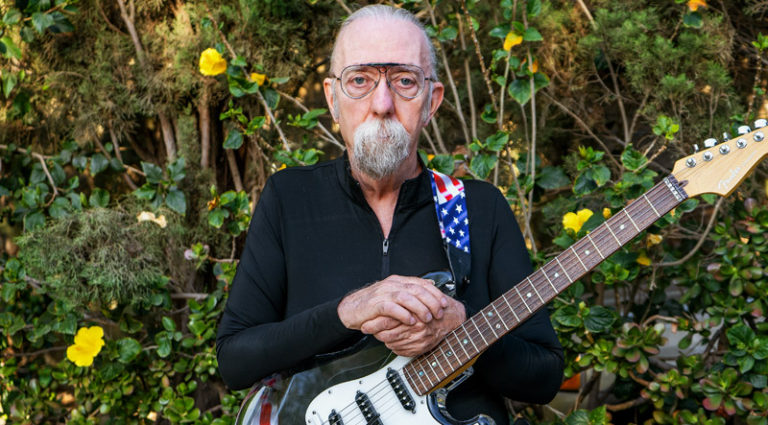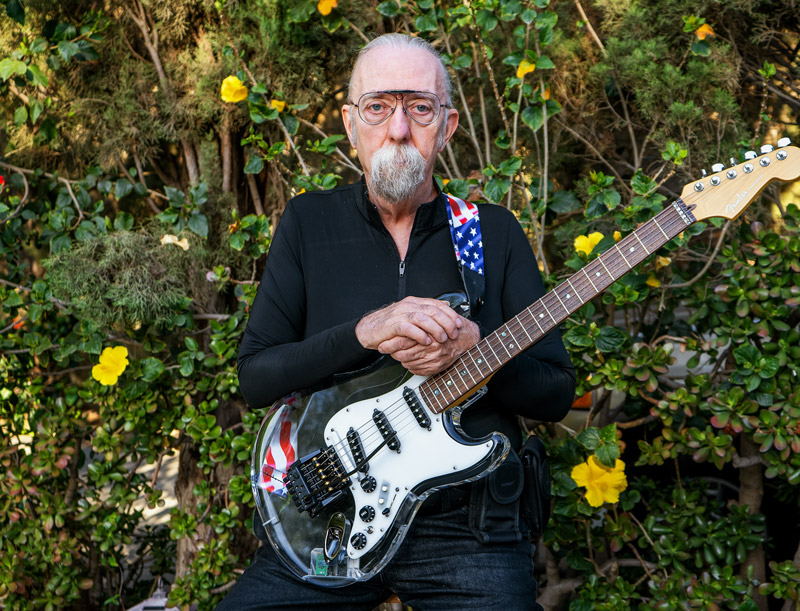 To a generation of music fans, Jeff "Skunk" Baxter was one of the most recognizable guitarists of the early '70s. On TV shows like "Midnight Special" and "American Bandstand," he was the Telecaster-wielding rocker who played on Steely Dan's first three albums; his solos on "Rikki Don't Lose That Number," "Night By Night," "Bodhisattva," and "My Old School" remain the stuff of legend. He's a first-call session cat, Doobie Brother, gear designer, and a consultant for the U.S. Department of Defense.
Baxter just released his first solo album, The Speed of Heat, and it's packed with the eclectic synergy of a schooled jazz-rocker with a gift for melody and pedal steel.
How did The Speed of Heat come about?
I was doing a lot of jingles in Chicago. During one of the sessions, the producer had too much vodka and passed out the sheet music. He had a key signature, a time signature, and 64 bars with nothing in it. We improvised it in one take, and the client liked it.
At that session was C.J. Vanston, who became my producer and partner. I thought, "If I ever did a solo project, I'd like to do it with C.J." We had this ability to leverage non-verbal communication on a musical level, which was unique and satisfying. The first song, "Insecurity," was recorded in 1989, so this project has continued over a long time.
Why so late?
I didn't do a solo record after leaving The Doobie Brothers because it seemed trite. To do a solo record right after leaving a successful band didn't make sense. You need a little time. A little time turned into a lot of time because between studio work, producing records, working for guitar companies, and my day job, I didn't have time. So C.J. and I got together, and it evolved. I found a wonderful record company that wanted to do this record, and The Speed of Heat is the result.
You cover Steely Dan's "My Old School."
When I was in Steely Dan, I sang "My Old School" when we toured. Every time we played it, it started to feel more energetic. Years later, I was playing it and thought, "This song needs some heat." So, I wrote the arrangement and did it with C.J. I think it supports the energy. It's a tribute to Walter Becker and Donald Fagen's songwriting. A good song is a good song, no matter what. Originally, I wanted Steven Tyler to sing it, so I sent a copy with me doing a scratch vocal. Steven said, "Who's singing that?" I said, "That's me." He said, "Why don't you sing it?" I sing background, but I don't consider myself a singer. He said, "What the hell! You should do it!" I said, "Well, you know more about this stuff than I do." So, I took a shot.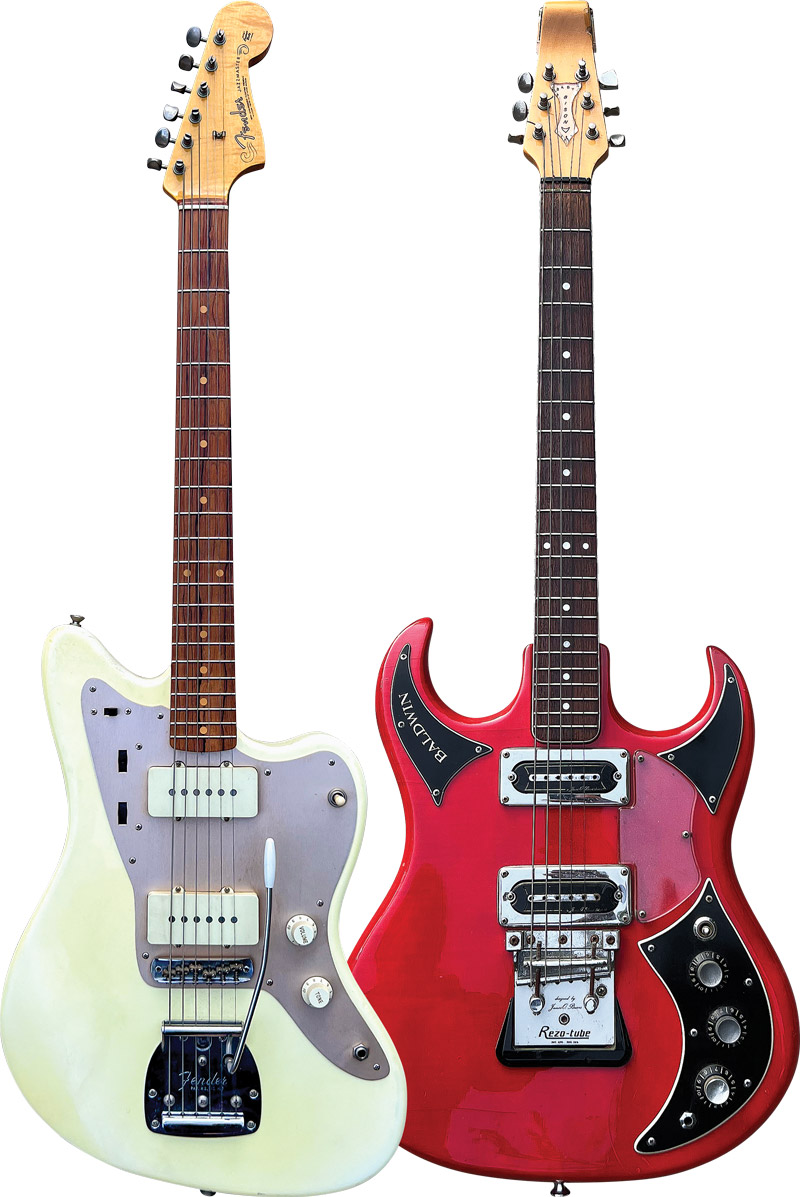 It's great to hear you play pedal steel again.
I don't think anyone has ever done an a cappella piece on pedal steel. I remember hearing "The Rose" on the radio and thinking, "This is a beautiful song. There's something about this that might work." So, I worked up an arrangement for an event. By the time I got to the second verse, Adrian Belew had started to play. By the time we got to the end of the second verse, we had the whole band.
We were celebrating guitar players who had passed on, but I was concentrating on my father. Hopefully, the emotion comes out to honor his memory.
You're famous for creating killer guitar parts very quickly.
As a studio musician, you're a tradesman. When you work on somebody's house, you don't build an extra door just for the hell of it. You're trying to fulfill the vision of someone while adding your own craft. Gary Katz, the producer for Steely Dan, was producing a young lady and told me to come to the studio to tell him what the track needed. I listened, saying, "It doesn't need anything. It's fine." He said, "That's why I pay you triple scale."
It has to do with using your experience and knowledge to help the artist. Sometimes it's what you don't play – it's the spaces you leave. This is so the listener has the opportunity to insert themselves into what you do to make it accessible and enjoyable.
What's the origin of your jazz-rock-country recipe?
It comes from my dad. He had a fabulous jazz-record collection, so I listened to all these wonderful jazz players – Teddy Bunn, Kenny Burrell, Wes Montgomery, Charlie Christian, Django Reinhardt, and Howard Roberts – who had a huge influence on me. I also grew up with everything from German oompah bands to rock and roll. So I guess it was a natural process where I synthesized this stuff at an early age.
What were you playing as a teenager?
I wanted to learn everything by The Ventures. My dad had one of those turntables where you could slow down the records. I tried to learn solos by Charlie Christian, Howard Roberts, and people like that. Les Paul and I became good friends. We used to do a lot of playing together. One night at The Iridium he said, "What do you want to play?" I said, "Let's do 'Lover.'" I remembered working on that as a kid. I'm ripping on this semi-quaver stuff in the middle of the solo, and he's laughing his ass off. I said, "What's so funny?" He said, "That part you just played, I sped up to twice the speed." I remember shedding for hours trying to get that part right.
It was great to learn from a diversity of great artists. I was a Louie Armstrong fan – his playing was exceptional. I gleaned some of that outlook from people like Armstrong.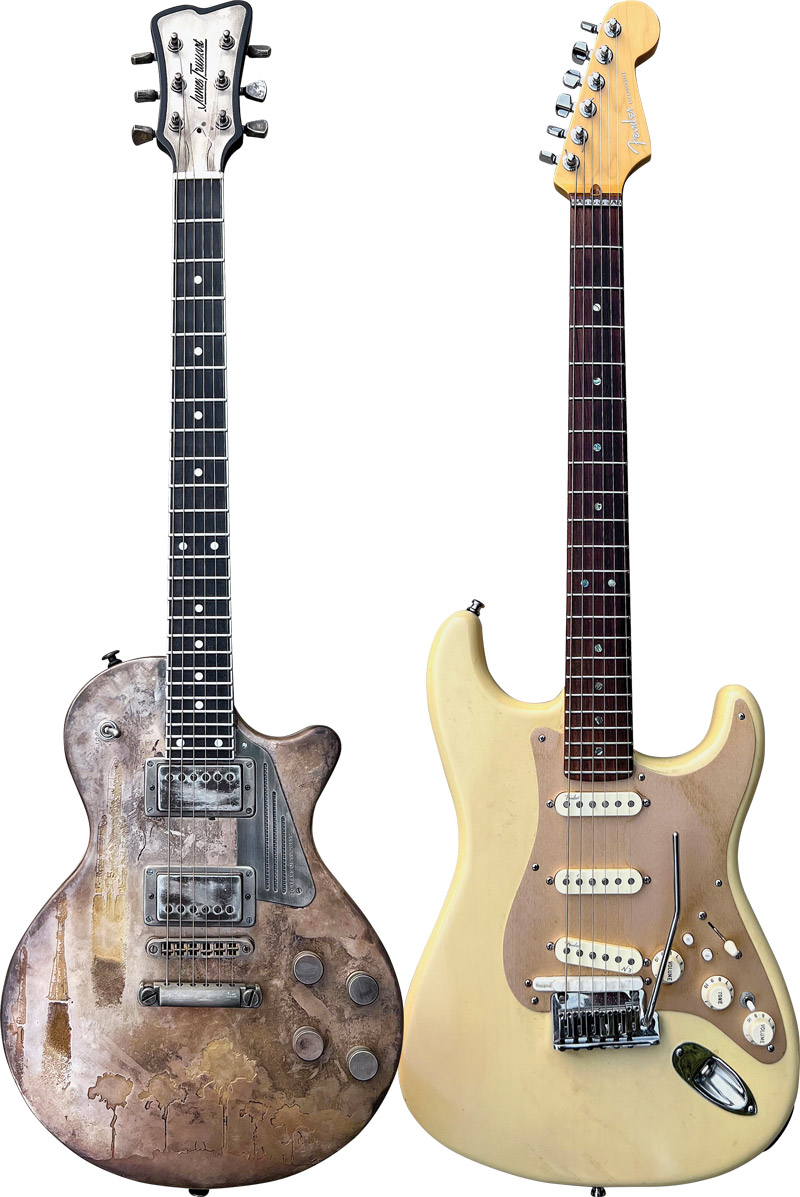 I learned from trumpet and saxophone books, and the really good guitar players, like Scotty Moore, who morphed into rock and roll by osmosis, came from the jazz era. The original guitar players were rhythm players. Many players listened to the soloing structures that trumpet and saxophone players were playing. I got a lot of my phrasing from horn players. My love of melody came not only from Louie Armstrong, but The Ventures. Their whole thing was to play the melody. That inculcated a strong sense of me starting with that.
What gear excites you?
I've always had an affinity for Roland gear because I had a hand in helping design much of it. The GX-100 Guitar Effect Processor is very cool. I'm also a big fan of the Boss ME-10 Multiple Effects board, which I helped design; the front end is analog. The GX-100 is fully digital, but maintains the ability for the player to be expressive. Roland is focused on getting things right. My pedalboard is an ME-10, but I'm switching to the GX-100 simply because I'm impressed by what it can do.
How about guitars?
I thought the Line 6 Variax was a cool idea, but you wouldn't want to be dependent on the electronics. If something happened, you had to be able to finish the gig. Roland purchased a small percentage of Fender, so the obvious platform was the Mexican Strat. It's a high-quality instrument that plays great, and it's affordable. The result was the Roland G-5 VG Stratocaster with all the modeling capabilities. That's the guitar I use. I don't want to bring a bunch of guitars with me. I'm happy with the sound because I had a lot to do with it. That's my go-to at the moment, but I've used others. I used my Jazzmaster on "9 to 5" with Dolly Parton.
Why did you leave Steely Dan?
Walter Becker and Donald Fagen wanted more creative control of whatever Steely Dan had morphed into, and didn't want to tour. I enjoy playing in front of people. I'd been traveling with the Doobies and played pedal steel for Linda Ronstadt. I was in England at the Knebworth Festival with them when I got the word Steely Dan would be a studio band. I hung up the phone and thought, "Well, that's it for me and Steely Dan." One of the Doobies said, "Now you're in The Doobie Brothers!"
You were playing with the Doobies before you became a member.
I was a studio musician with them. The first record I worked on was Stampede. The song "I Cheat the Hangman" was a huge production number. We had it all orchestrated. After all that, I thought maybe I could do something that was musical sorbet – something to put a period on it and calm everyone down, collect their thoughts, and enjoy what I thought was a special flavor of classical guitar. That was the instrumental "Precis." "How can I cram hundreds of years of classical guitar into 59 seconds?" So I came up with "Precis."
Why did you leave them?
It was a combination of a number of things. I brought Michael McDonald in because Tom Johnston had severe health problems. I called Mike and said, "You need to be in The Doobie Brothers!" I sent him a one-way ticket, and we rehearsed for eight days straight, eight hours a day. It set the band on a very different path. As a change agent, you're good for the transition, but as things begin to solidify, it's time to go.
Michael did a great job. When Tommy came back, Michael had established himself as a singer/songwriter and was blossoming as an artist. It was the best of both worlds, and the Minute by Minute album gives absolute credence to that. That was where the band was going. I enjoyed playing guitar and having an eclectic license with that band, but I didn't think I fit where it was going.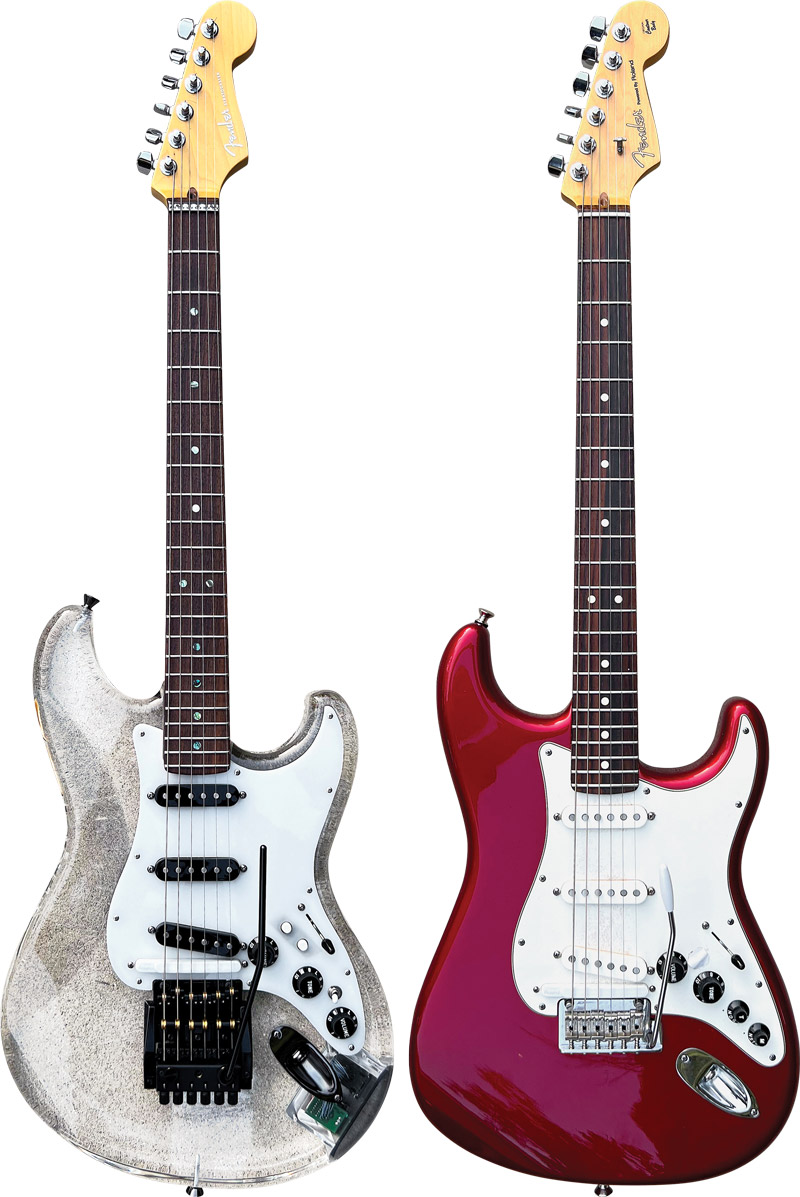 The solo on "How Do Those Fools Survive" is pure guitar ecstasy.
It was stream of consciousness. I didn't know it at the time, but maybe it was a farewell. But, like I always do, I was trying to do my best. It was a nice white canvas. There was a lot of time to play, and it's one of my favorites. I can recall my state of mind when I was doing that. The room was very quiet. It was just myself, the engineer, and nobody else.
Were you plugged straight into the board?
Yes (laughs). I played a guitar that I built; I'd just finished routing the body in the parking lot of Valley Sound, installing the electronics, wiring it up, and then I recorded "My Old School." I think it was the same guitar.
The other solo I loved was on "Rio" from Takin' it to the Streets, which was pure nylon-string.
Your chemistry with Michael McDonald continues on The Speed of Heat.
I remember when me and Michael first started with the Doobies. We were in my little apartment in Hollywood with a Roland drum machine and a cheesy keyboard, and we put together "It Keeps You Runnin'." That was our first collaboration. That track, as cheesy as it was with the sounds, we couldn't re-create it in the studio. If you listen closely to that track, our producer Ted Templeman used that as a basic track. We built tracks around it. It was an interesting beginning, middle, and end to put a point on it.
You once played bass on a gig with Jimi Hendrix?
I was working at a music store on 48th street in New York, and I'd put together a right-handed guitar for a left-handed player. I set it up, but the gentleman never came back. Jimi came in with a beat-up Duo-Sonic and was looking for another instrument. He seemed like a nice cat, so I traded him for it. In my blissful ignorance, the instrument I gave him was much more than the one I got in return, and the shop docked me three weeks pay.
Anyway, Jimi invited me to come and listen to his band. The bass player was late, so I played a couple tunes because they had to go on.
We became the kind of friends where you don't see each other a lot, but there's a closeness when you do. I thought very highly of him, and I thought about how he served his country. Down in the Village, where we used to play, people would say things about the Vietnam war, and he would become very quiet. All he wanted to do was play guitar. He was a fine human being. I took that one a little harder than usual.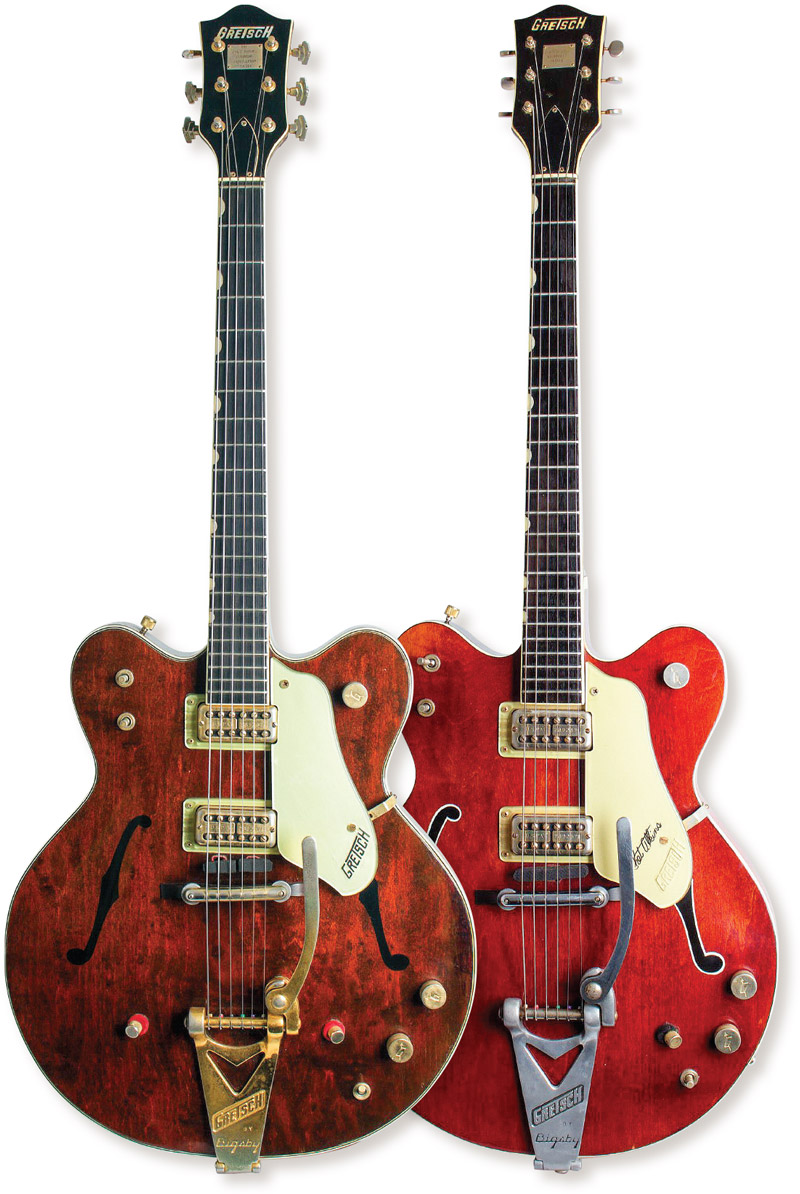 ---
The body of this guitar is heard on the solo to Steely Dan's "My Old School," from 1973's Countdown to Ecstasy. Though it currently has a modern (made in Mexico) neck, Baxter says, "I've had a few different necks on it, and when I did 'My Old School,' it was one from my '63 Jazzmaster that I'd re-fretted in '69 using Gibson jumbo bass fretwire, which I lovingly set in, ground, crowned, and polished using various gauges of steel wool, Old English furniture oil, and tanned leather for the final polish. It's still the best Fender neck I've ever played, and it's now on a Roland/Fender GR Strat I use in the studio. The electronics were from a Strat that Bobby Cochran later told me had been owned by his uncle, Eddie Cochran. The electronics were pretty messed up, but I salvaged the pickups, pots, and three-way selector – a Centralab 1452. I rewired it to function for the bridge and neck pickups, converted the middle Tone control to a Volume for the middle pickup, converted the remaining Tone to a master, and replaced the wiring with period-correct wire. In the late '60s, as more folks started to access the in-between spots on the switch, Danny Armstrong and I modified a bunch of 1452s to function as five-ways and started installing them in pretty much every Strat that came through his shop on 48th Street in New York. We were always mindful of not drilling more holes in an instrument than was absolutely necessary."
---
You played the solo on "Hot Stuff" by Donna Summer
Giorgio Moroder called and said, "I'm doing this record with this new artist." I asked, "What genre is it?" He said, "It's disco." I'd done so many disco sessions I said, "Nah, call Jay Graydon." So, he called Jay, who is a formidable guitar player. Jay said, "Nah, call Skunk back." Giorgio called me back, and I said, "Okay, I'll do it on one condition. You let me play what I want." He said, "Absolutely!" He tried to take the disco genre and move it into a rock feel. I bought a Burns Bison Junior guitar for 35 bucks, grabbed a six-pack of Budweiser and a Deluxe Reverb, went down to Rusk Sound Studios, and met Giorgio. I did it in one take. Donna was one of the nicest people on the planet.
On "Bad Girls," I brought in the prototype guitar synthesizer, a project I'd been working on with Roland. So, it was probably the first time a guitar synth was used on a #1 record. From then on, I played straight-ahead guitar because I had a long background in rhythm and blues. I don't have an inflated view of myself, but I know I can infuse energy into things. That's what Giorgio wanted. He wanted me to bring it up a step and play what I wanted to play. There are times in the studio when they lay it out for you and say, "Play this!" especially when you're playing a soundtrack or a jingle. What's most important is to be able to satisfy – "Cut the gig," as they say.
What else have you been up to, and what's next for you?
I've been touring, and it seems to be going very well. I'm tremendously pleased with the reaction and acceptance of what we've been doing. We've been playing the album with extra songs, and it's been extremely gratifying. I'll eventually go back to my day job and do sessions, and I did a gig in Jacksonville with Sixwire, a wonderful band from Nashville. We do a lot of charity work with Alice Cooper, Felix Cavaliere, and different folks to raise money for St. Jude's.
---
This article originally appeared in VG's August 2022 issue. All copyrights are by the author and Vintage Guitar magazine. Unauthorized replication or use is strictly prohibited.