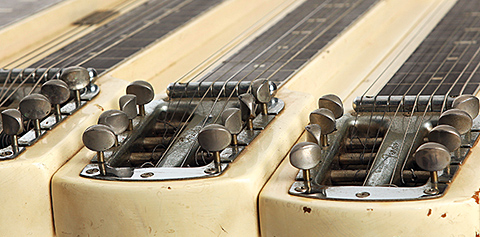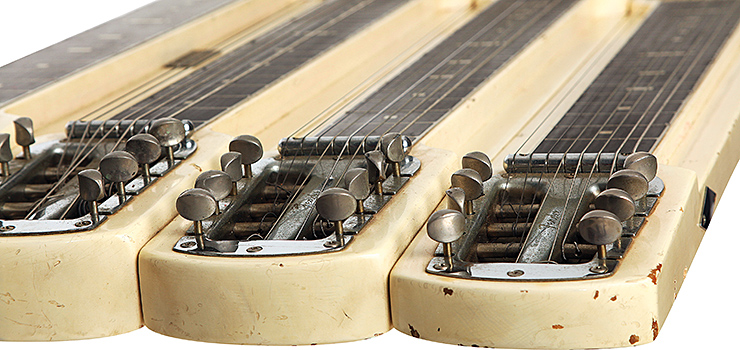 Noted in musical history as one of the players who pushed the steel guitar beyond Hawaiian music to more-complex chording and wild interchanges with Spanish-style electric guitarists, Noel Boggs emerged from a tragic childhood, using the guitar and music as a motivator, guide, and ultimately, means to a make a living.
Boggs was born in 1917 in Oklahoma City to a family of very modest means. At just eight years of age, he watched as his father was shot to death over a water dispute on their farm. His fortunes began to change a few years later, however, when his mother, Anna, bought a Sears and Roebuck guitar to help his younger brother, Richard, pass time while recuperating from surgery after injuring himself while cutting grass with a scythe. Because their mom could not go to the hospital, Noel, 12, was appointed to be his companion, and it was there he took to the guitar after Richard expressed no interest; Noel would entertain his brother by using the guitar – propped flat across his lap – to match notes from songs on the radio (though he shunned the guitar, Richard discovered a passion of his own and went on to become a noted PGA golfer).
Intrigued by the instrument, but even more interested in the latest fad – Hawaiian music – and the lap-steel guitar used to make it, Boggs saved money to buy one. As he learned to play, he developed an appreciation for jazz, swing, and Dixieland at a time when amplified/electric guitars were beginning to supplant the big-bodied archtops in big-band and orchestra music.
While in high school, Boggs fostered his love of music by working for three local radio stations and picking up side gigs. Then, just a month before he was scheduled to graduate, he was invited to join Hank Penny's Radio Cowboys for a tour of the southeastern U.S. Boggs promptly packed his one and only suit, put his Rickenbacker lap steel in its case, and caught a bus.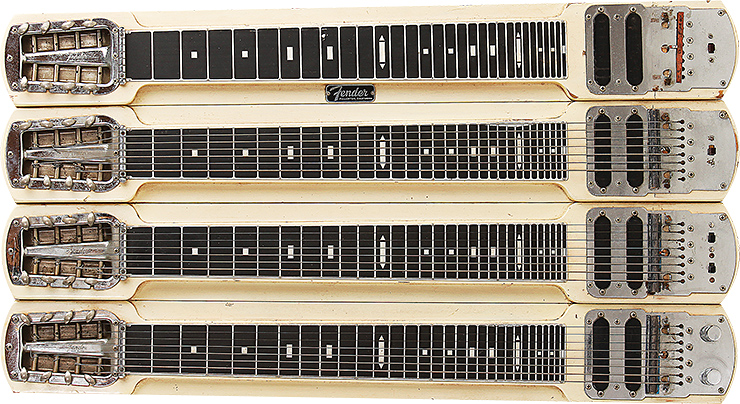 "Penny was leading one of the first Western swing bands east of the Mississippi," said VG contributor and Western-swing authority Rich Kienzle. "Western swing was a blend of fiddle tunes, Western tunes, blues, pop tunes, and jazz played for dancers – featured jazzy instrumental work and originated in Texas with early groups like the Light Crust Doughboys – which included Bob Wills – Milton Brown and his Musical Brownies, and eventually, Wills and his Texas Playboys. The Radio Cowboys, however, worked mainly on radio stations, not dance halls.
"Penny met Boggs in New Orleans in 1936, and two years later, Penny organized the Radio Cowboys in Birmingham, Alabama. By '39, they were based in Atlanta, and when the band's steel guitarist left, Penny sent for Boggs, who, armed with an Epiphone Electar Rocco doubleneck, spent nearly a year with the Cowboys and played on its second recording session, in Memphis. He was featured on the instrumentals 'Mississippi Muddle' and 'Chill Tonic.'"
After that stint, Boggs returned home and went back to work on radio, signing with WKY, where he hosted a morning show and performed on-air with his friend, singer Jimmy Wakely, and his Trio. When Wakely moved the group to Los Angeles to back Gene Autry, Boggs stayed behind, and in '41 formed a band that played locally. Three years later, another call came…
"Bob Wills and his Texas Playboys relocated to California in the summer of '43, and in '44, he hired Boggs as well as lead guitarists Jimmy Wyble and Cameron Hill, who played harmony parts," said Kienzle. "Boggs' playing was prominent on a number of Wills' hits that became Western-swing standards, including 'Roly Poly,' 'Texas Playboy Rag,' 'Stay A Little Longer,' and 'New Spanish Two-Step.'"
At the time, Boggs was making full use of the Epiphone Rocco as he and guitarists Jimmy Wyble and Cameron Hill would jam on complex melodies with key changes and solos that played off, between, and around each other; Boggs would run note-for-note with each.
In 1945, Boggs rejoined Hank Penny, who was organizing a new band in California; the following year, Kienzle noted, he and fingerstyle guitarist Merle Travis were showcased on Penny's hit instrumental, "Steel Guitar Stomp."
In '46, Boggs took a gig at the Hollywood Palladium, then rejoined Wills briefly before replacing Joaquin Murphey in Spade Cooley's band, which played the Santa Monica Venice Pier Ballroom every Saturday night, Kienzle explained. "That group – slicker and more musically adventurous than the Texas Playboys – featured a classical harp, and Cooley himself was a classically trained violinist who played ensemble parts with two or three other violinists in the band."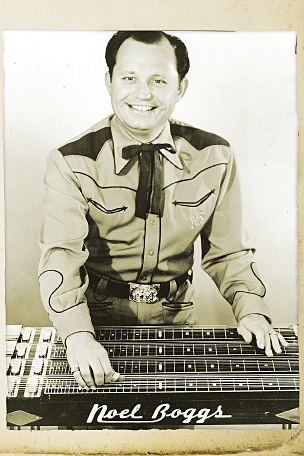 At the time, live music in dance halls was a primary source of entertainment, and the Cooley band delivered a full-tilt performance. "Cooley insisted on showmanship, with tailored uniforms clad with rhinestones in a spade pattern on the front, and making his own showy moves onstage as he fiddled," said Kienzle. "He eventually expanded the group to a full-sized orchestra with brass and reed sections. A year later, Cooley began hosting a popular local Saturday night variety show on KTLA-TV."
Boggs introduced Cooley to Leo Fender, who relied on local musicians to field-test his instruments and amplifiers. In '46, Fender built a doubleneck for Boggs; Leo's first such effort, it was one of several pieces of Fender-branded gear employed by Cooley and company. In '49, Boggs was given Fender's first triple-neck, and, in the early '50s, a four-neck. Boggs' daughter, Sandra, recalls that each was essentially a prototype without a true serial number, though they were often marked in some way.
The relationship, Sandra Boggs said, also led to their families becoming close-knit along with Freddie Tavares and his wife and two sons. Together, they enjoyed cookouts and spending weekends on Leo's boat in Catalina, or hanging at Leo's then-new shop in Fullerton. "Conversations started over hamburgers often culminated there, where Leo would take in all this information as my dad and Freddie Tavares talked about how music needed greater sound, better bass sounds, and how guitars needed wider necks." That input would later become integral to the making of Fender instruments; Boggs became one of Leo's most-relied-upon endorsers, and as such was given the newest guitars and amps to play.
"Boggs used the four-neck when he toured with singer/fiddler Wade Ray in January, 1952," said Kienzle. "When they went to Nashville to appear on the Grand Ole Opry, Ray and Boggs did an RCA session with Chet Atkins playing guitar and Owen Bradley on piano. Ray once told me that musicians on the Opry were puzzled by the four-neck Fender; at first they thought it was some kind of zither.
"Later that year, Ray and Boggs recorded the swinging 'It's All Your Fault,' for RCA in Hollywood, with Jimmy Bryant on guitar. Noel got billing on the label of that and other Ray recordings."
Boggs stayed with Cooley, on and off, until 1955, when he suffered a heart attack that sidelined him for several months. After recuperating, he focused on studio work for Columbia Records, where he backed artists including Ray and Johnny Bond, and recorded an instrumental called "Steelin' Home," which is regarded as a Western swing/steel-guitar standard. He also formed the Noel Boggs Quintet, which recorded several albums with Neil LeVang (VG, December '09) – later of the Lawrence Welk Orchestra – on guitar. Through the remainder of the decade and into the early '60s, he worked for Jimmy Wakely's label, Shasta Records. All told, Boggs has approximately 2,000 recordings to his credit.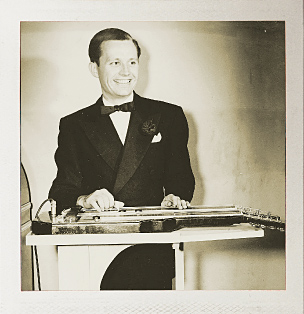 Slowed by bad health, by the late '60s, Boggs' activity was limited. He died on August 31, 1974, after suffering a massive stroke and heart attack. He was just 56.
Sandra Boggs recalled that amongst her father's her father's many personal and professional attributes, he was an avid practical joker, famous for pranks to the point where everyone he worked with learned to be on the lookout. But, before everybody caught on…
"When he worked on feature films with the singing cowboys, the band members, of course, were trained and educated musicians – few had ever been in 'the country' or so much as ridden a horse," she chuckled. "For one scene in a Gene Autry film, they were directed to play a song with Gene, then, on cue, drop their instruments, run to a group of horses, jump on, and ride off. Some of the guys were pretty proud of the fact they had never ridden, so, when lunch was called between scenes, dad loosened the cinches on the saddles, and when the band raced to their trusty steeds, the saddles gave way and the guys landed in the dirt. It gave everyone a good laugh, including the director – and Gene!"
In the years shortly after his passing, Boggs began searching for some of her father's possessions that had slipped through the cracks. At first, her search produced precious little.
"I asked Linda Wakely, Jimmy's daughter, if I could buy his master recordings from Shasta, but she was in the process of selling all of her father's artist masters to Varese Sarabande," Boggs said. Disappointed, she turned her attention to locating the four-neck pedal steel he was using when he passed.
"At the time, he had been playing at Scotty's, a small bar in Long Beach, and by the time we had the presence of mind to think about the guitar, it and all of his personal items were gone," she said. "I was told recently that someone tried to sell it a number of years ago at the Pomona Swap Meet."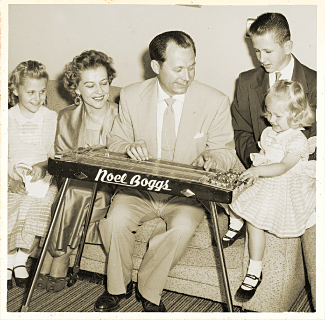 The guitar has yet to surface.
In the early '90s, Boggs was sifting through some of her dad's old albums when she found three he made for Barcus-Berry Recordings using a four-neck Stringmaster that had been a key part of his life and career.
"I knew that Les Barcus' studios had shut down, but he still lived in the area," she said. "So, I called and asked about my father's guitar. He told me that it had been put in a broom closet, and mentioned a janitor who might know more."
Her hunt then focused on the janitor.
"I located him via lots of phone calls, and he told me the guitar was under his bed, waiting to be claimed. So, I drove the 100 miles to his home in Chino. He told me that he'd put the guitar in that closet because Les was going to throw it out. He said, 'I loved your dad's music – and him!' He was a funny and genuine fellow, and said he couldn't stand to see the guitar thrown in the dumpster. He had a hunch that eventually, someone from the family would come to get it, and he told me, 'I've been waiting for you for a long time!' I offered him some money, but he refused. He helped me load it into my car. I told him how much it meant to me and my family, and I went home with a piece of my father."
It's a piece that holds special memories for her.
"On it, he practiced at home, did sound effects for Cecil B. DeMille films, used it with Spade, and on sessions with Nat King Cole, Frank Sinatra, Louis Prima, Keeley Smith, and many sessions for Shasta and Capitol Records," she recalled.
It also accompanied him on a USO tour of the Orient; its tweed case still has remnants of luggage tape from the first leg of that tour, in Hawaii.
"When I opened it, I'm pretty sure I was the first person to have done so in more than 40 years," she recalled. "Plus, I had spent 15 years tracking it down. It made for a special moment… and then I saw his fingerprints still on the chrome."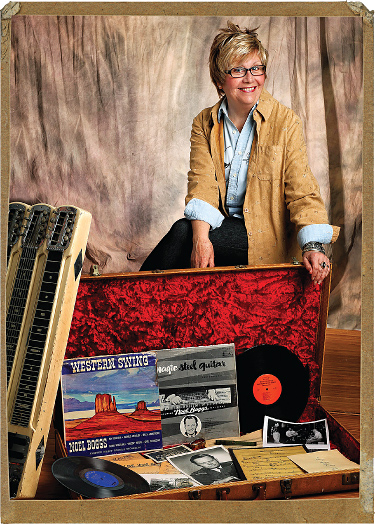 She later bought from Barcus the masters of those albums – the final of her father's career.
Though the various lap steels served Boggs well, with the advent of TV, a heightened professional profile, and further touring, he ultimately took to pedal steel, turning to Fender and Tavares to learn how to play the instrument, and design one.
"They built one that had 16 pedals, and depending on how dad tuned it, he could augment the sound by double that," said Sandra Boggs. "He loved, learning to use it for jazz chords, and his style rapidly took on a more-refined sound. His close friendships with fellow musicians like Harold Hensley, Muddy Berry, Billy Hill, Jimmy Wyble, Roy Lanham, and Freddie Tavares offered opportunities to develop sounds that other steel players showed no interest in playing. He was not afraid of trying anything new, and his tastes were broad, his sound legendary.
"Dad was such an innovator – a self-taught, fearless musician who was passionate about his craft and loved getting the full-bodied sound he became famous for," she added. "His jazzy style redefined the role of the steel guitar in arrangements, and his harmonic piano-style chording made history. He moved from one neck to the other with ease, and usually with a laugh!"
Boggs recalls the only time Leo Fender, who was also her godfather, was effusive with his affection. "At dad's funeral, we played his cut of 'Tenderly,' and there wasn't a dry eye in the house. Later, Leo hugged me and said quietly, 'He was a fine man, a true friend, and a brilliant musician.'"
Boggs followed in her father's footsteps by making her living in the entertainment industry, starting as a professional dancer and entertainer in Las Vegas. Shortly after, at the encouragement of her agent, she changed her name to Dannielle Mardi and appeared in 17 episodes of "The Beverly Hillbillies," portraying Helen Thompson, a secretary at the Commerce Bank. Today, she teaches acting, while also performing and building props for the Wagon Wheel Theater in Warsaw, Indiana.

---
This article originally appeared in VG's November 2014 issue. All copyrights are by the author and Vintage Guitar magazine. Unauthorized replication or use is strictly prohibited.
---