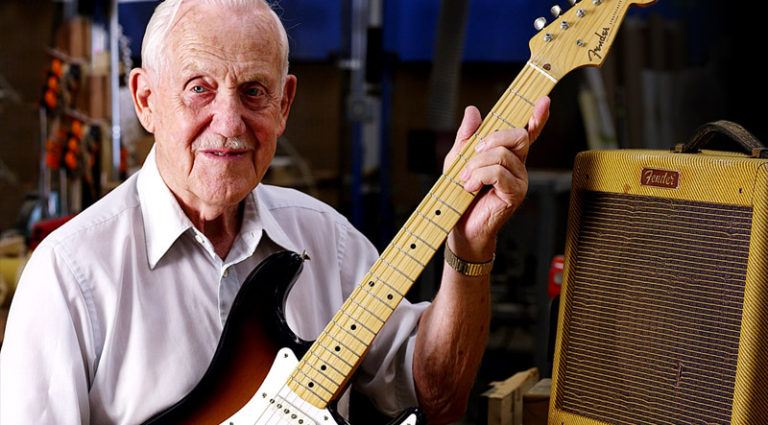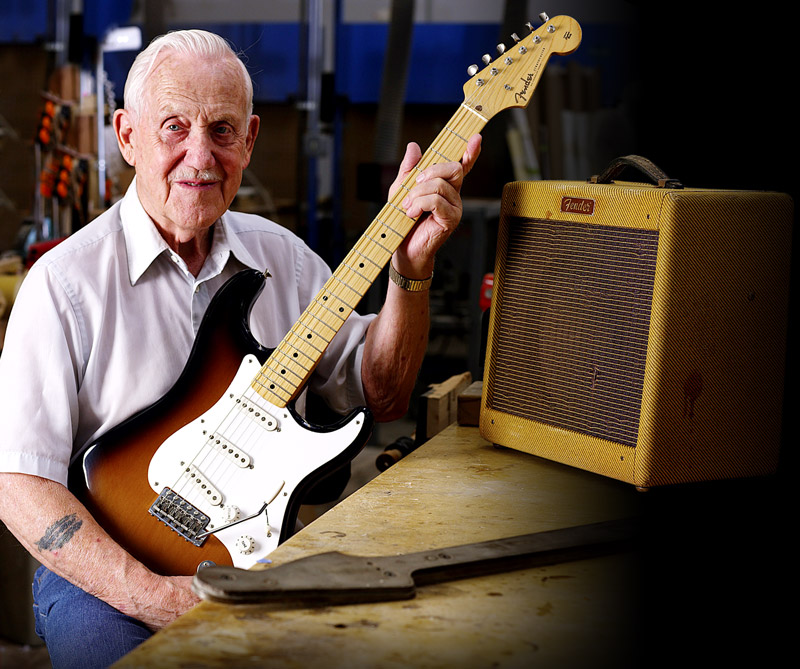 George Fullerton, whose decades-long association with Leo Fender earned the two early electric-guitar innovators a place in history, He died July 4, 2009 at the age of 86. He succumbed to heart failure at St. Jude Medical Center in Fullerton, California, the Orange County town where he and Fender had began building stringed instruments in 1948.
Fullerton was born in Arkansas before his family moved to the Golden State town that bore their surname. In the late '40s, he was doing radio repair and driving a truck for a moving company during the day, then playing in a band on weekends. He also attended Fullerton Junior College to keep up with changes in the electronics industry.
Fullerton first met Leo Fender in a park where musicians played; Fender provided sound systems for bands, and George began helping Leo at such concerts.
"Leo had a radio repair shop, and I used to buy records from him," Fullerton told Vintage Guitar in 1991. "One day he showed me a small electric guitar that he and Doc Kaufmann made, and I got to play it with my band."
Fullerton went to work at Fender's shop on February 2, 1948. His first job was repairing amplifiers, and he and Fender began working on a prototype solidbody Spanish electric guitar the same year.
While Fender had already built and marketed some steel guitars along with Kaufmann under the K&F brand, Fullerton recounted in his 1993 book, Guitar Legends: The Evolution of the Guitar from Fender to G&L, that when he signed on with Leo's shop, he told Fender he knew more about "the regular guitar" than steels. Accordingly, Fender counted on Fullerton's input about the development of electric Spanish instruments from the beginning of their association.
The Fender company's solidbody electric guitar debuted in 1950, going through more than one name change until it settled into the market as the Telecaster. Originally derided by musicians as a homely, plank-like instrument, it quickly won over guitarists with its distinctive "twang" tone, setting the stage for Fender's further innovative musical instruments.
Fender and Fullerton next developed what was perceived as an entirely new instrument – a solidbody, guitar-shaped electric bass. With a fretted neck and easy playability, what became known as the Precision Bass was designed as an alternative to the cumbersome upright "doghouse" bass found in most combos. Fullerton noted that he and Leo would often work long into the night on their new creation, and recounted that by the time the P-Bass was developed, the two were assisted by Hawaiian musician Freddie Tavares in developing instruments.
As for the "how and why" regarding the Precision Bass acquiring a 34″ scale (which is still the industry standard for electric basses), Fullerton recalled, "We tried some shorter scales like 30″ or 32″, but they didn't seem to get the resonance we needed. We may have even tried a 36″ scale, but the distance between frets was too wide to be practical. In trying to get things right, we even took gut strings off of upright basses and wrapped wire over the part of the string that would be vibrating over the pickup."George Fullerton Photo courtesy of Fender Musical Instruments Corp."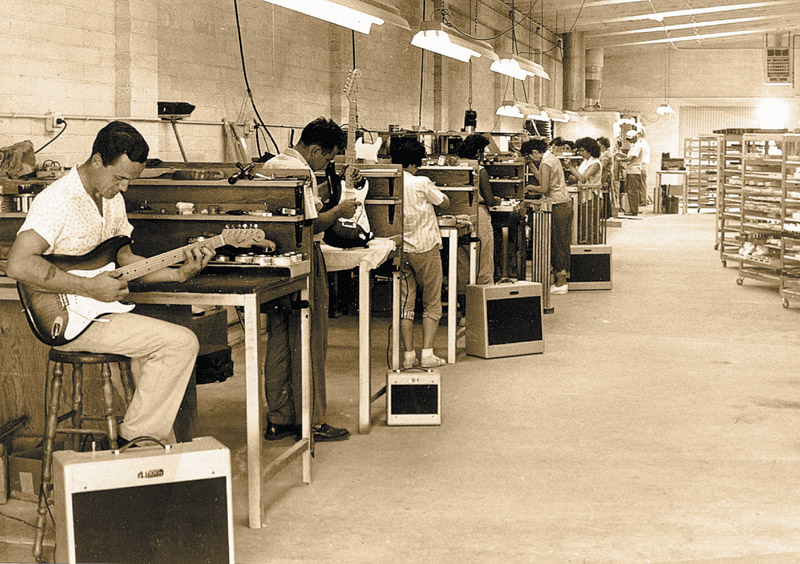 The Stratocaster, which would ultimately become the world's best-selling electric guitar, was up next for the Fender company, and this time around, Leo, George, and Freddie had the input of a musician named Bill Carson, who would field-test prototype instruments for the company. Carson would ultimately join the Fender company, working in guitar production at the factory, and later, in sales.
Fullerton is credited with the idea of the teardrop-shaped jack on the top of the Stratocaster. Such an innovation would help prevent damage to the instrument if a guitar cord was abruptly pulled out of the jack.
Fullerton's wife, Lucille, also played a part in the marketing of the Stratocaster, suggesting the phrase "Original Contour Body," which appeared on a decal on the headstock.
While Fullerton wasn't as involved with the development of subsequent Fender models, the company's custom-color concept, introduced in the late '50s, was his.
"The first custom-color instrument was a Fiesta Red Jazzmaster, and I still own it," Fullerton said. "The sales staff laughed when it was introduced, but I had the last laugh!"
Fullerton was Vice-President for Production when the company was sold to CBS in 1965, and Leo Fender retired. Fullerton remained with the Fender company under CBS ownership until 1970. He worked briefly with Ernie Ball in the development of Earthwood guitars and basses. In the mid '70s he joined Leo Fender in the original Music Man company, and ultimately, the two, along with longtime Fender salesman Dale Hyatt, founded yet another guitar company, G&L.
"What Leo tried to do with Music Man guitars, and later, G&L, was design guitars through his CLF Research company that didn't look like the instruments he'd designed at Fender," Fullerton said. "He wanted these newer brands to be improvements on his earlier designs. In a lot of ways, he had his work cut out for him. But he felt his later designs were the best he'd ever done."
Fullerton even owned patents on guitar design. One was for a three-bolt/tilt-neck adjustment, and he averred that his patent is not the one used on Fender instruments after he left the company.
Fullerton's patent was found on Music Man and G&L instruments. "The problem with the Fender type was that as the neck was adjusted, there was a shaft inside that was turning against a metal plate on the bottom of the neck, changing the angle," he recalled. "This meant not enough vibration from the strings was being conducted through the neck joint, because contact between the neck and the body was lessened; there was a gap. My neck patent assured that a neck could be tilted while maintaining contact between the neck and the body."
G&L instruments were built in a facility on Fender Avenue in Fullerton, where Leo had built a complex. The line initially consisted of the F-100 guitar and the L-1000 and L-2000 basses, and quickly expanded to include numerous models that appealed to many working players.
Fullerton had bypass surgery in the mid '80s, and, under the advice of his doctor, sold his G&L stock to Leo then settled into a vice-president/consultant position. He continued to monitor Leo's well-being as his health deteriorated due to Parkinson's Disease. When Fender passed away in March, 1991, Fullerton helped design his headstone.
Fullerton continued as a consultant with G&L, and the company ultimately marketed a George Fullerton signature Legacy model guitar.
Fullerton's Guitar Legends book was later supplemented with Guitars From George and Leo: How Leo Fender and I Built G&L Guitars, published in 2004.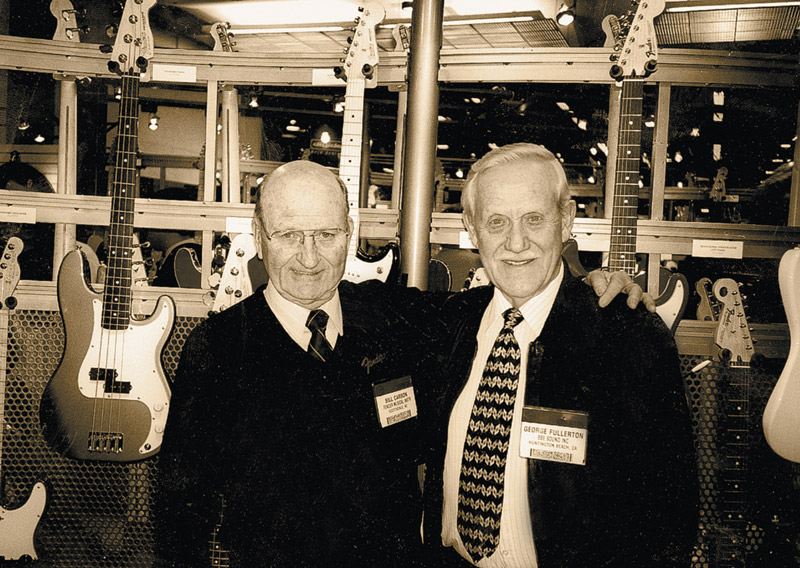 In '07, Fullerton became a consultant for Fender's Custom Shop, which in November of that year Fender produced a George Fullerton 50th Anniversary Stratocaster.
Lucille Fullerton died April 20, 2009, and her life partner crossed the way less than 11 weeks later. Fullerton is survived by his daughter, Dianne, son Geoff, and two grandchildren.
Both Fender and G&L posted tributes on their websites, and accolades for Fullerton were read across the globe.
Susan Carson, widow of Bill Carson (who died in early '07) and a former Fender District Sales Manager herself, recalled Fullerton as "…an incredibly kind and gentle man who did not hold grudges, who was quick to give others credit, and who loved his wife and family first and foremost. He was truly Leo's right-hand man, and he seemed to admire Leo very much; his loyalties to Leo were unmatched. George has been an under-recognized and under-appreciated figure in the guitar industry, and I would hope his memory would be elevated to that which he deserved."
Longtime Orange County guitar technician Steve Soest recalled an incident that exemplified the dedication of Fullerton and Fender to building the right instruments for professional musicians, citing a visit to the G&L facility in Fullerton.
"One time I was there, showing George and Leo a near-mint '58 Precision Bass I'd just purchased," Soest recounted. "Leo studied the bass for the longest time, then turned to George and asked, 'When did we stop running the strings through the body?' People always wonder why they didn't remember detail upon detail, or certain dates in guitar history. To them, that stuff wasn't important, it was all about positive evolution of function and form in the design of the instrument – nostalgia be damned! Witnessing that sort of relationship first-hand demonstrated to me just how important George was to Leo, then as in years past, as a top player on his A team."
And perhaps Fullerton himself accurately predicted his legacy when, in 1991, he told VG, "The Telecaster, Precision Bass, and Stratocaster are still the most demanded, the most popular, and most copied instruments in the world, and I feel privileged to have been involved in their development. I think three instruments have established a precedent with their popularity and demand, and have created an endurance record that has never been equaled, and maybe never will be in the future."
VG's final question for Fullerton in the '91 interview was whether the label "unsung hero" was appropriate in his case. Fullerton's response? "Well… maybe."
---
This article originally appeared in VG's October 2009 issue. All copyrights are by the author and Vintage Guitar magazine. Unauthorized replication or use is strictly prohibited.
---