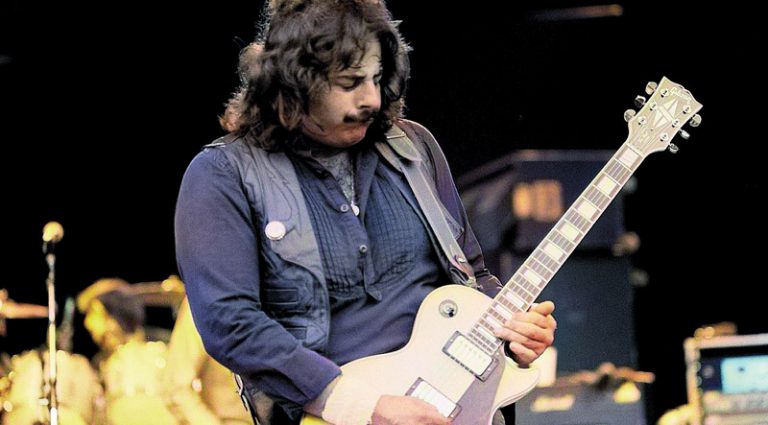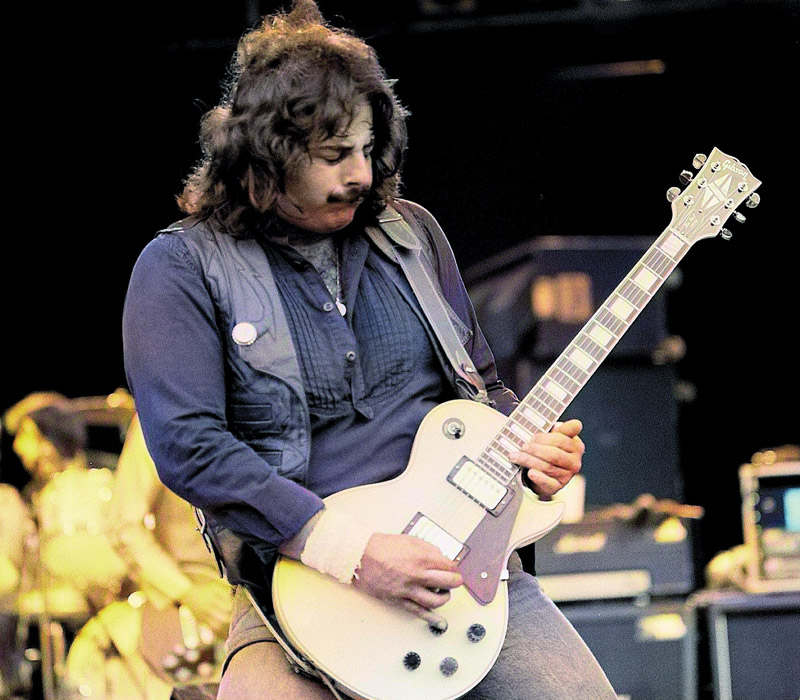 The Outlaws weren't just a great Southern band, but also one of the most intense guitar experiences in all of rock. In 1977, they ratcheted things up by adding lead man Freddie Salem, creating a triple frontline alongside guitarists Hughie Thomasson (1952-2007) and Billy Jones (1949-1995). Captured on the just-released Live at Rockpalast 1981, this Outlaws lineup torched every stage. VG recently caught up with Salem to discuss his memories of this barnburning era.
When you joined, the Outlaws already had Hughie's bluegrass-infused Strat attack and Billy's blazing Les Paul. What did you bring to the party?
Hughie and Billy wanted to push the envelope, and I brought a heavier edge. I first met the Outlaws in Los Angeles and we stayed in touch; about a year later they invited me to jam, in Tampa. I didn't realize they were thinking of me as a new member. We rehearsed for a week, hit the road, and my first gig was at Boston Garden. After a few months, the band became a "wall of sound" guitar machine. It was evident to all involved, especially the audience.
What was it like opening for the Rolling Stones in '78?
The Stones shows were a spectacular experience. They took a liking to the Outlaws and treated us very well. Etta James and Peter Tosh were also on the bill. By then the Outlaws had become a more-aggressive, louder band, which was needed to project to the massive crowds. Our two days at Anaheim Stadium were tremendous, playing to 100,000 fans per day.
At Rockpalast '81, you had a tobacco-sunburst Les Paul Standard.
That was my very first electric guitar – I got it in 1969 at the age 17, from my ma and pa, and it cost $350. At that point, it was a goldtop with DeArmond pickups, but I installed humbuckers and, due to wear and tear, repainted the guitar. I still have it. My alternate road guitar was a white '74 Les Paul Custom, which I also still have. And, I own '58 and '59 'bursts which rarely see the light of day unless I'm working on one of my personal projects. For the "Ghost Riders" record, I played a Dan Armstrong lucite guitar, which I sold. I still have a lucite bass.
What about amps and pedals?
My onstage rig back then consisted two Hiwatt 100 heads driving six 2×12 JBL Cabaret cabs. The only outboard gear was an analog MXR flanger/chorus, a Peterson tuner, and Rat distortion pedal for most solos. The Marshall backline in the Rockpalast show were rented through a production company out of London.
Every Outlaws guitarist was a monster player, but Billy was out of this world.
Billy was the consummate guitarist, composer, and musician, plus his solos and tone were powerful and precise – he would cut through the stage mix like a knife. Hughie and Billy were the nucleus of the Outlaws and seemed to be joined at the hip while playing. But Billy was also a kind and fragile, artistic soul. My memories of him still remain and I was sorry to see him go.
You also have an Eddie Van Halen story. 
We were on a festival show featuring Boston and Van Halen, right after their groundbreaking first record had just been released. We had listened to their record and couldn't believe what we were hearing in Edward's guitar work. During our set, he stood at the side of the stage, then later approached me and asked, "How do you guys do that with three guitars?" I said, "It takes a bit of planning and arrangement, but after playing together for awhile, we know what the other guy is going to do." Ed replied, "Amazing… I have enough trouble playing guitar by myself!" He was a genuine musician and person; we should all thank Eddie for reinventing the electric guitar for generations to come.
Did you really play on Barbra Streisand's The Way We Were album?
Well, I guess I did (laughs)! If my memory serves me correctly, the producer yanked me out of a studio hallway and had me record an acoustic-guitar track to a chord chart. It wasn't a scheduled date and I was there for a total of 30 minutes. At times you didn't realize what you were working on – it was just another day at the office. Those Los Angeles studios in the '70s were overflowing with projects for film and records. Great times.
What's next for you?
I've been working on my upcoming Freddie Salem & Lonewolf album, Black Cloud Rising. It will be a very hard-edged, American-roots record. Hopefully touring will also come back – I need to get on the road. Time to load the saddle bags and hit the trail!
---
This article originally appeared in VG April 2021 issue. All copyrights are by the author and Vintage Guitar magazine. Unauthorized replication or use is strictly prohibited.
---