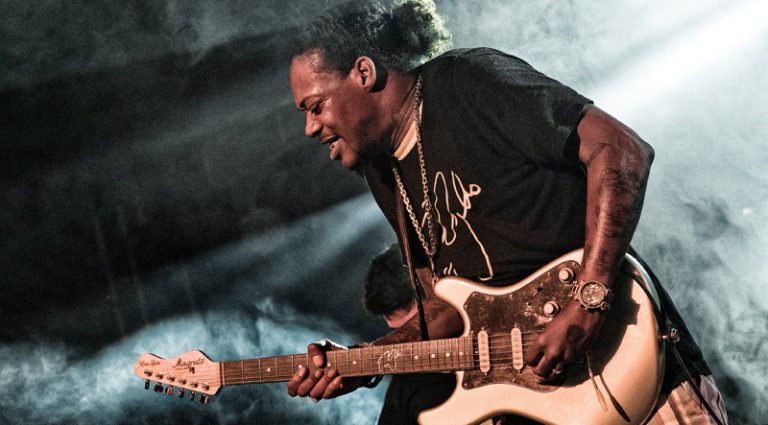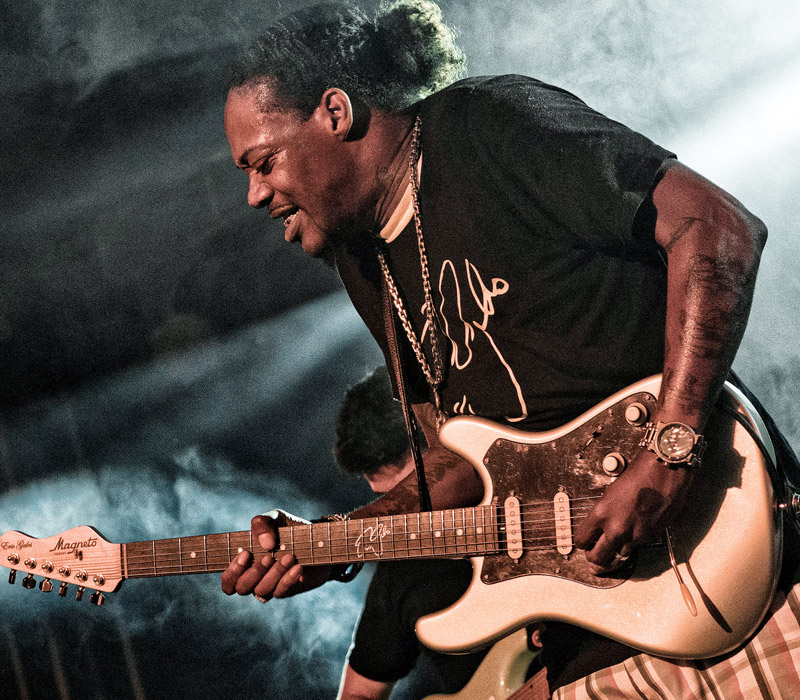 In a recording career that spans 30 years and includes 18 albums of his own and 28 more tributes and compilations, Eric Gales has earned a reputation for blindingly fast solos in which passion outshines speed.
Gales was born into a home filled with music and started playing guitar at the age of four. Though right-handed, he has always played lefty, maybe because his brother played that way. He started on a Hagstrom double-cut but in the mid '80s found a '77 Strat.
Gales says his new album, Stand Up, will be "the most iconic of my entire life." The producer and one of the co-writers and performers is mega-star Joe Bonamassa; their first meeting happened more than 25 years ago.
"Joe was about 17 and playing in a band called Bloodline, in the early '90s. He opened for me at a small club in Huntsville, Alabama, and I heard him during sound check. I distinctly remember saying to myself, 'This dude's about ready to make me play my ass off.' We introduced ourselves and he said, 'Man, I know exactly who you are. It's a pleasure to meet you.'"
Time passed and just a few years ago, Gales was invited to play on a blues cruise organized by Bonamassa. During one of his sets, Joe called Gales up to play on "Ballad of John Henry." Video of the performance has been viewed more than two million times.
"In my mind, the wheels were spinning right then," Gales said. "I asked him on the spot if he would produce my next record and he said, 'Yes! Pay me two Diet Cokes.'"
There were two writing sessions in early 2019, with Gales, Bonamassa, Keb' Mo', Tom Hambridge, James House, and Eric's wife, LaDonna. Then, both Gales were stricken with Covid-19.
"At one point, we said our last goodbyes to each other," Gales recalled. "To have stood up tall against Covid and fought the good fight and still be here – and to have stood up against addiction and turned my life around… I feel very fortunate. Physically we're back to 100 percent, but emotionally we're torn up because my tech that worked for me for the last four years passed away from Covid."
Though they'd originally planned to record the album at Ocean Way Nashville Studio, a week before they were scheduled to start, a massive storm damaged power there.
"In a couple days, Joe found another studio, Sound Emporium." With Michael Rhodes on bass along with drummers Greg Morrow and Lemar Carter, recording began.
"You've got three well-established guitar players with me, Joe, and Josh Smith involved, but it's not a G3 sort of thing. I'm definitely playing my ass off, but only when needed. It's more about the songs, the singing, and the content. Joe pushed me very hard to make sure that what I wanted to say got across. There are a lot of stories within this record that are powerful nuggets I think people need to hear.
"For those anticipating a sequel to me and Joe playing 'The Ballad of John Henry,' we rekindle it on 'I Want My Crown.'  But the big surprise is a song by LaDonna, 'Take Me As I Am.' There wasn't a day in our nine at the studio where we weren't overcome with emotion at some point. Reese Wynans said it was the most fun he had playing since his days with Stevie Ray Vaughan.
"We hope for some sense of normalcy at some point. By the time the record is out, we'll be full steam ahead promoting because that's what it deserves. Hopefully, it's out by summer. I wish it was tomorrow because it feels like I'm holding a briefcase full of platinum."
Eric's other gear on Stand Up includes a Magneto Sonnet RawDawg II, a Dunlop Raw Dawg Tube Screamer, a signature Dunlop Cry Baby, Bob Bradshaw wah, Tech 21 Delay, and an MXR Octavia.
---
This article originally appeared in VG April 2021 issue. All copyrights are by the author and Vintage Guitar magazine. Unauthorized replication or use is strictly prohibited.
---