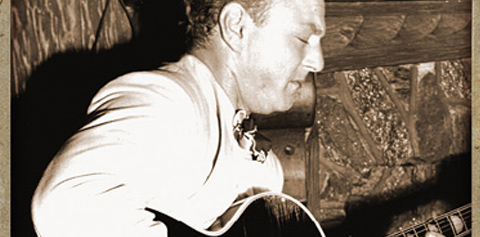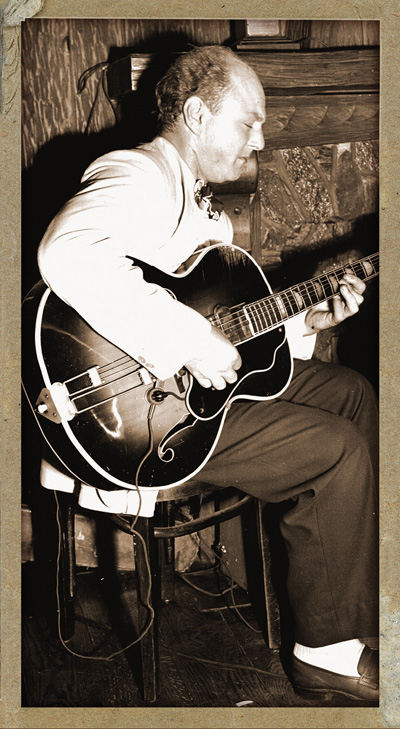 Billy Bauer's career was so steeped in tradition that he is often thought of as one of the first jazz guitarists. And while that's true, his pioneering, progressive attitude and contribution to the artform endured for decades. His big-band time with Woody Herman's First Herd was a precursor to his association with jazz visionary Lennie Tristano. He was in-demand for recording with the greatest jazz artists of his era, including Benny Goodman, Lester Young, and Charlie Parker. And he held a prestigious and coveted staff guitarist gig at NBC in New York.
Though he emerged during the bebop era, Bauer quickly became prominent in the "cool" movement of the '50s. Later, as one of the architects of modern jazz and the avant-garde, he helped liberate jazz from the servitude of its prosaic ii-v-i chord structure. Many jazz aficionados place his importance within the evolutionary lineage of Django Reinhardt, Charlie Christian, Tal Farlow, Jim Hall, Larry Coryell, and Wes Montgomery. In 1992, on his weekly radio show, "Jazz Profiles," Grammy-winning producer and jazz archivist Phil Schapp said, "Billy Bauer was both a participant and earwitness to the history of jazz."
Bauer was born in 1915 in the Bronx. "My father was a song-and-dance man," he said in a 2004 interview [with VG contributor Jim Carlton] for classicjazzguitar.com. "He used to bill himself as 'Harry Nelson: He Says He Sings' and he'd play amateur nights."
And while his father's profession may have played a role in Bauer's means of making a living, fate and pop culture were greater factors.
"When I was nine years old, I broke my leg, so all summer I was in a cast up to my knee," he said. "My dad got me a ukulele and I learned to play. The comic strip and movie character Harold Teen was big then, and Ukulele Ike (real name, Cliff Edwards), the guy who became the voice of Jiminy Cricket, was really big back then, too. So I learned 'Five Foot Two' and all those songs.
"The banjo player Harry Reeser was also a big star at the time. So Dad got me a tenor banjo when I was 12. He was always pushing me, and by the time I was 14, he got me a 15-minute radio show for several weeks. Many years later, in the '50s, 'The Jackie Gleason Show' asked me to come on and play banjo for some production number with 15 other banjo players. I stood right next to Harry Reeser! Later, I found out he recommended me for a Paul Newman film, The Hustler, in which I was onscreen all of eight seconds!"
At 15, Bauer quit school and started gigging in the Borsht Belt of upper New York state before being hired to play the banjo in Far Rockaway (Queens), at the Palm Inn. "I worked in a speakeasy owned by the mobster Waxy Gordon. Sometimes we'd just drink and yap it up, but then they'd pull a job and we'd play for three days straight. They paid me $16 a week, which was great money! But I didn't even think about that. But I had a girlfriend, and that's where the money went."
While Bauer held the gig at Far Rockaway, prohibition was repealed. So, he was sent to play in Broad Channel, still playing only banjo. It was the first in a series of gigs that served as catalysts for the creation of the musicians union.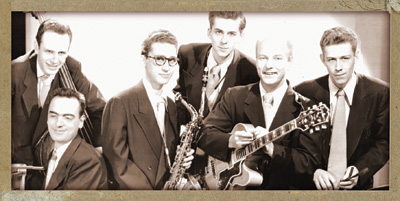 "Anyway, the girl followed me to Broad Channel. I was just 15 and she was 21, but she used to go with a detective who she was going to marry. One night, we were playing and there was a big ruckus at the bar – the detective came in with his gun and was going to shoot me. But they pinned him down and took it."
After that incident, Bauer moved to another gig at the Pelham Heath Inn, in the Bronx, where he began to make the transition to guitar. "It had a floor show with a seven-piece band, and you couldn't hear a guitar. We had no mics or amplifiers, so I got a Dobro with a metal resonator and I learned a couple of chords and kept it next to me – pick it up and strum. But most of the job was banjo.
"When that job finished, I went to the Nash Tavern. We had piano, drums, saxophone, banjo and guitar. By this time, I'd gotten an electric guitar – [Rickenbacker] with a plastic neck, or Bakelite maybe. It looked like a frying pan with a little round thing on the end that looked like a banjo. I think it had a solid body. There was a little amp with it."
Bauer kept the gig at Nash Tavern for a couple of years, and for a time he worked with Harry Raab, who was breaking in an act called Harry the Hipster – a charismatic, entertaining barrelhouse piano player many consider an antecedent of R&B and rock and roll.
"Harry and I moved to the Naughty Naught Cafe on East 55th in New York and became The Domino Twins, [billed as] 'White Boys With Black Rhythm.'" Soon, Bauer's reputation as a player secured him gigs at the Essex House and, later, Goldies on 52nd Street, where he scored his first review in Downbeat magazine. "Most of the guys in the dance field I knew who were playing swing went toward Django," he recalled. "But I took the Charlie Christian route. I had heard him with Benny Goodman, and Benny was tops."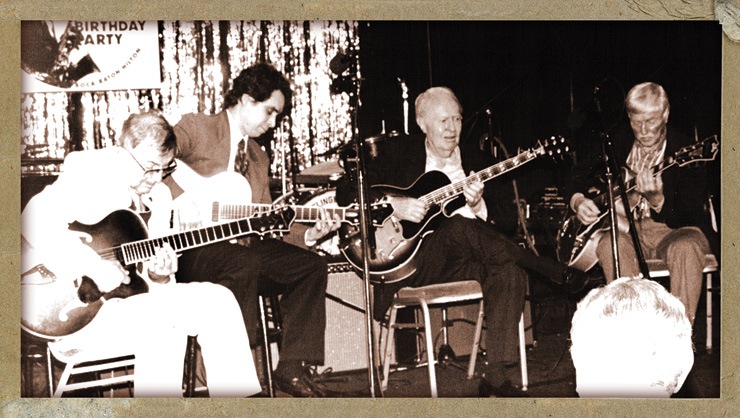 In 1939-'40, he joined clarinetist Jerry Wald's big band, where his role was to play rhythm guitar. For the gig, he purchased an Epiphone DeLuxe, but it wasn't around for long. "It got crushed by the band bus," he said. "It didn't break, but it had a crack in the top. I took it to Eddie Bell, who had a music store on 6th Avenue. He got it fixed and asked if I'd like to sell it for $200.' At that time, Guild wanted me to advertise for them, and Gretsch gave me a cherry-colored guitar, too. So I sold the Epiphone and used a Guild for a little while before I went to John D'Angelico's shop to order a guitar. A couple of months later, he called and said, 'Come down about six o'clock.' When I got there, he locked the door, opened a bottle of wine, and said, 'Play my guitar for me.' I played some and he said, 'Okay, you can have the guitar…." Not for nothing, but he meant he'd sell me the guitar!
"Years later, I was doing a gig with Barry Galbraith, helping him on a session, and the guitar fell over. The neck broke; I felt like I'd broken my arm. So I took it back and asked John for a zero fret. Boy, I had to argue for that! Another thing I had to argue for was for him to take a little off the headstock, because the guitar wouldn't fit in my gig bag."
Woody's First Herd
In 1944, Bauer joined Woody Herman's First Herd, billed as "The Band That Plays The Blues." Herman was signed with Columbia Records and was making the transition from swing to what was called progressive jazz.
In 1945, the band had a major hit with "Caledonia" and recorded Igor Stravinsky's "Ebony Concerto," conducted by Stravinsky himself. A year later, the Herd walked away with the Metronome, Downbeat and Esquire awards for the best band. In addition to Bauer, many of the First Herd's alumni went on to become major figures in jazz. Dizzy Gillespie, who often wrote arrangements, was succeeded by Ralph Burns and Neal Hefti. And drummer Davy Tough, saxophonist Flip Phillips, and trumpeter Pete Candoli all became major jazz stars. When Bauer left, he was replaced by the great Chuck Wayne.
The Lennie Tristano Years
In the fall of 1946, Bauer joined Lennie Tristano's small group. Phil Schapp pointed out the key transition in Billy's career – leaving Woody Herman, who had the most popular band in the world, and going with a relatively unknown trio. Tristano, a piano player, was an innovator and pioneer of the "cool" jazz movement, and the avant-garde. Schapp called Tristano, "One of the more striking individuals that music has ever presented." Bauer was an integral and influential part of Tristano's creations, which were noted for their complex grasp of harmony. "Even though it was complicated, I just felt at ease with it," said Billy. "For the first couple of weeks I didn't know what I was doing, but it didn't matter."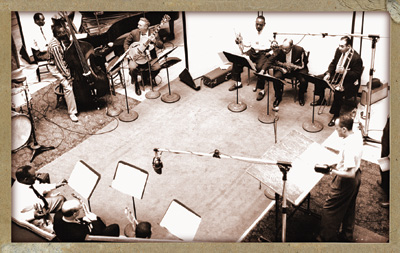 Schapp calls Bauer's association with Tristano "a very important dimension of music," and says Tristano obviously saw something special in Bauer and his musical vision. "His ability to create improvised passages on solo guitar show him to be one of the pioneers of the instrument, and its uses in jazz. He was part of a breakthrough in jazz and Tristano, who had devastating technique, a keen ear and a great mind, would rely on him in so many different ways. That automatically shows you that there's something major within Billy Bauer."
Tristano's awareness was endorsed by having written an arrangement for the Woody Herman band that showcased Bauer. "It actually had 'Billy' written on the piece. I was looking though my old music and there it was with my name on it. There are a couple of lines that say, 'read as written,' then 'ad lib on these changes,' and back to 'read as written.'"
In a 1972 interview in Guitar Player, Bauer said, "We'd put six men together and [Tristano would] say, 'Here's the start,' and we'd keep playing. He called it 'collision-type' playing. No tempo, no key, no nothing."
It was from this experimental playing that Bauer is often credited with developing the concept of comping on guitar. Strict 4/4 time was obviously not hip under such circumstances, so Bauer learned to fit in with chords and riffs when it felt right. "When I got with Lennie, there wasn't much choice," he said. "I figured if there was a hole I'd throw in something. So I guess I just listened. Lennie's instructions were 'Don't play the melody. You can indicate it and that's it. And don't play rhythm,' so that's what became comping. Tristano's avant garde and complex harmonies were so progressive that his record company didn't release the group's 1949 recording of "Intuition" for 10 years.
"Lennie had so much music education and I had none formally," Bauer once told Schapp. "So, he kept asking me to study with him. And I did go over there two, maybe three times. He'd say, 'Next week, know all your scales.' I'd say, 'I know my scales. I may not know them the way you mean, but c'mon.' I'd been playing with him for a year and I know how fast he was and how he'd play one scale against another. Some nights, I'd play something and he'd play it in another key with me in harmony. But he kept after me saying, 'You've got a great record inside you.' Some people thought he played in too intellectual a way, but he really knew what he was doing."
Jazz pianist and composer Dick Hyman was immersed in the era's 52nd Street jazz scene and was a music director/conductor at NBC when Bauer joined him. Perhaps most famous for scoring the Woody Allen films Sweet and Lowdown, Stardust Memories, The Purple Rose of Cairo, Hannah and Her Sisters, among others, Hyman avoided Tristano's tutelage at the time. "While it was a free type of jazz, Tristano still imposed a number of rules," he said. However, in retrospect, as recent as last year, Hyman revisited Tristano's compositions and methodology and found it "quite valid, legitimate, and fascinating."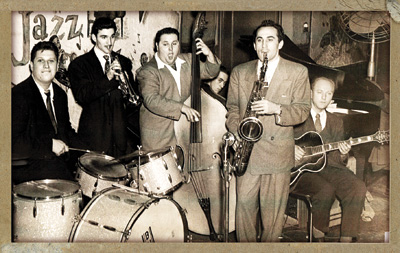 "A few years later, Ornette Coleman would edge toward an emancipation from much of the music's rule book, but pianist Lennie Tristano and his small circle dove deeper into the rule book, working obsessively with a small group of standard tunes until they could take them in any direction," added jazz critic Paul Wells.
"Bauer found a way to divert from Christian's methodology, and leaving a very new tradition in order to do it," added jazz guitarist and musicologist Skip Heller. "He becomes this hidden giant. And it's very easy to forget how profound the influence of those Lennie Tristano records were."
By 1949, Bauer's visibility and prominence was rewarded. During this era, he was always among the usual suspects chosen for the yearly all-star selections from Metronome and Downbeat magazines. He won the Metronome Best Jazz Guitarist honors five consecutive years from ('49-'53) and the same award for Downbeat in '49 and '50.
His recordings from that time with saxophonist Lee Konitz, another Tristano disciple, showed off Bauer's ability to complement virtually any other musician.
Critics were uniform in their praise for Bauer's playing being integral in that small-group sound. Norman Mongan, in his book, The History of the Guitar in Jazz, wrote, "Bauer developed a highly original guitar style with solos moving across, rather than with, the chord sequences. He brought the guitar into the world of the 'cool' with its glacial ambience, where it remained for most of the 1950s."
Perhaps the most famous jazz club ever, Birdland, opened December 15, 1949, and Bauer was there along with a stellar lineup of jazz all-stars. "I opened Birdland, which was named after Charlie Parker. They'd have five bands including Charlie's group, Art Tatum, Bud Powell, and Lennie Tristano. So I was hearing all these great players every night. And we'd all get together as Charlie would come up and jam with us." Among those jazz luminaries were Dick Hyman, Lester Young, Stan Getz, Roy Haynes, and curiously billed as "the great young vocalist," Harry Belafonte. "Harry was a very hip jazz singer long before he became a big folk music star," said Dick Hyman.
Billy and Bird
Issuing "all-star" recordings with so many great artists of the day was lucrative for record labels and certainly of historic importance. Once, when Bauer was riding home from one of those dates with baritone saxophonist Serge Chaloff, Chaloff said, "Billy, do you realize we were just playing with the best musicians in the whole country? You don't seem too happy about it." Bauer said, "You know what would make me happy? If Charlie Parker called and said, 'Billy, do you want to do a record date with me?'
"One day, I picked up the phone and heard, 'B.B.?'; that's what he called me. He asked, 'Are you working Thursday? I got a record date.' (The Charlie Parker Quintet, on Verve, 1954). I got there early; all the lights were dim and there were no engineers. I took out my guitar and was going over the tune – I think it was 'Love For Sale,' because I wanted to get familiar with what I was gonna do. So I'm playing, and in walks Charlie. I said, 'How does it sound?' He says, 'B.B., It sounds like music.' We had no charts, but he'd say, 'Okay, you guys do this, and he'd sing a riff – no rehearsal, no nothing. That's how a lot of dates were in those days."
The Studio Years
While Bauer was at Birdland, Johnny Smith, who was on staff at NBC, came in with pianist Sanford Gold, "Probably to see Lennie," said Bauer. But Smith, who is now 90 years old, is emphatic about Bauer's playing. "Billy was one of my very favorite players," he said. "He was a superb jazz guitarist and I always loved hearing him. I did what I could to help Billy get a job at NBC."
After the Birdland gig folded, Bauer ran into Gold at the local musician hangout, Jim and Andy's, on 49th St. There, Gold mentioned that Johnny had just given NBC his notice. Tired of life on the road and with a wife and two kids to support, a "studio job" had appeal.
"Sanford told me to see this guy, Dr. Shields, who ran the music department at NBC," said Bauer. "Well, I introduced myself to the secretary and found out that Johnny had told this Dr. Shields all about me. Shields said, 'Come around and play next week.' So I did the routine wherever they needed a guitar player. We backed Connie Francis and even (comedians) Bob and Ray. Then, on Friday, I rehearsed with the big band on 'The Big Show,' which starred Talulah Bankhead. Then I saw Shields, and he told me I had the job. He said, 'You know who did it? Meredith Wilson. He came down after the show and told me you were the best rhythm guitarist he'd ever heard.'"
Bauer stayed at NBC for eight years and also worked staff gigs for CBS, in the incipient days of television broadcasting. He was a regular on "The Today Show," "The Tonight Show," and what, in retrospect, staff players facetiously refer to as "the days of silent television." During that time, he honed his reading skills and, like so many staff players, worked hundreds of record dates.
"I was busy all the time with a lot of recordings then," he recalled. "You'd get called to a date and you were in the band with whoever was there. Sometimes, I'd have five dates a week, often with big names."
Appearing on TV frequently meant Bauer had to wear a toupee, which humored Johnny Smith and Bucky Pizzarelli. "When Billy got a toupee, his personality just lit up. Sometimes, he'd hang his rug on the hat rack at Jim and Andy's," said Smith.
"Once, after not seeing Billy for a while, I hugged him so hard that it came right off his head," added Pizzarelli. "We just laughed. He had such a great attitude about it."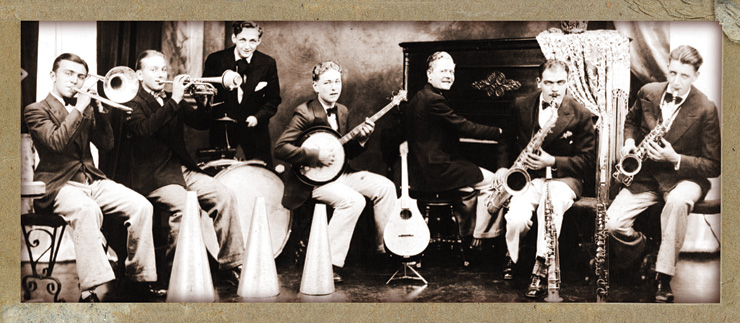 Later in his career, while gigging with Benny Goodman, Bauer experienced a common event among Goodman's musicians; Goodman was notorious for being a moody and often-difficult leader, and for giving his sidemen "the ray" – a glowering look at anyone with whom he was displeased. Asked if he'd ever gotten on Goodman's bad side, he said, "One time, he came up and put his hand on my shoulder kind of heavy, not hitting me, but I could really feel his weight. I told him, 'Watch out, or I'll flip my wig (laughs)!' After that, he never bothered me."
In 1950, Bauer began a stint teaching at the prestigious New York Conservatory. It lasted nearly four years, and though the conservatory and studio gigs were steady and lucrative, he still needed a jazz fix, so he continued recording with Tristano alumni tenor sax man Warne Marsh and alto player Lee Konitz. His 1951 recordings (with Konitz) of "Indian Summer" and "Duet for Saxophone and Guitar" were landmark records. In The Jazz Book, Joachim Berendt writes, "Konitz's playing was a perfect match for Bauer's guitar. The two musicians' dialogue crossed styles from bop and cool to the avant-garde. The pairing redefined the role of jazz guitar." And that's true; Bauer's comping complemented Konitz's inventive improvising with rhythmic, melodic, and engaging counterpoint chord lines. "Konitz finally got what he needed from Tristano and had found his own voice," Bauer said. "He really became himself."
The Plectrist
In 1956, Bauer finally recorded his own album as a leader, The Plectrist. With it, he expressed himself in a new role. Critic David Adler's review of its re-release explains that: "Billy, too, had moved away from Tristano's influence and was playing more in the mode of such peers as Jimmy Raney." Now a leader, Bauer could solo, express himself, and manifest what had lain too dormant. All About Jazz's Andrew Hovan writes that "[The Plectrist] demands the attention of anyone even remotely interested in jazz guitar."
Heller, who also writes for All About Jazz, posits, "Of course, Charlie Christian was as profound as any player, ever, and would have been profound during any given era. But certain players challenged the notion that jazz had to swing in the traditional quarter-note sense the way Basie did. The language had to be an immediately traceable by-product of the American Songbook. And one of the first places we hear a departure, not entirely, but a viable pass at it was with those Tristano recordings. And interestingly enough, there are two chord instruments in the group – guitar and piano."
Perhaps the only two trios of the era with that instrumentation were the very popular King Cole Trio with Oscar Moore on guitar and Art Tatum's group with Tiny Grimes on guitar.
"Lennie told me that he studied Tatum extensively and could play everything Tatum did," Bauer said. "You didn't hear it much in his playing because he'd take every phrase and interpret it a different way, so he wouldn't be copying. " Heller added. "Bauer's tone was a bit leaner than Christian's and we hear that spidery tone again with Jim Hall and then Larry Coryell. He was a precursor to such players as Coryell (with his breakthrough work on Duster with Gary Burton), Bill Frisell, Kurt Rosenwinkel, and even John Scofield. You can really trace the roots of all of them back to Bauer."
Bauer, primarily known as a rhythm player, wasn't held to the straight-ahead 4/4 structure as much as Freddie Green, who was in essence the engine for Basie's band. But he was nevertheless happy with sideman was a role – he even titled his autobiography Sideman, an overview of a career that has too long been overlooked. But anyone who was lucky enough to study with Bauer, such as Joe Satriani, knew his prevailing philosophy was, "I teach you to be you."
"A lot of people copy, and they copy exact," he said. "Another guy listens, to say, Lester or Charlie Parker, but he doesn't play like them. Charlie listened to Lester, but he didn't play like him. What's the use of copying a lick? You can hear that. Some guys just seem to flow. I heard Gene Bertoncini and Mundell Lowe; everything they play you don't think you've heard before. It isn't just a run. There's a phrase to it."
Bauer died in June of 2005, and Schapp's 1992 tribute radio show provides a fitting epitaph. Schapp said to him, "When Neal Hefti put his arms around you and said, 'You're the guy,' he had it right."
---
This article originally appeared in VG June 2013 issue. All copyrights are by the author and Vintage Guitar magazine. Unauthorized replication or use is strictly prohibited.