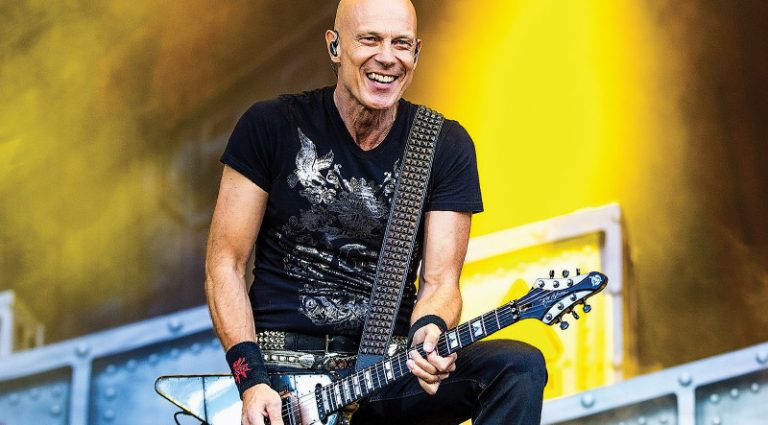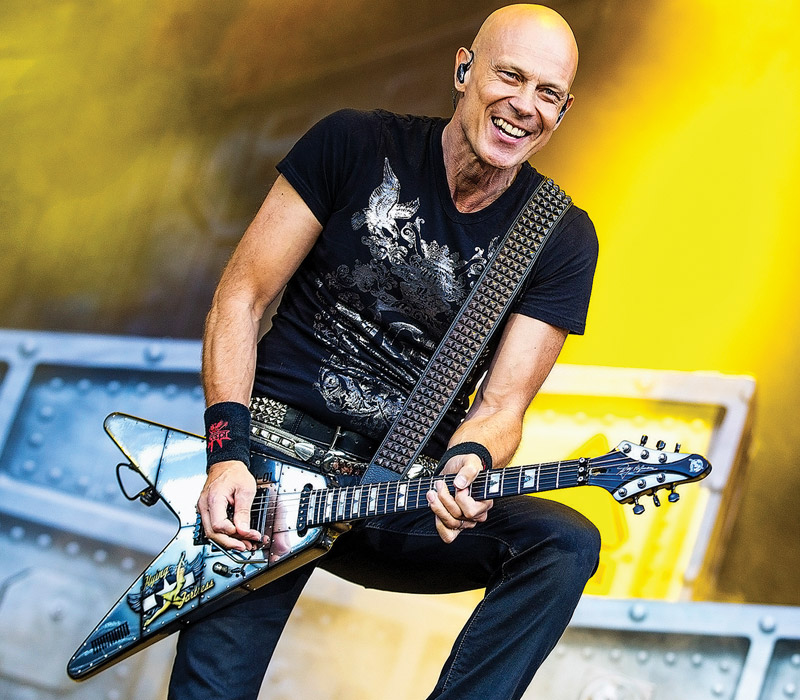 Traditional heavy metal is still a thriving beast thanks to bands like Accept, whose latest studio album, Too Mean to Die, is full of rugged songs with wicked guitars commanded by lead guitarist Wolf Hoffmann.
Accept roared out of Germany and gained U.S. popularity with 1983's Balls to the Wall as its blistering title track became an MTV favorite. Hoffmann is the lone original member, joined by longtime vocalist Mark Tornillo, guitarist Uwe Lulis, bassist Martin Motnik, drummer Christopher Williams, and new guitarist Philip Shouse. The three-guitar attack pushes an already potent lineup.
"That's a new experience for Accept, having three guitar players. It's really a powerhouse of guitars on stage. Killer! I love it!" Hoffman said.
"It allows us, for instance, to have twin-guitar leads and still have rhythm guitar in the background. It also allows us to play overdub sections when two guitars are jamming on the main riff. You can still have the third guy do something usually left for just the recorded version – additional guitar, arpeggio guitar, whatever."
Tightness and groove in the rhythm is vital in heavy metal, and especially in Accept's style.
"The rhythm guitar has to be super-tight in metal," Hoffman said. "You don't want any looseness."
Getting the guitar riffs, rhythms, and solos down is a painstaking process, but technology has simplified matters. Hoffmann thinks it's easier to write alone or perhaps with one other member.
"(Songwriting has) evolved over the years. Now that everybody has home setups, computers, Pro Tools, or whatever software – in my case it's Cubase – everybody has stuff at home they can work with. For most people, that's the most-comfortable environment. You sort it out yourself until you present it to the other guys."
"Back in the '80s, of course, none of us had that opportunity, so we'd usually sit together in a room and bounce ideas off each other. I'll tell you, sometimes that was dreadful, especially when there's more than two or three guys, and especially when the whole band was involved. Sometimes it was like pulling teeth. Five people don't necessarily think alike. I've found, over the years, I like working with one guy at a time, mostly."
Too Mean to Die is the band's 16th studio album, and fifth with producer Andy Sneap, who's also received praise for his recent work with Judas Priest, one of Hoffmann's favorite bands and biggest influences.
Except for a short reunion of the classic lineup, Accept didn't exist for a long period. The heavy-metal scene had changed and Hoffmann didn't think Accept was wanted. Happily, he was mistaken.
"Accept is a totally old-school metal band. In the late '90s to the early 2000s, I lived here in America and had pretty much given up music; I was no longer playing, there was no band. We'd gone our separate ways. Personally, I thought, 'Nobody wants to hear this stuff anymore. It's all about grunge, nu-metal, and hip-hop, and God knows what else.' Nobody wanted to hear old-timey '80s metal… I thought. But then I went to Europe and saw these huge metal festivals like Wacken, with 50,000 kids all dressed like it's 1986. That's when I caught the bug again. The only sticking point was our singer (Udo Dirkschneider) didn't want to be part of it.
"By pure luck, when we found Mr. Tornillo 12 years ago, it changed everything. That's what started this whole new chapter of the band."
Late in 2020, Hoffmann sold a lot of gear he hadn't used in years, including Hamer, Charvel, and PRS guitars, Marshall amplifiers, and more. He kept guitars with sentimental value, including a '62 Stratocaster and the Flying V he used in the "Balls to the Wall" video.
These days, Hoffmann's setup is simple.
"I used a Framus WH-1 and a Kemper amp with Marshall and EVH 5150 profiles, and that's pretty much it," he said. "The Framus has everything I need. It's built to my specs. It's basically a Flying V with a lot of the features of a Strat. It's got a vibrato, a single-coil in the neck position, and a contoured body – the things that make a Strat so playable – and a Fender scale, too. It's a hybrid."
Though his noteworthy career with Accept launched in 1976, Hoffman prefers to look forward, and that attitude is reflected in the Too Mean to Die song "The Best is Yet to Come."
"It really is how I think," he said. "I honestly believe the best Accept album isn't done yet. I believe the best Accept show hasn't been played yet. So, I just roll forward. I don't dwell in the past."
---
This article originally appeared in VG April 2021 issue. All copyrights are by the author and Vintage Guitar magazine. Unauthorized replication or use is strictly prohibited.
---