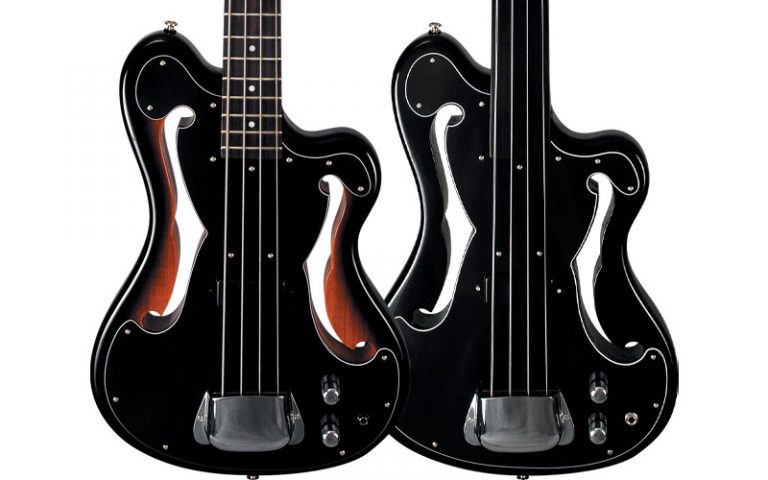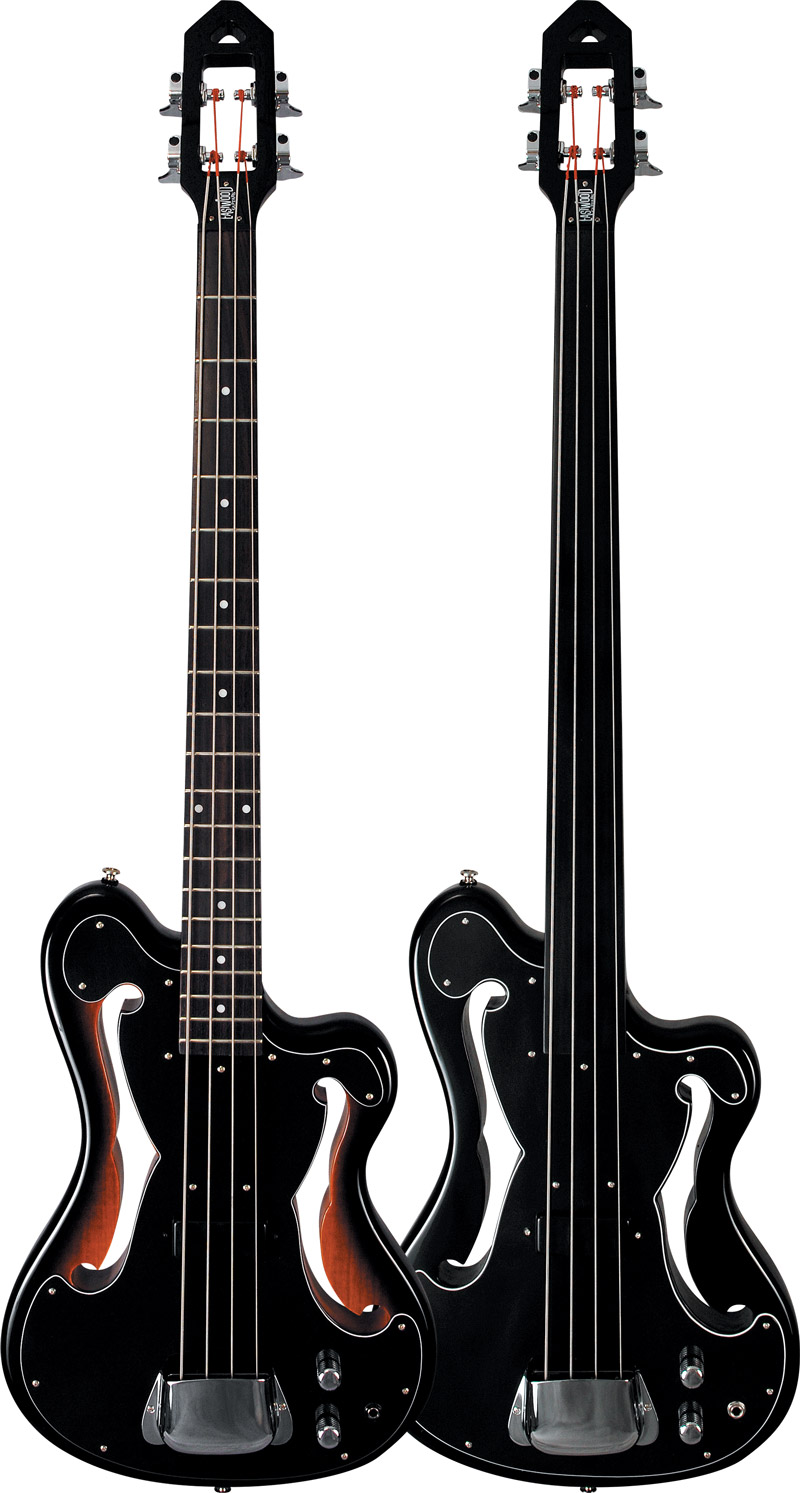 Eastwood's EEB-1 and the EUB-1 take their design inspiration from Ampeg's quirky mid-'60s Horizontal Bass series, the brainchild of Dennis Kager, an amp technician and guitar specialist who worked for the company at the time.
The Ampegs (the fretted AEB-1 and fretless AUB-1) had non-symmetrical double-cutaway laminate bodies with f-hole cutouts that went through the body, bolt-on maple necks with zero-frets, and scrolled headstocks. Adding to the quirkiness was a "mystery pickup" system, an adaptation of the setup used in the Ampeg Baby Bass that used a silectron steel diaphragm and two magnetic pickups that sat underneath the bridge to convert the bridge vibrations into electrical energy for amplification. This allowed for any type of string to be used, i.e. non-magnetic gut strings as well as nickel steel and tape-wound. It also helped give the Horizontal basses the sound of a traditional upright.
Eastwood's EEB-1 and EUB-1 re-creations (also fretted and fretless, respectively) have the same non-symmetrical double-cutaway solidbody design (albeit with mahogany) with the through-body f-holes, a three-ply black/white/black pickguard, that covers the entire front of the instrument, a 34″-scale bolt-on maple neck with a slotted (instead of scrolled) headstock, chrome hardware (die-cast tuners, dome knobs, adjustable bridge), and a cool retro bridge cover.
The EEB-1 and EUB-1 use a more modern traditional high-output EW Alnico humbucker with a single Volume and single Tone control. Tuners on the slotted headstock are mounted like those on an upright bass (the keys mount flat against the edge, and protrude backward) and do a good job of replicating the original scrolled Ampeg headstock without all the added cost of doing an exact copy of a full scroll. The necks are identical, with 15/8″-width plastic nuts, 12″ radius rosewood fretboards with dot markers on the front and top edge, and a substantial but very comfortable U-shaped neck profile. The lightweight bodies and slotted headstocks give the instruments a balanced feel. All of the Eastwood instruments we've reviewed boasted excellent workmanship, with clean fretwork, tight neck joints, flawless finishes, and high-quality/well-fitted components. The EEB-1 and EUB-1 are no exception.
Through an Ampeg B200-R 1×15″ 200-watt combo, the center-mounted humbucking pickup and 34″-scale helped both basses produce classic, thick electric-bass tones with no extraneous noise and a lot of output. Rolling the Tone control all the way back on the EEB-1 revealed a killer old-school sound with clear, punchy midrange and chunky low-end response, especially when you get aggressive with the picking fingers. While both basses were strung with .040 to .100 D'Addario roundwounds, a set of flatwounds or tapewounds would certainly add vintage flavor of the tone – and likely push the EUB-1 into "upright tone" territory. Given they sport only one pickup and passive controls, the Eastwoods don't offer a ton of tonal versatility. But they do a fantastic job of creating rock-solid tone, voiced for playing in the pocket.
The Eastwood EEB-1 and EUB-1 basses are more great examples of how Eastwood is striving to market quality, affordable instruments with a cool 1950s/'60s vibe. Both boast excellent workmanship and solid, usable gigging tones with gobs of retro appeal. – Phil Feser
---
This article originally appeared in VG's May 2008 issue. All copyrights are by the author and Vintage Guitar magazine. Unauthorized replication or use is strictly prohibited.
---
Eastwood EEB-1
Eastwood EUB-1