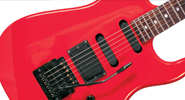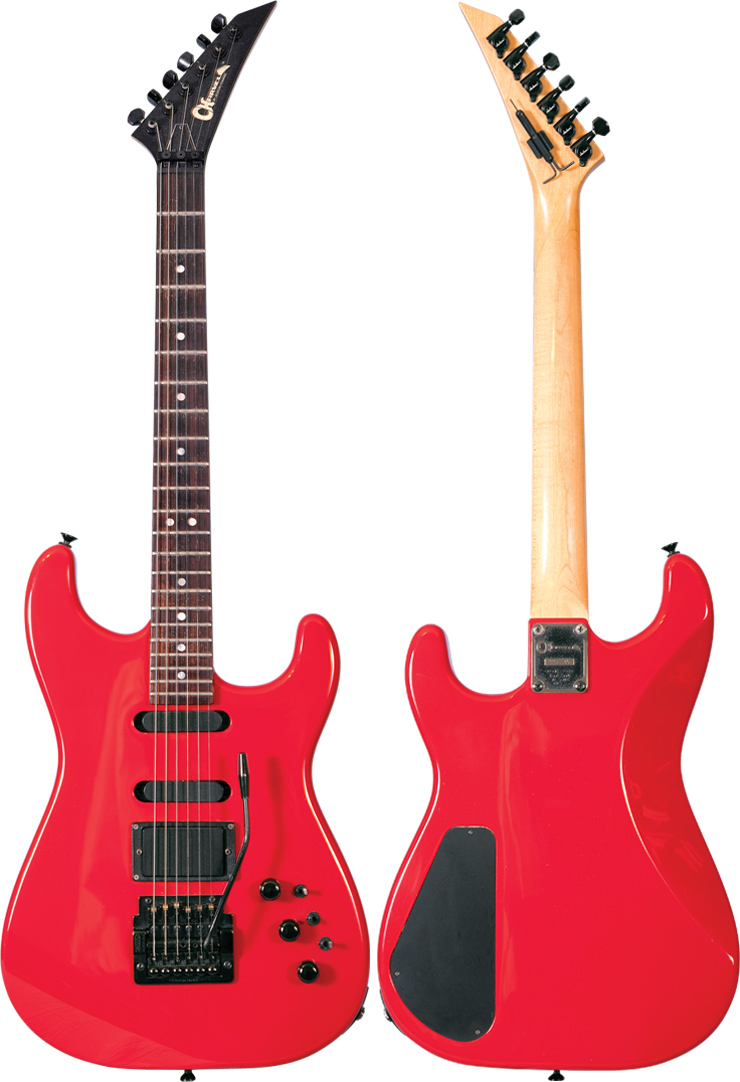 Certain guitar brands develop a mystique among aficionados – sometimes it's even deserved! Somewhere on this continuum lie Charvel USA guitars made in the early '80s in San Dimas, California. Curiously, that "San Dimas guitar" mystique didn't rub off to its foreign cousins like the Model 4 – the fine Japanese-made Charvels produced beginning in 1986.
Japanese Charvels were the result of a collision between the dominance of '80s heavy metal, the maturation of Asian guitarmaking, and the realities of economics. American-made Charvels were the namesake of Wayne Richard Charvel, who began making guitars as a teenager in the 1960s. In the early '70s, Charvel worked as a refinisher for Fender. In '74, he opened a repair shop in Azusa, California, which in '76 became Charvel Manufacturing, offering a variety of parts so you could "build your own." Charvel had an assistant named Grover Jackson. In '77, Charvel Manufacturing ran into financial problems, and in '78, Jackson bought the company from his boss, becoming Jackson/Charvel.
That same year, Edward Van Halen brought attention to the name when he appeared playing a Charvel "parts" guitar. After supplying guitars to B.C. Rich and basses to Music Man, in 1980 the Charvel line of bolt-neck solidbody electric guitars and basses appeared, basically variations on Fender models. Even though Van Halen soon jumped ship and hooked up with Floyd Rose and Kramer guitars, Charvels found a steady clientele, and the brand prospered. In 1983, Charvels with the more-familiar pointy/droopy headstock appeared. When American manufacturing ceased in '86, Charvel had produced nearly 6,000 guitars.
Meanwhile, the Japanese juggernaut of the '70s continued into the '80s, though while Japanese quality continued to excel, unfavorable exchange rates made it increasingly difficult to import them. Rewind. Two enterprising Americans named Jerry Freed and Tommy Moore started the International Music Corporation (IMC) in Fort Worth, Texas. In 1969, they traveled to Korea and, transferring Japanese technology and techniques, established the budget Hondo brand. Cheaper Hondos were made in Korea, but its better models were produced in Japan. The Hondo brand thrived into the '80s.
Desiring to garner some of the hard-rock-player market, in 1985, IMC entered a licensing agreement with Jackson/Charvel to produce Charvel guitars in Japan. Chu Shin Gakki, in Matsumoto City, was awarded the business and samples were sent. It was this contract that ended the early phase of Robin guitar imports and thrust that brand into U.S. manufacturing. In 1986, IMC purchased the Jackson/Charvel company and that year, the first Japanese-made Charvels appeared in the U.S. Jackson-brand guitars continued to be produced in the U.S., though Asian-made Jacksons soon appeared.
Basically, there were six models of Chu Shin Charvels in '86. At the top of the line were the Models 6 and 5, with a two-octave neck-through down-sized bodies called Dinky. Both had American-made Jackson active electronics. The Model 6 had a bound fingerboard with the ubiquitous "shark's teeth" inlays, the Model 5 was unbound with dots. Models 4 and lower had bolt-on necks with regulation Strat-style bodies, all unbound dot-necks. Models 3 and lower had passive Jackson pickups; Model 3 (humbucker/single/single, locking vibrato), 3A (two humbuckers), Model 2 (single humbucker, locking vibrato), Model 1 (one humbucker, maple fretboard, traditional vibrato), and Model 1A (pickguard, three single-coils, traditional vibrato). A number of examples were "off-catalog."
The Model 4 was at the top of the bolt-neck line, with the same hardware and active electronics as the 6. Its thin, quartersawn rock maple neck has a satin finish and a wide, flat fingerboard. The body is basswood – medium weight, but solid. The single-coils are Jackson J200s; the humbucker a J50BC with "accentuated high frequency." Like most good active pickup systems, it has a clean, wide frequency response with no noise. The toggles are on/off for each pickup, the vibrato is a Kahler Standard, and controls are one Volume, one Tone, and a pre-amp midrange boost/cut. The nut is phenolic.
The Chu Shin Model 4 proved highly successful for IMC – so much so that in 1987 they upgraded it with a bound fingerboard and shark's teeth inlays. This example carries serial number 227735 – lacking any apparent date encoding.
Under the IMC/Jackson hegemony, the Charvel line continued to expand, and some fine and innovative guitars were produced. In '89, the Charvette, made in Korea, was introduced. In the early/mid '90s, IMC began to be hit by bad economic news, and parts of the company began to be sold off. Charvel electrics disappeared, though some acoustics remained. In '97, IMC's assets were sold to Akai Electric Company, leaving only the Jackson brand. In 2002, the entire kit and caboodle were sold to Fender, which to this day produces some very beautiful guitars and basses made in Asia. Wayne Charvel and his son, Michael, make and sell guitars remarkably similar to the original Charvel USAs under the Wayne brand name.
Charvel guitars conjure a fascinating time in American guitar history when shred was the name of the game. American production lasted less than six years. Japanese production lasted about the same. Korean production probably didn't last as long. Quite a few were sold, but no real information on production totals is available, so we have no idea how rare this guitar is (or isn't). These Japanese Charvels may not have the caché of the American models, but if you play electric guitar and this was your only option, you would be happy with a guitar this nice!
---
This article originally appeared in VG August 2013 issue. All copyrights are by the author and Vintage Guitar magazine. Unauthorized replication or use is strictly prohibited.
---