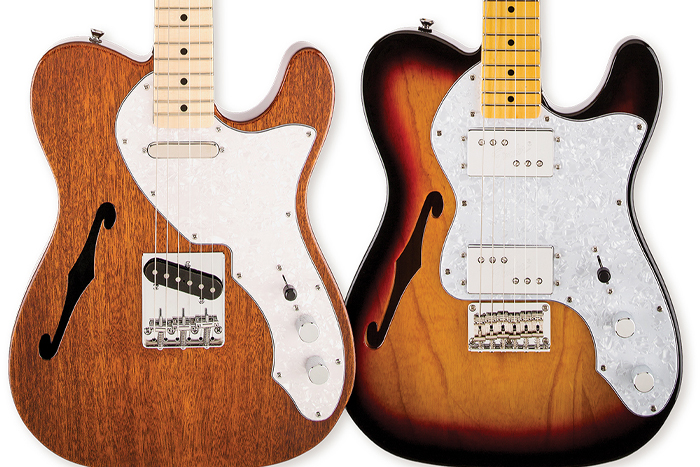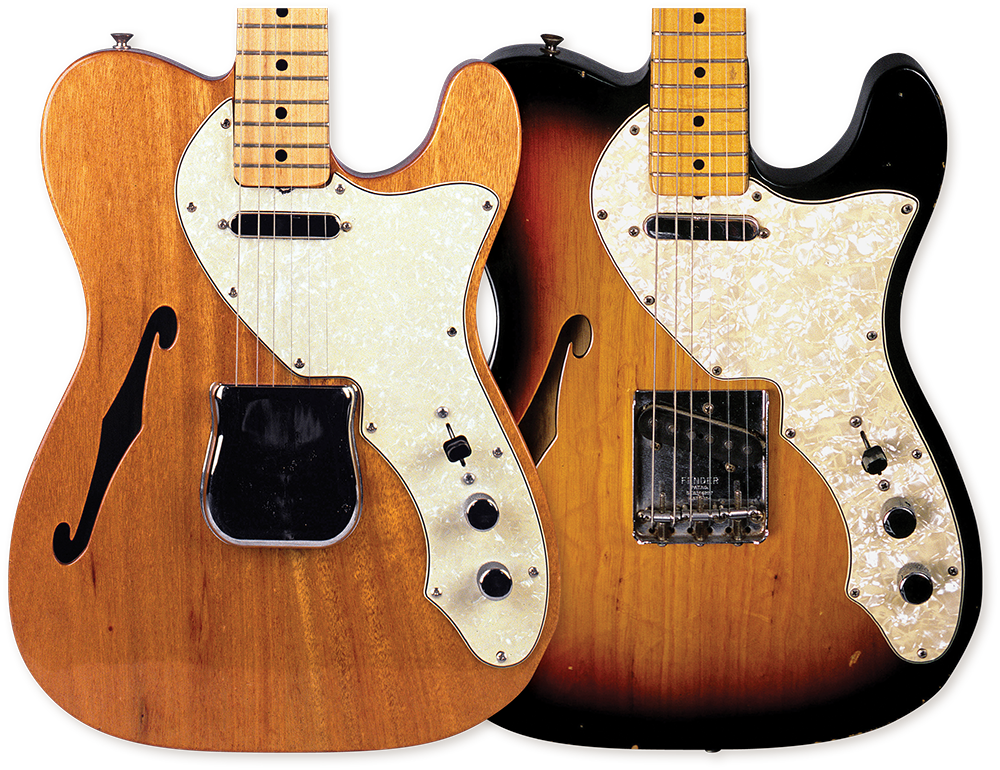 Born in turbulent times on the downslope of the "guitar boom," Fender's Telecaster Thinline has always existed in the shadow of its classic older sibling. But it does not lack for devotees.
By the summer of 1967, multimedia conglomerate CBS had taken full control of Fender and was beginning to exhibit a greater regard for cost-consciousness than the sound, feel, and playability of its instruments. And while the Telecaster had always been a basic, frills-free instrument that sold well, even it was impacted when lightweight ash, the near-exclusive wood used to make its body, started to become scarce. Fender accountants then suggested the folks in R&D find a way to utilize readily available – but heavier – grades of the wood.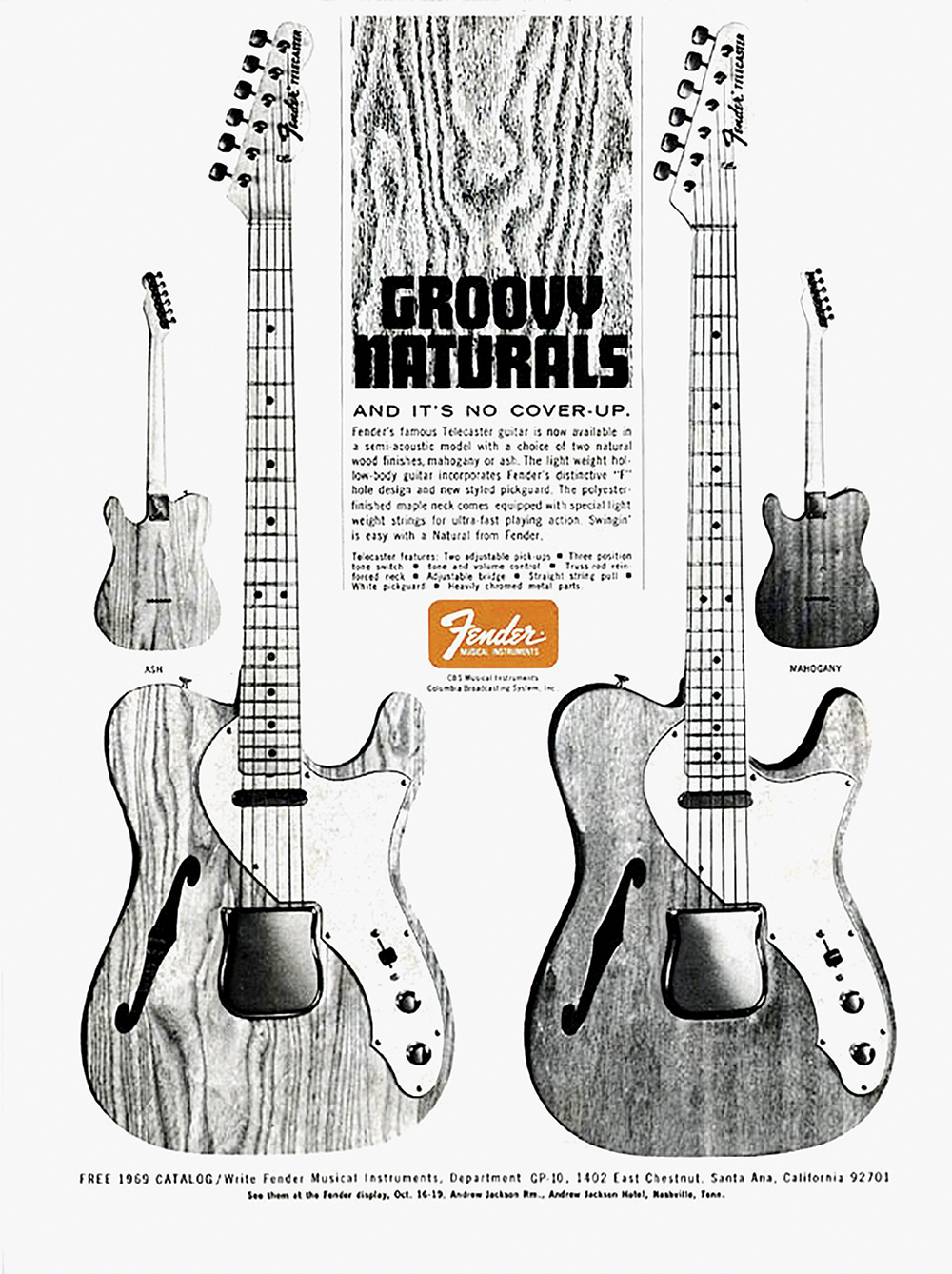 Another possibility is the Thinline was a reaction to Gibson's SG, which was created after the original single-cut Les Paul had been unfairly dogged by its weight. If this was the impetus for the Tele Thinline, it was a very slow response, as the SG body had debuted way back in early '61.
Regardless, creation of the lighter Tele fell to Roger Rossmeisl, who had been hired by Leo Fender because of his design work at Rickenbacker, including the renowned semi-hollow 300 series guitars that debuted in '58. At Fender, Rossmeisl's first tasks had been to create the flat-top acoustic King and Concert guitars, followed by the very 335-ish Coronado, and then the hollowbody Montego and LTD archtop electrics aimed at the jazzer market. None proved particularly successful.
Rossmeisl's early Tele Thinline prototypes included one with a hollow rosewood body overlaid with a bound spruce top, creating an instrument that looked very much like a normal Telecaster. But it likely proved too expensive. He next tried routing areas under the pickguard but the overall effect on weight was minimal, and very few were made this way; today, collectors call them the "smuggler's Tele."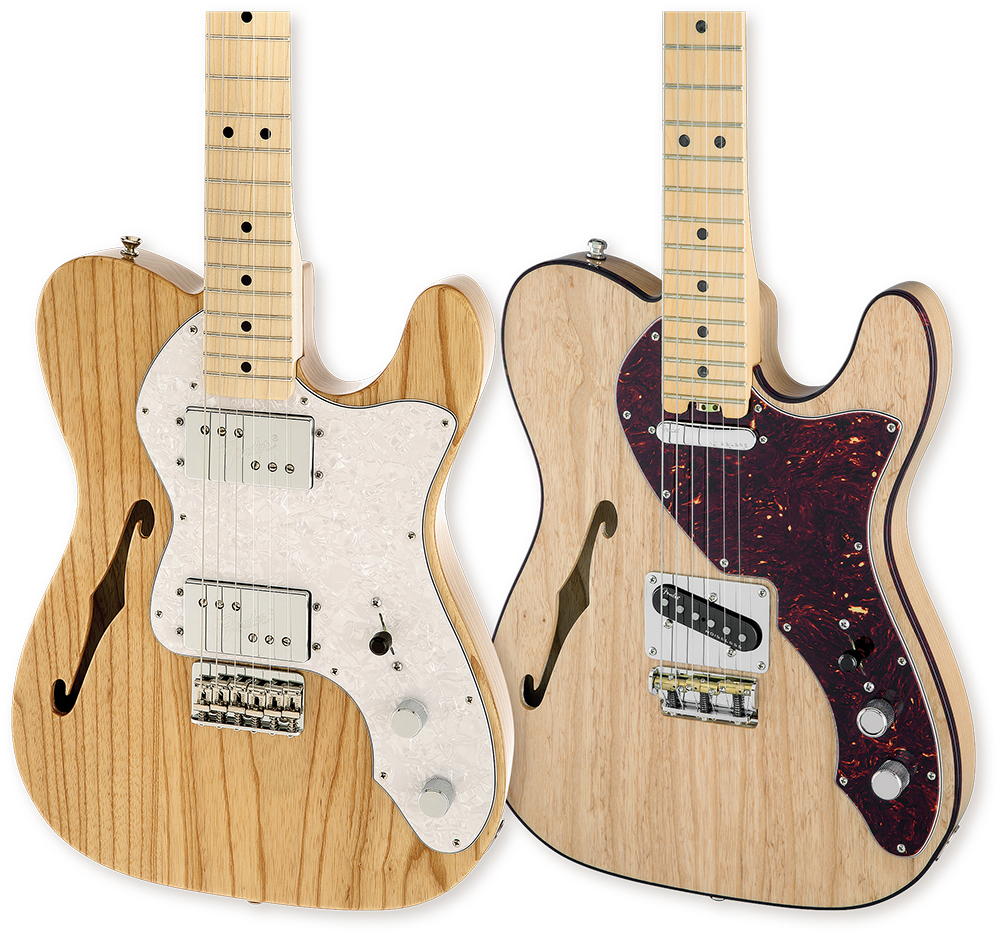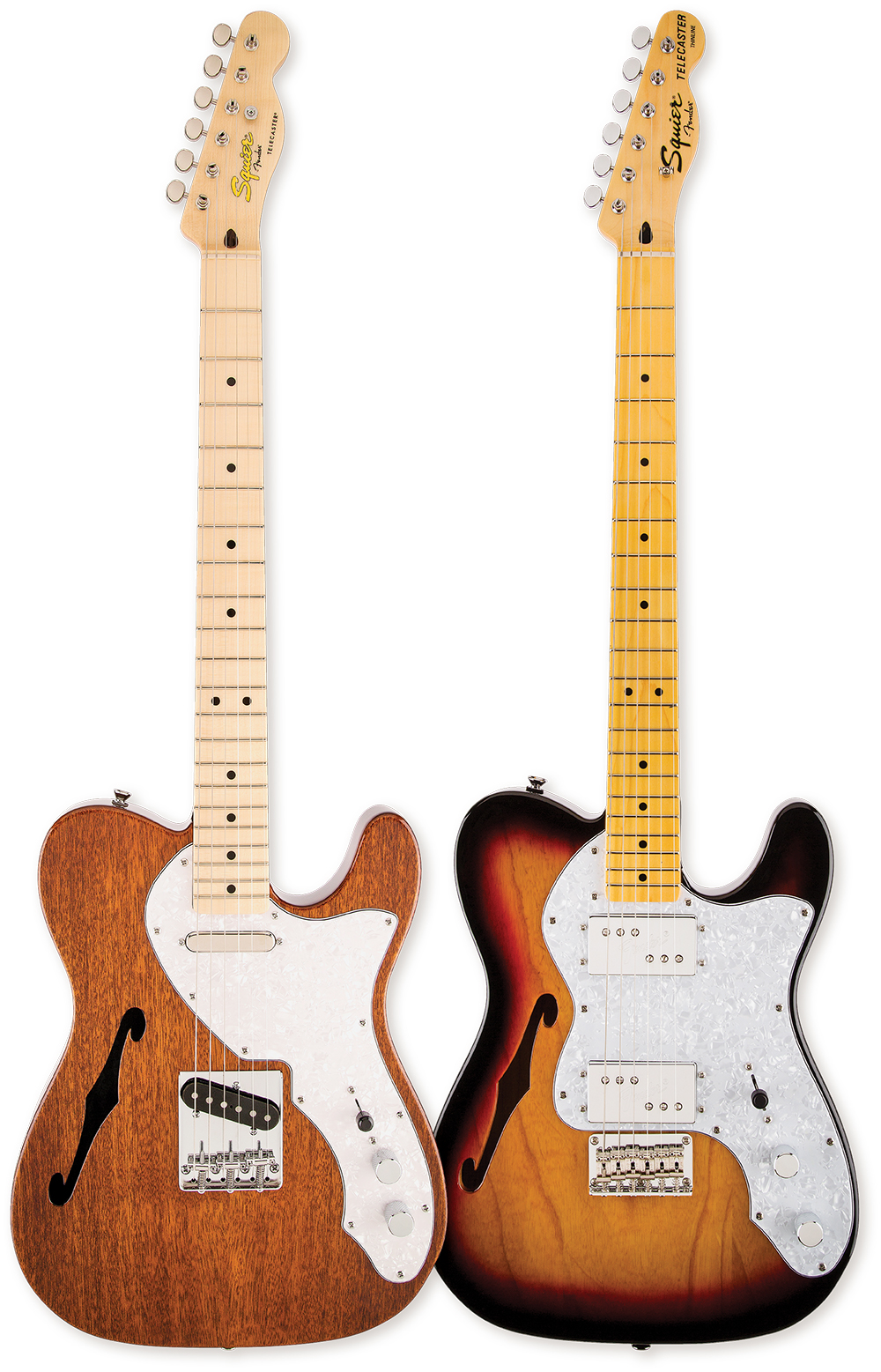 Rossmeisl then turned to product manager Virgilio "Babe" Simoni, who suggested they cut a thin slice off the back of a body, use a router to hollow-out the bass and treble bouts, then glue the slice back in place. The end result weighed about half compared to a regular Telecaster body.
Aesthetically, Rossmeisl set it apart with an f-shaped sound hole on the lower bass bout (much like "slash" sound hole he gave the Rick 300s) and a larger pickguard made of pearloid extending along the lower treble bout and hosting the controls.
The Thinline Telecaster debuted in July of '68 using a two-piece maple neck and a body of ash or mahogany (both with a natural finish) as depicted in Fender's Groovy Naturals print-ad campaign that fall. In '69, a three-tone sunburst finish became a factory option on the ash bodies, along with custom colors on both. A rosewood fingerboard was also available (examples are rare) and it was given traditional Tele single-coil pickups, switching, and hardware.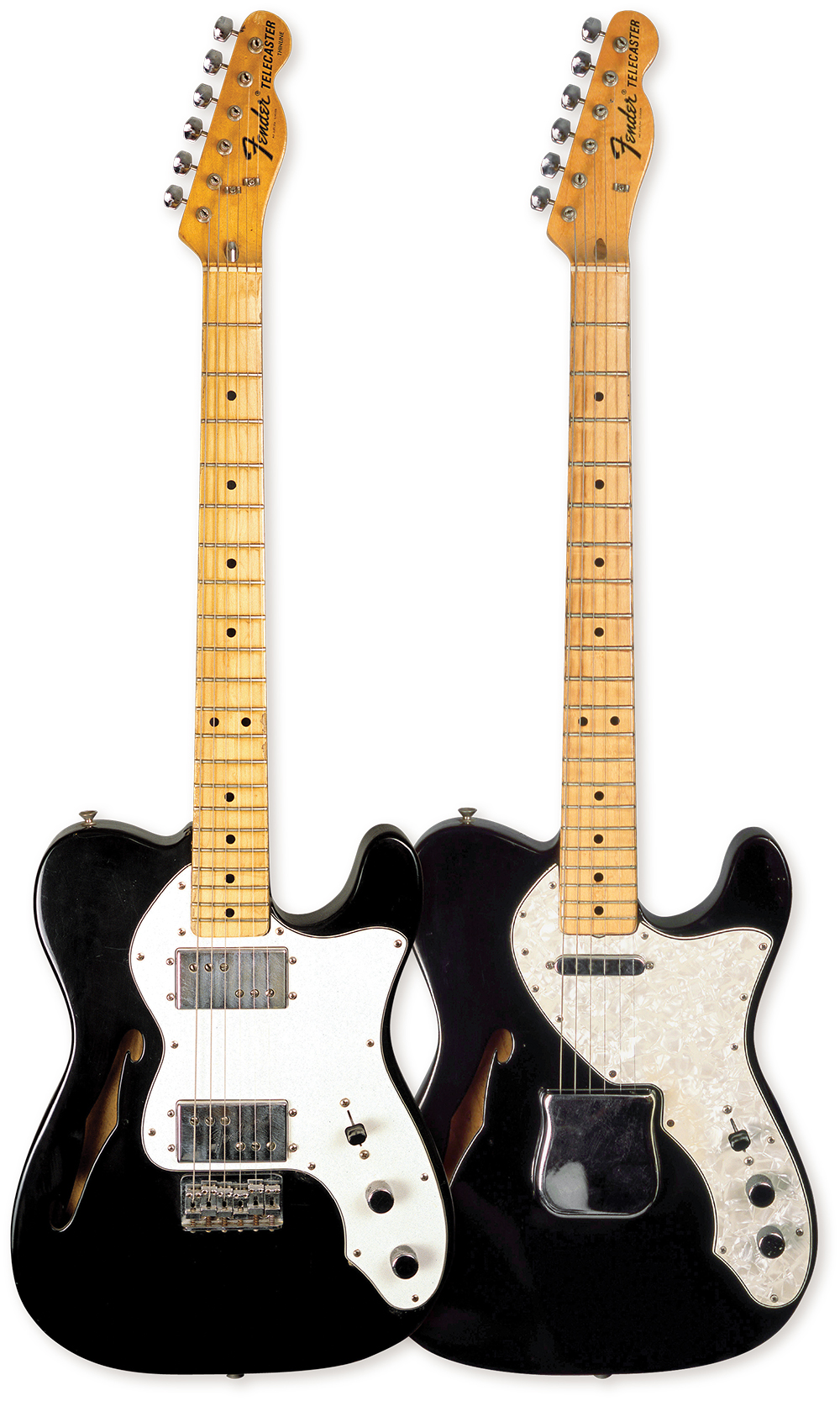 It survived a few years before being supplanted by the second-version Thinline debuted in late '71, sporting two of Fender's new Wide Range Humbucker pickups designed by Gibson defector Seth Lover with a threaded magnet made of copper, nickel, and iron (CuNiFe) and three pole pieces per coil. Other changes included a bridge assembly with individual saddles borrowed from the hardtail Strat, the three-bolt Micro-Tilt neck attachment, and yet another redesigned pickguard that surrounded the pickups. It was offered with the same finish options as the original, along with black. Beginning in '74, Walnut Brown (or "Mocha") was also an option, but the majority were built with ash bodies in natural finish. Rosewood fretboards were no longer an option.
Rossmeisl left Fender in '73 and returned to Germany, where he passed away in '79. And while his work for Rickenbacker is today held in high regard, the instruments he designed for Fender are not particularly cherished by collectors.
The Thinline was discontinued at the end of 1979. The humbucker-equipped Tele Thinline, Deluxe, and Custom experienced a resurgence in the '90s, especially in the United Kingdom, after being employed by Radiohead, Franz Ferdinand, and other bands. Fender reacted by creating a series of reissues made in Mexico, Japan, and its Custom Shop.
---
VG editor Ward Meeker also contributed to this story.
---
This article originally appeared in VG April 2018 issue. All copyrights are by the author and Vintage Guitar magazine. Unauthorized replication or use is strictly prohibited.