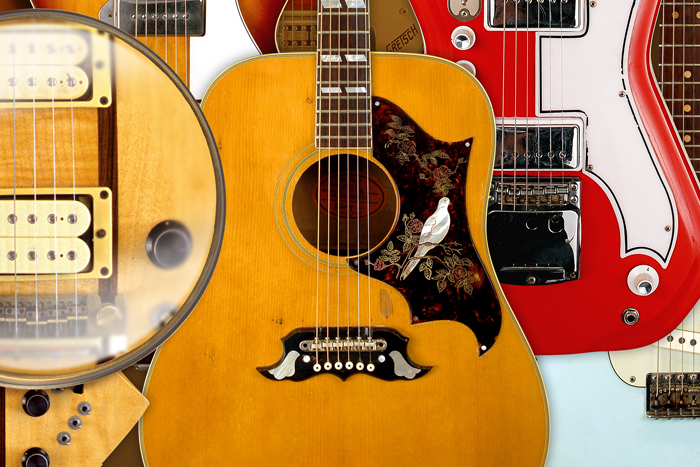 When it comes to identifying guitars, basses, amps, and effects, nobody knows it all. Anyone save for the true specialist, whose interest is focused on a particular model, make, or era, knows there's an impossible mountain of detail concerning materials, specs, and luthiery techniques for the thousands of vintage models.
By itself, the heralded triad of Martin, Gibson, and Fender presents a mind-numbing list of models and variants; add smaller manufacturers and solo builders (D'Angelico, anyone?) and the idea of any single person knowing everything becomes downright laughable.
By itself, the heralded triad of Martin, Gibson, and Fender presents a mind-numbing list of models and variants; add smaller manufacturers and solo builders (D'Angelico, anyone?) and the idea of any single person knowing everything becomes downright laughable.
There are many good reference books on vintage instruments, of course, but even the best has limitations; covering the subject in general leaves innumerable details unexplored, as does diving deep into a certain brand, era, or model. Databases for vintage-gear info began cropping up shortly after consumers got their hands on computers, but they depend on one person or a small network willing to spend countless (unpaid) hours documenting whatever they find.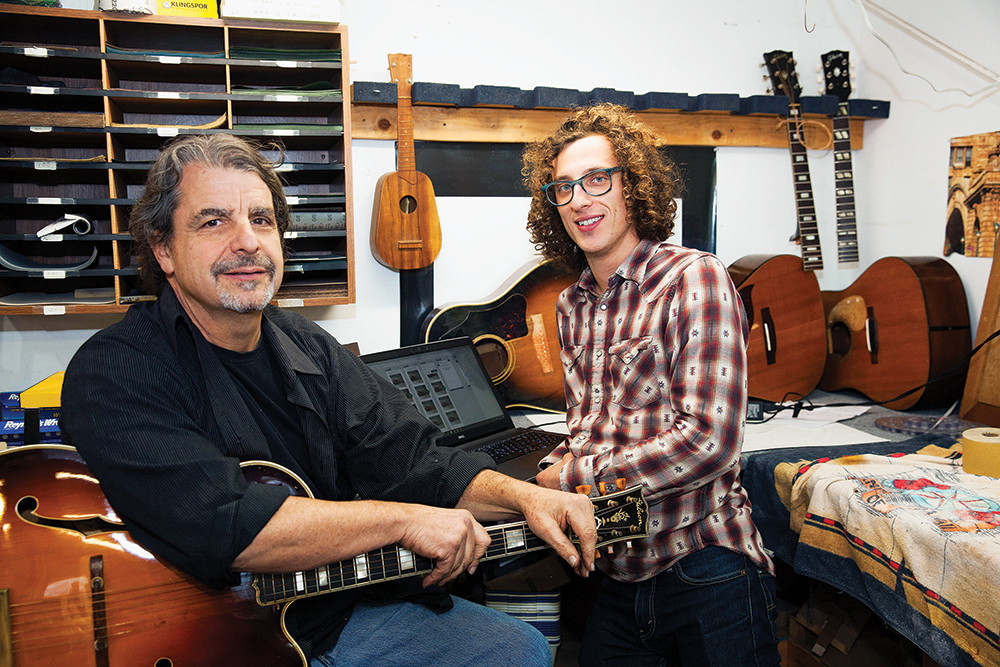 But, what if someone created an online repository that accepted contributions from everyone? A crowd-sourced reference that even the smallest mom-and-pop music store or repair shop could, when that '66 Dano Convertible came in for a new nut, use to document and share with the world, even as they zoomed in on the aluminum nut of another Dano to guide their work? And what if it was curated by a team of recognized experts, so the facts were checked before the info was published?
Say this database made it easy to upload detailed photos, even showed contributors exactly which angles, views, and details to shoot? And what if there was ample space for a description, including details like dates of manufacture, design changes over time, specific or unique features, variants, construction techniques, and similar factual info about the specific model? What if somebody put all that together?
Well, somebody has.
GitWik.com is the brainchild of Joe Glaser, noted Nashville repairman, builder, and co-developer of the Plek treatment for guitar necks. As the go-to for many well-heeled collectors, superstar guitarists, and working players, he sees drool-worthy instruments on a daily basis.
"I've seen a lot of guitars," Glaser says. "Not the tens of thousands that George Gruhn or Matt Umanov or Walter Carter have seen, but a lot. And still, quite often, something comes in that we all gather around and look at for the first time; ya' know – 'Wow! I didn't know Fender ever did that.' There's just no end to what's out there, even after all this time. We constantly find ourselves trying to research some detail, going through all the books, hundreds of Google images, and still coming up with nothing. I've always thought there must be a lot of people who run across stuff and have no way to document – or at least no way to share – what they've seen. So, the GitWik is based, as the name implies, on the Wiki model. One big difference is that it's curated. Before it's published on the site, what you post is checked out by a team we've recruited, so no one can just post opinion or junk info. And if your entry on the '64 White Falcon shows a variant, it doesn't bump the last guy's entry on his '64 White Falcon – it's just another probable version. Of course, at a shop like mine, we see things the typical collector or player doesn't, like inside the neck pocket of a '58 Flying V, for example. And now we can share photos, and it's information everyone can check out for their curiosity, or for restoration."
Glaser's in-house IT manager, Joshua Rawlings, did much of the coding and design and maintains the site, and notes that while there's a lot to check out on GitWik, there's no "checkout."
"The site wasn't imagined or built as a for-profit endeavor," he said. "Contributing and viewing is free. Contributors are the ones who drive it from the supply side, and users offer the demand element. The synergy is that people can be both users and contributors. It's also not a place for value-based assessments or anecdotal information, but it is a valuable tool for collectors. Here are photos and curated info about, likely, that very model that you're thinking about buying. You can double-check all kinds of specs, see the pictures to verify its authenticity, all that. But you won't find anything related to how much something is or isn't worth, or who it belongs to. GitWik isn't about that. It's only about documenting information: "Is the guitar I'm being offered the real deal? Is it a one-off, or custom build? Has it been modified? Well, let me check out some detailed photos of one of these and see what somebody who had one in-hand can show me."
GitWik is also a resource for retailers, do-it-yourself types (don't cut that replacement pickguard for your SG until you look at a couple variants on GitWik!), and owners. And especially, Glaser says, for repair shops.
"Every single day, here at the shop, we need this. Retailers need it, but we really need it. Even the most comprehensive, well-researched book is obsolete the day it's published or can include mistakes.
"I'll give you an example. Not long after the site was put up, a '50s Gretsch came in for repair. It was missing the binding on the bass side of the neck. Well, those '50s Gretsch specs varied a lot: How many dots? What color? What placement? Fortunately, someone had uploaded shots of the same model, from the same year. We were able to get it right, and finding that information took, literally, a few clicks. This guy's guitar went back to him exactly like it was originally. It's not a tragedy if that doesn't happen – it's not like somebody trying to park the Hindenburg. But if vintage guitars matter to you, that would matter to you."
A priority for the GitWik crew is getting other repair shops to contribute as well as using the site for reference; much of the value is in the detailed photos. "Guide Shots" are provided, showing which views to shoot, and how to shoot them using a phone or tablet to shoot, drag, and drop. Many of these are in-progress repair shots, so contributors can post photos that help other repairmen. Noted vintage dealer and author Walter Carter, who played a significant role in dialing-in the site's concept and functions, describes the photo element as, perhaps, GitWik's most unique and critical piece.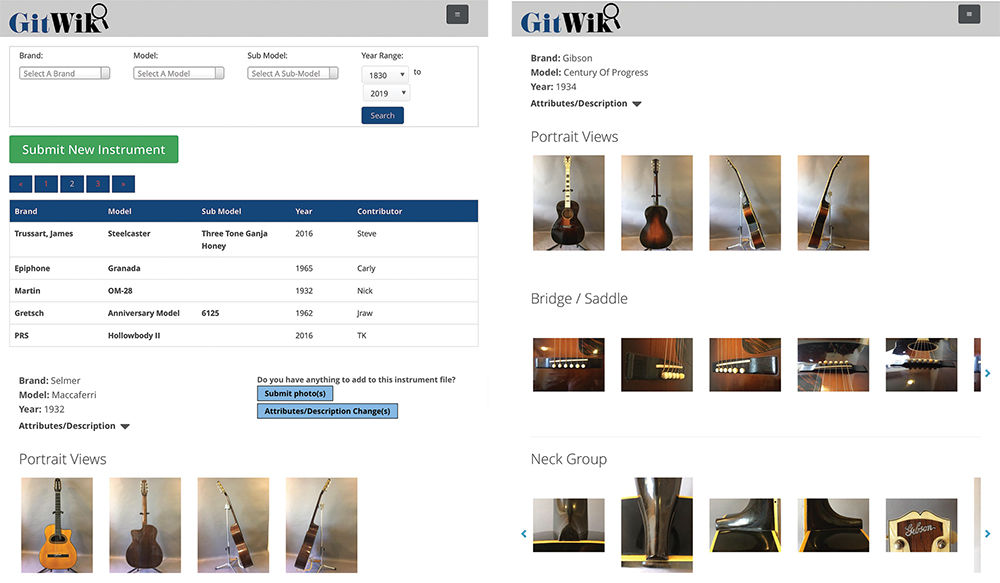 "We spent a lot of time figuring out what were the most important and useful photos – which views would give the best, hardest-to-find information. A lot of it is really just tiny bits of information, but if you need to know it, you really need to know it. Here at the store, if something comes in that you don't see so often, it's hard to keep up. Gibson's description says a certain model doesn't have a crown inlay on the headstock, but the one I'm holding does. Is that a one-off? A custom addition from the factory? Maybe there's a whole new headstock veneer that's covering a repair, and I need to get out the black light or take a closer look. With a few minutes on GitWik, I can go at it with a lot better information. If you've been involved with vintage guitars for years, you'd like to think you know it all – but it's impossible. There's too much. I did the research and writing for the product details in Gruhn's Guide To Vintage Guitars (first published in 1991, third edition published in 2010), and finding all the information was a huge task. To get one little fact, I might've culled through several catalogs or talked to people all over the country; 'Say I'm looking at a Martin with a volute – is it sharp, or softened? When did they make that subtle change?' Someone, somewhere, knows that. And you might not be able to find that person, but he or she can find GitWik, and make that detail knowable for everyone."
Another issue addressed by GitWik is the long-debated question, "What is vintage?" In the early '80s, a '78 ES-335 was just a used guitar. Today, it qualifies as vintage and would typically be priced accordingly.
"Vintage begins yesterday," noted Glaser. "Something is rolling off the line right now that will someday be considered a vintage piece and it's not going to be included in the book published the day before it was introduced. A big point is that GitWik is not only about vintage guitars. That's its focus, of course, because that information needs saving and many of the people who built those old instruments aren't around anymore, so we can't ask about them. The reference material isn't complete and there's a world of detail that can be lost over time. We're also committed to having the site make room for any guitar or guitar-related instrument. We're just spending ones and zeroes here – servers are cheap and photos are priceless. Somewhere out there is a guy who just bought an Ibanez Iceman or a 2015 PRS, and to him it's the best guitar on the planet. As contributions stack up, hopefully that guy will get on GitWik and find out if that's a replacement bridge or what the production numbers were or what that missing truss-rod cover should look like. Maybe the previous owner jacked with the electronics, and this guy will have reliable photos he can use to return it to original-spec. If there's no guitar like his on there, he can be the guy who adds one."
George Gruhn is a founding father of the vintage phenomenon, and one of its leading experts. A longtime Vintage Guitar contributor, he has written hundreds of articles and several books that serve as standard reference material throughout the industry. He agrees GitWik can be a tremendous aid.

"It will certainly help collectors and owners, but I think its biggest impact will be on the preservation of vintage instruments in general," he said. "In my building, 6,000 square feet of space is devoted to repair and restoration, and getting things as historically accurate as possible is always, always a priority. A lot of people ask how much a certain repair will reduce an instrument's value. Well, it'll never be as high as if that piece was original, but it will be worth a heck of a lot more than if it's unplayable or hacked-up. And staying as true as possible to original spec certainly beats a bad or invasive repair job. Good restoration adds value. If it didn't, I could free up a lot of floor space. As for getting it right, well, a guitar company isn't necessarily compelled to get into the weeds publishing the tiny details. There are specs that no catalog is going to include. There are forums all over the internet, but they offer very little usable information. That leaves us mostly with books, and books are expensive and time-consuming to put together. They don't sell all that well, either, and no one is going to carry around a stack of books.
"Our little world is a lot like that of car collectors – there's so much to know. GitWik provides an exhaustive photo guide of specs for each model, narrowing it down to the specific model and year with room for writing in all the details and real, fact-checked information. I think it's important that it's curated, and that it doesn't wander into collector value or allow for stories or opinions. It won't replace the expert appraiser with hands-on, eyes-on experience – in fact, I think it will actually back up genuine, personal expertise much as books have to this point."
"Our hope is that GitWik grows into something that everyone uses, everyone contributes to," added Glaser, "And it will be something everyone trusts – that's why the curating and not-for-profit basis had to be there. I love seeing pages of wildly cool vintage pieces popping up on the site, but it's important for that proud Hondo II or Les Paul reissue owner or repairer to post, as well. No one is perfect, and it will be forever a work in progress – with mistakes. But, per our motto, 'Together, we know everything,' we'll pursue the best info. Like anything vintage – cars, guitars, drums, what have you – some may be unique or only exist as incomplete examples. But the goal is to list what we do see, and update as we go. There's a '40s Gibson L-7 someone added to the site with the wrong bridge, but with a listing in the Details Wanted section, a call for someone to upload the right bridge and add it to that file. There's also an Instruments Wanted section so at some point someone won't need to wait for that lefty black '60s Strat with matching headstock to be added so they can see where Fender put the decal. Request it. Someone out there would love to help."
---
This article originally appeared in VG April 2018 issue. All copyrights are by the author and Vintage Guitar magazine. Unauthorized replication or use is strictly prohibited.