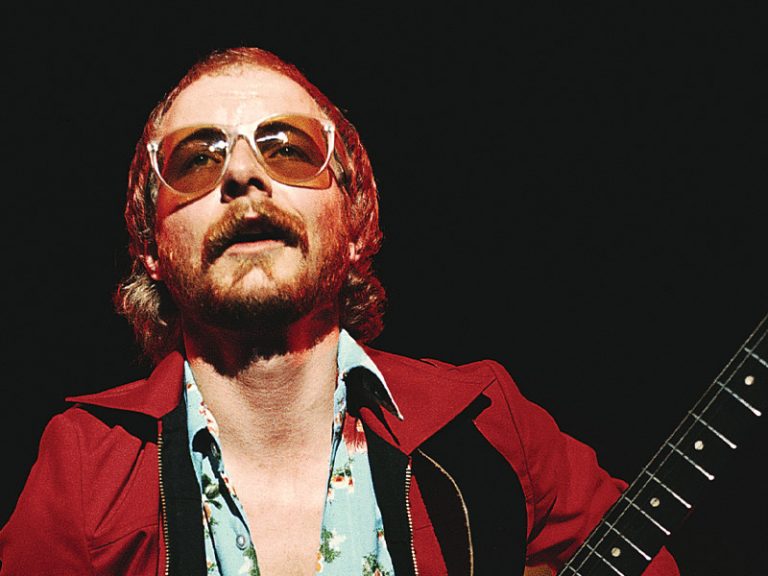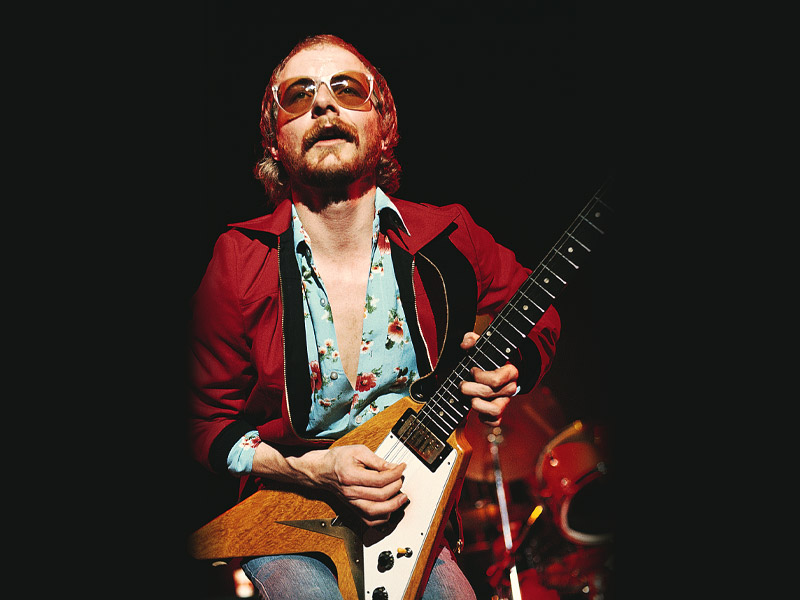 Wishbone Ash guitarist Andy Powell isn't caught in a time warp. True, he's the sole remaining member of the English foursome that proffered a twin-lead guitar sound that took the band to acclaim in the early 1970s, but under the aegis of Powell (VG June/July '92, April '98), Wishbone Ash has toured incessantly and released new recordings.
"The Ash" formed in 1969 under the management guidance of music entrepreneur Miles Copeland, who placed an ad in England's Melody Maker on behalf of bassist Martin Turner and drummer Steve Upton, in search of a guitar player. Ultimately, two guitarists were tapped, and Powell and Ted Turner began forging their twin-lead arrangements.
The original foursome recorded four studio albums, a self-titled debut (1970), Pilgrimage (1971), Argus (1972), and Wishbone Four (1973). A live album, Live Dates, was released in late 1973.
In '71, Powell acquired a mid-'60s Gibson Flying V. The first time many American fans became aware of the Ash and Powell's Flying V was in a 1972 ad in Rolling Stone that showed Ted Turner with a Strat and Powell with his V; the text proclaimed Wishbone Ash to be "The world's greatest twin-lead-guitar band."
Powell still has the Flying V, and its image has become the band's unofficial logo to many observers (see sidebar).
Ted Turner left the band in '74, and was replaced by Laurie Wisefield. This lineup of the Ash stayed intact until the latter half of 1980, and released seven studio albums, from 1974's There's the Rub through 1981's Number the Brave, which hit the racks after Martin Turner had departed. A live double album, Live Dates II, released outside the U.S., was culled to a single album release in America titled Hot Ash.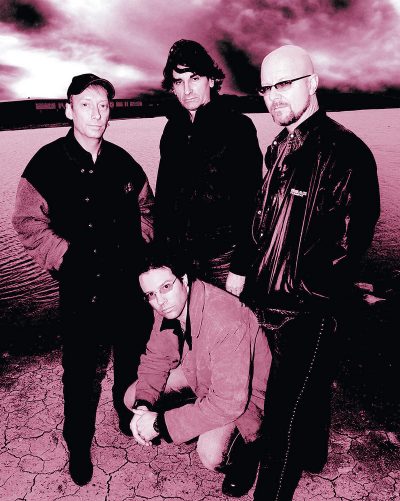 Subsequent bassists included John Wetton (King Crimson, Roxy Music) and Trevor Bolder (between stints with Uriah Heep). Numerous personnel changes have occurred since that era, although the original quartet reunited in the late '80s at the behest of Copeland for an instrument album, Nouveau Calls, for his Nospeak series of recordings, and a subsequent studio album, Here to Hear (both on I.R.S.). Then the personnel turnover began again while a studio album (1991's Strange Affair) and a live album (1992's Live in Chicago) were released. By late '93, however, Powell was the only original member of the band inclined to continue recording and touring under the Wishbone Ash banner.
Live In Geneva and a studio album called Illuminations were released in '96. However, around the time of Powell's second VG interview, two unusual albums credited to Wishbone Ash were marketed. Powell was technically the only participant on the first effort, Trance Visionary, while the followup, Psychic Terrorism, included Powell and other then-band members. Both were dance-mix efforts… and an "acquired taste" for longtime Ash fans.
"Those were done with samples," Powell said. "In the mid '90s, there was this explosion of dance/club music, and we were having trouble getting a record deal, so I tried this. I think it worked pretty well for what it was supposed to be. And we actually tried to take it on the road, but it didn't work out."
Further personnel changes were in the offing for the Ash at the time, as well. Former guitar tech/roadie/guitarist Roger Filgate and vocalist/bassist Tony Kishman departed, to be supplanted in early '98 by guitarist Mark Birch and bassist Bob Skeat. Filgate was a neighbor of Powell's, and he tired of touring, which Powell said was "… understandable, but I'm a road rat."
They've remained friends. As for Kishman, Powell cited complicated logistics (Kishamn lived in Arizona, Powell in Connecticut). Later that year, drummer Mike Sturgis departed and was replaced by the returning Ray Weston, whom Sturgis had himself replaced in late '91.

The first release by the Wishbone Ash lineup of Powell/Birch/Skeat/Weston was the "unplugged" Bare Bones, which debuted in '99 on HTD Records/Castle Music.
Produced by Powell, the album included various acoustic and quasi-acoustic versions of Wishbone Ash favorites.
"I used my '60s vintage Epiphone Texan, which has been on many of the classic Ash albums," Powell recalled. "As well as Takamine guitars, including a great koa model Takamine gave me in Japan. I also played my 1919 Gibson A-2 mandolin. A couple of songs had some electric guitar parts; I used my Flying V and a Music Man."
In April of 2000, the band staged a 30th anniversary concert at the Shepherd's Bush, in London. Among the participants was Laurie Wisefield, who was in the band from 1974 through '85, and longtime Ash "associate vocalist" Claire Hamill. As for the other three founding members, Powell said, "Martin Turner was on holiday in Florida, Steve Upton wasn't interested, and we couldn't get in contact with Ted Turner."
Also that year, a chronicle of the first three decades of the Ash saga was published. Blowin' Free: Thirty Years of Wishbone Ash (Firefly) was written by Gary Carter and Mark Chatterton, and Powell described his association with the project as "overseer," noting, "I added some anecdotes. It's a good academic look at the history of the band, without trying to dig out any so-called 'scandalous' stories."
Soon after, Mark Birch opted for an alternate career, according to Powell, who described the other guitarist as "…in the nicest possible way, a computer geek. He enjoys designing programs, and that's what he wanted to get into. He's very talented in that field, as well, and we've remained good friends."
To fill the vacancy, Powell turned to Ben Granfelt because, "I knew he was a great singer and songwriter, and a powerful guitarist."
The Finnish guitarist's installation yielded a bonanza in songwriting, as seven of the 10 tracks on '02's Bona Fide were written or co-written by Granfelt, including the complex, twin-lead-guitar instrumental title track.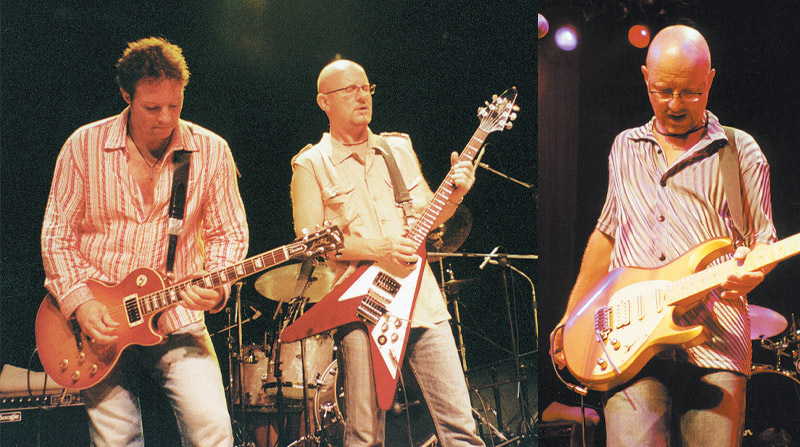 At its outset, Bona Fide avers the musical viability of the Ash; the opening track, "Almighty Blues," is a raucous, boogie-based number that will delight longtime fans by interpolating a trademark ethereal twin-lead guitar interlude. Powell is particularly fond of the reflective Granfelt-Powell composition "Faith, Hope and Love," which opens with another example of Wishbone Ash harmony guitar riffs.
"It's not exactly a flat-out rocker," he remarked with a chuckle. "But it's got a great sound and feel to it."
Asked about any sociopolitical significance to "Come Rain, Come Shine", which was also co-written by Powell and Granfelt and includes segments of news broadcasts about September 11, Powell said, "We were recording the album when that happened. It was horrifying, and it affected everyone, so we felt like we had to write about it."
The next album was a live two-CD anthology titled Tracks, also on Talking Elephant. Researching the vaults of live Wishbone Ash material, Powell delivered 26 songs dating from '72 to '01.
Included are acoustic treatments of "Wings of Desire" (from Strange Affair) and "Ballad of the Beacon" (from Wishbone Four). While an unplugged studio version of "Wings of Desire" does lead off Bare Bones, "Ballad of the Beacon" does not appear on the '99 effort, so its appearance on Tracks marks the first time that song has been heard in an acoustic arrangement on a Wishbone Ash CD, though both were performed with acoustic guitars, accordion, and violin on the 30th Anniversary DVD.
"We've put out a lot of live albums, and people are into 'em," Powell said. "I had a request from the label, asking if there was anything that could be released to help support the (Bona Fide) tour, before the next studio album. We got live material from different sources, and there's still more. A lot of people have recorded us over the years, and there's stuff continually coming to light."
Other happenings over the last several have included the advent of the "AshCon" fan conventions in England, Germany, and the U.S. Following the format of other bands' intimate get-togethers for fans, they often include question-and-answer sessions, as well as acoustic and electric concerts.
"If your fans have been around a long time, you get to know each other, and we started doing fan club conventions," said Powell. "Fans get to have more of a hands-on approach; they get to hang with the band, and they get more behind-the-scenes, and they can trade memorabilia.
"When we did conventions in England and Germany, people have come from all over the world," he added. "Singapore, Korea, the United States, Canada. That was another thing that made us think 'Gee, we've got to tour the U.S.' It was the least we could do to return the honor.
"It's been an amazing thing, and I don't see every band being able to do [conventions]; I think it's a sign of maturity when you can meet with your fans like that."
The initial American AshCon was held in Chicago in May, 1999. Subsequent AshCons took place on cruises to Mexico and the Caribbean.
The band tours extensively in England and Europe, and in 2002 performed in the U.S., culminating in AshCon at sea. The band played 160 shows that year, and '03 saw the expected tour of Europe and an more concerts in the U.S. Still, its primary opportunities are in the United Kingdom and Europe.
"That's the main 'engine' for our road work," he confirmed. "The U.S. is a difficult place to tour on our level. It's tough to do, economically. We've done several exploratory [U.S.] tours. We really appreciate it when people make the effort to come out and hear us."
Powell's road instruments include his mid-'60s Gibson Flying V, as well as Music Man Silhouette guitars. But he also noted, "When I play local gigs on my own, I still use my old 1952 Telecaster, but I don't take it out on the road."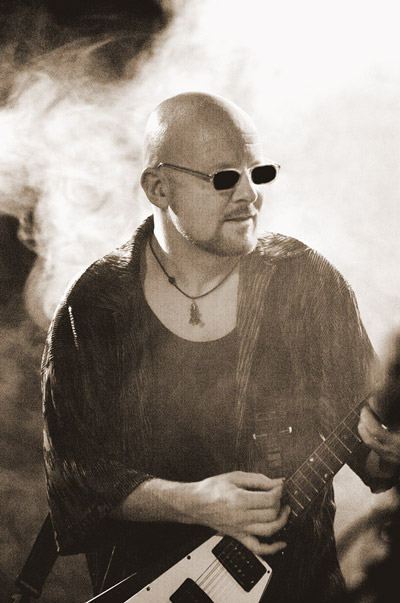 In '02, Granfelt utilized a Finnish-made Duck guitar, backed with Fender Stratocasters. In '03 his main backup road guitar was a '90 Gibson Les Paul Standard with a Seymour Duncan "JB" humbucker in the bridge position. Bob Skeat holds down the bottom-end with a Music Man five-string bass and Warwick four-string basses. The stage amps for Powell and Granfelt are quite similar, consisting of Fenders and Boogies, while Skeat runs through a Gallien-Krueger stack.
"My Boogie is the same one I've used for a long time – an original '74 Mark I," Powell said. "I've got a reissue that Ben uses. I use Boogies quite clean, for a foundation sound, then use something a bit rougher like a (Fender) Hot Rod DeVille. In the U.K., I'm using a Fender ProSonic as well; I think they've been discontinued, and I really like those! We just did a big festival in Europe for 30,000 people, and we used Fender combos. It can be anything – Hot Rod DeVilles, ProSonics, and even a vintage Bassman I'll put out sometimes. I've also got a reissue Bassman. With a compilation of small combo amps we can cover just about any gig as long as they're maintained well and the tubes are biased correctly. I used to use two 200-watt Orange amps with JBL speakers, and I don't want to lose any more of my hearing. I can get plenty of power with these."
The most recent projects for Wishbone Ash included the release of Almighty Blues – London and Beyond (Classic Rock Productions), a limited edition DVD set recorded in London by the current incarnation of the band, and a concert from '89 by the original lineup. Late '03 also saw the release of Tracks 2, another double CD of previously unreleased live recordings that date to '72. This time, however, there's a healthy dose of concert material from the current lineup, as well as two tracks from '02 ("Mercury Blues" and "Steppin' Out") described as a "rare audience recording" from Holland.
As for the band's future, Powell said, "We'll also probably be releasing one or two more archive albums, we're contracted to do another studio album [this year], and we've got a lot to touring to do, including South America."
The latest lineup of Wishbone Ash has been intact for over three years, and all of its road work has molded it into a cohesive unit. These days, the band is still potent and viable – the classic/signature songs sound as good as ever, while the recent material is assertive and confident.
Powell and his musical associates could now be considered journeymen, but for the bulk of its history, Wishbone Ash was a "player's band." Its chronology has surpassed a third of a century, and the modern "Mark XVI" version stays active, demonstrating that the Ash still has a lot of great guitar-based music to offer.
---
Andy Powells ca. 1967 Gibson Flying V

Wishbone Ash's Andy Powell is the proverbial "road warrior," and this is the primary weapon he has used more than 30 years.
In the band's early days, Powell relied on homemade guitars and a Gibson SG Jr. In 1971, he purchased this ca. 1967 Gibson Flying V (serial #000951) as new old stock (N.O.S.) from England's Orange Music.
"I liked the way it played, and how 'vibrant' it felt, even before I plugged it in," Andy recalled in his 1992 interview with Vintage Guitar. "I bought it, took it home, put it in a chair, and stared at it."
An example of the second generation of Flying Vs (Powell has owned two '50s korina Vs, as well) proffered by Gibson in the mid '60s, with a mahogany body, cherry finish, and white pickguard, the V has an original Gibson Vibrola tailpiece that Powell uses extensively. He attributes its smooth, hassle-free operation to the original height-adjustment wheels on the Tune-O-Matic bridge posts.
The instrument has experienced numerous modifications. In 1973, Powell purchased a '59 Gibson ES-335 and replaced the V's original humbuckers with the 335's Patent Applied For (PAF) humbuckers. The bridge pickup later developed problems was replaced with a Seymour Duncan JB.
Grover tuning machines were also added, and in the guitar was refinished in the 1980s. At that time, an old-style Gibson logo was installed on the headstock, supplanting the logo of the original large white truss rod cover, which was replaced with a small black cover.
Rugged, refinished, and roadworthy, Powell's V has been traveling around the world for over three decades, purveying terrific twin-lead guitar music for fans in nations across the globe. Any modification has been undertaken to improve its sound, which (like Wishbone Ash itself) is still very potent. Vintage purists might turn up their noses at all the mods, but this V has simply served – and continues to serve – its owner well, as the Ash continues its musical
saga.
---
This article originally appeared in VG's May. '04 issue. All copyrights are by the author and Vintage Guitar magazine. Unauthorized replication or use is strictly prohibited.
---
Wishbone Ash – Blowin' Free – 1973