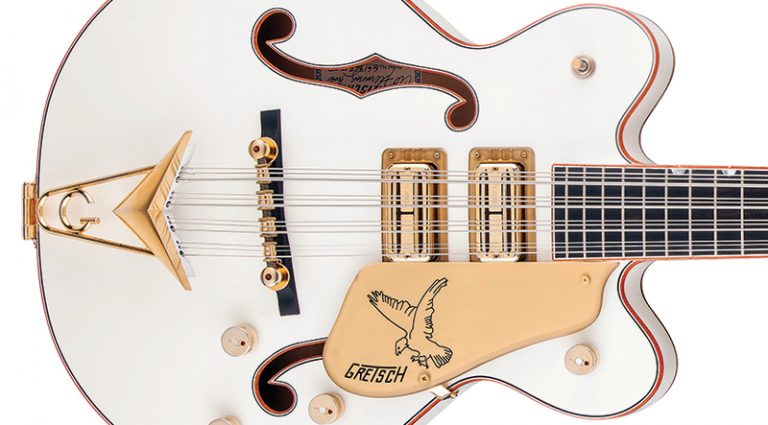 Tom Petersson's innovative approach to playing bass is a key element in the music created by the legendary rock band Cheap Trick.
Though anyone who has listened closely to CT music is fully aware of Petersson's contribution, few know that he actually invented the 12-string electric bass and has been using one since 1977 to create the bright-but-dense sound that fills so much sonic space thanks to its four standard bass strings plus accompanying sets tuned an octave higher.
His first 12-strings were built by Hamer, and he has continually fine-tuned the concept while working with several companies to build others, "…including Kids of Tokyo, Chandler Guitars, a Gibson prototype, Waterstone Guitars, and the Electrical Guitar Company," he recently recalled in a talk with VG. This year, he debuted a Gretsch version based on the company's White Falcon guitar.
"I love the look of classic '50s and '60s instruments, and Gretches are a longtime favorite," he said.
Like most production instruments, the White Falcon underwent changes in configuration. For his bass, Petersson keyed on the double-cutaway version for a very specific reason.
"George Harrison used a Gretsch Country Gentleman," he said succinctly. "There have been quite a few different White Falcons, but I like the double-cut Country Gent look."
Once he began collaborating with Gretsch, concepts and construction came quickly thanks to his experience with the instrument. The first was developed by Chris Fleming, a luthier who has been with Fender/Gretsch for 16 years. Based on a 1959 instrument, it was given the brand's horizontal headstock logo and thumbnail inlays.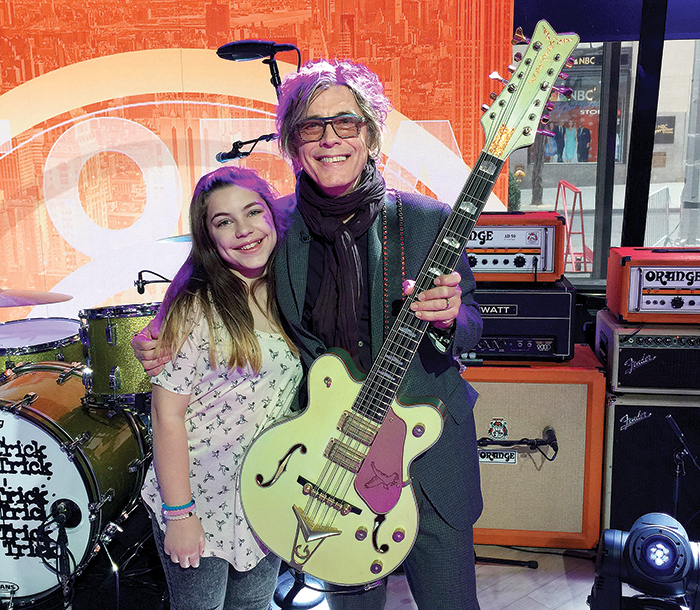 "I started with those cosmetics, then Tom and I decided that a 16″ lower bout, thin profile, and a short-scale neck would be a winning combination," Fleming recounted. To address various challenges of the design, he then turned to builders in the Fender R&D Model Shop, Gretsch Custom Shop, and the Jackson Custom Shop.
"It was a matter of creating something that could hold up to the huge pressure that 12 strings exert on an instrument," said Fleming. "We've created many prototypes over the years, but none as unique as this. Most were variations on historical models like the White Falcon and 6120, but none had to stand up to that kind of tension."
The prototype was given a spruce center block, three-piece quartersawn maple neck with a mortis-and-tenon joint, and certain refinements.
"We had to adjust a couple of things, including pinning the bridge with long studs and adjusting the pickups to suit Tom's needs," Fleming added. "The bridge I designed for the prototype was 3-D printed – quite expensive – and turned out to be incredibly strong. Unfortunately, the production version was not up to the task, so R&D revised the design."
Ultimately, it came together and Petersson had the instrument in time to play at a National Hockey League game at TCF Bank Stadium in Minneapolis – outdoors, in February. It was 20 degrees.
"They need to be able to take the cold and the heat," Petersson laughed. "Plus, it makes for great-looking finish checking."
"Tom sent me a photo from that show," Fleming recalled. "It was great to see the instrument holding up to the cold, and life on the road."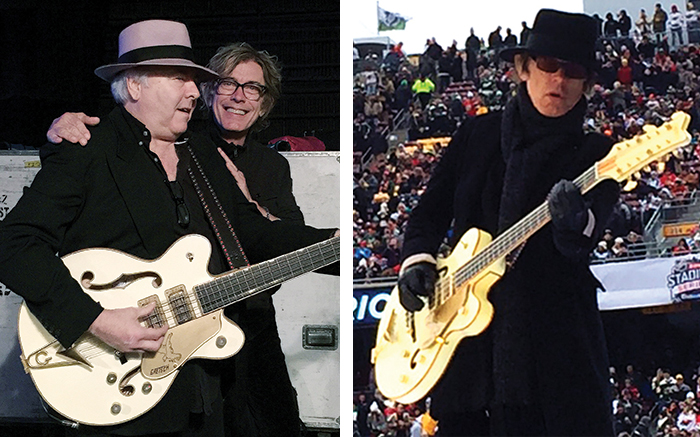 The other two basses were created in the Gretsch Custom Shop under the direction of Stephen Stern. Based on a 1955 configuration, they have pickups in the neck and middle positions, Cadillac tailpiece, vertical logo, Falcon inlays, gold parts, sparkle binding, Penguin armrest, comfort pad, and the company's modern sound hole, which is slightly smaller – and posed a specific challenge.

"We couldn't slip the electronics through them," Stern said. "We also didn't want to route channels or drill holes through the center block to pass the pots and switch through. So, we had to route two access holes in the back."
The finish on the second is an off-white with relic'd touches, while the third is in two-tone Smoke Green, "Like Brian Jones' Gretsch Double Anniversary," Petersson enthused. "I always loved that color with the darker sides and back."
All three instruments are made using laminate-maple bodies, quartersawn maple necks, and ebony fretboards. Petersson used the Smoke Green bass in recent television appearances on CMT's "Crossroads" and the "Today Show" in New York, when the band was there for the ceremony to mark their induction to the Rock and Roll Hall of Fame.
"When Tom approached us, we had only made one other bass – a four-string White Falcon for Andy Babiuk, of the Empty Hearts band," Stern noted. "It was his idea to make the changes to number two and three. He thought it would spruce up the look, and I agree."
The headstocks were lengthened to accommodate two sets of four Gotoh guitar tuners and one set of Gotoh bass tuners, while the pickups were custom made by Maricela Juarez in the Seymour Duncan Custom Shop.
Petersson and the luthiers at Gretsch are all suitably proud of the collaboration.
"Tom is great and I had a feeling it would be a fun project," Fleming said.
Stern shares that enthusiasm and adds, "It's fair to say Tom's basses are the most contradictory instruments we've ever made in the Gretsch Custom Shop."
---
This article originally appeared in VG October 2016 issue. All copyrights are by the author and Vintage Guitar magazine. Unauthorized replication or use is strictly prohibited.
---