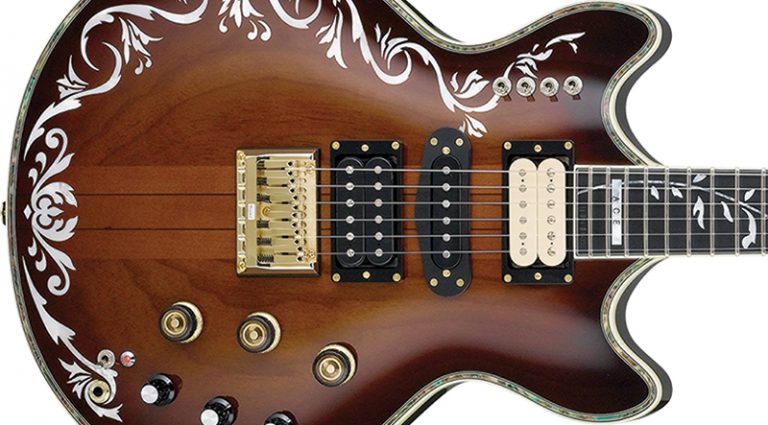 The mid '70s were a time for bold experimentation in guitar design, particularly with electronics. Guitarists were discovering replacement pickups, coil-tapping, onboard boosters, and active EQ circuits; some loaded their axes with buttons and switches.
One such guitar was the custom "Cowboy Fancy" solidbody that Ibanez made for Grateful Dead rhythm guitarist Bob Weir, circa 1976. The company has reissued it as the BWM1 and, no question, it's a tone-tweaker's delight.
The Weir's essential specs include a swamp-ash body with a mother-of-pearl "tree of life" motif that continues all the way up the 22-fret, bound-ebony fingerboard to a large and inlaid headstock. The through neck is a five-piece sandwich of maple and walnut with a Strat-sized 25.5″ scale and big, meaty profile. This ain't no skinny Ibanez shred neck – it's a big D shape.
Other accoutrements include gold hardware, ornate abalone binding, and an "Ace" inlay at the 20th fret (the name of Weir's '72 solo album). Fans of '70s guitar design will also dig the Accu-Cast replica bridge and half-bone/half-brass nut. (If you're too young to remember, brass hardware was big news back then.)
Now – deep breath – comes the BWM1's massive array of onboard electronics. Two DiMarzio PAF 36th Anniversary humbuckers voiced for the bridge and neck slots are joined by DiMarzio's Area 61 single-coil in the middle. If you're looking for a standard pickup toggle, you're out of luck. The BWM1 offers four selector switches near the top horn that provide on/off functions for each pickup, as well as a coil-tap for the bridge and neck pickups, resulting in almost endless tone combinations. The top-tier control zone offers master passive Volume and Tone knobs, plus EQ Level. This knob deploys when you flip the EQ on/off switch, firing up the battery-powered preamp, and it governs three EQ knobs underneath for treble, mid, and bass. The EQ Level then controls the overall volume of the settings, also providing an extra volume boost for leads.
By this time, your head may be spinning, but it's time to plug in and spank this plank. The first thing you'll notice is that, like the old Ibanez Professionals (and mid-'70s Les Pauls and Strats), the BWM1 is wickedly dense, weighing somewhere north of 9.5 pounds. Add in that big neck and you have a solidbody that makes a good case for sustain. To test the point, we plugged into a Musicvox tube combo and cranked it up into Cream-era Clapton territory. Sure as heck, the sustain rang for days. Elsewhere, the electronics delivered as promised, offering an amazing range of tone options, particularly for the guitarist who likes to manipulate sound on the fly. We dug up everything from fat-jazz to puckery coil-tap textures in seconds. Guitarists who love to hear that "sweep" of active EQ frequencies will revel in all the nuances.
All told, the BWM1 is a specialty axe for guitarists who want something unique. It's a vintage reissue that gets all the details right, from its big neck and body to over-the-top design and incredible electronics package. The Cowboy Fancy isn't for everyone, but it's hard to argue with this level of retro vibe and sophistication. Old-school rockers often look back and say, "You had to be there." With the BWM1, you almost are.
---
This article originally appeared in VG November 2016 issue. All copyrights are by the author and Vintage Guitar magazine. Unauthorized replication or use is strictly prohibited.
---