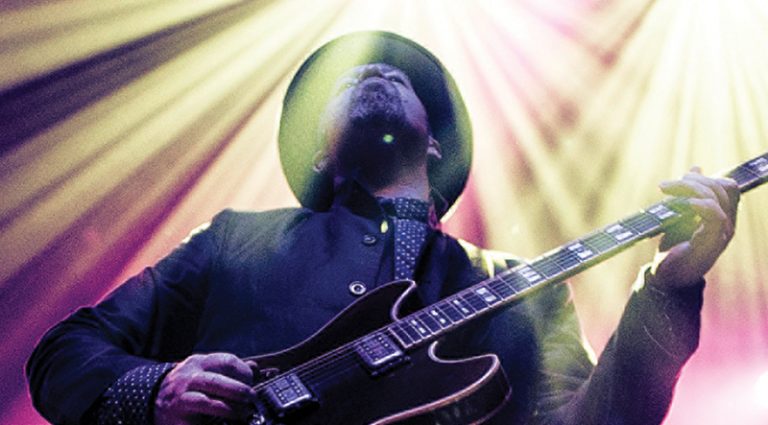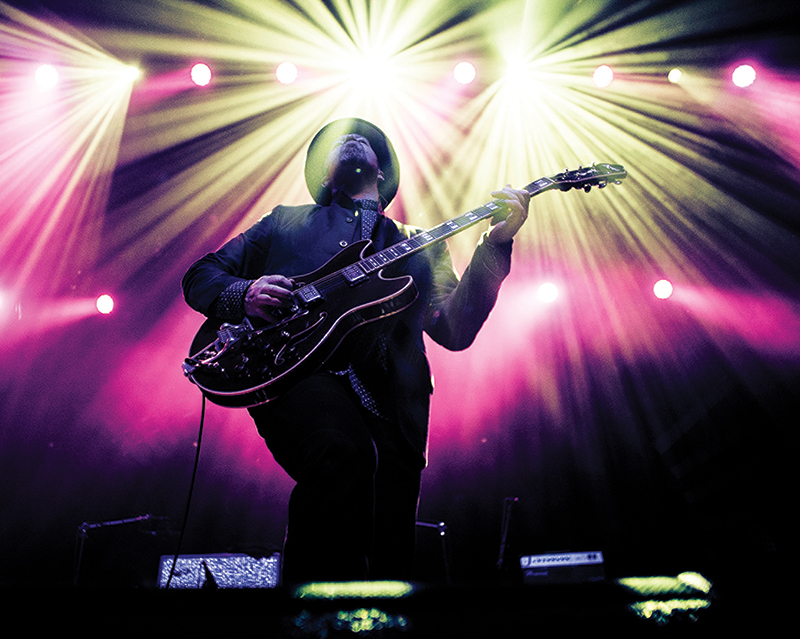 Because Eric Krasno isn't quite busy enough performing 188 dates a year with Soulive, moonlighting with the band Lettuce, or producing Norah Jones and Aaron Neville, he recently felt the need to release a solo record. Blood From A Stone positions the eclectic songwriter/guitarist front and center for the first time as a singer. Soul and rock mix with funky R&B to great affect. There's plenty of suave vocalizing, girl singers, and killer guitar playing too – because that's how Kraz rolls.
Blood From A Stone is a different sound for you.
It was a very different process. I'm singing, which is different from everything else for sure. A lot of what you hear was intended to be demos I put together. The magic kind of happened in the moment. I called Ryan Zoidis, who plays with Lettuce, and I was like, "Hey, I'm working on a few songs and I'm thinking about coming up to Maine." I sent him a couple songs I'd been working on and he said, "Let's get Dave Guetta and see what we can come up with."
Within those first couple of days we wrote and recorded half the album. It just started flowing from there. "Jezebel," "I Need Love," and "Unconditional Love" came out of those first couple of days. We recruited a bunch of musicians who were in town. I got Chris St. Hilaire, the drummer from The London Souls, because I was producing their record. I recruited a whole community of people up there.
Derek Trucks plays on "Curse Lifter."
I went down to Derek's studio. I had a Vibrolux and he had a Super Reverb, and we just cranked it. That's when I was working on his last record. That was phase one, up in Maine. We piecemealed this studio together. We were in a rehearsal space and we got our hands on an old tape machine and a bunch of mics, and it ended up sounding really good. Then I brought it down here to New York and started polishing it a little bit, adding different things. It took a few years to finish because I was working on so many projects at once. But once I did, I was really happy with it. Now, I'm creating a whole new band around it. We're going to tour and I'm really excited.
Part of the process was just finding my own voice and how to say what I wanted to say. I've been doing a lot of songwriting for a lot of other people, but it's different now, having to be the singer and the front guy.
Did you approach the guitar differently?
I didn't put any boundaries on it. When I perform with Lettuce or Soulive, I'm very much thinking about a certain palette of what I do; I double the bass, add psychedelic layers, and take a solo. With this record, I could do anything. I did a lot of experimenting with sound, using different amps and guitars, and illuminating boundaries. It was fun, but sometimes having no limitations can be harder. I've got too many options now (laughs). It was like creating a painting and having all these colors.
What gear did you use on Blood From A Stone that you wouldn't use with Lettuce or Soulive?
I had more distorted sounds. I used a Vibrolux a lot. I just cranked it. In Soulive, I need it to be loud and clean. This is more gritty-sounding. I experimented more with gain pedals and things like that. I used a Les Paul and a Strat. I still used my Ibanez signature model that I play all the time, but there are some tracks with a Les Paul and some funky little things that friends would bring. I also used a little Fender Champ, and a Supro. That's what I've been using on the road.
How about gain pedals?
I've got Analog Man's King Of Tone, a Dunlop Overdrive, an RC Booster, and a bunch of Pigtronix stuff like the Class A Boost and the Fat Drive. I just started using the Eventide H9. It's ridiculously insane!
Will you tour?
We will be going all over the place. I still have a few projects I'll be producing, but I'll be focusing a little more on doing the band. A lot of the stuff I was working on is done – the Aaron Neville album is coming out this summer. The London Souls record is almost done, we just have to mix it. I hope to see everybody out on the road.
---
This article originally appeared in VG November 2016 issue. All copyrights are by the author and Vintage Guitar magazine. Unauthorized replication or use is strictly prohibited.
---