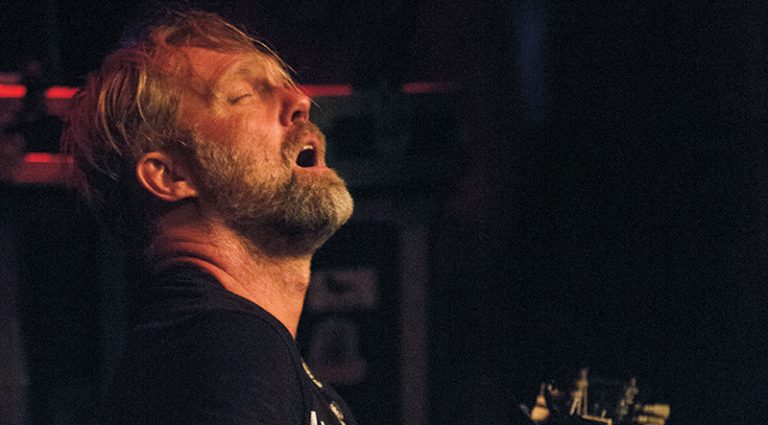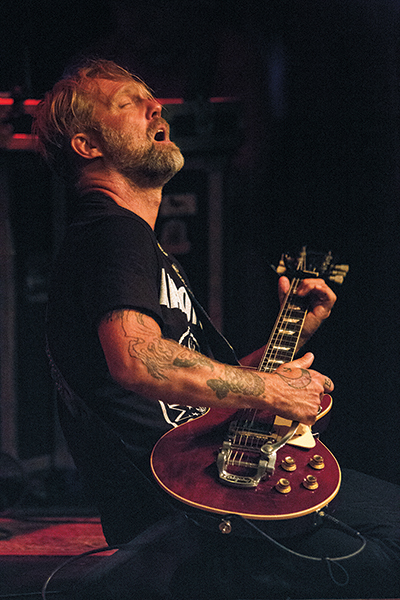 When Anders Osborne, his band, and various friends went into the studio to work on what became Spacedust & Ocean Views, the music took on a life of its own.
"We spent three-plus weeks recording, overdubbing, and working on things. Of the 35 songs we did, 10 or 11 seemed to have their own identity. They came together by themselves. We did a lot of rockers, some long, 10-minute-guitar-solo songs, some garage-band songs, world music; in the end, I decided to split it up and take out eight tracks to put on Flower Box, which is more of a rock thing [released in July]."
Some fans will appreciate the slighly-laid-back approach on Spacedust – it's a surprising turn for Osborne.
"It just felt like a beautiful sunset," he said. "It's more poetic and contemplative."
Throughout the session for both albums, guitar parts were split by Osborne and Scott Metzger. How did they decide who'd do what?
"One should not know," he said with a laugh. "No. Actually, it's a pretty natural flow. If I pick up an acoustic, I might keep that and vice-versa. We would try to make sure the song was being served rather than someone's guitar playing."
Born in Sweden, Osborne left home at 16 to travel, hitting parts of Europe, the Middle East, and north Africa. And he had no grand plan.
"Lack of a plan actually made that happen. I felt antsy and wanted to see what was out there. Sometimes, when you're looking for what's out there, you're actually searching for what's inside, you know?"
Well before that sojourn, though, he was bitten by the music bug.
"It started with a pump organ at our house," he recalled. "I used to sit at it and make up melodies. When I was eight, I asked for a guitar, and that was pretty much it. I started writing right away – never really tried learning other people's stuff. But I did have one problem. There was one guitar teacher who told me my hands were too small, so I switched to drums, but that was just for a short while."
The traveling was a big part of his musical development; along the way, he discovered a lot of different music, with singer/songwriters being especially important to him at that point – Bob Dylan, James Taylor, Joni Mitchell, and others.
"The guitar was my companion as I hitchhiked. I was able to absorb a mixture of stuff from traveling throughout Europe and Africa. Then, when I got to the U.S., the Appalachians and New Orleans."
Osborne can be a dazzlingly unique soloist, but doesn't always show his chops because, as he says, everything is in service of the song. And among the mix of musical influences and phases along the way was one in which he wanted to play like Al Di Meola.
Asked about favorite guitars, he offers only "lots" because "…it becomes an obsession, as we all know." His main guitar, though, is a '68 Stratocaster.
"It's black and I found it in 1985 or '86 for 175 bucks. It's an amazing piece of guitar that's been my baby for years."
He also likes his Gibson Les Paul '56 reissue Goldtop. "It's really well-made, has P-90s, and there's a certain fatness to it that you can't get with anything else." He also has "a couple" late-'60s or early-'70s Gibson ES-335s that are "sweet and warm-sounding."
For amps, Osborne uses a handmade custom Category 5 made by Don Ritter in Dallas. "They make phenomenal-sounding amps," he noted. He also uses a modified Marshall JCM 800 re-done with the help of Voodoo Amps.
Beyond world-traveler and world-music creator, Osborne is the epitome of the road warrior.
"I'm always out," he said. "We do two to three months on the road in winter, trying to cover the country. We fill in weekends." With a laugh he adds "I live in New Orleans, but I'm not home much."
---
This article originally appeared in VG November 2016 issue. All copyrights are by the author and Vintage Guitar magazine. Unauthorized replication or use is strictly prohibited.
---