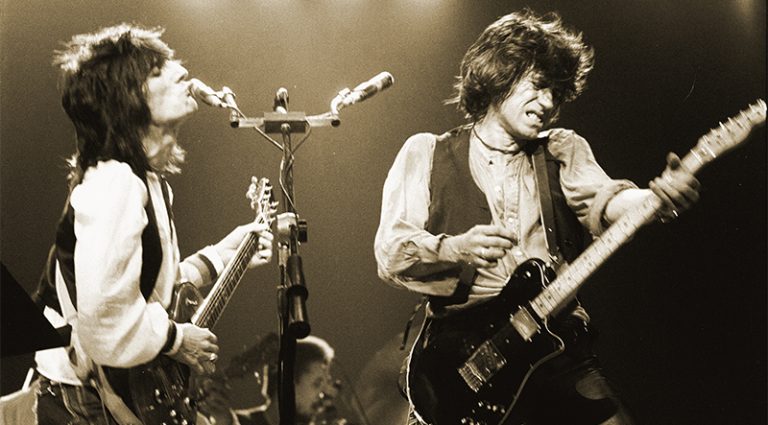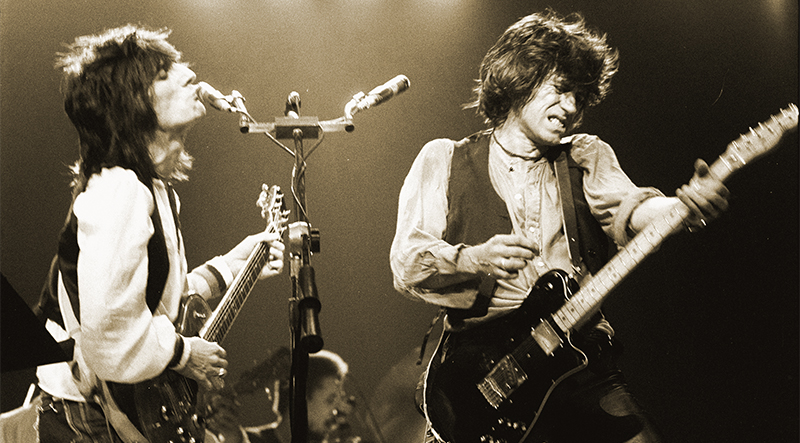 The Rolling Stones have a history like no other rock-and-roll band, replete with the sort of peaks and valleys that spelled doom for virtually all others who first gathered in garages or introduced their music to basement bars in the 1960s. The early '70s were particularly pivotal, as the band was on the verge of collapse thanks to drug busts, dwindling inspiration (and album sales), and the very real threat of Keith Richards serving time in jail. A turnaround, though, came in part thanks to an unsung side project – Ron Wood's New Barbarians tour. As the Stones continue to perform live more than 54 years after their first gig, we offer a look at how Wood's effort helped keep them rolling.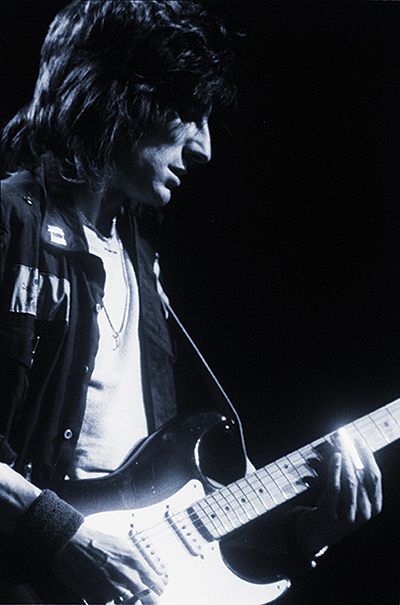 410 AD: The Barbarian hordes – led by Alaric, king of the Visigoths – sweep out of the Germanic lands and through the Holy Roman Empire, pillaging the civilized world, sacking Rome.
1979 AD: The New Barbarians – fronted by Ronnie Wood and Keith Richards – open for the Rolling Stones on April 22 in Oshawa, Ontario, before partying across the United States from Ann Arbor to San Diego, with outbreaks and riots at concerts along the way. The band then charges on to England, opening for Led Zeppelin at Knebworth Festival.
It began innocently enough. The Stones opted not to tour in 1979, leaving members with time on their side. Wood had just released his third solo album, Gimme Some Neck, and was rounding up a "pickup band" to play his songs plus some blues and rock covers on a tour. Knowing Keith Richards had nothing going, Wood signed him on for a tour of America.
From there, it all got out of hand.
Richards was still smarting from his February '77 bust in Toronto for possession of heroin "for the purpose of trafficking." His sentence after 18 months of legal hassles? Addiction treatment, plus play a benefit for the Canadian National Institute for the Blind (CNIB).
Keen to get on the road again, Richards was on the run from the powers of the poppy seed and his éminence blonde, Anita Pallenberg; it may have been hard to fathom, but he was ready to turn over that proverbial new leaf. Wood, an unlikely poster boy for AA, paradoxically aided and abetted Richard's recovery by providing a venue to revive himself – and issue the de facto "Get Out of Jail Free" card as the New Barbarians played the CNIB show.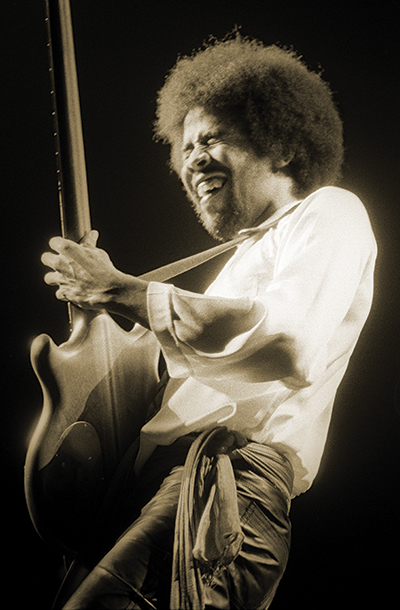 "Having been in trouble with the law and everything, going out on the road was Keith's safe place," said Gary Schultz, one of Richards' crew and a loyal confidant. "Keith is more himself when he's on the road and in front of an audience than when he's doing anything else."
The Stones with the most insatiable appetites for gigging, jamming, and having fun then added sometime-Stone and Texan native son Bobby Keys, who added the raucous sax solo to "Brown Sugar" and played on the '71, '72, and '73 tours before being thrown out as a bad influence. Despite Stones politics, Wood held no grudge.
Next was Wood's ex-Faces mate, Ian McLagan. From his natty shoes to his Beatles-esque mop, the ex-mod was always onboard for a good time.
With the frontline in place, Wood looked to the bottom-end. He asked Charlie Watts to revive his drumming role from the Neck LP, but Watts was busy with his own band and recommended Joseph "Zigaboo" Modeliste. Ziggy had been the propulsion for the Meters, the band that practically defined New Orleans R&B.
"I'd never actually played rock," he recalled. "I was just an R&B-type of drummer. I loved the feel of rock and roll, so that was right up my alley, but it was a big learning curve because I had to listen in a different way. It was a little over my head, I gotta admit."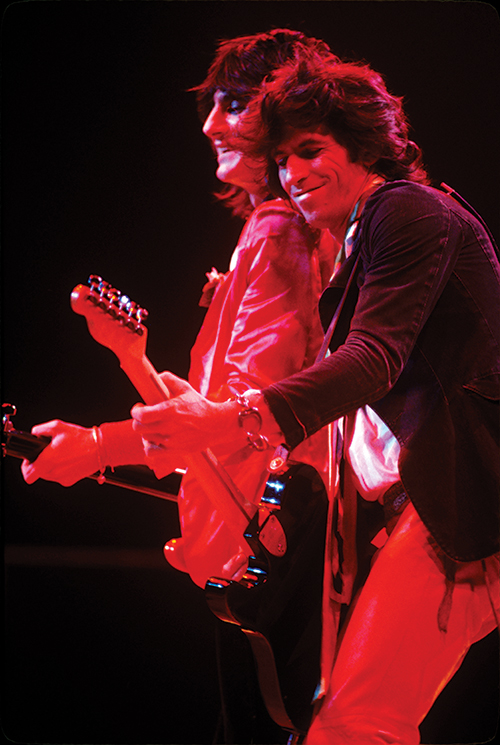 Ziggy made the switch thanks largely to the influence of one man – his fellow on the bottom end, bassist Stanley Clarke.
When recruiting for the Barbarians, Wood's first question to Stanley was, "Know any Chuck Berry?" It was a fair query coming from a rocker to a jazzer.
Clarke laughed, and replied, "Yeah, I know Chuck Berry songs." In fact, Stanley had played with Chuck.
Learning curve, jazz, whatever: Wood had faith.
"I knew they would adapt naturally – and put a new slant on their approach," he remembers.
And with that plus a seasoned crew largely made up of ex-Faces roadies, the New Barbarians were born.
Blind Date
The Barbarians debuted April 22, 1979, playing the two CNIB charity shows – opening for the Stones.
Since management was worried about Richards setting foot again on Canadian soil – returning to the scene of the crime – tour chief Richard Fernandez had the musicians stay in the U.S., fly in for the shows, then jump back on their leased Boeing 727. They set up house at the Playboy Club in Lake Geneva, Wisconsin, which served as a headquarters, rehearsal space, and base for the tour's Midwest shows.
"Going to Canada, Keith's visa was a concern, so we just went in and out," Fernandez says. "I wasn't sure what could or couldn't happen when we got there, so we figured this would be the best way to get in, without any luggage, without anything, you know – just people. Get in and get out, spic and span."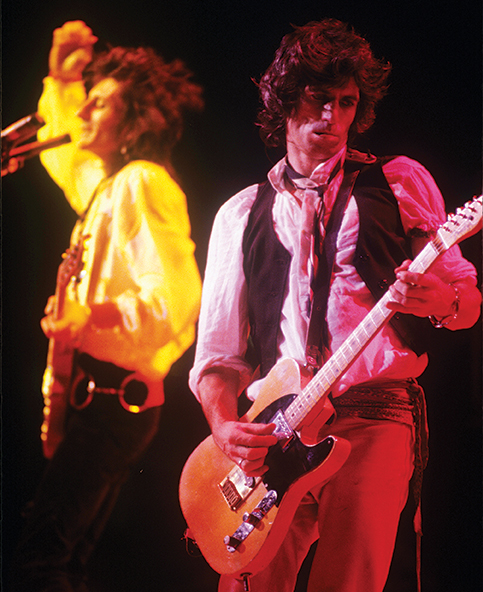 Or, as the official itinerary stated, "Toronto bound: Please take the time to assure that you will be clean upon arrival. Skip the soap and go right for the vacuum."
Introduced by an obviously amped-up John Belushi, who admonished the crowd to "Go nuts!" the Barbarians roared through their set. The Stones then took over before the bands joined to play an encore of "Jumpin' Jack Flash." Then they did the whole show a second time before the Barbarians hightailed it back to the Playboy Club.
From there, the band played shows across Michigan, Wisconsin, and Madison Square Garden before swinging through Texas and on to finales in California.
They opened each night with Chuck Berry's "Sweet Little Rock & Roller," Wood hitting the classic double-stops on his disc-front Zemaitis. They then rolled straight into two of Wood's own rockers from Gimme Some Neck – "Buried Alive" and "F.U.C. Her" before playing his beautiful earlier ballad, "Mystifies Me."
Covering Sam Cooke's "Let's Go Steady Again," Richards sang while Wood played sax alongside Bobby Keys. "Variety you want? Variety you get!" Wood announced to the crowd. Richards would then take a seat at the piano for the country tearjerker "Apartment #9," which had been Tammy Wynette's first hit, back in '67. Wood added pedal-steel fills.
On a cover of Freddie Scott's R&B hit "Am I Grooving You," most of the band retreated from stage, leaving Clarke and Ziggy to step out. Afterward, the shows were blown wide open, diving into the R&B they both loved, syncopating each other's riffs and often surprising themselves. Stanley's funk-inspired slaps and pops brought the crowd to frenzy each time. He was part Bootsy Collins, part Jimi Hendrix – 100,000 watts of pure Stanley Clarke.
Recharged, the full band then launched into Bob Dylan's "Seven Days," before Keith's "Before They Make Me Run," followed by a full-throttle "Jumpin' Jack Flash."
Then, they disappeared into the comforts of the 727, back to the Playboy Club.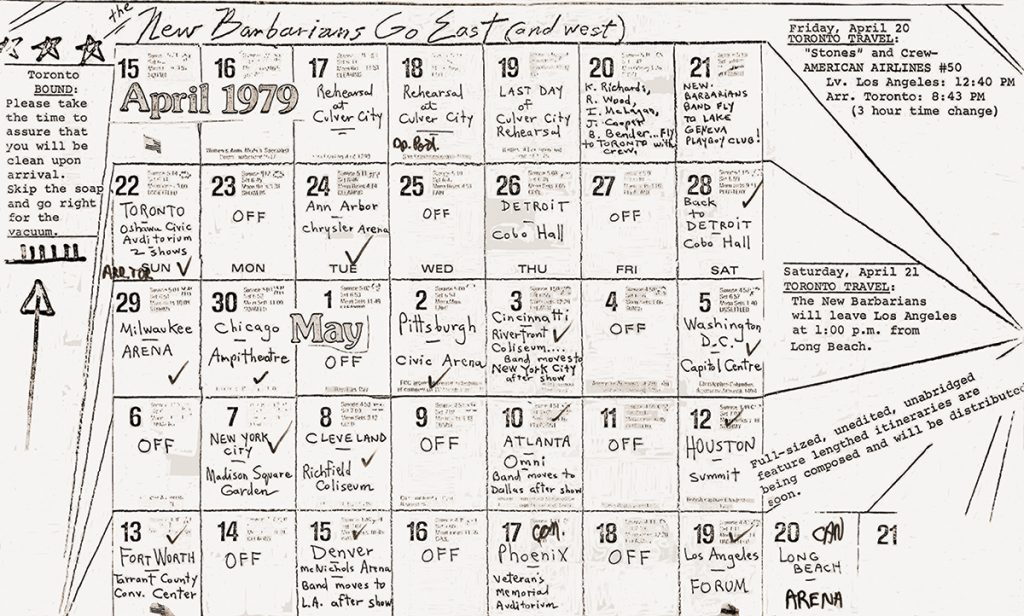 "After the gig, there was no messing around," Stanley remembers. "We'd go right to a limousine, to the plane, back to our hotel – and we'd be up all night, groovin'."
Wood worked to refine the modern rock tour; home base in a luxury hotel, travel by charter jet, fine meals instead of cold cuts. It all helped reduce stress and frustration, instead lending a stately, low-key atmosphere.
"I wanted to do this in style," Wood said.
No One Here But Us Chickens
At many Barbarians shows, the band was at moments almost drowned out by chants from the crowds, demanding "Where's Jagger?" "Where's Dylan?"
The first few times, Wood was bemused. Later, though, he expressed confusion, and ultimately began to respond, "Contrary to what you've heard, there ain't no one here but us chickens."
Turned out, though, in an effort to ensure venues were sold out, Wood's manager and the promoters had spread rumors via the press that the Barbarians would be joined by "special guests." Everyone from Mick Jaggar to Bob Dylan, Rod Stewart, Jimmy Page, Peter Frampton, and others were promised. When the big names didn't show, crowds responded with catcalls and, eventually, riots.
Such frenzy reached a peak in Milwaukee in April of '79, when angered fans charged the stage at the end of "Jumpin' Jack Flash." Forced back by police, the scuffle turned into a melée (as described by Billboard) as fans smashed chairs and broke windows. The police arrested 81 people.
Things turned ugly again at Madison Square Garden, where production manager Ken Graham remembers using his body to block the mixing board from flying furniture. "It was like where the villagers rioted in an old Frankenstein movie," he said. The actual Barbarians, however, had already left the building.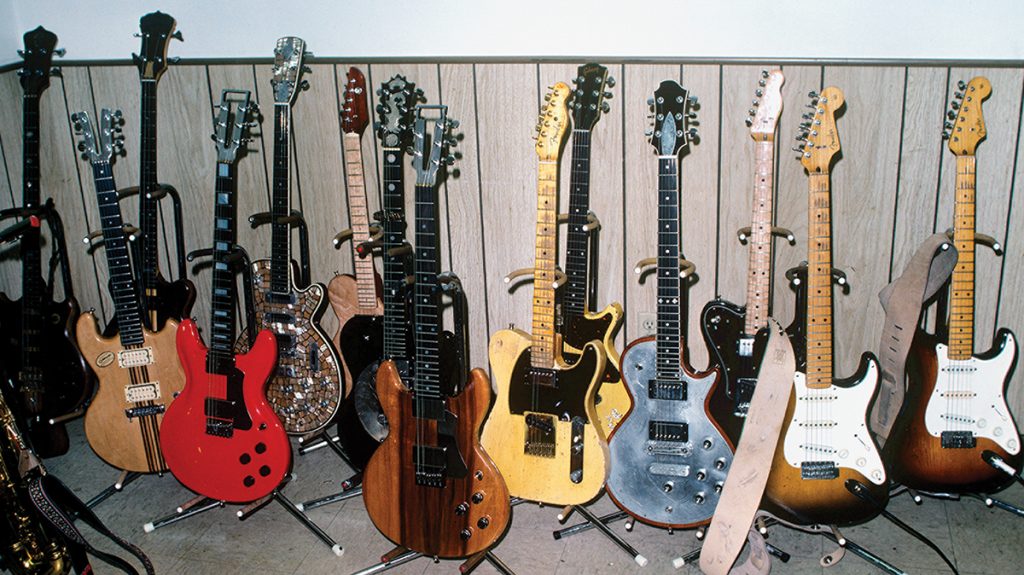 Rip This Joint
Wood and Richards went together like drunk and disorderly.
"Without Mick Jagger or a hard-nosed tour manager cracking the whip, it was one long party," remembers crewman Johnny Starbuck. "The inmates were in charge of the asylum. Technically, it was Ronnie's band, but Keith was pretty much the leader. And when you're following his lead… Well, you can imagine. There were no rules."
"There was a lot of X-rated stuff going on," added Stanley Clarke. "It was a complete rock-and-roll tour – the kind you read about in magazines. Just what you think a rock tour should be. Everything was there – bells and whistles, perks, the extras… all the ups and downs."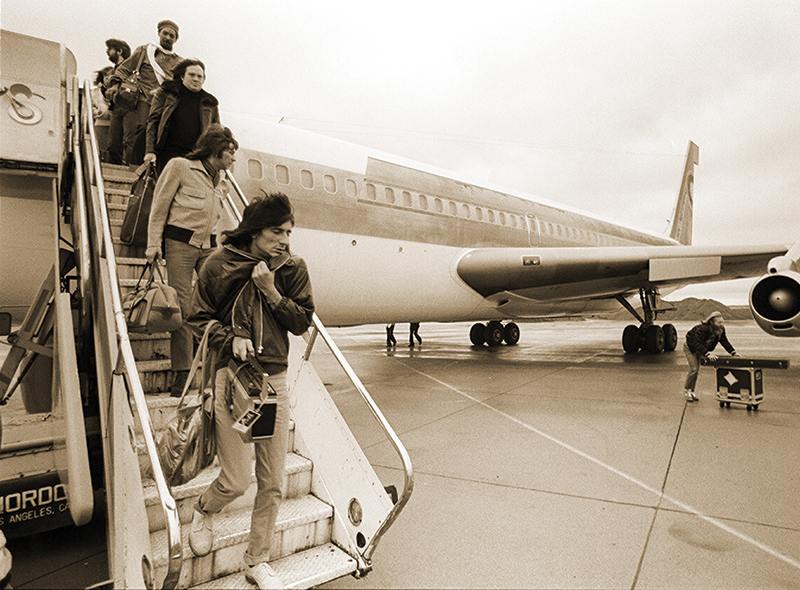 Onstage, the Barbarians were a band of brothers. Away from stage, the fun only got louder – which is saying a lot, considering their stage volume. It began with Clarke's low-end sound.
"I had an Alembic and had been using Electro-Voice cabinets," Clarke said. "But Ronnie had four [Ampeg] SVTs for me because he liked a strong stage sound. It was just pounding – would kill a bird if it flew across the stage. It was nice to hear the sound so big."
Wood had two Zemaitis guitars as mainstays, but also played a '55 Strat as well as other assorted guitars. Richards primarily used his five-string '54 Telecaster, "Micawber," and his black '75 Tele Custom. During the California swing, they met luthier Travis Bean, who gifted them with red and natural-finish guitars.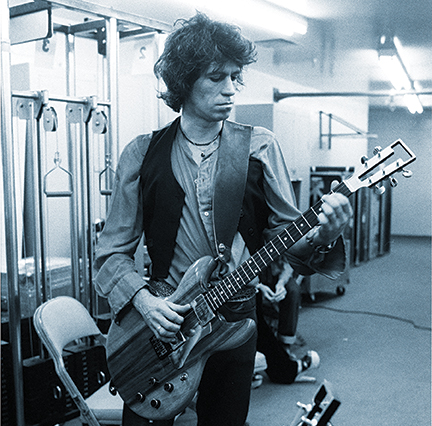 The guitars weren't the showstoppers, though. Rather, stacks of amps served that purpose. Wood spray-painted the grillecloths of all the amps in red. "I want to see blood," he told Graham.
And while no hotel rooms were trashed, that didn't mean rooms didn't suffer. Tour manager Fernandez remembers one incident in Wood's suite at Manhattan's Mayfair Hotel.
"Ronnie calls me, and he and Keith were in Ronnie's room. He says, 'I need more spray paint.' They were painting one of Woody's guitars – in the bathroom of one of a grand hotel in New York City. My only thought was, 'Oh, no! How much is this going to cost us?' But they were deep into it and having a great time. It just cracked me up."
For Clarke, coming from the world of jazz, it was a little rambunctious. He'd seen a lot prior to the tour, but hadn't seen it all.
"I was a bit of a health nut at that point, and one day Keith came onto the plane looking pretty grim," he said. "I don't know what was going on, but he said to me, 'Don't worry, this is going to clear up in a couple of days.' When we talking a bit later, I said, 'Hey, I'm gonna make a health shake. You want one?' Keith started laughing, shaking his head and saying, 'Stanley, Stanley…'"
Finale
The Barbarians' music wasn't rocket science, just moneymaker-shaking, unapologetic rock and roll. Some critics at the time challenged the band's merits, mostly missing its simple brilliance while pondering what could have been if only Rod or Mick were there, too. But there was more to it; something deeper. Wood's little pick-up band played an under-recognized role in the history of the Stones – that of deliverance.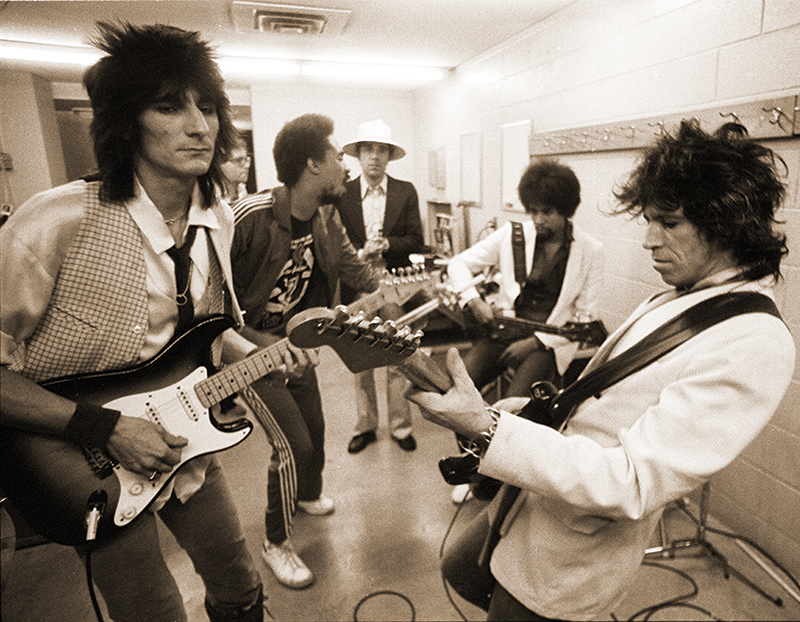 Richards' bust for heroin possession in '77 had been the Stones' nadir. In the years that followed, though, he kicked heroin, launched the band's revival with Some Girls in '78, and in March of '79 met a young model named Patti Hansen, who would eventually become his wife. As part of the New Barbarians, he seemed to find true joy again in playing.
"The Barbarians, in a weird way, saved my life," he said.
Some band members thought they were making history, others simply great music. Fernandez still gushes, decades later.
"Maybe it didn't sell 85 million records and make a ton of money, but the vibe – seeing these cats and who they were and how they treated each other – was really special," he said.
Fittingly, bandleader Wood offered definitive last word in his autobiography.
"I booked the tour, I was paying for it… got us a Boeing 727, took care of everybody, and wound up £200,000 in debt. But you know what? In the name of great music, I'd do it again and wouldn't change a thing."
---
To learn more, check out The New Barbarians: Outlaws, Gunslingers, and Guitars, by Rob Chapman and Michael Dregni, available in November from Quarto Publishing.
---
This article originally appeared in VG November 2016 issue. All copyrights are by the author and Vintage Guitar magazine. Unauthorized replication or use is strictly prohibited.
---