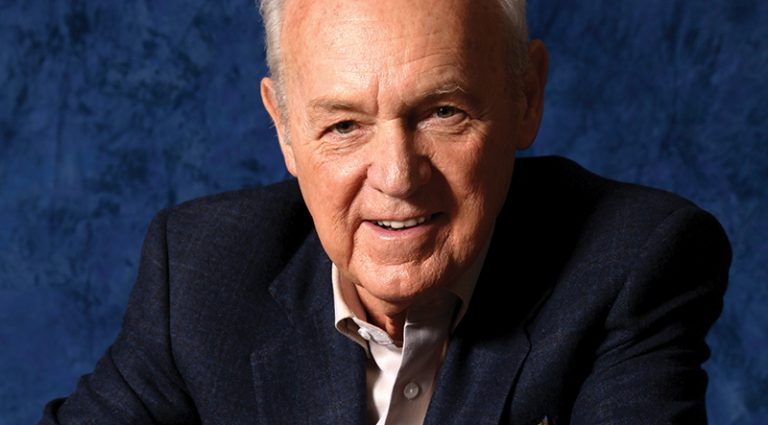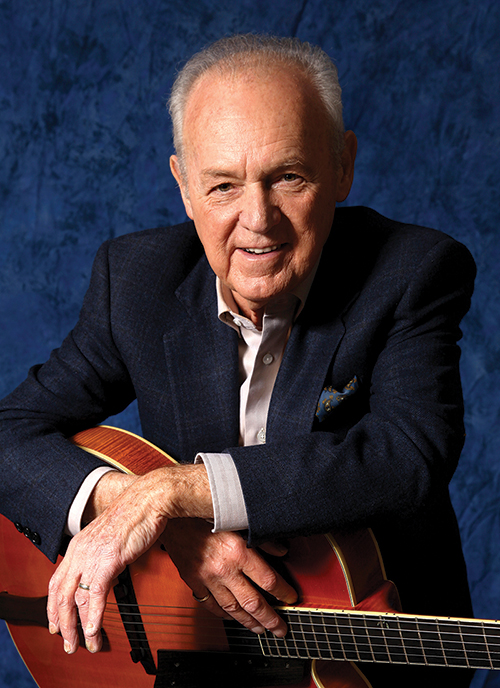 "What are you bringing? Are you gonna bring the Timex or are you gonna bring the good guitar?"
That's the question technicians and stagehands at Pittsburgh's WTAE TV asked musical director Joe Negri in 1969. For more than 25 years, he was rarely seen without his lavishly appointed 1942 D'Angelico New Yorker. Now, his station colleagues jokingly equated the D's replacement, a less-flashy Guild Stuart X-500, with a plain Timex wristwatch.
Forty years later, the 84-year-old Negri laughs at the memory. "This poor Guild was a great guitar, and they referred to it as the Timex!"
Long before becoming amiable Handyman Negri on Public TV's "Mister Rogers' Neighborhood," Joseph Harold Negri was already a Pittsburgh institution. A teenage guitar prodigy, he became a first-generation bopper who evolved into a peer of the giants of jazz guitar. He nearly pursued a career in New York's recording studios, and three top pop singers pondered hiring him as their permanent accompanist. Despite all that, he chose to remain in Pittsburgh, where his popularity allowed him to support his wife and three daughters playing full-time. In the end, the Neighborhood of Make Believe made him a national star anyway.
"I'll tell you, every time I play with him it's always a memorable meeting," says longtime friend Bucky Pizzarelli. "I have high regard for his musicianship, and he's a gentleman. They don't come any finer; he's a supreme player."
Bob Benedetto, who built Negri's current guitar, agrees. "When you listen to Joe play; you're hearing refinement, complete professionalism. I can't even describe it. It's beyond just saying he's a great player or this and that – just a refined, tasteful, first-class player."
"My dad was an amateur musician," Negri says of Italian-born Mike Negri. "He played the banjo, a bit of fiddle, some Dixieland." After arriving in the U.S., he came to Pittsburgh and married Rose Viggiano, whose dad and brother were local street musicians. They settled in the city's Mt. Washington section, where Joe was born in 1926. His brother, Bob, came along two years later. Along with strong doses of Italian folk music, he says, "I really grew up in the Golden Age of song and learned tunes from the '30s, the '20s… good songs, some Bing Crosby."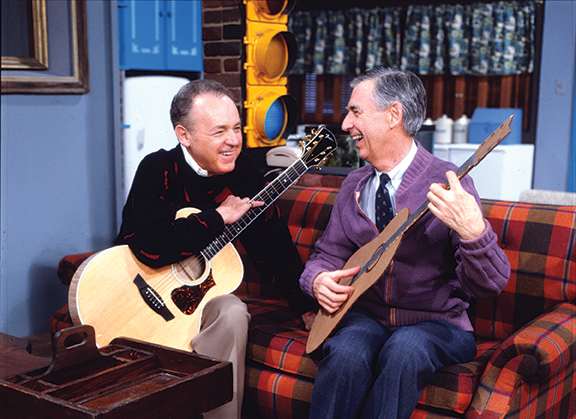 Mike, who had Joe studying tap dance, bought him a ukulele and organized both boys and a cousin into a song-and-dance trio called the Rhythm Boys, who played local theaters and a local radio show.
His transition to guitar began on a September day in 1931 when he and Bob were staging a "show" in the living room. Their parents heard a knock at the door. Answering, they found brothers Gene and Fred Kelly pointing at the boys, exclaiming, "That's the act we want!" Owners of a Pittsburgh dance school, the Kellys staged kids' shows in the area. Somewhere, Gene saw Joe trying to play someone else's guitar. Mike bought his son a round-hole Stella and taught him enough chords to perform on a Kelly show in Johnstown, Pennsylvania. Gene Kelly's dance skills, of course, took him to international fame.  
Mike also had Joe studying the ancient system of Solfeggio, learning music by singing do-re-me syllables. "I didn't realize how beneficial that was," he says. "You learn the relationship between notes; it's just great stuff. And he taught me time. I had to learn rhythm. For a fella who had grown up in Italy and learned the trade as a stonemason-bricklayer, where he picked up these little goodies, I'll never know."
In '32, Mike replaced the Stella with an inexpensive Epiphone Beverly, followed later by a higher-end Epi Triumph, both purchased from Pettey Music. Circa 1934, Joe began studying with guitar teacher Vic Lawrence at Pittsburgh's venerable Volkwein Music.
"Vic wasn't big on scales, which surprised me. But he was big on triad chords. And that's become the basis of my approach to guitar – visualization with triads. And the other thing was, I guess again because of my dad, was playing songs like 'Whispering' from (sheet) music.
"I was always a little gun-shy about playing solo guitar, but in the last 10 years, I've gotten much more comfortable."
"I guess I was a little advanced when I went to Vic. He gave me some Eddie Lang solos – 'Pickin' My Way,' 'Monti's Czardas,' and 'Flight of the Bumblebee.'" Negri still plays "Bumblebee" onstage today.
When he briefly abandoned music for baseball in 1939, Mike asked a friend, professional accordionist Dom Trimarkie, to jam with Joe and introduce him to other professional players. Between that and hearing both Charlie Christian's groundbreaking "Rose Room" with Benny Goodman's Sextet, and Django Reinhardt's fiery gypsy jazz, reignited Negri's musical passions. In 1942, he played his first professional job the same day he got his Union card. Guitarist Frank Andrini, another local pro and a D'Angelico player, was so impressed by Joe's talents that after consulting Joe's dad, he ordered the kid a blond New Yorker and asked a friend, bandleader Shep Fields, to audition the teenager when his band came through town.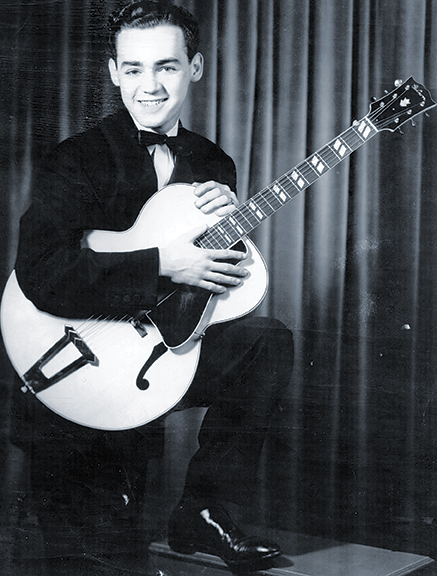 Fields, famous for his bland, syrupy 1930s "Rippling Rhythm," now led Shep Fields and his New Music, a bold, unorthodox show band featuring saxes – no trumpets or trombones – playing pop, swing and showcase tunes. After listening to Negri during a February, 1943, Pittsburgh engagement, he hired him on the spot. "I dropped out of school and went (to New York) with Shep. He promised my mom and dad I'd be in good hands and he would look after me. And he did. I was only 16."
Onstage, he used his New Yorker ("…which cost less than $400") and for solos, a blond Gibson L-7 through an Epiphone Electar Zephyr amp. "I was doing a lot of solo work because of the all-saxophone (lineup)," he explains. "Shep used me as a different tonal color. There weren't many guitar players reading and playing lines with the horns. I had to learn how to play a Freddie-Green-type rhythm. The New Yorker did that like a champ, like an (Epi) Emperor. Emperors were a little bit clunky, with thick necks, but the D'Angelico was nice and slim. It fit my hand well."
Swapping guitars soon became tiresome. "If I had a solo comin' up," he says, "I'd have to get rid of the D'A and pick up the electric." He had John D'Angelico fit the New Yorker with a DeArmond Rhythm Chief pickup, then jettisoned the L-7. He recalls D'Angelico "really nice, like a good Italian uncle. Always had his apron on. Being able to go to New York occasionally and see John was such a joy. He was a character!"
Negri family and friends packed the Stanley Theater when Fields returned to Pittsburgh in March, 1944. A Pittsburgh Post-Gazette reviewer declared, "Young Joe Negri, a Pittsburgh lad, easily demonstrates why he is right up there with the wizards of the electric guitar."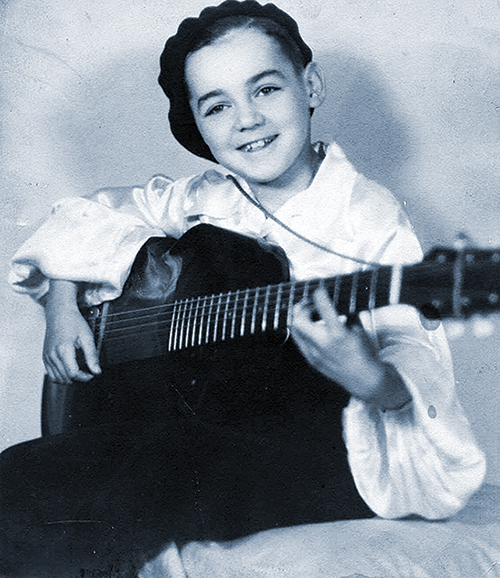 Touring acquainted him with wizards of the post-Charlie Christian era. He met Tal Farlow when Fields played Philadelphia. "We'd gone to the club to hear him the night before, and the next day he comes to the theater because he was fascinated with reading music. I used to think, 'Doesn't everybody read music?' But Tal looked at my book in disbelief, (saying) 'You actually read these things?' Boy, was he good! He had something he called blocks, where I've always played pretty much out of four frets.
"I met Chuck Wayne, Johnny Smith, Gene Bertoncini… Johnny was very, very nice. Took me to Long Island – met his wife. And Jimmy Raney – just loved him." Smith returns the compliment, saying of Negri, "He's a very dear friend. I think the world of him… certainly a very special person, as well as a special talent… just a very fine player."
In August, 1944, a draft notice ended Negri's days with Fields. His Army unit went to Europe that December, but a foot infection delayed his arrival until early '45. After a brief posting in Germany, the Army rotated him to a Special Services dance band at Fort Lee, Virginia, that included trumpeter Conte Candoli, whose older brother, Pete, played lead trumpet in Woody Herman's progressive First Herd orchestra. A future West Coast jazz star, Conte returned from leave in New York bearing the groundbreaking bebop disc "Groovin' High" by Dizzy Gillespie with Charlie Parker. He and Negri buckled down and mastered bop's fundamentals.
Discharged in late '45, Negri returned to Pittsburgh a committed bopper. But not everyone at home shared his gusto. "The guys at the Union would say 'Ah, it's just a bunch of flatted fifths… nothing to it!'" The Nat King Cole Trio's success inspired the first Joe Negri Trio; Joe, a bassist, and 17-year-old brother, Bobby, who was evolving into a formidable jazz pianist in his own right. Pittsburgh, while still a smoky steel town, had a vibrant downtown nightclub scene, and Negri led his own groups while also playing for other leaders. The city's private clubs and private functions, including country club dances, provided additional work. He freely mixed styles. "I was dancin' on both sides, doing both commercial and jazz, but I've always done that."
"People associate the guitar with ["Mister Rogers' Neighborhood"] more than I thought they would."
But he wasn't so sure about staying in town, admitting, "I always had that dream of the studios in New York. I might have made a mistake by not just coming back from the Army, staying a month to help my parents, then getting out of here." Doing guest appearances on KDKA radio, Negri met another regular guest – homegrown jazz pianist Johnny Costa, who would become a lifelong friend, collaborator, and occasional bandmate. As Negri pondered entering the priesthood in the late '40s, Costa suggested joining him at Pittsburgh's Carnegie Tech (now Carnegie-Mellon University) to study composition with respected pianist-composer Nikolai Lopatnikoff. High school equivalency in hand, Negri did just that in 1950. Since the school had no guitar program, he majored in bass while playing jobs at night.
In 1952, the Negri Trio began appearing as regulars on "Buzz 'n Bill," a daily program starring popular song-and-dance team Buzz Aston and Bill Hinds on WDTV, then the sole local station. Playing summers at Conneaut Lake, a resort north of town, in 1953 he met Pittsburgher Joni Serafini. They married a year later and had three daughters. In the mid '50s, Negri, by then using an Ampeg amp, briefly joined the nationally famous instrumental guitar-organ-accordion pop trio the Three Suns, recommended by departing Suns guitarist Bucky Pizzarelli, known in the band as "Johnny Buck."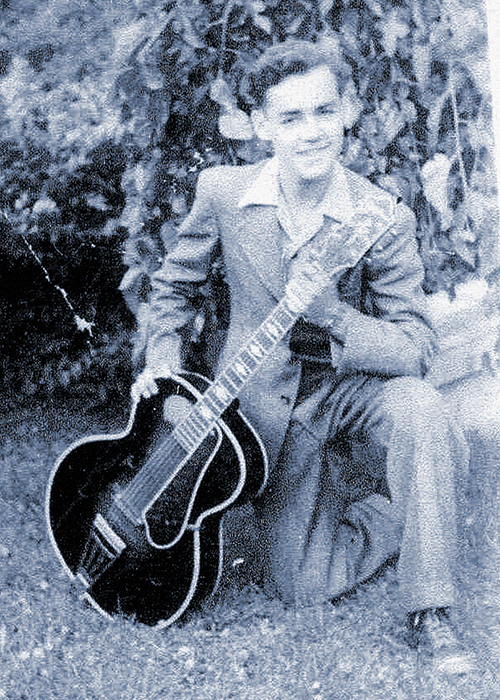 "I had to play their dumb white-painted guitar," he laughs, referring to the smaller of the Suns' two custom white D'Angelicos. "It looked like paint you'd use on a porch swing – real thick – and made the guitar dead-sounding." Pizzarelli, who now owns the larger 1940 D'Angelico style B, recalls, "When I left, they gave me that guitar. (Joe) played the smaller D'Angelico hollowbody Les-Paul-style guitar painted white like a refrigerator." 
With Pittsburgh's better clubs hosting top vocal stars, Negri's skills as an accompanist impressed three in particular. "Andy Williams and I hit it off rather well," he says. "I did outside club dates with him, and we seriously talked about my leaving Pittsburgh and going with him as his guitar player. Johnny Mathis took a shine to my playing; the other was Tony Bennett. That I would have really jumped at. Chuck Wayne was leavin' and recommended me; I played a couple dates with Tony."
That dream of New York remained heavy on his mind. With friends working in the studios there, the Negris, including infant daughter, Lisa, arrived in '57 to scout the territory. Seeing how session work cut into family life, they returned to Pittsburgh with no regrets. Given the later erosion of New York's recording scene, he feels it was for the best. "People like Bucky managed to hold on and continue," he reflects. "But I might have gotten tossed to the wayside. And who knows what would have happened to Joni and I and the kids?"
Pittsburgh offered new opportunities. In 1960, he joined a morning TV talk show at WTAE, eventually becoming Musical Director, playing and composing for local shows and documentaries. He hosted music-related specials, one of which took viewers into C.F. Martin's Nazareth factory. For "This Is Soul," which explored jazz and gospel, he talked to local performers and traveled to Memphis to interview banjoist Gus Cannon and hard-drinking slide guitarist Furry Lewis. "All Furry wanted was for us to buy him beer," he laughs. "We talked about soul and what it was. I had the time of my life with those guys. They were great!" In '69, Negri released his first LP, Guitar With Love. Wedged between jazz and pop, it never satisfied him. "I was hoping to get on easy listening stations," he says.
The '60s were good to Negri, but his New Yorker didn't fare as well. "It started to have intonation problems, then I noticed the neck was not in right. I was breaking a lot of strings – breaking the wound G all the time." He sent the instrument to New York, where Jimmy D'Aquisto replaced the neck. "It was just never quite the same," he says. "I wanted a cutaway. I almost brought an (ES-)350 Gibson because they were very popular in the studios. But I went with the Guild Stuart X-500; got it in '69." Selling the New Yorker for $3,000, he admits, was a "terrible mistake." He also switched to the Polytone amp he uses today.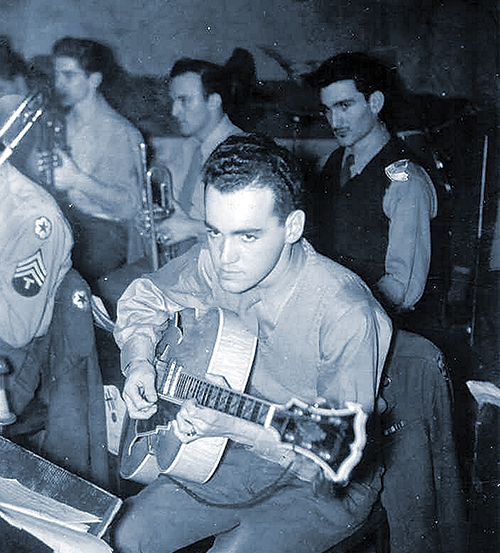 Fred Rogers was a theology student working behind the scenes on a local kids' TV show when Negri first met him in the '50s. They joined forces in '64, when Rogers produced "Mister Rogers" (as it was called then) for WTAE. Its run abbreviated by the host's unwillingness to do toy and cereal commercials, he left and re-tooled the program for Public TV. One day, Negri's phone rang. "Fred said, 'Joe, how would you like to be the Handyman on the new show?' I remember saying, 'Handyman? I don't know anything about being a handyman!' He said. 'We'll be fine.'"
Produced at Pittsburgh's WQED, "Mister Rogers' Neighborhood" went nationwide in 1968 with Johnny Costa as Musical Director. Joe played both himself as owner of Negri's Music Shop and Handyman Negri in Rogers' Neighborhood of Make Believe.
"In one way, it took the emphasis off my playing. But it made me recognized," he explains, adding, "People associate the guitar with the Rogers show more than I thought they would. Fred was a jazz fan, and had an appreciation for chord substitutions, because he wrote his songs in simple triadic chords." When Negri and Costa enriched them with complex chords, "Fred never complained. In fact, he always liked it." Negri occasionally accompanied guests including Wynton Marsalis, Yo-Yo Ma, and Kenny Burrell, "…playing the closing theme," he says. "We really swung. Johnny used to fly all over the place. It was great."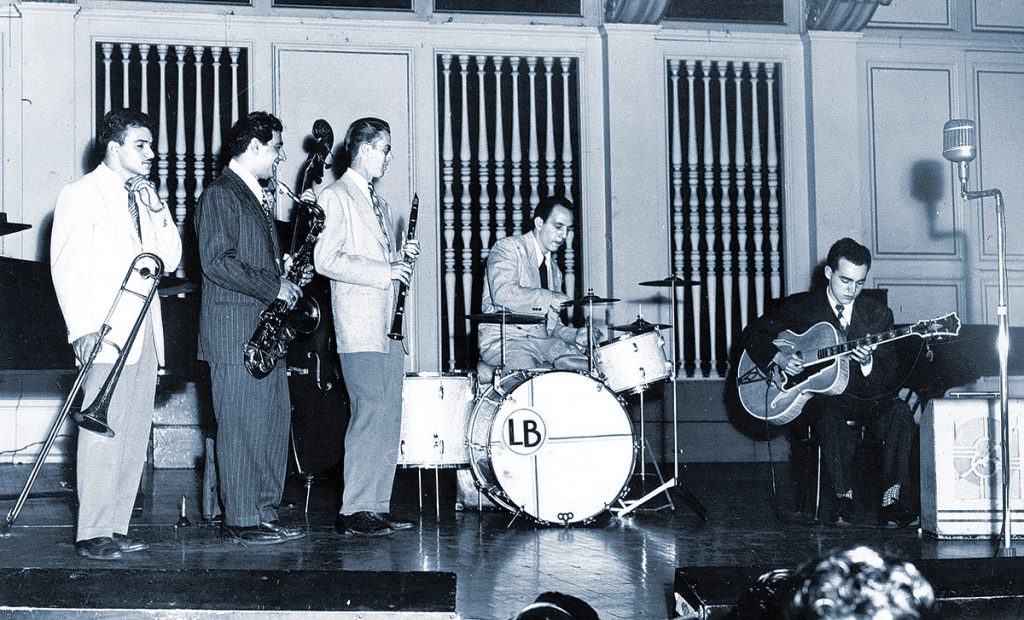 Still at WTAE, in the early '70s he hosted "Joe Negri's High School Talent Scene," showcasing area students. When guests included high-volume rock bands, "The engineers hated it!" he laughs. Like other stations, WTAE eventually devoted more resources to local news and sports, and no longer needed a musical director. "I was kind of broken up about it," he admits. "But inside of a year, I was back into the music business." He taught at the University of Pittsburgh and Carnegie-Mellon, and in '73 joined Duquesne University's new guitar program. Today, he teaches at all three.
"Studying with Joe, you're studying the history of guitar," said Mark Koch, a Pittsburgh native and Assistant Chairman of Duquesne's guitar department. A younger, fusion-minded Koch first studied with Negri at a local music store. "He was so gracious, and very patient," he remembers. Only later did he savor the intrinsic value of Neri's approach. "He would do concerts, and the way he would phrase, I was thinking 'Oh, wow! That's what he was trying to say to me! Okay, I get it now!' One thing I really love about Joe's playing is his accompaniment, his rhythm. And his harmony chops are just incredible. Joe and I say, teaching (students) how to accompany someone and be a rhythm player, that's what they're gonna do 80 percent of the time! I marvel at his playing to this day. I study him when he's up there doing a concert. I watch him like a hawk!"
The late Fender CEO Bill Schultz, a Pittsburgh native and Duquesne alumnus, began donating gear to the university's music department in the '90s. At the time, Fender's Guild line was handled by Bob Benedetto. "Teachers all got a Guild Manhattan, up through (guitar chairman) Bill Purse," Joe recalls. "From the Manhattan, we went up a notch and I ended up getting a Guild Artist Award (renamed the Guild Benedetto Signature model)." Dissatisfied with the instrument, he discussed its drawbacks when Benedetto visited Duquesne.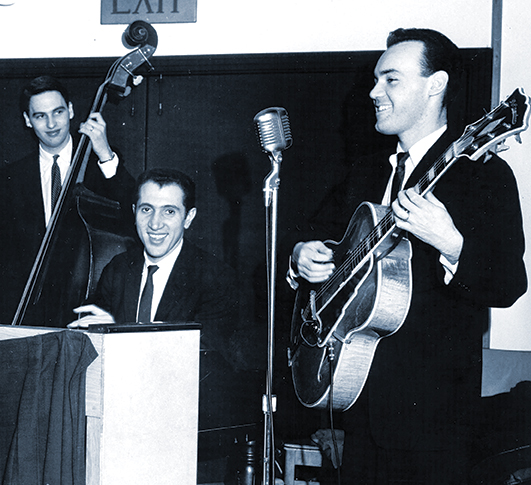 "It was really a gracious thing Bill had given him that guitar, but it really didn't suit Joe," Benedetto says. "The neck was not quite what he liked, the overall feel and the weight of the instrument never really worked for him. Ultimately, it led to my making him another guitar, with a smaller (16″) body, 2 ½" deep all around," Benedetto continues. "The neck was slimmer and had a different profile than the Guild – shorter scale, with a built-in (B-6) pickup. If I had to compare it with anything, I would compare it to my Bravo model." He inlaid Joe's name in abalone on the tailpiece. Negri picks it up there. "Bob called and said 'The guitar's coming along. I have the body done. What color do you want?' I said, 'Well, I don't want blond and I don't want sunburst. I'd like something in a natural violin (finish).' It was what he wanted to hear! He said, 'I know what you're talkin' about. Let me work on it.'" The body is laminated since, as Negri adds, "Nobody takes carved-tops out to a gig."
He owns a Heritage Golden Eagle and Guild Manhattan, but Negri remains bullish on Benedetto. "First of all, he's one of the most gentle men and he's a pure artist. He probably finishes better than anybody I've ever met, including D'Angelico and D'Aquisto, and I knew both. Bob's finishes are just impeccable. And he makes so many models, solidbodies, too."
Asked about string and pick choices, he adds, "I used to use the little teardrop picks, but I've gone to a little more triangular shape, rather heavy. I've used D'Addario flatwound strings for many years with a .012 high E, never light strings. It wasn't until television that I got into flatwounds because engineers were always fussing about the sound of fingers sliding on strings."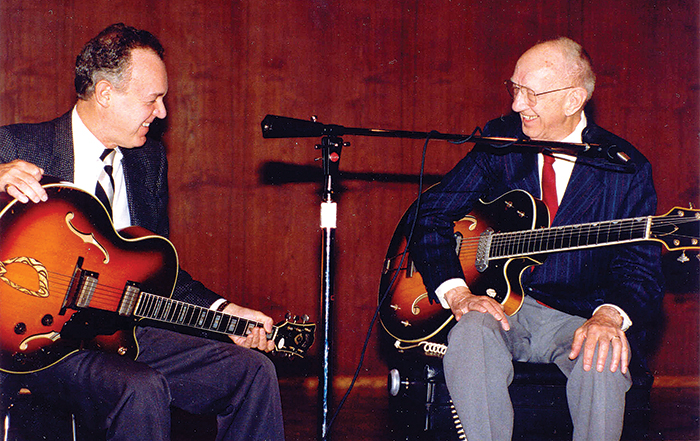 Negri's schedule today includes club dates, jazz concerts, and guest appearances with orchestras including the Pittsburgh Symphony Pops Concerts. On occasion, he performs his original jazz "Mass of Hope." Despite the deaths of three key cast members including Johnny Costa, "Mister Rogers" continued through the '90s, but programs taped in 2000 were the last. "It was hard for Fred," he remembers. "He called each of us and he said, 'Before anybody else goes, I'm gonna call it quits.' Then he was the next to go." Rogers died of cancer in 2003.
Pittsburgh-based MCG Jazz released three Negri albums. Afternoon in Rio (1999) was his first solo album in 30 years, followed by Uptown Elegance and Guitars For Christmas (duets with guitarist/MCG Executive producer Marty Ashby). Joe's book, A Common Sense Approach to Improvisation for Guitar (Mel Bay), appeared in 2002, and in 2006, the City of Pittsburgh honored his contributions to music-based youth education. In April, Duquesne honored him with an "Evening with Joe Negri." Delighted with the recently-released Dream Dancing, the first Negri Trio CD, he says, "I'd like to do even more recording."
Benedetto CEO Howard Paul, a fine guitarist who has performed with Negri in recent years, said, "He is such a gracious accompanist, and a wonderful straight-ahead guitarist, that it's a tremendous ease sitting next to him and performing. He also has a really wonderful musical sense of humor. That's why I enjoy playing with him so much – he's a straight ahead bebop guitarist, unpretentious, and fun, a little bit ahead of the beat, full of energy. He's an old school player that you just don't see much anymore." 
Old school? True, yet Negri refuses to stand still. "I was always a little gun-shy about playing solo guitar, but in the last 10 years, I've gotten much more comfortable. I love seeing Martin Taylor walk onstage all by himself. The last time I saw him, we spent a little time together, and he must have planted a seed in me as I've been doing more and more of it. I'm not to the point where I can totally ad-lib. I kind of have a little bit of a plan, know where I'm going, but I do a lot of improvising, too.
"I guess there's been a main line for me – the guitar. It's always been music and it's always been family, too. And I have all three of those things. Television took me off, Mister Rogers took me off, but they were like branches of the tree, and I'm still in the main thrust of the tree.
"I call myself a work in progress!"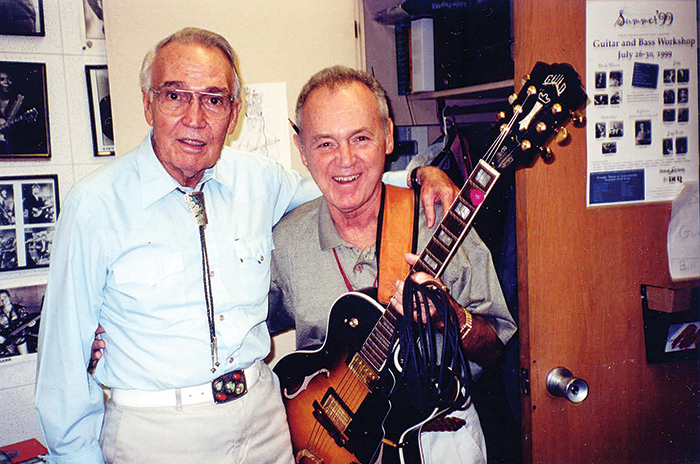 ---
This article originally appeared in VG September 2010 issue. All copyrights are by the author and Vintage Guitar magazine. Unauthorized replication or use is strictly prohibited.
---