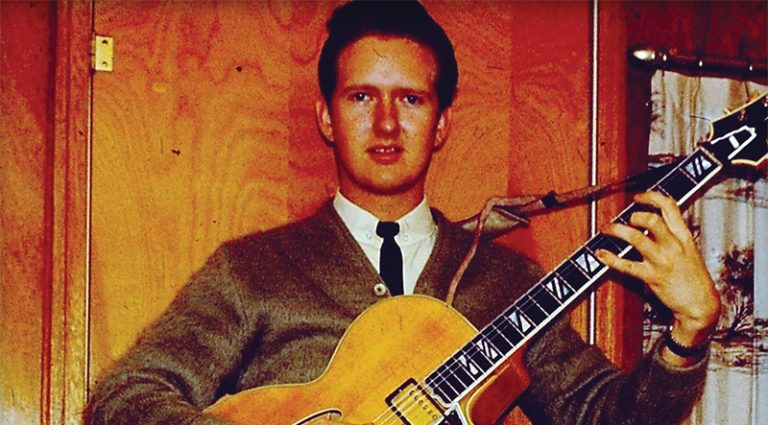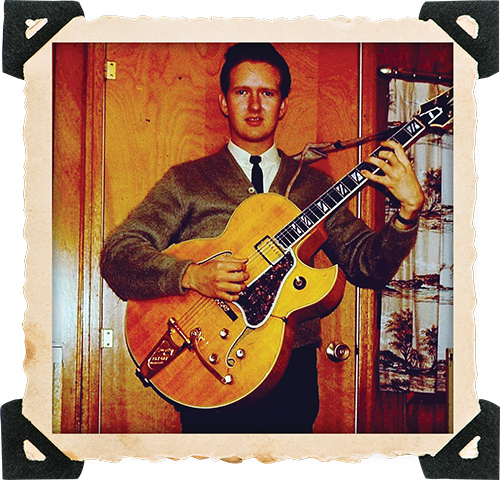 What constitutes a Guitar Hero? Is it Hendrix or Van Halen, or is it your seminal six-string inspiration? Or what about someone whose solo on an iconic hit is forever engrained in your head?
The latter category is where you'll find Steve West, lead guitarist on Paul Revere and the Raiders' classic version of "Louie, Louie" and the 1963 single's flipside, "Night Train."
"When we were reforming the band, we heard there was this great guitarist at a teen nightclub in Portland called the Headless Horseman," recounted singer Mark Lindsay. "He blew me away. He was only 16 years old, and was just a phenomenon. He had almost-total recall. He could hear anything on the radio and play it immediately, and he could do Chet Atkins' 'Yankee Doodle Dixie,' with the two contrasting lines. Unfortunately, because he was still in school and couldn't travel much, he didn't stay in the band long. But he did his part, and was key to the history of the Raiders."
With one instrumental hit, "Like, Long Hair," under their belt, the Raiders left Idaho and moved to Wilsonville, Oregon, south of Portland. "Paul was working at Dammasch, a mental hospital, doing his tour of service as a conscientious objector," West details. "When Mark asked if I wanted to audition, up to that point, I'd mostly played at school assemblies. But, it all clicked real fast."
They cut "Louie, Louie" in April of '63. There's not enough space to delve into whose version came first or was best, the Raiders' or the Kingsmen's (read Dave Marsh's book about the song), but Lindsay explains that the first rock cover of Richard Berry's doo-wop tune was by Seattle's Wailers featuring singer Robin Roberts. "It became a cult classic in the Northwest. You had to play 'Louie, Louie' three times a night."
KISN deejay Roger Hart produced the Raiders' version for his Sande label. The single succeeded in getting the band signed as Columbia's first rock band. Of its ballsy sound, West points out, "The irony is that it was just me, Mark's sax, bass, and drums. There weren't even any keyboards on it. I remember sitting in the studio, with Mark standing in front of me, urging me on. I must have done the solo five different times, with different ideas, before finally coming up with the last one. I was sweating bullets all day, because you want it perfect. When I went up high, I made a mistake and my finger kind of slipped, and then I bore down on it to get the note where it should be. But you wouldn't notice it to listen to it."
West took up guitar at eight, and his first electric was a short-scale Fender Musicmaster, at age 10. "Louie, Louie" and "Night Train" were cut with a Duo Sonic (also short-scale) through a Fender Showman with a 15″ JBL – which he later replaced with two 15″ Stephens Tru-Sonics. He cites Duane Eddy as a primal influence ("Practically every major guitarist from a certain time had to be influenced by him"), and later Chet Atkins and Howard Roberts. "Chet was kind of commercial, but had a lot of jazz influence."
From the Duo Sonic, West "made a big jump, to a Gibson Barney Kessel. I was playing more jazz at that time, but I played bass for about eight years with (country band) Bob Blum and the Branders, using a Lyle bass with a Standel solidstate amp. Then, I got a hybrid SG Standel Gibson amp with built-in fuzztone. Here I was, playing jazz guitar, and I'd never played bass before, but I thought I'd give it a shot. I just liked all kinds of music and wanted to keep advancing and challenging myself to learn new things."
As "half bandstand player, half studio player," West backed Joe and Rose Lee Maphis, David Frizell, Rose Maddox, Freddy Hart, Dick Curless, Freddy Fender, Tommy Cash, and Susan Raye of Hee Haw fame. "In '64, I was with a group called the Empalas out of South Dakota, and the group's leader had a Gibson Super 400 (pictured here) that I played. I also did a lot of recording with whoever needed a guitarist or bassist. I loved it. You get an idea of what the artist wants, and then you develop it. It's always creative."
Music continues to consume much of West's life. The Steve West Band includes his wife, Linda, and they also do a country radio show out of their house for New Mexico's WHPR. "We met in 1995, and I noticed how great she sang and decided we needed to record some things at my home studio. She plays great accordion, so little by little it started developing."
In 2007, West and the other Raiders received the Lifetime Achievement Award from the Oregon Music Hall of Fame.
---
This article originally appeared in VG September 2015 issue. All copyrights are by the author and Vintage Guitar magazine. Unauthorized replication or use is strictly prohibited.
---