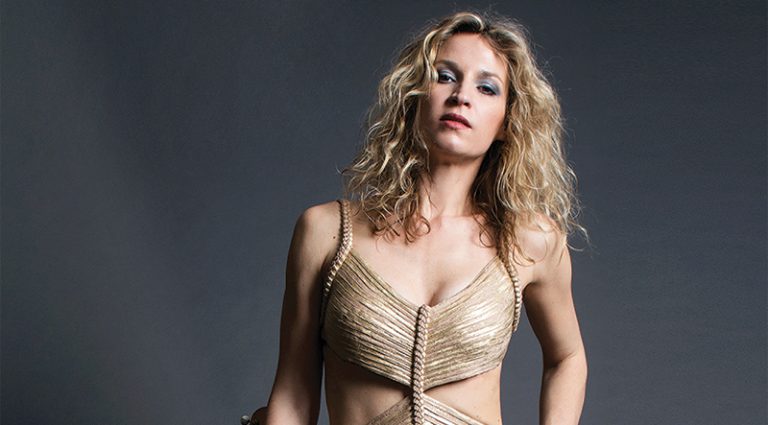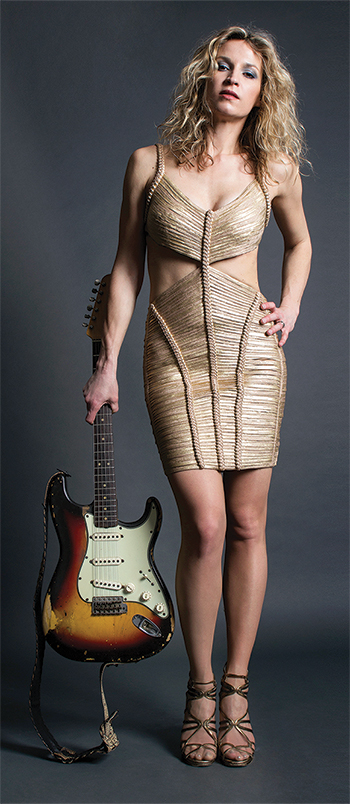 Ana Popovic brings to her music an inspiring drive and work ethic. Super-appreciative of her fans, she recently released three albums' worth of material at the same time; Trilogy features musical collaborations with Robert Randolph, Joe Bonamassa, Bernard Purdie, Cody Dickinson, and others, along with the production talents of Warren Riker, Tom Hambridge, and Delfeayo Marsalis. Trilogy was an enormous undertaking with three different bands and guest artists.
Why release so much music at once?
I had this idea for a long time. A lot of fans would come to me and say, "I like your blues stuff. I always make a compilation of all your blues songs for myself, and then I make a compilation of all your jazzy stuff for my friends." I thought, "Why don't I commit to one style?" and I started thinking about all the old blues records, the old jazz records, and the old funk records.
I didn't know what the blues fans were going to think if I just released a jazz record. If I just release a jazz, funk, or rock record, they would miss the blues. So I came to the idea that I should release all of them but give people the opportunity to hear one style on one CD. Then they could swap them, share them, or give away what they don't like. That was the original idea behind Trilogy.
Volume one is a funk and soul record that was recorded in Memphis and New Orleans with some really great players; Ivan Neville was on drums and Joe Bonamassa played guitar. The recording went so smooth and so fast and it was the way I wanted to hear it. Once I was done, I booked a second session with Delfeayo Marsalis and a whole different band in New Orleans with a jazz crew that he put together with Herlin Riley and Bernard Purdie on drums. I wanted Delfeayo to get out of me a completely different-sounding artist.
For the whole process, I didn't touch a Strat. I took a Gibson ES-175 and recorded the jazz parts; I got back into the chops and stuff I learned a long time ago but had never played live; I studied jazz and world music in Holland a long time ago, and recording jazz was a stretch for me. I had written jazz songs in the past but I was always recording with studio musicians. I really enjoyed hearing my songs played by jazz guys.
When I had all three volumes and played them, they sounded all different like I wanted them to sound, but they had a strong connection. They really felt like they belonged to the same project. I finally made the decision that I was going to put them out at the same time and give my fans enough material so they can hear my music from the morning until the end of the day.
You did a great arrangement of Rufus' "You've Got The Love."
Obviously, Chaka Kahn has an incredible version; I didn't want to copy her, and I always heard it as a Lenny Kravitz rock song, so I stripped it down. I wanted a lot of guitar.
Have you picked up any new gear for inspiration?
I'm using D'Angelico guitars, which are great for when I sit and play a couple of jazz tracks. I'm using some reverb and delay pedals from MXR. Dunlop has supported me and I've been playing their slides and wah pedals forever. I'm not huge on pedals, but I use the retro stuff – I'm really happy with the reverb, delay, and their volume pedal. My original Fender '54 Strat is still my main guitar, and I still have my '64 Strat and my '57 Strat reissue. I'm also playing a Hamiltone; they made stuff for Stevie Ray Vaughan.
Your vocals get better with each album.
I try to step up everything. I want to be better at what I do. I take singing lessons when I have time off. I love jazz singers like Sarah Vaughan and Ella Fitzgerald. My favorite jazz is the old-school, bluesy parts of jazz, and I wanted to bring out that type of singing. I work really hard to push myself to my limits. Making records, to me, is about being happy. I'm not interested in sales. I want to stand behind what I do. I know when I deliver a good performance, and I'm hard on myself.
What's next?
It's time for a live record.
---
This article originally appeared in VG November 2016 issue. All copyrights are by the author and Vintage Guitar magazine. Unauthorized replication or use is strictly prohibited.
---