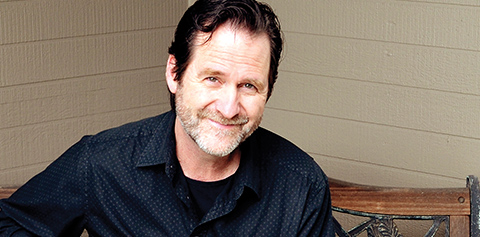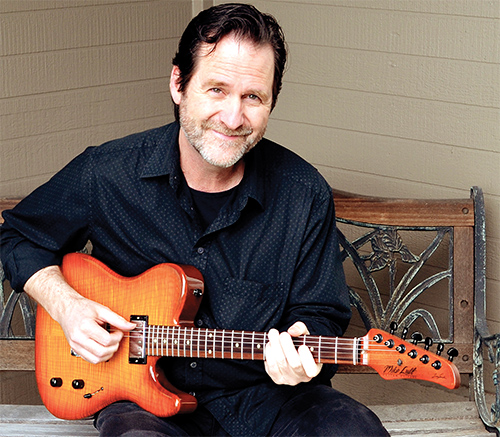 If you watch any of Tim Lerch's videos online, his virtuosity is immediately apparent. What may throw you is his use of a Telecaster, an axe more closely associated with blues, country, and rock. But in Lerch's hand, it becomes a killer jazz-blues machine, perfect for his tasty single-note runs and jaw-dropping chord improvisations. Lerch's new record is called The Carriage House Sessions, Vol. 1, and it's a smokin' organ-trio set.
There's a cult of jazz guitarists who use Telecasters, notably Ted Greene and Ed Bickert. What is its mojo?
The Tele is just so simple and elegant. The way I play, it allows me to get lots of different sounds with just with my fingers, and I like the positioning of the pickup selector and control knobs. It balances well from low to high and, with heavier string gauges, sounds great for jazz. I usually replace the neck pickup, but even the original can sound very good.
Which guitars do you use?
I love my Mike Lull signature TLTX Chubby Signature Guitar, which has Lollar Imperial humbuckers. I also use Fender Custom Shop Nocasters from around 2000 or '01. I like their splotchy birdseye-maple necks, and the neck size and profile is very comfy. I have Charlie Christian pickups in those. I like the Lollar version in particular because it provides a big, fat single-coil sound without the midrange bump inherent in a P-90.
What are your amps, effects, picks and strings?
I have a few favorite amps depending on the situation. I have a wonderful amp made by Paul Spitalny at Sunnyside Amps, called the K Verb. It has a single 12-inch speaker and 6L6 power tubes. I also use a Fender Deluxe Reverb, and occasionally, a Quilter Aviator when there is a long schlep and a quick setup time. For effects, I love the Exotic RC Booster, Strymon Flint, Ethos Preamp, Bearfoot Honey Bee overdrive, and Free the Tone Red Jasper overdrive. These days, I'm playing mostly clean and if I want to goose it just a bit for a blues, I'll use the RC or the Honeybee with very little extra gain just a bit of boost. I use D'Addario strings sets of .011-.050 or .012-.052 with a plain G, and Fender extra heavy picks. But mostly, I just use my fingertips.
Do you have any vintage guitars?
I have an old Telecaster that's a mish-mosh of parts, but the neck is dated 1954 and signed by "TG." I have a 1933 Gibson L-4 that's really special, and I have a late-'60s or 1970 Guild CE-100D formerly owned by Ted Greene. It was a gift from one of his best friends, William Perry. I also have a late-'50s Harmony H62.
Your style is a mix of jazz and blues, with a dash of rock on top.
My first big influence was Eric Clapton, especially the "Beano" album, which I pretty much memorized. I love the sound he got and it really imprinted on my brain. The next big influence was [bebop sax pioneer] Charlie Parker; he remains my model of what I think a jazz improvisation ought to be. I love the sound Robert Nighthawk got on the Live on Maxwell Street record – that sound is so perfect. When it comes to the guitar, I'm often imagining melodies like Charlie Parker, but played with a sound like B.B. King's early records.
You've studied with some legendary jazz players, like Ted Greene, Joe Diorio, Lenny Breau, Joe Pass, Jimmy Wyble and Ron Eschete.
Ted was a big influence on how I think, harmonically, and how I get a sound from the guitar. Joe is like my musical father and made it feel like we were exploring the guitar together rather than feeding me information. I'm not sure Joe Pass liked me very much, but even the gruff things he said to me helped over the years, even though it took a little effort to digest. Lenny didn't have a specific teaching method, but his style and way of thinking were intuitive and I was mesmerized by the beautiful sounds he could get.
On the new album, you cover Sonny & Cher's "The Beat Goes On." Were you a fan of the song – or the Wrecking Crew?
Both, but I do love the Wrecking Crew [a conglomeration of Los Angeles session musicians in the '60s]. I wasn't aware of these guys when I was young, but by the time I started reading guitar magazines in the mid '70s, I started to figure it out. Later on, I met Howard Roberts and Tommy Tedesco, but all of those studio players were fantastic and I'm glad they're finally getting some appreciation.
---
This article originally appeared in VG August 2014 issue. All copyrights are by the author and Vintage Guitar magazine. Unauthorized replication or use is strictly prohibited.
---