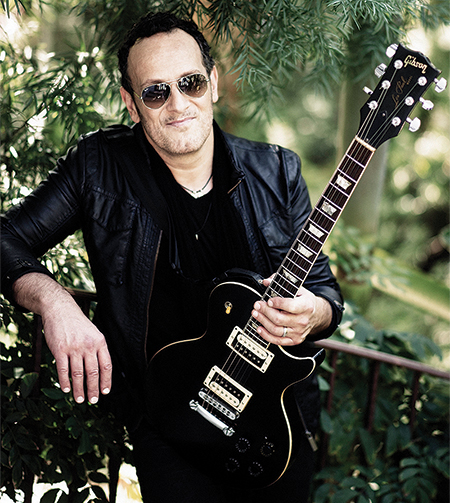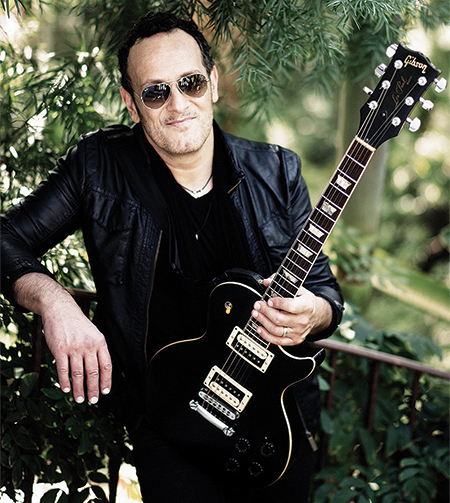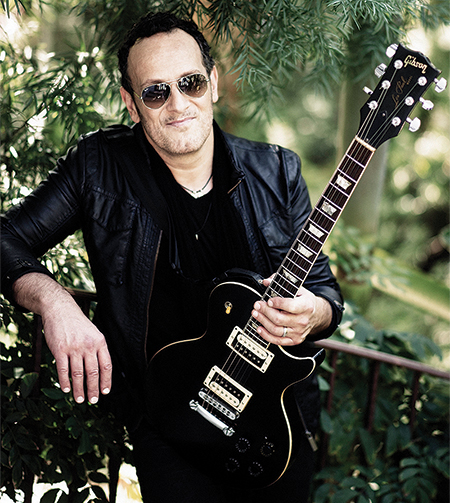 When singer Ronnie James Dio chose Belfast native Vivian Campbell to form Dio in 1982, the young guitarist was filling big shoes in the eyes of his new boss, who'd worked with two of heavy metal's all-time greats in Ritchie Blackmore (in Rainbow) and Tony Iommi (Black Sabbath).
The gamble paid off, and Campbell's guitar playing proved a major ingredient in the signature Dio sound.
Though Campbell exited the band after three albums, he went on to join Whitesnake and, in 1992, Def Leppard. Recently, he reunited with most of his Dio bandmates to launch Last in Line, a group titled after Dio's classic sophomore release. The group recently released its first album, Heavy Crown.
How did Last in Line come together?
In mid 2010/early '11, Def Leppard was on hiatus and I got a call from Scott Gorham, from Thin Lizzy, asking to borrow me to tour for a few months. I leapt at the chance, because Lizzy was massively influential in my formative years. They had such great riff-oriented songs with Scott and Brian Robertson. And it was through Lizzy that I discovered Gary Moore, who is my ultimate guitar hero. I was on tour with them for a couple of months, and playing the songs of my youth really reignited that passion. I came off that tour wanting to play more-aggressive guitar. I called Vinny Appice and Jimmy Bain to jam; it'd been 27 years since we played, and the chemistry was immediate. It was Vinny who suggested, "This would be so much better if we had a singer. I know this guy, Andrew Freeman. Let me give him a call." As soon as I heard Andrew sing, I had the idea to do this.
Which guitars, amps, and effects did you use for Heavy Crown?
I went back to my Les Paul – it's a '77 or '78 Deluxe – that I did Holy Diver with. I bought it new when I was 15 or 16 and it meant a lot to me, but I hadn't played it for years. Going into this record, I thought it would be appropriate to go back to it. I used a few other guitars for overdubs and double-tracking, but did all the solos and all the basic tracks with it.
I used an Engl Blackmore head; I love the punch it has on the low-end. I cut a track with that, then we tried a couple things for the second-track overdubs. Jeff Pilson, who produced it, had a couple of amps, including a [Friedman] Naked.
The only thing I put between the guitar and the amp was a wah, on occasion, and a Tube Screamer on a couple of solos.
Jimmy passed away before Heavy Crown was release. How would you like him to be remembered?
Jimmy never got the credit he deserved. I remember that on some of the early Dio records, Jimmy's name should have appeared on a lot more songs as a co-writer. He was constantly sparking creative ideas and always kept the process moving forward. He was a very creative person, not just as a bass player but overall as a writer and arranger. He could play guitar, keyboards, sing, write lyrics, and he was typical of so many great bass players; nobody pays attention to them, but you sure as hell miss them when they stop playing. Jimmy had remarkable tone and timing.
In 2013, you were diagnosed with Hodgkin's lymphoma. How are you doing, health-wise?
It's the least of my concerns, to be honest. I still have to deal with it – the cancer is still there. I did three rounds of chemo over the last three years and in late 2014 I went into the hospital for a stem-cell transplant. I was hopeful that was going to take care of it, but in May of last year, I did follow-up scans, and the tumors had returned. I elected not to do radiation. Instead, my wife did research and we found out about a class of drugs called immunotherapy. The drugs are monoclonal antibodies, and there's one drug in particular I'm taking, called pembrolizumab – it's what cured Jimmy Carter of his melanoma. It appears to be slowly doing the job with minimal side effects. It's not like chemo – no hair loss or nausea. At this stage, it's like going to the dentist, except I have to go every three weeks. That's the hardest part, because I wanted to work through all of this, but no matter where I happen to be at the time, I have to fly back to Los Angeles for treatment.
---
This article originally appeared in VG October 2016 issue. All copyrights are by the author and Vintage Guitar magazine. Unauthorized replication or use is strictly prohibited.
---