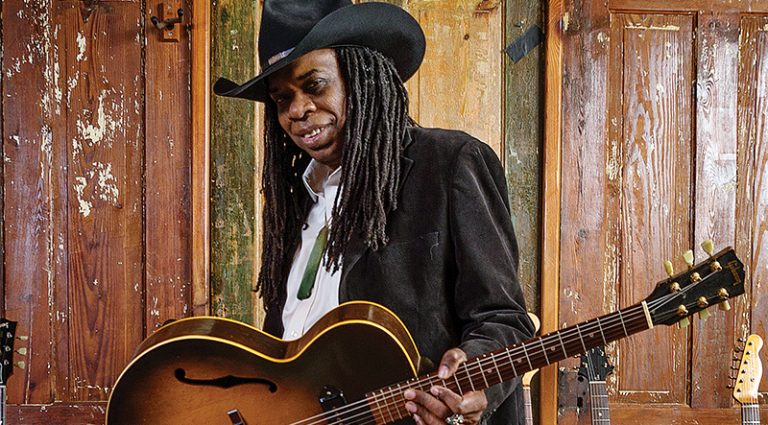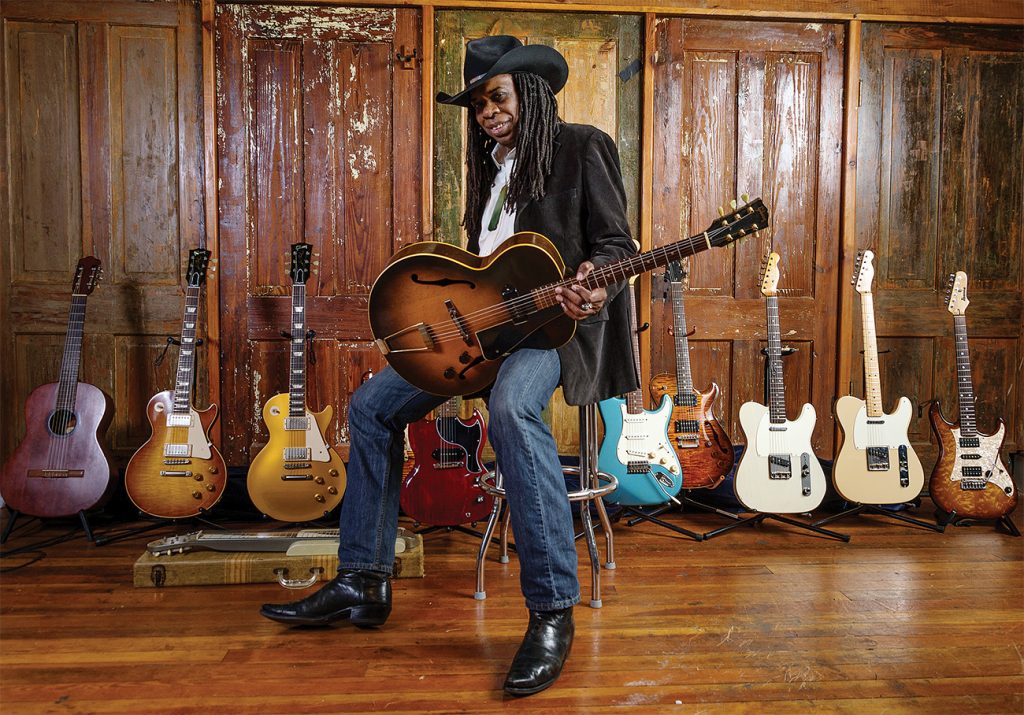 Larry Mitchell's guitar-centered "Ah ha!" moments run the gamut from Roy Clark, Van Halen, Prince, and Elvis. With a string of instrumental records, Mitchell is also a Grammy-winning producer and has toured as a guitarist with Billy Squier, Ric Ocasek, and Tracy Chapman. Whether he's in the control room calling the shots, or onstage performing idiosyncratic funk, shred, and dreamy soul, Mitchell always has his eye on the big picture.
How did you make the transition from guitarist to producer?
That was a life lesson of the music business. My first record came out and did well, but the record company was a little funky. The second record went through three labels. Then I put an acoustic record out on my own and it did really well. That record came out in 1995 and was called Escape.
I recorded it myself and got help from some amazing engineers and producers. I'd been in studios before, but never on that side of the glass. I got some great advice from some amazing people. When the album came out, I was able to get a licensing deal and distribution. Everywhere I turned there was someone helping me get the record out. I couldn't have stopped it if I'd wanted to.
The whole thing was an accident. A friend gave me the keys to his house, where he had all this studio gear in his basement. He said, "You need to make a record!" I said, "I can't make a record." All the gear was in boxes, so I started calling people who made records for a living. Some amazing people took the time on the phone to walk me through it. In two weeks I had that record done.
Every step of the process – from getting reviewed in guitar magazines and meeting a music lawyer, to meeting a Japanese label owner who wanted to license the record for Japan – was magical. I was being guided. It all happened within two months after finishing the record. There was no way I could have not put this record out.
This proved to me that I could make a record on my own. I started getting studio gear, making my own albums, and meeting a lot of local artists in San Diego. Then I started producing. When I moved to New Mexico, I worked with a lot of Native American artists.
How has producing influenced your playing?
It brought me back to playing in New York in the '80s where if you were a side guy, you had to be a little bit of everything. You had to be Nile Rodgers for three songs, Eddie Van Halen for one, and a country guitar player for two songs. You had to cover a lot of sounds. I love working in the studio and programing stuff, and I love working with singers and cello players. I've produced Native American music, country, gospel, singer songwriters, world music, and a rapper.
How did you discover Fractal Audio?
I was doing a bunch of fly-in gigs and I had a rig with two pedalboards because I had to cover all the sounds. I saw a review of the Axe-Fx and I was like, "I gotta check this out!" It was like everything I wanted back in the rack days, plus all the pedals, all squeezed into a box that I could fly with. It was a big deal for me.
It's a great time to be a guitar player. It's a great time for music other than trying to sell your music (laughs). As far as creativity and making music, it's easy. Great guitar tones are easy to get. I'm also into vintage stuff; I have a 1973 100-watt Marshall plexi that sounds great.
What's your main guitar?
I met Joe Knaggs and went on the Knaggs Guitar factory tour. When a master wants to build you a guitar, you can't say no. The Knaggs Severn is kind of a superstrat, and it's the main guitar I play now. I also have a hollowbody he made, called a Chena. I still play my Ibanez Blaze III guitars that are 20 years old.
What else has been happening?
I've been doing a bunch of dates on the East Coast. At age 51, I'm still riding around in a van with guys half my age, and I love it. I have a rhythm section in Seattle, and I play around Washington and Oregon. I'm also recording and I'll release the first song in January, then I'm doing a house-concert tour, festivals, guitar clinics, and hosted the NAMM show jam with Andy Timmons.
---
This article originally appeared in VG May 2016 issue. All copyrights are by the author and Vintage Guitar magazine. Unauthorized replication or use is strictly prohibited.
---