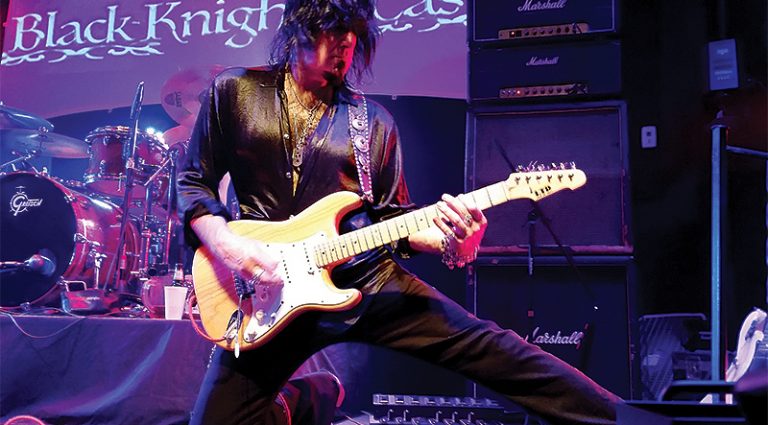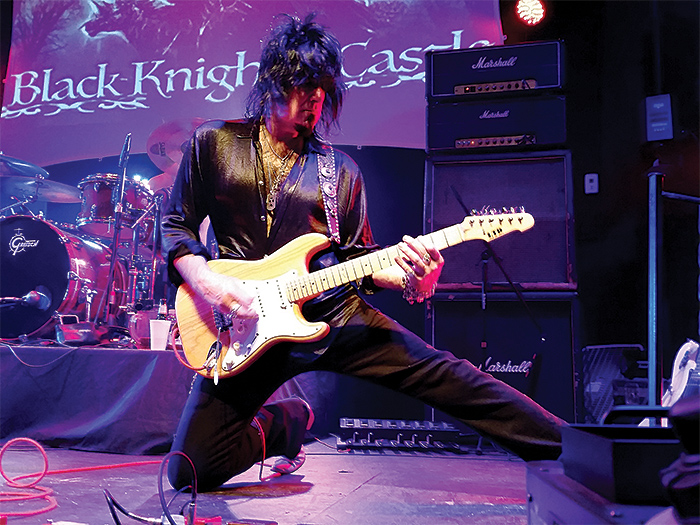 Metal virtuoso Joe Stump believes Ritchie Blackmore, Uli Jon Roth, and Michael Schenker form the holy trinity of European metal guitar. And he should know. Not only has he built a long career creating incendiary music, he's a Professor at The Berklee College of Music.
His latest album, The Dark Lord Rises, is a heartfelt testament to his love for the genre closest to his heart. It's filled with technical brilliance and inspiration from guitar icons Gary Moore, Ritchie Blackmore, and Yngwie Malmsteen.
What did you want to accomplish with The Dark Lord Rises?
It has all the things I like to listen to, whether it's classical music or all my favorite players like Ritchie Blackmore, Yngwie Malmsteen, Gary Moore, Uli Jon Roth, or Michael Schenker. Plus, I like all kinds of metal like Mercyful Fate, King Diamond, Accept, and Arch Enemy. So I come up with different things that blend the different schools of metal.
The album has much more diversity than on past records.
Everybody knows my work, especially for the neo-classical stuff, and while there's plenty of that going on, it has the Blackmore and Gary Moore thing. As time goes on while I still practice very technical things, I still gravitate towards more older school things. Whether it's Blackmore during his Rainbow period or Gary Moore, I love all of it. I love the classic Gary Moore records like We Want Moore, Victims Of The Future, and Corridors Of Power.
I would learn every solo off those records. Gary Moore use to play a Strat back then; Corridors Of Power was all 100-watt Marshall, a Strat, and a Boss DS-1. He got such killer tones on those records. On Victims Of The Future, he still had a Strat but he used a Les Paul Junior, too – the one he played back in Thin Lizzy.
There's a strong Deep Purple influence on Dark Lord, with the organ – and slide guitar… on a modern neo-classical track.
That's the first time I ever played slide on any of my records. I wanted to do that thing that Blackmore does where he plays the evil-sounding Hungarian minor thing with the slide, whether it's "Stargazer" or some of the stuff he does on "Difficult To Cure" live.
That's a total Blackmore thing. He played slide on "Long Live Rock 'n' Roll" and on Rising. He plays a ton of slide stuff. I don't use any alternate tunings. It's straight-up slide guitar. I always loved how Blackmore played it in harmonic and Hungarian minor. Another great Blackmore slide tune is "Maybe Next Time" on Difficult To Cure.
Will you tour in support of Dark Lord?
I've been playing a bunch of shows and have a Blackmore tribute band called Black Knight's Castle, where I play a bunch of Deep Purple and Rainbow stuff. I'll also play some of the Blackmore-inspired instrumentals. It's cool because I end up playing places that would never allow me to do my solo thing. But I'm shredding and playing a ton of guitar and lot of my own stuff, so I'm getting away with it (laughs)!
I'm also in a Deep Purple tribute band called Stormbringer. The keyboard player has two Leslies and a Hammond. And I do solo stuff, as well.
The most significant thing I'm doing coming up is the Axes & Anchors Cruise with Yngwie Malmsteen, Michael Schenker, and Zakk Wylde. It's a metal cruise that's all guitar-oriented. It's going to be very cool. I'm looking forward to this because I get to see Yngwie and Schenker.
You've met Yngwie. How does he feel about his style being such a prominent component in your music?
He's always been very nice to me. I'm not sure how he really feels about it, but I put Yngwie in the guitar legend category like Blackmore and Gary Moore. He's in a class with the great masters.
You've been criticized for sounding too much like Yngwie, but what you do is no different than every blues guitarist who uses the vocabulary of B.B. King or Albert King.
I completely agree, and I'm proud of it. The last time I checked, Yngwie was pretty f***in' good (laughs).
When you're teaching at Berklee, do your students refer to you as Professor, or The Dark Lord?
(Laughs) Some students call me Professor, but I tell them to call me Joe. Many students call me the Shred Lord (laughs). That name took on a life of its own.
---
This article originally appeared in VGJuly 2016 issue. All copyrights are by the author and Vintage Guitar magazine. Unauthorized replication or use is strictly prohibited.
---