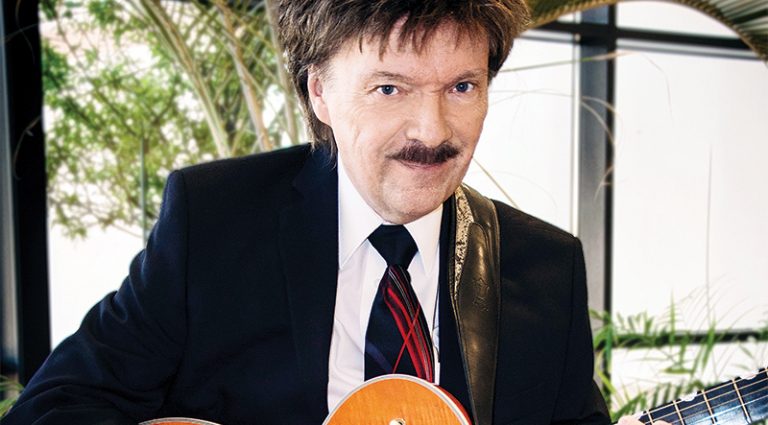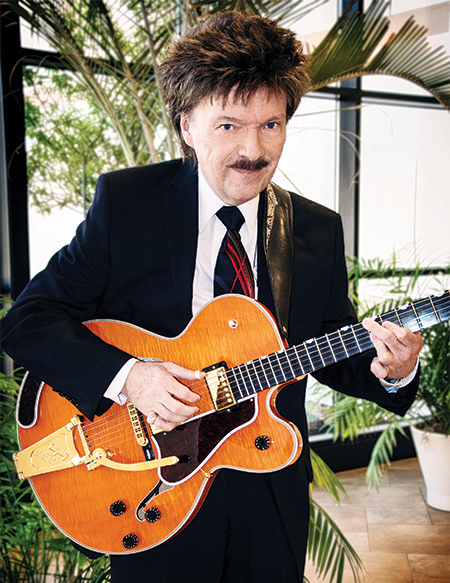 Chester and Lester were enamored of his talent. Moreover, they called Ray Cummins a friend, and his journey includes turning adversity into a career as one of the country's more-respected guitar soloists.
Though a modest guy, Cummins would have every right to boast of his amazing credentials. For starters, he's enjoyed headline status at the Chet Atkins Appreciation Society (CAAS) for 20 years. He frequently appears as a guest artist with major symphony and pops orchestras, and he's been a featured artist on the Grand Ole Opry. In addition, he's a veteran of more than 500 recording dates and more than 200 television shows including "Hee Haw" and "Nashville Now." He's been inducted to the National Thumbpickers Hall of Fame, performed with Les Paul, Chet Atkins, Roy Clark, and Merle Travis, and has toured with many of the biggest names in show business.
Cummins was a true child prodigy. At age five, his folks bought him an accordion on which he exhibited extraordinary talent. Proclaimed a virtuoso by age 10, a year later he was also excelling on trumpet under the tutelage of the Cincinnati Symphony's first-chair trumpet master. By seventh grade, he was the only junior-high student to play with the high school band.
But that summer, he developed a low-grade fever that left him bedridden for several months. Exams revealed a lesion on his lung, and his days playing trumpet were over. Young Ray was crestfallen, but only until his dad brought home a guitar and a Chet Atkins record to help assuage his son's sorrow. The album was Chet's Pop Goes the Country with the Boston Pops Orchestra featuring "Alabama Jubilee" and a number of other country standards familiar to any kid from the South. Score one for dad.
During his long recuperation, Ray listened, learned, and eventually mastered the guitar enough to make the big time working for country singer Kenny Price, whom Atkins had signed to RCA and who toured regularly. But Price took only Ray on the road with him.
"I'd walk out with Kenny, who didn't have a band, and play 'Black Mountain Rag' or 'When You Wish Upon a Star' on my classical. I originally thought I was there to back him, but he featured me. He was so nice and helped me so much. And when Kenny would open for Ernest Tubb, he'd use Ernest's band. So there I was, age 20, with all these great Nashville jazz cats.
"Because of Kenny, I also got to hang with Joe Maphis and luthier Hascal Haile, who made the Atkins prototype for the solidbody classical model that Gibson introduced as the Chet Atkins CE in 1981."
His work with Price and Atkins also led to the latter calling him a friend and pronouncing him, "One of the best fingerpickers anywhere."
"I used to visit Chet frequently at his office and we'd often play Nato Lima's 'Blue Angel' and take turns accompanying each other," Cummins said.
In addition, Cummins composed the melodic, commercial (and challenging) "Summer Daze," a tune that became solidly identified with Atkins, whose recording of the tune has been deconstructed and transcribed in many fingerstyle-guitar publications.
Moreover, his exceptional talent allowed Cummins to cultivate friendships with many other famous musicians. The guitarist was befriended by Les Paul and is among the exclusive group of pickers invited to sit in with Les at the Iridium Club in New York City.
"A mutual friend sent Les my recordings and the next thing I know, Les was on the phone. We talked for an hour and he invited me to play at the Iridium. I sat in six or seven times."
When Cummins performs annually at CAAS, you'll often see an affable Tommy Emmanuel playing drums behind him.
"There are guys at CAAS playing so much like Tommy now that they're even dancing like him," Cummins laughs.
Today, Cummins' guitar arsenal includes his signature nylon-string McCullough, a '98 Ramirez, a '61 Gibson B-25, '98 Gibson Country Gentleman, an '85 Telecaster, and his Gibson Chet electric nylon-string. All, save the Ramirez, are processed through his 1989 Roland JC77.
---
This article originally appeared in VG July 2016 issue. All copyrights are by the author and Vintage Guitar magazine. Unauthorized replication or use is strictly prohibited.
---