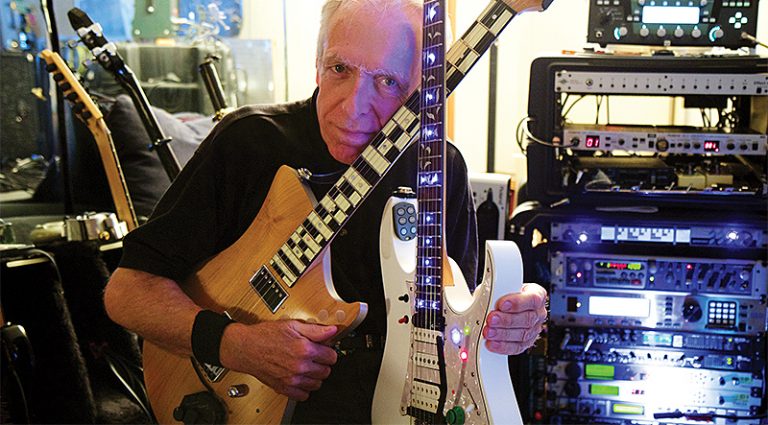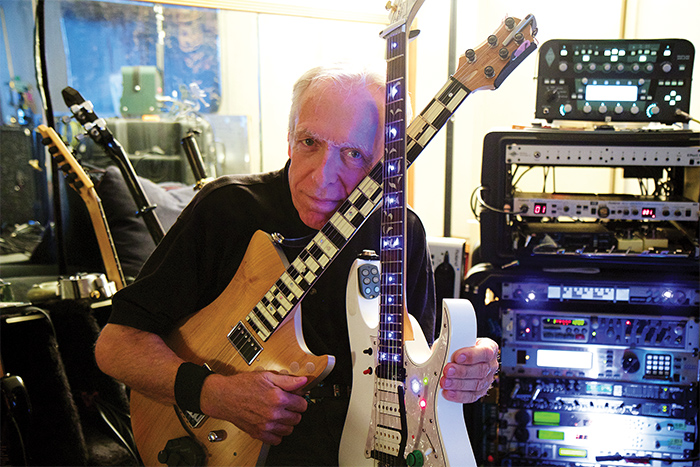 At certain large-scale rock shows, there's often a white-haired gentleman running onstage to hand guitars to artists like Steve Vai, Yngwie Malmsteen, or Dweezil Zappa. That man is Thomas Nordegg, who has spent 40 years working with some of the greatest guitarists in the world. He's not only a skilled tech, he's a technical advisor, confidant, and liaison between the latest technology and the artist. If there's a new piece of useful gear, Nordegg knows about it. He's everywhere, and in the know. We recently had the opportunity to speak with him.
How did you become a guitar tech?
I'm from Vienna, where there was a band called The Slaves, which had a Gypsy guitar player who couldn't read or write. He was a star in Austria, so I thought "There's no need for me to play guitar because he's so good." (laughs) So, I became his manager and tech. We went to New York in '72 and had many adventures.
Peter Wolf, a keyboard player who was originally with my management contract, joined me when I returned to New York, our goal being to get to L.A. We eventually made it and got an apartment near the original Guitar Center on Sunset Boulevard. Three months in, I got a call from Frank Zappa, asking for Peter. Right after that call, he auditioned and got the gig… I got the gig as his tech. Peter stayed for a couple years, then went on his own. I stayed with Frank seven years – '76 to '83. It was the best time of my life.
What prepares you for a job like this?
A passion for technology and guitars. One of the techs that Frank had was David Robb, who used to tech for Jimi Hendrix. He was an awesome guy and I spent my early years with him. I was also Frank's cameraman for 160 shows.
After leaving Zappa, you stayed busy.
I worked with Warren Cuccurullo, who has been my crazy partner for 40 years. I was there from day one when Missing Persons came together, and I worked with him 16 years in Duran Duran; I worked for John Taylor and Andy Taylor, too. I've also worked for Steve Vai, Steve Lukather, Eric Johnson, and The Pretenders.
I worked for Tears For Fears, I did one show with Jimmy Page in '93, when he played with Robert Plant, I worked with Social Distortion for a few years, toured with Dream Theater, and did two tours with Yngwie Malmsteen. He's a crazy one (laughs).
Who's the most high-maintenance guitarist you've worked with?
Yngwie changes guitars a lot, but he's a big teddy bear to me. He's like Comedy Central – that's the only way to look at it. He's so full of himself that it's really funny. John Petrucci has quite a complex MIDI situation going on. Then again, Dweezil Zappa started out with a couple of racks for Zappa Plays Zappa, then expanded to two refrigerators. He also brought Frank's gear with him. When he found out how much it cost to ship it to Europe, he dove into Fractal Audio; Matt Picone spent hundreds of hours dialing in Frank's guitar sounds. Dweezil is very smart. Aside from the racks, he loves pedals, knows how to use them, and tries every configuration. He uses at least 20 pedals outside of the Fractal, tied in with MIDI switches. Dweezil's rig is very complex.
Is there any new gear you're excited about?
The Boss SY-300 Guitar Synth. It's the most advanced technology – 30 years in the making. It's the first polyphonic guitar synth that uses a regular guitar and a cable. There's no problem with latency or tracking. Also the GTC Revpad, which allows you to control effects with your finger, and the Antares ATG-1. The Fernandes Sustainer is your best friend ever. Steve Vai would be naked without it, and he knows how to use it right.
What can the working stiff do to get the most out of his guitar?
They need to take the time to correctly set up their guitars. With Vai, I've been drilled to get the action and intonation just right; 90 percent of the job is stretching strings all day, so that come showtime, he can play two to three songs without having to re-tune. Also, make sure the strings are clean. I use super-fine steel wool and a little alcohol to get the DNA off, and I use Gorgomyte on the fretboard.
---
This article originally appeared in VG March 2016 issue. All copyrights are by the author and Vintage Guitar magazine. Unauthorized replication or use is strictly prohibited.
---