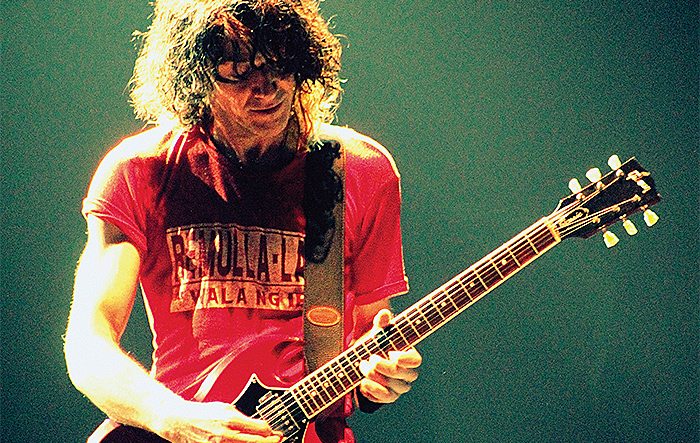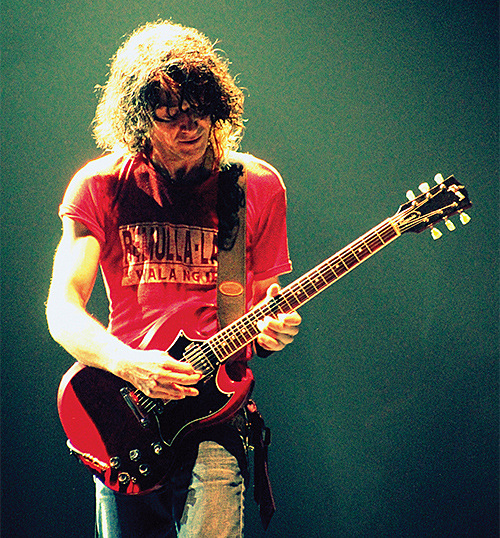 It's been a quarter-century since the Spin Doctors broke out with "Little Miss Can't Be Wrong," which catapulted the New York band to international prominence. The quartet of Eric Schenkman (guitar, vocals) Mark White (bass), Chris Barron (vocals) and Aaron Comess (drums) proffered a high-energy pop/rock that worked well in the early '90s.
Personnel changes occurred, with Schenkman being the first to leave – in '94, "…due to differing opinions regarding the group's goals."
When VG interviewed Schenkman later in that decade, he was gigging with ex-Mountain drummer Corky Laing in a band called Cork. Around the same time, the Spin Doctors went on hiatus, when Barron lost his voice due to a rare type of vocal cord malady.
Ultimately, Cork proved to be short-lived and Barron recovered his ability to sing. The Spin Doctors' original foursome regrouped in 2001, and the second phase of their musical sojourn saw the band delving more into the blues, as exemplified by the 2013 release If The River Was Whiskey.
However, tight, funk-based arrangements are still an integral part of the band's live show, as validated by the recent live release, Songs From The Road.
Today, the band still renders a tour-de-force live presentation, with Schenkman and powerhouse southpaw bassist White playing off of each other, often frenetically. Half of the album's 14 songs are from the blues album while five are from their breakout album, 1991's Pocket Full of Kryptonite.
Recorded in October of 2013 at the Harmonie club in Bonn, Germany, Songs From The Road includes a DVD of the performance (song-for-song, which is unusual for a DVD/CD set). According to Schenkman, the spontaneity of the only performance that was planned to be recorded added to its validity.
"We just played the one concert with the recording gear rolling, and picked the best performances," he said.
The album opens with a rollicking version of "What Time Is It," (from …Kryptonite). It's a genre-hopping effort that mixes funk reminiscent of James Brown, power chords, and an outro that interpolates tom-toms and psychedelic noise, in a loud, confident, and straight-on citation of the band's multifaceted music.
"What Time Is It' is often our opener," Schenkman averred. "It's powerful funk-rock, and one of our oldest songs."
Other songs from Pocket Full of Kryptonite include "Two Princes," "Jimmy Olsen's Blues," "Off My Line," and, of course, "Little Miss Can't Be Wrong."
Schenkman noted the guitars he used on the live release.
"There was a Gibson SG Standard with Cream T pickups, and an Epiphone korina Flying V with Cream Ts," he said.
Also of note is the butterscotch-finished Fender Esquire on "Some Other Man Instead." When the camera focuses on Schenkman during the song, one can see he's fingerpicking hard and the action is set fairly high.
"It's the part I came up with," Schenkman detailed. "I snap the strings more than usual."
The encore songs start with "Scotch & Water Blues."
"Chris probably felt like singing a slow blues, and I always jump at the opportunity," the guitarist mused. "I love playing slow blues, and I get a little better at it year after year, so I'm glad that's on there!"
The DVD package includes interviews (recorded at the venue) with Barron and Comess.
"Mark and I were around the corner, getting Middle Eastern sandwiches, while those guys were talking," Schenkman recalled. "They had really great food backstage, too; cool digs, so it was a classic live-venue recording situation."
Schenkman is suitably pleased with the finished product.
"I'm happy with how it came out, sonically," he said. "Roman Klun mixed it; I have a lot of respect for his ears, plus, he flattered me, which just made me feel good about it. But honestly, I didn't have anything to do with production other than playing, writing, and singing a bit, and going to Germany too, of course, which was great times, man."
Schenkman also had praise for his longtime musical associates.
"Regarding phase two, it's always a joy to play music with guys you have a deep history with," the guitarist said.
---
This article originally appeared in VG March 2016 issue. All copyrights are by the author and Vintage Guitar magazine. Unauthorized replication or use is strictly prohibited.
---