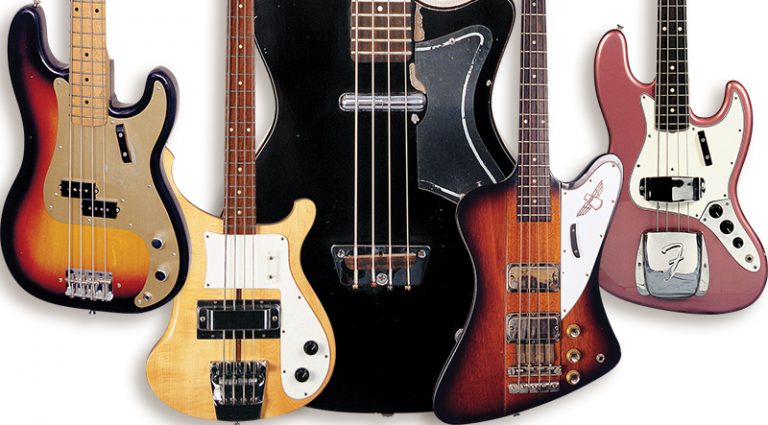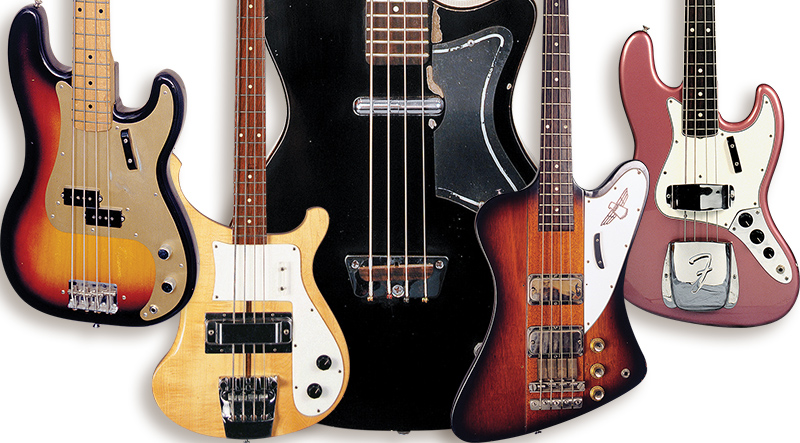 Leo Fender didn't invent the electric bass. Rather, its origins trace to the early 20th century, when Gibson put frets on a bass mandolin. Two decades later, Audiovox's Paul Tutmarc built a fretted solidbody electric bass. However, when it comes to the electric bass as it is commonly perceived and played today, Leo deserves all the credit.
Much as guitarists in the 1930s were reticent to plug their instruments into an amplifier, few bassists felt the need to extract more volume from their uprights. Then, of course, came rockabilly, followed closely by rock and roll – two forms in which the stationary, non-amplified "doghouse" didn't fit the dynamic, in-your-face delivery that would become so vital.
"The electric bass changed the way music was played – and even more how it was heard," said VG contributor (and vintage-bass authority) Peter Stuart Kohman. "Its power and volume helped the music of the era expand in myriad directions. By the mid-'60s, a trio on guitar, bass, and drums could be louder than a '50s big band, and recorded music gained a new low-end element to its sound."
"The saga of Leo Fender and George Fullerton's efforts designing the bass that replaced the doghouse is a classic tale of American innovation," added VG contributor/bass profiler Willlie Moseley. "Its runaway success validated its existence."
Here, we offer a look at electric basses that not only changed the sound of popular music, but also evolved along with it.

Fender Precision
When it debuted in November of 1951, Fender's Precision was truly revolutionary – not in terms of design, fit, or finish; its square-edged ash body, one-piece maple neck, and blond finish made it essentially a slightly larger Telecaster. Rather, the Precision's importance revolves around how it allowed bassists the same physical freedom, playing technique, and onstage posture employed by guitarists.
Hoping to maximize its appeal and realizing the challenge it might face in gaining acceptance, Leo designed the Precision as something of a compromise. He believed its players would include two primary groups – those who played upright and those who played a regular/six-string electric guitar. Hoping to make it playable in the eyes (and hands) of each, he gave it a 34″ scale, which landed between the 42″ scale of the popular ¾-size Kay upright and the Tele's 25½". His thought was that any guitarist could grab a Precision and easily transition to playing bass, which in turn meant bands no longer had to find/enlist a trained upright player. Tremendously practical, it opened a broad market.
Per Leo's tendencies, the Precision changed with player input; in '54, it was given beveled edges that would also be used on the Stratocaster. In '57, it was given a new pickup with a split coil. Still, even as other companies began to offer solidbody electric basses and Fender itself launched new models, the Precision remained a standard-bearer.
"The truly amazing thing about the Precision is how much Leo got right the first time around," noted Kohman. "You can still walk onstage with a 1951/'52 Precision and it will perform as well or better than any bass offered since."

Rickenbacker Model 4000
While innovative and successful, within a few years of its introduction, the Precision Bass was seen by some as "improvable."
One person who thought he could do better was F.C. Hall, who established Radio-Tel in the 1920s as an electronics repair shop and builder/installer of public address systems. Just after World War II, Hall established a dealer network for Leo Fender's steel guitars and amplifiers. After watching Leo's solidbody guitar gain quick popularity, in 1953, Hall jumped at the chance to buy the Electro String company from Adolph Rickenbacker and used it to establish an all-in-one manufacturing/distribution business focused on electric-Spanish guitars.
In 1954, Hall hired German-born luthier Roger Rossmeisl, intent on building guitars and basses that would one-up what he saw as the blasé aesthetic of Fender's instrument. Rossmeisl's vision for a bass manifested in the 4000, introduced in mid 1957 with a dramatically different look and sound rendered through its now-famous "cresting wave" maple body and headstock silhouettes as well as neck-through construction, which put its "horseshoe" pickup (borrowed from Adolph Rickenbacker's '30s lap steels), tailpiece, and bridge on a solid center block – elements that gave it a decidedly different tone – brighter and more piano-like than the Precision. Refinements followed beginning in '61 with the two-pickup 4001, which Moseley refers to as "the elegant antithesis" to the Precision.
In a 1993 interview with VG, Rickenbacker CEO John Hall (son of F.C.), remarked on the 4000/4001's departure from the "thumping, thudding" tone of the P-Bass, saying, "You'd have to call it a high-fidelity bass in that it produces a more-defined, sharper sound than almost any other on the market."
"The 4000 was stylish and its pickup gave it a unique sound, but it was expensive, so it sold in very small numbers," noted Kohman. "But, the 4001 became one of rock's signature basses, thanks to Paul McCartney, Roger Waters, and Chris Squire, whose playing led to the Rick's mass acceptance in the '70s."

Silvertone 1444L
If you started playing bass as a kid – especially if you were a kid in the late 1950s or early '60s, there are strong odds you played one of these.
Introduced in 1959 at the (very) budget-friendly price of $79.95 (or $8 down/$8 per month!), the Sears Silvertone 1444L was immediately popular and, after the Beatles ignited the famed '60s "guitar boom," sold in droves.
Made by Danelectro in Neptune, New Jersey, the 1444L was bare-bones and all-business; its black lacquer finish covered a body made of a processed-wood product called Masonite combined with pine, as well as its poplar neck. Its 29 ¾" scale made it friendlier to the shorter arms of youth and it had (in fitting with the theme) budget-minded "skate key" tuners, an aluminum nut, and a pickup developed by Danelectro founder Nat Daniel, who put its magnets and wire in actual lipstick tubes he'd bought from a cosmetics supplier. Its small, wooden bridge was moveable for the sake of intonation and was mounted on a plate with mere slots to anchor the string ends. Its headstock profile is now known to collectors as the "dolphin nose."
The 1444L stands as the final Silvertone-branded instrument to get the body shape that had first been used on the Dano U-1 guitar, and was also the longest-offered Silvertone bass, replaced by the all-wood 1442 and 1443 in the spring of 1966. Today, for reasons nostalgic and sonic, it (and other Dano/Sears basses) enjoy a certain status amongst collectors; not necessarily coveted, but certainly appreciated. And yes, purists will point out that Danelectro actually made far more 1444Ls with the Silvertone brand than its own.
"Light, and easy to play, the 1444L was an obvious potential first stop for budding basses," said Moseley. "Its wood frame and Masonite body, combined with the lipstick-tube pickups, offered a unique sound that exhibited great staying power in later decades."
"The 1444L equipped countless garage bands and helped put an electric bass in the hands of thousands of young players in the early '60s, and is still a popular, practical choice today," Kohman added.

Gibson Thunderbird
Looking to change public perception of Gibson's instruments as boring and staid (and also to better compete with Fender), Ted McCarty enlisted automotive designer Ray Dietrich to come up with a bonafide "rock guitar" that was stylistically removed from anything else offered by the company.
Dietrich delivered; his concept for the Firebird guitar and correspondent Thunderbird bass made a bold statement when they debuted at the 1963 NAMM show with sleek lines, neck-through construction, a unique body shape, new humbucker pickups, and 10 available custom colors: they virtually called out Fender's Jaguar and Jazzmaster, looking for a fight.
Offered in two forms of dress numbered in even Roman numerals (the Firebird got the odd numbers), the single-pickup/basic trim model was called the II, while the two-pickup/fancier version was the IV, and was even-morso aimed at anyone considering a Fender bass; its 34 3/8" scale, pickup placement, control layout (individual Volumes with a master Tone), and 1 ½" nut were lifted directly from the Jazz, as were the similarly-placed pickups and the rest on the pickguard.
Though the 'Birds were well-received and sold in healthy numbers, feedback from players (and threats from Fender) forced Gibson to tweak their design after just two years; in the summer of '65, their bodies were given a more-traditional form (now called "non-reverse"), and necks transitioned to set/glued in, and tuners were changed to the same as on other Gibsons. Collectors strongly favor the original style.
"Gibson's first long-scale competitor to Fender, the Thunderbird is the company's greatest bass," said Kohman. "Visually stunning, it combined style and function like few others, and today remains a statement for the boldest of bassists."

Fender Jazz
Leo Fender being a perfectionist and Don Randall a conscientious salesman, the two were responsive to feedback from players. The Jazz Bass stands in testament. Introduced in 1960 to provide a feel and sound significantly different from the Precision, the Jazz was more curvaceous, had a slimmer, narrower neck, brighter-sounding pickups, and a dressier appearance.
Even further evidence of Leo's desire to please players manifests in details like the control knobs; by early '62, the Jazz's "stack knob" setup was replaced by the simpler three-knob (Volume/Volume/high-cut) arrangement. Other changes through the years were largely cosmetic, like pickguard materials.
The subsequent years have seen Fender add many variants of the Jazz that offered players everything from the basic, as-it-was-in-the-beginning model to signature models, year-specific reissues, the latest active electronics, souped-up pickup switching/tone systems, five-string variations, and a host of wood and finish options. In the '90s, the Jazz arguably overtook (or at least equaled) the Precision Bass in terms of popularity amongst players of all statures.
Today, the mid-/late-'60s Jazz Bass is, like its brethren across the Fender line from that era, seeing a noted appreciation amongst collectors.
"Considering how the Precision evolved, the Jazz was a logical progression that underlined how Fender wasn't resting on its laurels," said Moseley. "Its features were logical, so it's easy to see why it was an immediate success – and why, like the P-Bass, it has never been discontinued."
"If the Precision bass was a workingman's tool, the Jazz was the hot rod Cadillac of electric basses," added Kohman. "By the mid '60s it was nearly as popular as the Precision, and as bass playing evolved in the '70s, it emerged as the choice of many of the most-influential players."
---
This article originally appeared in VG April 2016 issue. All copyrights are by the author and Vintage Guitar magazine. Unauthorized replication or use is strictly prohibited.
---
Dig into VG's vast article archive!
Be notified when the next "Overdrive" and other great offers from VG become available! Simply submit this form.