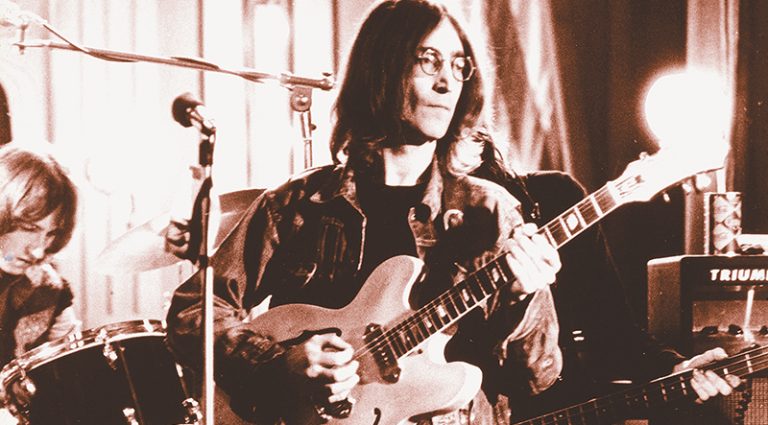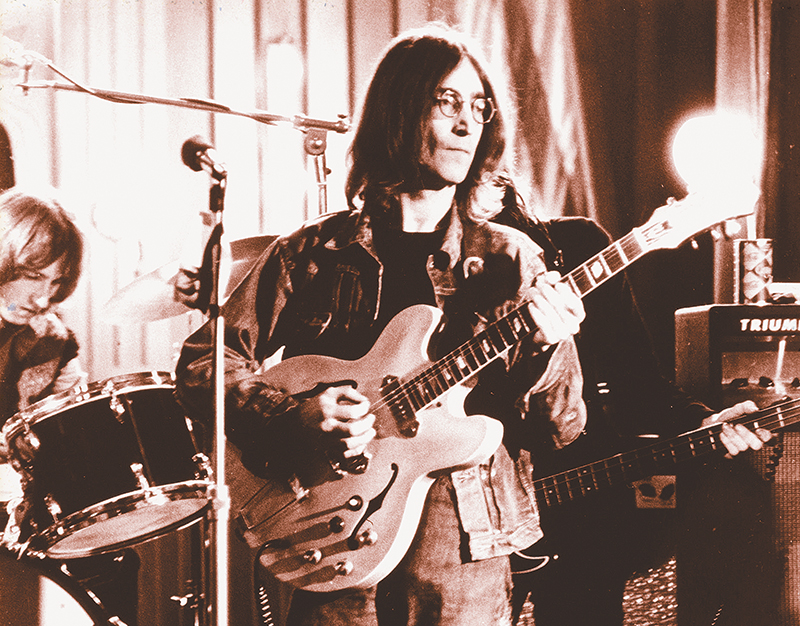 Of all the guitars the Beatles made famous, the only one that John, Paul and George had in common was the Epiphone Casino. Each owned a Casino and used it for countless recordings and performances.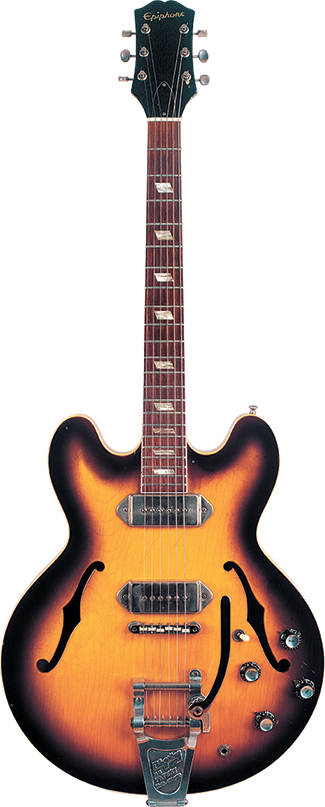 Paul McCartney was the first Beatle to acquire a Casino. Influenced to purchase it by his friend, blues musician John Mayall, McCartney said, "You'd go back to his place and he'd sit you down, give you a drink, and say, 'Just check this out.' He'd go over to his [tape] deck, and for hours blast you with B.B. King, Eric Clapton… he was sort of showing me where all of Eric's stuff was from. He gave me a little evening's education. I was turned on after that, and [bought] an Epiphone." Mayall recalls the late-night record sessions. "I showed him my hollowbody guitar that I'd bought when I was in the army in Japan in 1955. When people get together and listen to records, they talk about all kinds of things related to the music, so obviously we must have touched upon the instruments and it struck home. He got a hollowbody after to get that tone."
The Epiphone Casino ES-230TD that McCartney purchased at the end of '64 has an early-style Gibson-design headstock rather than Epiphone's later hourglass-shaped headstock. Photographs taken in December of '64, during rehearsals for the Beatles' Christmas performances at London's Hammersmith Odeon, show Paul playing a new Epiphone Casino still strung right-handed. Another picture shows McCartney and Harrison examining the right-handed Casino, evidently discussing how they would alter the guitar so the left-handed McCartney could use it.
McCartney's sunburst Casino has serial number 84075, and according to Gibson's records shipped November 1, 1962. McCartney altered it for playing left-handed, turning the guitar upside down, re-stringing it, and modifying the bridge for correct intonation. A strap button was added to now-inverted upper treble bout. McCartney used his Casino extensively in the studio with The Beatles, including the memorable lead-guitar break on "Ticket To Ride." He also used it throughout his solo career, and still owns the guitar.
In the spring of '66, during recording sessions for Revolver, John Lennon and George Harrison decided to join the Casino club. The most obvious difference between these two virtually identical guitars was Harrison's had a Bigsby vibrato, while Lennon's had the standard Epiphone "trapeze" tail. Lennon's was unusual in that it had a small black ring mounted around its pickup selector switch. Both had the more common Epiphone-style headstock and were fitted with gold-colored Volume and Tone knobs.
The first time Lennon and Harrison performed with their almost-matching Casinos was when The Beatles made an appearance on the popular British TV show "Top Of The Pops." On June 16, 1966, they entered BBC's London studios to mime both sides of their new single, "Rain" and "Paperback Writer."
As the group started its '66 tour of Germany, Japan, and the U.S., Lennon and Harrison chose the Casinos as their main instruments for the tour.
By '67, The Beatles embarked on the sessions that would produce their masterpiece album, Sgt Pepper's Lonely Hearts Club Band. Present and used throughout were all three Casinos. And it was during these sessions that Lennon painted his by spraying a white or grey outline on back of the body and neck.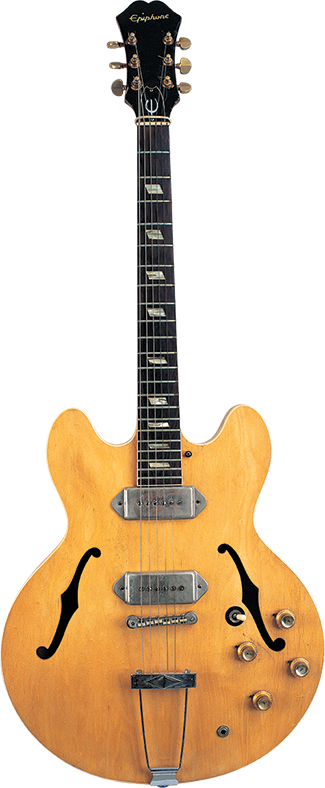 In early '68, The Beatles headed to Rishikesh, India, to study transcendental meditation with The Maharishi and friends, including Donovan Leitch. There, Donovan convinced the trio to sand the finish off their instruments, telling them how a guitar sounds better without a heavy finish. After returning to London, during sessions for the self-titled "white album," Lennon and Harrison sanded their Casinos. Lennon primarily played his newly stripped Casino for the sessions. Harrison said that once they'd removed the finish, they became much better guitars. "I think that works on a lot of guitars," he explained. "If you take the paint and varnish off and get the bare wood, it seems to sort of breathe." With the completion of the white album, promo clips were filmed for the single "Revolution"/"Hey Jude." The clips showed Lennon using his natural Casino.
On December 11, 1968, Lennon appeared as a special guest for the filming of The Rolling Stones' television special, "Rock 'n' Roll Circus," which included a memorable performance by the supergroup Dirty Mac, whose members included Eric Clapton on guitar, Keith Richards on bass, Mitch Mitchell on drums, and Lennon playing his Casino. Dirty Mac's legendary performance of "Yer Blues" was one of the show's highlights.
Lennon continued to use his Casino during the Beatles' "Get Back"/"Let It Be" filming and recording sessions. On January 30, 1969, filming climaxed with The Beatles' celebrated performance on the rooftop of their Apple Corps office building, in London. It was the last public performance given by The Beatles as a band and was documented by a slew of film cameras and still photographers – and an 8-track tape recorder rolling in the Apple basement studio. Lennon played his Casino.
The last studio effort found the Beatles back at EMI's Abbey Road Studios, where they recorded their swan song, Abbey Road. "The End" was intended to be the last song on Abbey Road, and gives the listener an all-too-brief glimpse of a great three-way guitar duel. McCartney, Harrison, and Lennon, in that order, each take a two-bar solo, cycling around three times. McCartney used his Casino, Harrison's work is pure wailing Gibson Les Paul, and Lennon makes an aggressive, distorted howl with his Casino.
John, Paul, and George would continue to use their Casinos on numerous solo projects and recordings. McCartney still uses his, even referring to it as his favorite electric. "If I had to choose one electric guitar, it would be this," he said.
---
Andy Babiuk is the author of Beatles Gear, which was recently released in a newly revised edition. He is also author of The Story of Paul Bigsby: Father of the Modern Electric Solidbody Guitar and with Greg Prevost is preparing Stones Gear, a history of the equipment used by the Rolling Stones. He can be reached at andy@tonebendermusic.com.
---
This article originally appeared in VG May 2010 issue. All copyrights are by the author and Vintage Guitar magazine. Unauthorized replication or use is strictly prohibited.
---
Dig into VG's vast article archive!
Be notified when the next "Overdrive" and other great offers from VG become available! Simply submit this form.