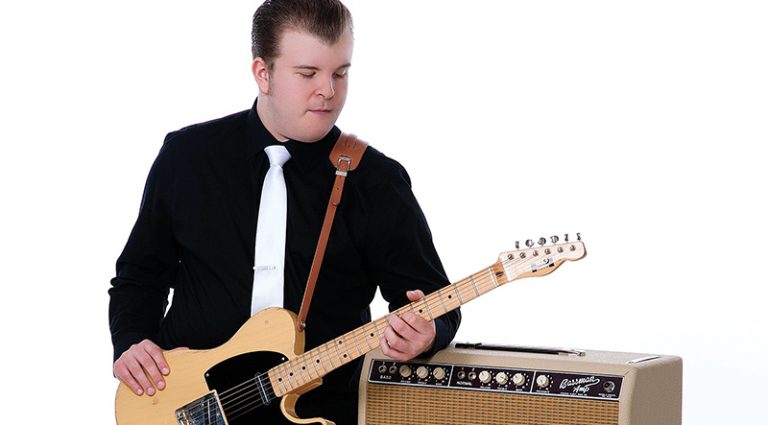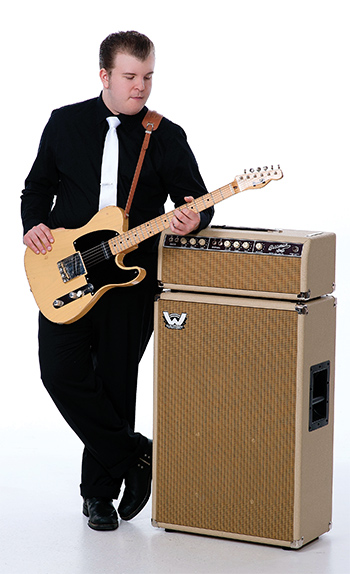 Carl Bradychok's instrument and genre of choice seemed destined from day one. "There are pictures my parents took of me as a baby, sitting in front of the TV watching 'Carl Perkins and Friends,' from '85 – 'The Rockabilly Session.'"
Born in 1991, he got his first guitar at seven and was playing professionally at 11. As you might expect, his taste in music strayed from that of his peers.
"I was pretty naïve," he laughs. "I'd ask kids in school what their favorite Carl Perkins song was. Then I figured out, 'Oh, not everybody listens to this stuff.' Eventually, I met some guys who were into the Stray Cats, and I got into Social Distortion, the Ramones – which weren't all that contemporary, either. But there are times I hear newer bands, and I can pick out things that show they were listening to roots music. I was pretty impressed when Green Day did an album of '60s garage. Billie Joe Armstrong always sounded to me like the Everly Brothers, then he did an album with Nora Jones, doing Everly Brothers. I love when a band does an album that's basically all the stuff I was made fun of for listening to. It's great how, at one point, music can blend together and people are influenced by everything." 
Living in a small Michigan town 20 miles from Detroit, where "there's absolutely no music scene," he typically had to drive an hour to gig. But it wasn't long before he came to the attention of people who broadened his circuit. For nine years, he's been backing Canadian-born/Michigan-raised Jack Scott, an unsung great of '50s rock. Now 79, Scott's hits include ballads like "My True Love" and rockers like "The Way I Walk." 
"When I was 11, Dave Rowe, Jack's guitar player on early stuff like 'Baby She's Gone,' recommended me. One night, Jack showed up at one of my gigs. That was really something."
When Bradychok was 17, he went to the NAMM show in Nashville and happened to be trying a Hahn 228 when a reporter conducted a video interview with builder Chihoe Hahn. Hahn asked if he would play in it, and the reporter was duly gobsmacked. "The last time I looked, that video had 38,000 hits. I loved the guitars and got a butterscotch 228 like the one on the back cover of the CD as well as a red one."
The impressive self-titled CD marks Bradychok's debut as leader, singer, and guitarist, as well as bassist and drummer on some cuts. His influences are apparent, filtered through his sensibilities. "Carl Perkins, Scotty Moore, James Burton, Danny Gatton, Jimmy Page, and Brian Setzer are the main ones," he states. "In old interviews from Guitar Player, people said, 'When I heard Jimi Hendrix, it made me rethink everything.' That's how Gatton was for me. In 'Sun Medley,' he takes all that Scotty Moore stuff and puts nitric in it or something. It really made me sit down and say, 'I want to get better… and I want a Telecaster.'"
Not satisfied with the tone he was getting, Carl dove into designing his own pickups – available through his website. "When I was 11, I got a [Fender] Nashville Tele, with the third pickup," he recounts. "When I got into Gatton, I had no idea what he was doing, but I heard about his Joe Barden pickups. At 14, when my parents asked what I wanted for Christmas, I said, 'A pickup winder.' I got one and a spool of wire and tore apart old pickups until I got the hang of it. I decided that my favorite Gatton tone was on The Humbler; I found that he'd been using the early single-blade Bardens. Mine's a different design. I wanted the best of the Tele and P-90."
He splits his playing between a TV Jones Spectra Sonic and the Hahn 228 – the latter installed with his custom pickups. His amp is a Bassman-style head by Marsh amps, with a custom-made Mather cab with Weber speakers.
In addition to Scott, he has toured Europe with an "Elvis Live" show consisting of singers and players mainly from Presley's last period, beginning with 1969's "Suspicious Minds." 
"It's a fun tour, because I'm the only guitar player and get to play all the Scotty Moore and James Burton stuff."
Bradychok's CD ranges from rockabilly obscurities by Pat Cupp and the Flying Saucers and Bill Allen and the Back Beats to early Conway Twitty, a Ray-Price-inspired version of Harlan Howard's "Heartaches By The Number" ("I just love all those country shuffles"), and a revved-up arrangement of "End Of The World." 
"There's a lot of chord movement," he says of the Skeeter Davis hit. "I started wondering how it would work like a punk song."
There are also three original instrumentals with echoes of Duane Eddy, the Ventures, and spaghetti westerns. Of "After Five," Bradychok says, "It turned out to be not too much of a stereotype. I'm proud of it." The same can be said of the entire album.
---
This article originally appeared in VG October 2015 issue. All copyrights are by the author and Vintage Guitar magazine. Unauthorized replication or use is strictly prohibited.
---