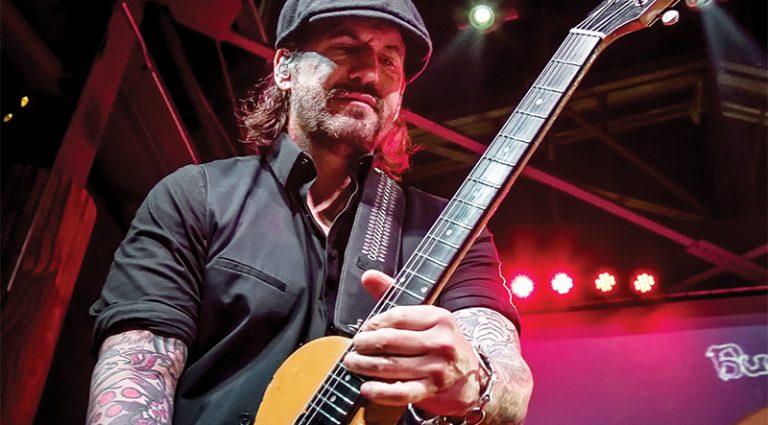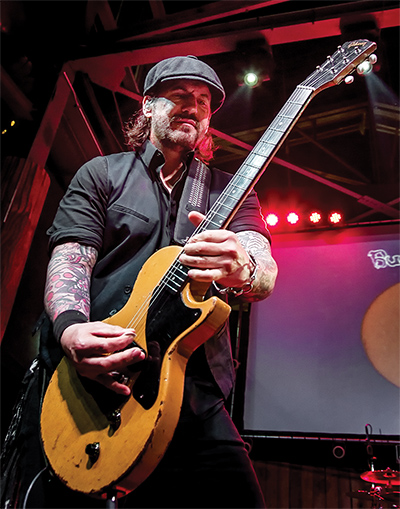 Over the last few years, Buckcherry has offered a lot of music to fans – online via its monthly Singles Club releases, a greatest hits album, an EP, and it's latest full-length release, Rock and Roll, which hits stores (including the band's own, online) this month. Co-founder/guiding force Keith Nelson is a guitarist with a fine taste in musical gear and a collection that mixes high-end samples with "player pieces" like the '57 Gibson Les Paul TV Model that serves as a mainstay on the band's hectic road schedule.
We recently spoke with Nelson about the new disc and how BC is approaching the modern model of music creation/distribution.
"We just came off two records where we pre-defined things with a concept," he said. "For Rock and Roll, we wanted to simply write strong songs and capture the band in its element. There was no prevailing thought other than 'It's gotta be great.' That was the goal."
What are the benefits and challenges of being on your own label?
There are many, and I have this conversation with a lot of people in the rock world. When you run a label, you shoulder all responsibility in all departments – creatively, financially, marketing, promotion, on and on. There's no one to blame if you don't get the results you want. Luckily, our manager is great with the business aspects, so we focus on creative control. We don't have label execs to argue with, and while opinions within the band differ from time to time, we work it out. Five guys pointed in the same direction with a great team around them makes doing it ourselves much easier.
Back in the day, we never cared how much the label was spending on videos or promotion or whatever. Now, we approve every cent and we are accountable. The major-label safety net is gone, but the freedom in other ways makes up for it. 
Have you gigged any songs off the new album?
So far, we've only played the single, "Bring It On Back," and the reaction is great. We did a great video for the song too, so that helps.
Which guitars, amps, and effects do we hear most on the album?
[Co-guitarist] Stevie D. employed his tried-and-true '57 Les Paul Custom for most of his parts. He and that guitar are quite a team and his playing on this record is incredible. He does what I can't do and vice versa; it's a good mix.
Louis, my '59 Les Paul, is always my main guitar. The solos in "Bring It On Back" and "Get With It" are good samples of that guitar. I used a '63 Firebird on "Tight Pants," and my '55 Strat on "Rain's Falling" and that's my '64 SG in open tuning for the slide part on "Sex Appeal."
Is the Firebird new to your collection?
It is relatively new, thanks to friends in Carmel, California. And, Mitch Colby made me a phenomenal Park 45 head recently and it's getting a lot of road work .
As you see it, which songs stand out on the new disc? 
"Tight Pants" definitely stands out. The song started with a funky riff and kept evolving as a result of rehearsing as a band over and over again. After the fact, I got the idea for horns, which we had never done, so we got a horn section together under the direction of Wally Minko, and they nailed it. It took longer to drive to the studio than it did for those guys to get it done (laughs).
"Rain's Falling" started with Josh and I and an acoustic guitar. Once it was written, we got the guys in a room and worked on it until it had space and breath in its overall sound. The solo had to be simple and memorable, so I stepped on a Klon Overdrive, and there you have it. Stevie played his Strat through a '62 brown Fender Super Combo and I played the '55 Strat through a tweed 3×10 Bandmaster.
What's on your radar, guitar-acquisition-wise? 
There's always another guitar or amp out there. We know quite a few people out there, so we're never far from friends with stuff to trade or sell. It's part of the adventure. Joe Bonamassa calls it "guitar safari," and I refer to it as "getting guitarded." I think Norm Harris has that painted on the front of his store, and it makes sense! The guitars found are second only to the friendships that have been made over the years.
What lies on the horizon for Buckcherry?
We'll spend the fall touring, into the spring of next year. I'm already writing new stuff, making demos. The starting and stopping of writing used to feel odd to me, but now I just write all the time and the best stuff seems to stand out. I love what I do, so it never seems like work.
---
This article originally appeared in VG October 2015 issue. All copyrights are by the author and Vintage Guitar magazine. Unauthorized replication or use is strictly prohibited.
---