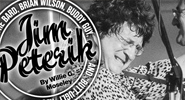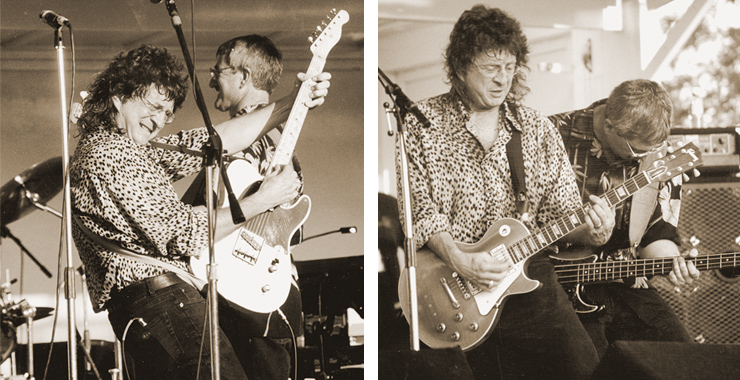 Veteran guitarist/songwriter/vocalist/keyboard player/producer Jim Peterik's career has taken yet another intriguing turn in its long and ever-active history. The Chicago-area musician first sprang to prominence over three decades ago as the vocalist/guitarist for one-hit-wonder combo the Ides of March ("Vehicle"), and went on to further success in the '80s with the original lineup of Survivor.
Peterik's also a prolific songwriter; his solo tunes, as well as ones he co-wrote, have been hits for numerous other artists. He also has a commendable vintage guitar collection. The ever-enthusiastic Peterik was interviewed in VG's August and September '92 issues, and since has added more instruments to his collection, wrote and recorded with many noted artists, and departed Survivor.
Peterik is now oriented toward a unique semi-solo effort called World Stage, and was eager to bring us up to date on his labors.
Vintage Guitar: When we first talked with you in the early '90s, you were still active with Survivor, and you were busy getting the Ides cranked up again. Turns out you've left Survivor, so we need to ask for an update.
Jim Peterik: I left Survivor in July '96 and The Ides have been active since we re-formed with the original members in 1990. I didn't do many Ides dates from about '93 to '96 because I was busy with Survivor, but when I left Survivor I notched up the Ides of March activity, and that's when I also started putting the World Stage project together.
I really wanted to get back into lead singing and guitar-playing. In Survivor, I had a different role as the keyboard guy and background singer, which contributed to our sound. And it's a very valid sound, but I missed being the frontman and the lead singer. I also missed the guitar; I lean a little more toward R&B-type chord changes. With Survivor, we definitely pitched the sound toward the mainstream melodic side of rock.
A song written by you and (Survivor guitarist) Frankie Sullivan, "Across the Miles," was recorded by Uriah Heep. When did you find out about that effort?
After they'd recorded it. That song has always been one of my favorites, and I've always thought it got overlooked. It got a second chance, and it was a heartfelt performance by the singer.
As for this fairly new World Stage project, were you thinking about such a concept before you left Survivor?
No. I really didn't know what I was going to do and it kind of hatched after I left the band. The Ides are basically like a great hobby; it's better than a bowling team (laughs)! Not that we don't take it seriously – we do – we put on a great show, but it's "recreation" that's very Midwest-oriented and very Chicago-oriented, and that's just fine with us.
World Stage may or may not do well, but its concept is very strong. It was almost a type of synchronicity – I was writing with Don Barnes for the new .38 Special record; we did a demo for a song called "Change My Love," and it had a great vibe. They put it on their Resolution album in a different form. I got that crummy ADAT demo of the song from the studio to see what I could do with it. Around that time Don came back to Chicago to write with me, and I thought it would be cool to do a duet with him.
I've written with a lot of great bands with great lead singers, so the next guy I called was Johnny Van Zandt from Lynyrd Skynyrd; I'd been writing with him for the current Lynyrd Skynyrd album, Edge of Forever – I co-wrote the title cut and another song called "Through It All." Johnny, Robert White Johnson, and I wrote a song called "Can't Say It Loud Enough," a very anthemic thing they did for their Van Zandt record, and I asked if I could put it on the World Stage record. So that became the second piece of the puzzle, and it went on from there.
[Styx keyboard player/vocalist] Dennis DeYoung and I go way back, and he did a song with me called "To Miss Somebody;" he was also the executive producer.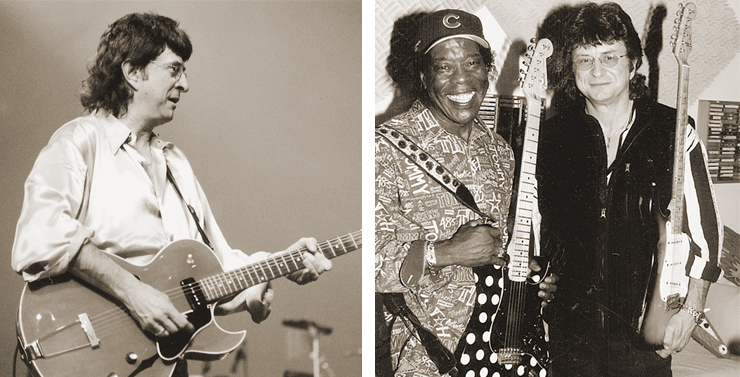 Is World Stage a band, or more of a project?
World Stage is kind of a loose aggregation, but I do have a "core" band with a pretty solid lineup – Clef Hayes on bass, Ed Breckensele on drums – he was in a band called the Insiders Christian Cullen on keys, Mike Aquino on one guitar and Joel Hoekestra on another, and me on lead vocals and guitar. We usually add the Ides of March brass to a show. And I need to give credit where due – Mike and Joel are tremendous. You hear a lot of good lead work on the album; I do some of it, but most of it fell to Mike and Joel, not only because they're great players, but it's also hard to produce yourself. I would translate a lot of the lines I'd hear in my head, and they executed them flawlessly. They brought a lot of their own ideas to the table, too.
We've done some shows, like at the Norris Center in St. Charles, Illinois, and the Holiday Star Plaza in Merrillville, Indiana – Chicago-area venues. Participants have included Kevin Cronin from REO, Don Barnes, Henry Paul from the Outlaws and Blackhawk, and Cathy Richardson, a local singer/songwriter who's just about to break out. Of course, they're all on the record, too.
Of all the songs you recorded, which was the most tedious, and why?
(pauses) I guess "To Miss Somebody" was the hardest. The basic track went down really good, and we had so many options with the overdubs. We added more guitars, but it's still not "heavy" by any means; it's a fun, melodic tune. It's way different from the way it started, though.
I bet you won't tell me which song was the most fun.
(chuckles) Yeah, I will! It had to be "Vehicle" with Buddy Guy. That was a dream come true. I wondering how to reinvent the song for 2000, and I still wanted to use the Ides of March brass. The first version I cut…forgive me…was a salsa version! I had just heard "La Vida Loca." The salsa version worked, but when I put my vocal on it at the end, it sounded like a bad lounge version of the original. Go into a Holiday Inn, and the band would be playing it like that (laughs).
Then I said to myself, "Y'know, what this really wants to be is an R&B/blues tune." So I started thinking about a real bump-n-grind groove, and asked my co-producer, Larry Millas, who we could get to sing this with me if we did the blues version. Larry said, "You'll never get him, but how about Buddy Guy?"
I called his manager, who I've known for years but hadn't talked to in a long time. He told me to send the track over, and Buddy loved it. I was invited to a gig at the Ravinia that Buddy was doing with Susan Tedeschi, and met him for the first time. Two days later, he was at my house to do the recording.
And Buddy came to play! We sat on two Fender tweed amps, warming up for about a half hour, trading licks, and I'm saying to myself, "I don't believe this – here I am, a kid from Berwyn, trading riffs with Buddy Guy!" It was almost surreal!
The track was already laid down, so we started doing takes. He did three takes, and after the third I told him I thought he'd gotten it. But he said, "No, man, I can do it better!" The fourth take is the one you hear on the record – he nailed it. Then we did the vocals. I like it when you can go back and forth in the same room; the chemistry's going to be a lot better.
Cathy Richardson was in a play called Love, Janis, about Janis Joplin.
I've been working with her since '91; I discovered her and co-produced her first album. Her father owned a gas station and I used to fill up my car there. One day he said those legendary words, "Y'know, my daughter sings" (chuckles), and I thought "Oh, ****, here we go again…" He handed me a tape, and when I heard it, I flipped! She and I have written songs throughout the '90s, and in my opinion, she's on the verge of a big breakthrough. She got some amazing reviews for Love, Janis.
I had a tune ready for the World Stage album called "Diamonds for Stones," and originally, I had Richard Marx singing the duet with me. He did a great job, but one day he called me and asked "Why am I singing a love duet with you? You need a female." So I called up Cathy, and she did a great job, too, and everybody agreed that the duet with her was the way to go. She also appears with me on the last song, "From Here to Hereafter." It's about the concept of a love that doesn't die, even if the person dies; it keeps going, into hereafter.
Other people I've produced, like Anthony Gomes, are also on the album. Anthony's album, Blues in Technicolor, is one of the most recent things I've done.
Let's talk about some of your more recent guitar acquisitions, both utility and for your collection.
I got a great new Gibson ES-135; it looks like an ES-125, but it has a center block, like a 335. Mine is in a sort of Gretsch orange finish, which I think they only made for one year. And I use a great light green Mexican Strat, of all things. They're making some great guitars down there – I'd put this guitar up with any of the vintage reissues, and I paid next to nothing for it; it's the best value on the market. I thought I might have to replace the pickups, but the stock ones sound real good.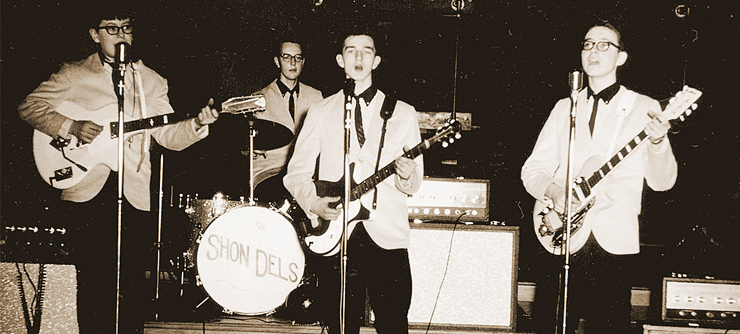 I picked up a white '78 Gibson SG doubleneck about a year ago and played it on some dates I did with Brian Wilson. I would switch from the 12-string on songs like "Wouldn't It Be Nice" to the six-string for songs like "Surfin' U.S.A." I did the Letterman show and Farm Aid with him, and some other performances, and we co-wrote two songs, which was a real thrill.
I've gotten into Epiphone Rivieras; I bought a '66 in sunburst and a Cherry Red '67. I like that cool Frequensator tailpiece on those. To me, it's a better value than a 335, and it's rarer. I also bought a '67 Rickenbacker six-string I used on "Til It Shines," a song on the new record. You can tell the guitar figure is being played on a Rick – the way the strings fail to resonate (laughs)! It's almost Jazzmaster-like! I also picked up a [Gibson] Lonnie Mack Flying V awhile back, and a very clean '56 Les Paul Jr. that had been under somebody's bed for decades.
I used to change amps often, but now I've settled into using a Matchless Brave. It's 1×12″. No frills, but it sounds great.
And I need to mention the Hamer Korina Explorer I have; it's serial number 40 out of 100, but I used to own number 32, and traded it away. Unfortunately, we have this disease about owning guitars, and one of the symptoms is that as soon as you trade away or sell a great guitar, you immediately go on a search to find it. I'm sorry that I traded that Hamer away, but the good news is that number 40 is a cooler guitar, so I came out alright.
One unusual public service project for you was the "designated driver" version of, "Vehicle" that was heard on radio stations.
A guy called me from an ad agency representing Budweiser and wanted to know if I'd be willing to sing a new version that went "I'm your vehicle, baby, I'm your designated driver." There was almost no money in it, but I went to Nashville to do it, because there have been too many people who've been victims. I really pitched for the Ides of March to do the track, but because it was a "jingle thing," they had their own guys lined up, and those musicians did a pretty good job on it.
Was there any thought of using the original song with different vocals? The ad almost sounds like it was done that way.
Yeah, but it didn't fit the format of one minute or whatever. Jingle guys are a totally different breed.
As I recall, I heard it on a modern rock station, probably sandwiched between Creed and Kid Rock. How does that make you feel?
(chuckles) Hey, whatever helps the cause! That song does not die; you'll see it and hear it any given year on TV shows. I've even seen it performed karaoke-style! There's something about that song that's timeless.
I was recently looking at a photo you sent of a very early band of yours called the Shon-Dels; presumably, that's you on the left with what you termed in your first interview to be a Davoli/Wandre "nightmare" guitar.
It is, and I still have that guitar. That was the first picture ever taken of one of my bands, which actually morphed into the Ides of March, except the drummer, who left because he felt there was too much bass in our sound.
But those are all guitars being held by you and two other guys in the photo…
There's actually a Danelectro six-string bass in the middle.
Do you agree the Silvertone Twin-Twelve amps in the photo had what might have endearingly been called "the world's worst reverb?"
The world's worst everything (laughs)! I had no love for that particular variant of the Silvertone amp. They sounded dull, they had no sparkle to their sound, and the reverb was heinous. We got rid of those soon after that picture was taken.
Do you still think Gibson RDs are butt ugly?
I stand by that. And by the way, Rick Nielsen will never forgive me for predicting the resurgence of the Gibson V2 as a collectible guitar (laughs)!
Looking back at your experiences, including what you've done with the all-star effort with World Stage, you continue to have a very nice career, and presumably a nice income, as well as just a songwriter. Why do you feel the need to continue to play, even if it's in a unique format like World Stage and the regional efforts of the Ides of March?
Because I love the stage. When I went onstage at a talent search in Berwyn, Illinois, at age 11, and sang "Kansas City," and heard my voice coming through that PA, and heard the applause, I was hooked for good. I'm most comfortable when I'm onstage, and it helps my songwriting tremendously – I don't know how people manage to write songs in a "laboratory." I put my songs on the street, to see what the people are digging, and if they're not digging it, I'll write a better song. So to me, performing and songwriting go hand in hand.
Well-stated, as are the bulk of Jim Peterik's songs. He's a consummate musician, who is continuously attempting to hone his craft after over three decades in the public eye, and he's still got an appreciation for classic instruments (and his collection confirms such). By the way, among the artists we didn't discuss appearing on the World Stage album are Rick Nielsen and Bun E. Carlos (Cheap Trick), Tom Keifer (Cinderella), and Kelly Keaggy (Night Ranger). The notable participants in Peterik's project avers the respect the Chicago musician has among his peers. Peterik also wanted to be sure the Ides of March horns received their due; the members of that aggregation include Chuck Souman (trumpet), Bob Bergland (sax), John Larsen (trumpet), and Dave Stahlberg (trombone).
---
Peterik's onstage arsenal with the Ides of March includes a vintage Telecaster and a vintage Gibson Les Paul.
For up-to-date info on Jim Peterik, go to www.jimpeterik.com
---
You can receive more great articles like this in our twice-monthly e-mail newsletter, Vintage Guitar Overdrive, FREE from your friends at Vintage Guitar magazine. VG Overdrive also keeps you up-to-date on VG's exclusive product giveaways! CLICK HERE to receive the FREE Vintage Guitar Overdrive.
---
This article originally appeared in VG's March '01 issue. All copyrights are by the author and Vintage Guitar magazine. Unauthorized replication or use is strictly prohibited.