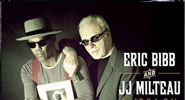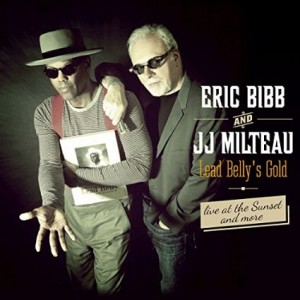 The September '15 "Check This Action" column was devoted to an impressive box-set the Smithsonian Folkways label dedicated to Lead Belly, whom Eric Bibb and J.J. Milteau honored with this CD.
Lead Belly's importance to American culture can't be overstated. He sang against racism at a time when that could have dire consequences and was embraced by so-called "reds" like Woody Guthrie and Pete Seeger, and he returned their admiration and affection.
He wrote "Goodnight, Irene" – a Weavers' #1 hit, also covered by artists ranging from Frank Sinatra to Johnny Cash to Eric Clapton. His recording of "Rock Island Line" was duped by Englishman Lonnie Donegan, kickstarting the skiffle movement that gave birth to British rock and roll.
And, of course, he sang his way out of prison – twice.
But beyond all, Huddie "Lead Belly" Ledbetter had a distinctive, piano-like approach to the 12-string guitar, was an engaging performer, and wrote or collected innumerable songs that became staples of the Folk Boom and beyond.
Although Lead Belly died two years before singer/guitarist Bibb was born, there wasn't a time when his music wasn't around, thanks to the association with the folk movement Bibbs' father, Leon, had.
Jean-Jacques Milteau is a prolific blues harpist in France (where Lead Belly toured, incidentally). Of Lead Belly, he states, "Only great artists showcase such timelessness while chronicling their times."
The pair's tribute includes 13 songs associated with Ledbetter along with three originals inspired by him – in the case of "Swimming In A River Of Songs," Bibb singing Lead Belly's life story in first person.
On the opening "Grey Goose," Milteau's harmonica sounds like an accordion, which Lead Belly also played. Likewise "Midnight Special," which is given a Cajun feel. Milteau's bluesiest playing is on "Where Did You Sleep Last Night" (variously known as "Black Gal" and "In The Pines").
The CD includes both live and studio recordings, some with additional musicians on drums, bass, mandolin, electric piano, and background vocals.
"Pick A Bale Of Cotton" and "Bring A Little Water, Sylvie" spotlight Bibb's delicate fingerpicking; Milteau inserts the melody of "John Hardy" into "On A Monday"; and "House Of The Rising Son" is taken at a snail's pace, to great dramatic effect.
Other Lead Belly favorites "Stewball," "Bourgeois Blues," "Rock Island Line," "Titanic" (with Bibb on banjo), and of course "Goodnight, Irene" are included – all doing justice to the monumental figure that was Lead Belly.
This article originally appeared in VG's April '16 issue. All copyrights are by the author and Vintage Guitar magazine. Unauthorized replication or use is strictly prohibited.