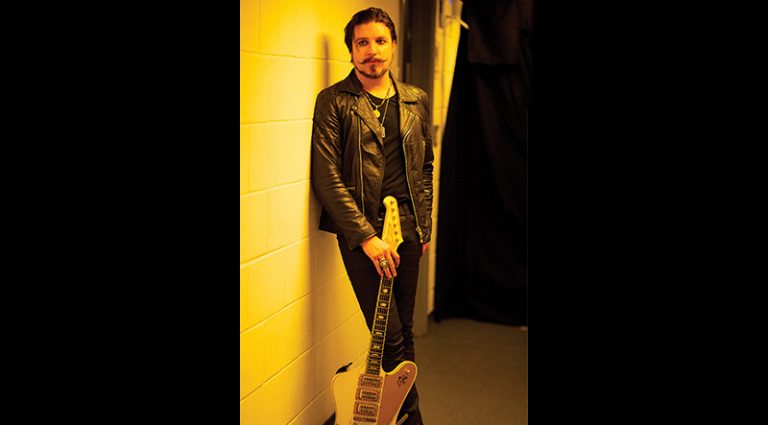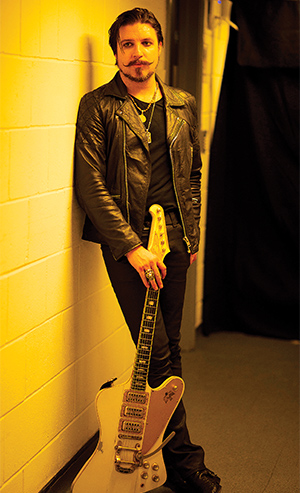 Regardless of the state of pop or rock music, it's invigorating when a group comes along to remind us what rock and roll sounds like when it's written from the soul, played from the gut, and delivered with conviction. Offering all but the smell of the hot EL34s, Rival Sons' latest album, Great Western Valkyrie, shows how guitarist Scott Holiday has passionately cultivated his tone.
"As a kid, I was always taking pickups out and swapping parts around on my guitars," he said. "I'd take the neck off an old Hondo and put it on an Ibanez. With amps, I was always putting old Ampegs and Fenders together – just about anything I could get my hands on."
The first time he heard amazing tone was at a rehearsal with the band Face To Face. "[Guitarist/frontman] Trever Keith had a pair of plexis in stereo. I had never heard anyone with vintage plexis in stereo with a Les Paul; that was the beginning of the Marshall world for me."
Holiday flirted with Laney and Hiwatt amps before discovering Orange. Onstage, he employs a pair of OR 50s.
"The OR 50 is an absolute rock-and-roll machine," he said. "I use one dirtier and one cleaner and jump between them; then a third that's not an amp, but my secret weapon, loaded with sonic goodies. It all runs through four Orange 4×12 straight cabs loaded with Vintage 30s."
The studio is altogether different.
"I'm a firm believer in the 'small amp, giant sound' theory. I use a lot of old Supro, Silvertone, and National amps in the studio – the kind that catch fire if you leave them plugged in too long (laughs)! I don't always have to have tubes, either. I sometimes like a good solidstate amp like the Vox Berkely series, for recording."
His touring arsenal is a blend of custom and vintage instruments.
"On the vintage side, I like to travel with my '65 Gibson non-reverse Firebird, a '62 Fender Jazzmaster, and my first Firebird – a '99 in Pelham Blue.
"I also have a lot of custom pieces; my custom Fano GF6 is radical, an unbelievable Meloduende Billy Bo made of chambered aluminum, a Heatley that is being built, and my three custom Kauer Banshees."
In early 2012, Holiday partnered with Kauer Guitars. "Doug [Kauer] reached out, and I had seen his work years prior when I started getting into Firebirds, and really liked what he was doing.
"My first Kauer was a goldtop with pinstriping and a Bigsby. We've since done a white one with TV Jones pickups and a green one."
On the acoustic front, he uses a Republic single-cone brass-bell resonator. "I do all my acoustic stuff – radio and that sort of thing on the road – with the Republic. It's great-sounding and loud. Soon, I'll be adding Yamaha LL26 and LL56 acoustics to the tours, as well."
---
This article originally appeared in VG June 2015 issue. All copyrights are by the author and Vintage Guitar magazine. Unauthorized replication or use is strictly prohibited.
---