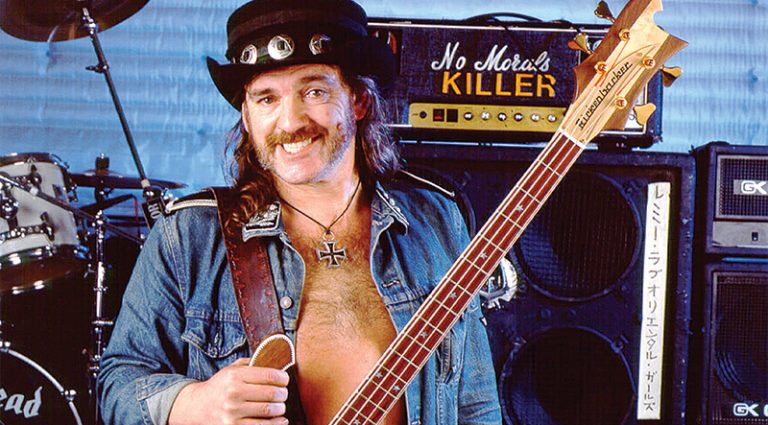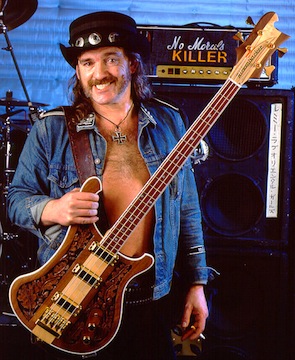 Ian "Lemmy" Kilmister, founding bassist for the iconic heavy metal band Motörhead, died December 28, two days after reportedly being diagnosed with an aggressive form of cancer and four days after his 70th birthday.
Kilmister hailed from North Wales. England, and lore had it that he gained the nickname as a youngster, when he would borrow money from schoolmates ("Lemme a fiver"), though Kilmister himself was unsure of its origin.
Originally a guitarist, his first instrument was a Höfner Club 50. In a 1994 interview with Vintage Guitar, he recalled that his next guitar, an EKO "…had four pickups and 10 buttons; only four of 'em worked! Then I got a single-cutaway Harmony Meteor. That was a good guitar; I traded it for a Gibson 330."
Kilmister's initial encounter with fame/notoriety was with an English band called the Rockin' Vicars, which in 1965 became one of the first Western bands to play behind the Iron Curtain. Later that decade, he was a roadie for the Jimi Hendrix Experience. He began playing bass in the early '70s, when he joined the space-rock band Hawkwind, interpolating his rhythm-guitar sensibilities into a sound usually forged with a Rickenbacker. "They're very good instruments for a guitar player turned bass player," he opined. His Ricks were modified with pickups from a Gibson Thunderbird and he recorded several albums with Hawkwind, from In Search of Space to the landmark double live Space Ritual (where his bass was up-front on tracks such as "Orgone Accumulator" and "Lord of Light") through Warrior on the Edge of Time.
"I was still auditioning when I was fired," he recalled with a laugh. "They never told me I was in the band, and I played with Hawkwind for four and a half years!"
Kilmister formed Motörhead in 1975 with guitarist Larry Wallis and drummer Lucas Fox, but the personnel soon evolved to the classic lineup of "Fast" Eddie Clarke on guitar and Phil "Philthy Animal" Taylor on drums. The band created a loud, take-no-prisoners sound and cultivated a rabid following. Among its albums was another legendary live offering, 1981's No Sleep 'Til Hammersmith. In the mid '80s, the band endured rotations in the drummer and guitarist slots, as well as legal troubles. Its most-enduring lineup featured Phil Campbell on guitar and Mikkey Dee on drums, which lasted from 1995 until Kilmister's death.
Circa 2002, Rickenbacker introduced a signature 4004LK limited-edition bass with three pickups, gold hardware, and a top carved with oak-leaf designs; Kilmister used it through the remainder of his life.
In its 40 years, Motörhead released 22 studio albums, nine live albums, and numerous compilations and boxed sets. The band's legal/business travails led to numerous unauthorized albums. It also made the transition to video, releasing several live VHS and DVD offerings, including Everything Louder Than Everything Else, which documented the band's 1991 tour of Germany. Kilmister was the subject of a biographical documentary released in 2010.
He disdained the "rock star" image and attitude, instead taking on the persona of a grizzled philosopher/pragmatic curmudgeon who would offer straightforward opinions on warfare ("hate, fear, love and death, all at the same time") and other sociopolitical issues. He was also a collector of Nazi memorabilia.
An advocate of musical productivity ("If a band can't put out an album a year, they ain't workin'," he said in '02), he applied that credo to his own aggregation; Motörhead's last release was Bad Magic, which debuted in August of '15; its final track was a cover of the Rolling Stones' "Sympathy for the Devil."
In posts to social media following his passing, musicians and fans agreed that Kilmister's musical influence was as large and unique as his personality.
---
This article originally appeared in VG April 2016 issue. All copyrights are by the author and Vintage Guitar magazine. Unauthorized replication or use is strictly prohibited.
---
To read the 2002 interview, go to www.vintageguitar.com/2931/lemmy-kilmister/.
To read the 2012 feature, go to www.vintageguitar.com/22909/lemmy-kilmister-2/.