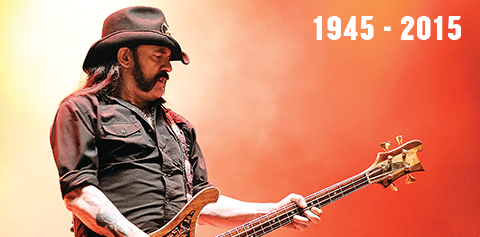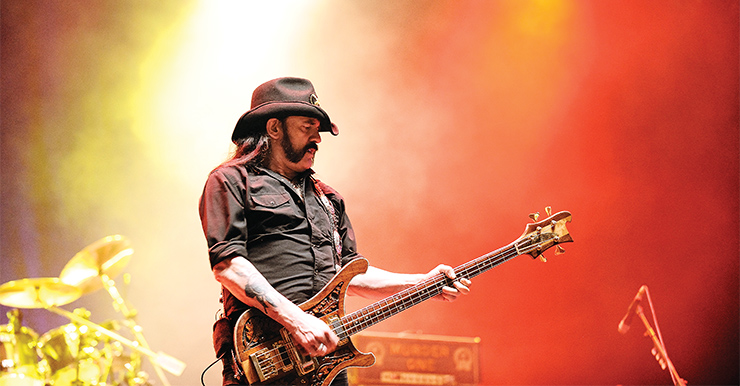 Motörhead bassist/vocalist and heavy metal icon Lemmy Kilmister will, in a few years, be 70. But the enthusiasm for his craft – and the decibel level at which his music is presented – remain undiminished and unimpeded.
Kilmister has attempted to maintain the band's policy of releasing an album a year, and in recent times it has recorded several live albums; The Wörld Is Ours, Vol. 1: Everywhere Further Than Everyplace Else (released in November, 2011) and The Wörld Is Ours, Vol. 2: Anyplace Crazy As Anywhere Else (October '12) are multiple-disc sets recorded during the band's late 2010/early '11 tours to support 2010's The Wörld Is Yours. The '11 release included two audio CDs and a live DVD, while Vol. 2 went one better, with two audio CDs, a DVD, and Blu-Ray. What's more, a 2010 limited edition of The Wörld Is Yours was a two-disc set with a live DVD recorded in Germany in '06. That's a lot of loud (mostly live) music, and the Godfather of Metal wouldn't have it any other way, as he detailed when he went on the record to discuss Vol. 2.
"You just keep workin' in different ways, and we decided to put these two (live releases) out back-to-back so we could show off a bit," Kilmister said with his trademark rasp. "And it must be what the fans want, 'cuz Vol. 2 just went to number one in Germany."
For all of the recent video accompanying audio releases, Motorhead hasn't changed its show or compromised its music simply to enhance the visual facet.
"I don't think about it," Kilmister noted with a chuckle. "With me, it's still 'head up, stand still, play bass,' and there's not much you can do with that formula."
The cover of Vol. 2 shows the band's legendary bomber-shaped lighting rig, but it doesn't make it to every show because of logistics and/or expense. "It takes an 18-wheeler just to haul it," he said.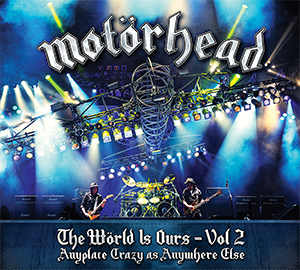 While Germany is still the acknowledged hardcore center of Motörhead's fanbase (17 tracks on the second volume were recorded there), another growth area for the band is South America; 17 tracks of Vol. 1 were recorded in Santiago, Chile, while several on Vol. 2 are from the Rock in Rio festival in Brazil.
"South America is good," Kilmister averred. "Rio seems to work even better, 'cuz you get people from other countries. A couple of years ago, we played Uruguay for the first time. We started out playing Argentina on one tour, then went to Brazil, then to Chile and Venezuela… and you're lookin' to get out of Venezuela once you get in…"
Some of the song arrangements on Vol. 2 are intriguingly different. "Just 'Cos You Got The Power," for example, has a slightly slower (more insistent) tempo and is introduced with a blistering indictment of politicians from Lemmy. Guitarist Phil Campbell gets an extended solo prior to one song and drummer Mikkey Dee gets a drum solo in the middle of another, while Lemmy is content to do his usual short solo, using his signature Rickenbacker, on "The Chase Is Better Than The Catch."
"Two solos is enough," he observed. "When I get a solo, it's a fake lead, ya' know?"
Six tracks on Vol. 2 were recorded in July, 2011, at the Sonisphere Festival at Knebworth, England. Former Motörhead guitarist Michael "Würzel" Burston had died the day before, and Lemmy dedicated the band's performance to him. Würzel was in the band from 1983 to '95, and the last album on which he played was Sacrifice, though he left before the tour to support it.
"We didn't want to cancel, and I don't think Würzel would have wanted that, either," Kilmister said of the Sonisphere concert. "And you know how our audience is."
Gear-wise, the Godfather of Metal is still relying primarily on his three-pickup signature Rickenbacker, but noted, "I've been trying some of the older stuff, as well, and I still have that 'Out To Lunch'/'Born To Lose' mystery Rick," referring to his oddball with a maple fretboard and holes in the headstock where other tuners were once installed.
Motörhead has been a three-piece since Würzel's departure, and its present members are the longest-running in its history. Campbell and Würzel both joined in '83, while Dee took over the drum slot in '92. For something as frenetic as hard rock, that's a markedly stable situation.
The band continues to purvey its pulverizing music, and plans to record a new studio album in January of 2013. While Kilmister turned recently turned 67, somehow, one can't envision Motörhead lurching into the senior-citizen bracket while becoming a parody of itself.
"That's a terrible thing to watch, y'know?" he said of certain other aggregations. "That ain't gonna happen to this band."
---
This article originally appeared in VG's May 2012 issue. All copyrights are by the author and Vintage Guitar magazine. Unauthorized replication or use is strictly prohibited.
---