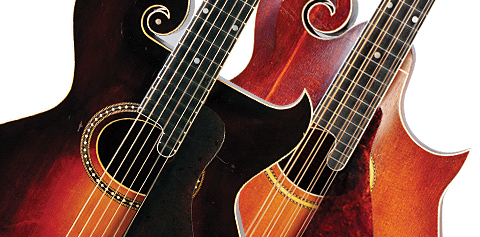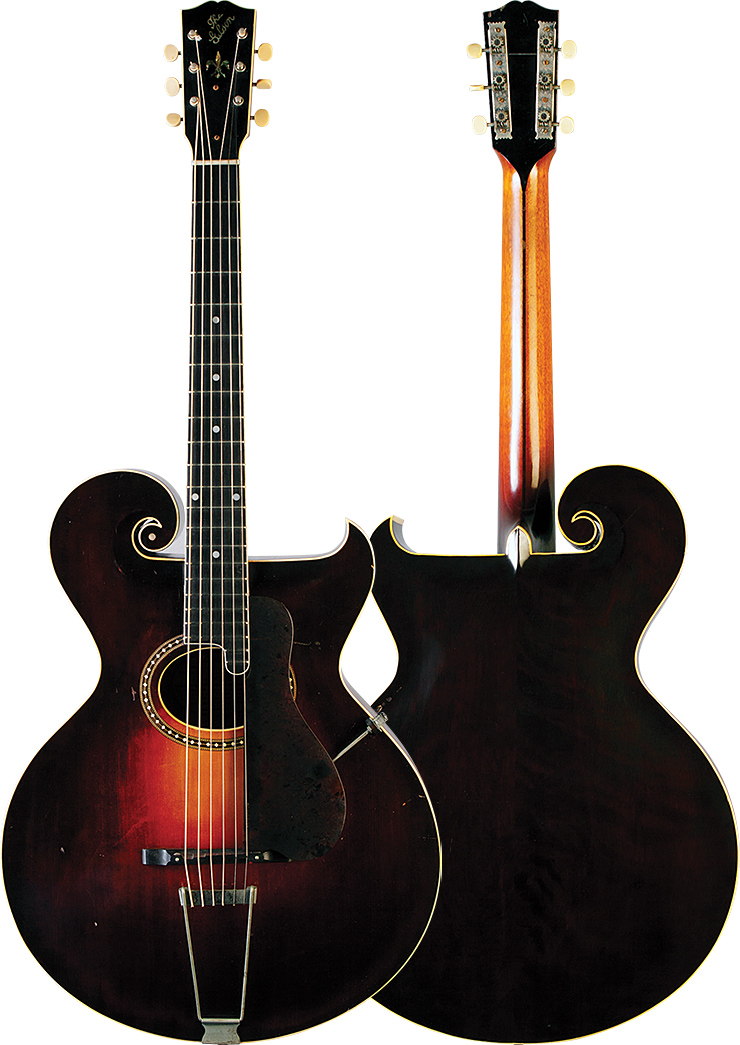 The mandolin originated in the Middle East as a bowl-back instrument. Crusaders brought it back to Europe and early Italian builders evolved the design, giving it four paired strings tuned like a violin but with a back similar to a lute (also of Arabic origin).
In the mid 1890s, Orville Gibson revolutionized mandolin design, structurally and aesthetically, by constructing instruments with carved backs and tops that were carved and arched.
The Gibson Mandolin-Guitar Company was founded in 1902 by a group of businessmen in Kalamazoo, Michigan, who purchased Orville Gibson's patents. By 1906, Orville had virtually no contact with the company, the business grew rapidly and began making a variety of models. Aside from redesigning and refining Orville's patterns, one of the company's greatest innovations was a family of instruments with mandolin, mandola, mandocello, and mandobass tuned respectively like a violin, viola, cello, and upright bass. While Waldo instruments of Saginaw, Michigan, and Bohmann, of Chicago, were among the first to introduce mandolas and mandocellos, the Gibson company was an effective pioneer in marketing and developing fine mandolin-family instruments.
Wisely, Gibson introduced instruments which could utilize the same sheet music published for bowed instruments; printed music for Italian instruments in piccolo and octave sizes was very limited, while there was a library of classical and popular music available for violin – and therefore mandolin-family instruments. When mandolin orchestras proliferated shortly after the turn of the century into the early '20s, Gibson took advantage of the trend by partnering with "Gibson approved" music teachers who essentially acted as dealers and could arrange financing for direct purchase. This was unique in the industry at the time. In addition, Gibson aggressively promoted its instruments to mandolin orchestras by giving them the opportunity to promote their group in Gibson catalogs; photos of numerous trios, ensembles, and mandolin orchestras featured prominently in catalogs of 1910s and '20s. Gibson also published teaching manuals for numerous private instructors and music schools who set up these orchestras.
In addition to the mandolin family and harp guitars, many six-string guitars found their way into these groups, as well. Gibson first listed the Style O Artist Model in its 1902 catalog, but the scroll body on the Style O first appeared in '08. While last catalogued in 1922, this example was made in '23 (during the Lloyd Loar era) and production continued until '25. Prior to the introduction of the L-5 in 1923, the Style O was the most deluxe six-string guitar in Gibson's catalog.
This Style O has a scroll body similar to that of the mandolin instruments, though it lacks the lower-bout point of the Artist Model mandolin family. It has a carved spruce top with round sound hole, mahogany neck with dark center lamination, ebony fingerboard with pearl-dot inlays, peghead inlay with "The Gibson" and fleur de lis in pearl, and birch back and sides (in catalogs, instruments with birch back and sides were often incorrectly described as having maple). Gibson guitars were built with birch back and sides until 1924, as were many pear-shaped A models and several F-style mandolins.
This Style O Artist Model has Gibson's adjustable-height bridge (patented in 1921), elevated pickguard (1909 patent) and 1911 patent date stamped on the guard's fastening clamp. It also has the adjustable truss rod introduced in '22. Notably, the Style O has a neck that joins the body at the 15th fret, providing better access to upper registers. Gibson beat Martin to the punch by several years with the Style O and the L-5's 14-fret neck, introduced in '23; Martin didn't have a 14-fret neck until the introduction of the OM-28 in late '29.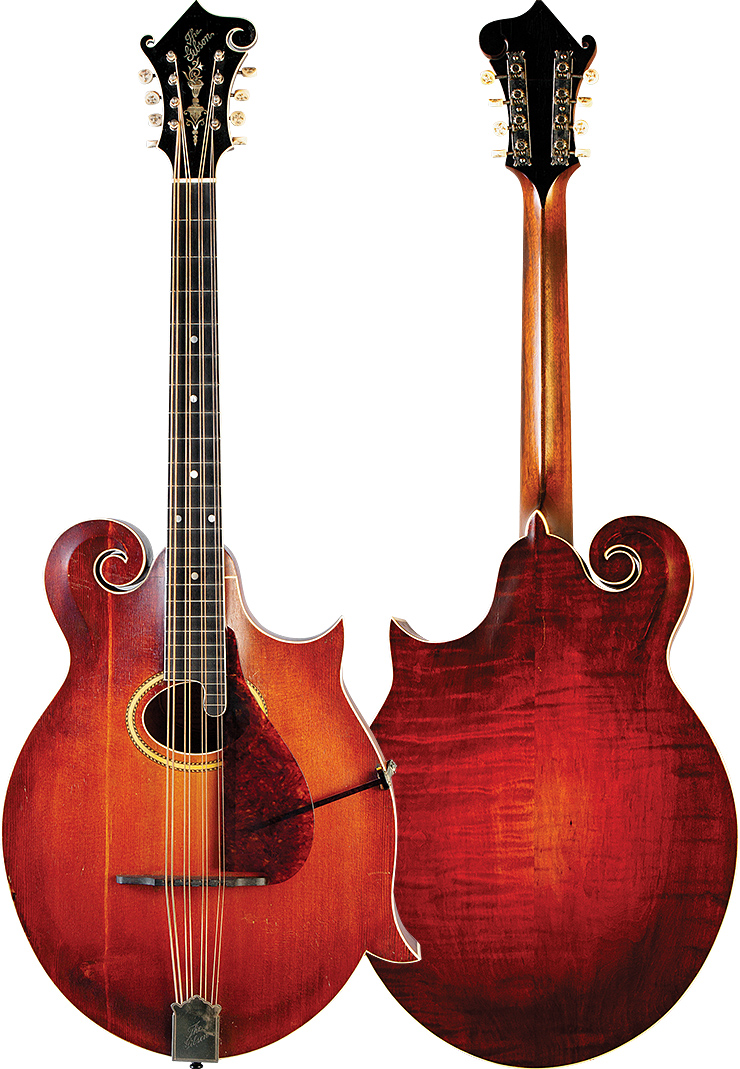 The K-4 Artist Model mandocello was introduced in 1912, companion to the F-4 mandolin and H-4 mandola. At that time, Style 4 instruments, with scroll bodies and oval sound holes, were the top of the line. Finer-quality Gibsons, including many of Orville's early designs, had a curlicue scroll and points on the body, including the Style 5 mandolin and mandola with f-shaped sound holes, which were introduced in mid 1922. The K-4 was the fanciest mandocello when this example was made, and the fanciest scroll-model mandocello ever produced by Gibson.
The K-5 was introduced in '24 and manufactured in limited quantities. Its body looks essentially like an L-5 with four pairs of strings.
Like its mandolin and mandola counterparts, this 1914 K-4 mandocello (serial number 26088) has a scroll body shape, carved spruce top with oval sound hole, figured-maple back and sides, mahogany neck with dark center lamination, ebony fingerboard with pearl-dot inlays, "The Gibson" and flowerpot pearl peghead inlay, tailpiece cover embossed with "The Gibson," and (typical of higher-grade Gibsons made prior to 1918) tuner buttons with inlaid wire and pearl ornamentation.
The finish on top has a light stripe on the bass side, from the scroll to the lower bout. While this may appear to be the result of a crack, it's actually a sap line in the wood which was most likely virtually invisible before finish was applied and likely didn't show up until years after the instrument was completed.
While the K-4 and Style O guitar are deluxe models of exceptional quality and were part of a popular musical movement, both are rare – especially the mandocello. Just as a disproportional number of orchestra students study violin rather than viola, cello, or bass, vastly more mandolins were sold than mandolas, mandocellos, or mandobasses. In some ways, this is much like the present trend in which vastly more guitars are sold than basses in spite of the fact virtually every band needs a bass and few bands use more than two guitarists.
After World War I, production of these models slowed, then ceased once the popularity of mandolin orchestras diminished and Dixieland music – which used horns, piano, and tenor banjo – became the new fad. Also, since larger instruments cost more to manufacture, list prices for mandolas and mandocellos were higher. As the years have passed, many instrument owners came to the realization that it's much easier to transport and store smaller instruments.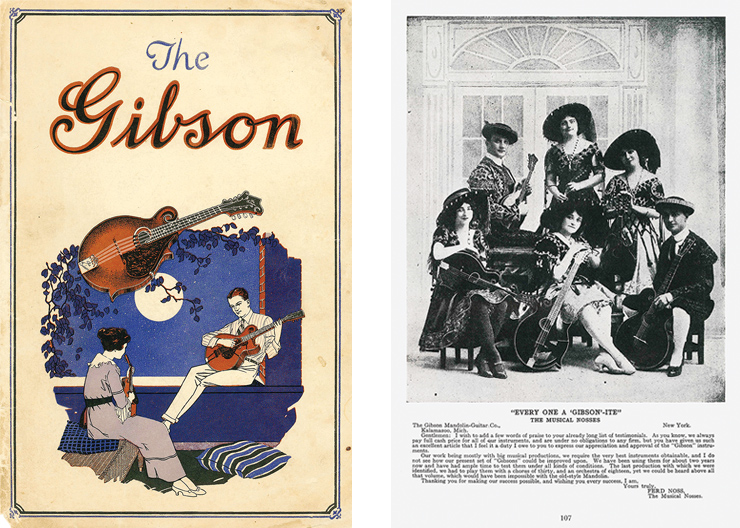 ---
This article originally appeared in VG May 2015 issue. All copyrights are by the author and Vintage Guitar magazine. Unauthorized replication or use is strictly prohibited.
---