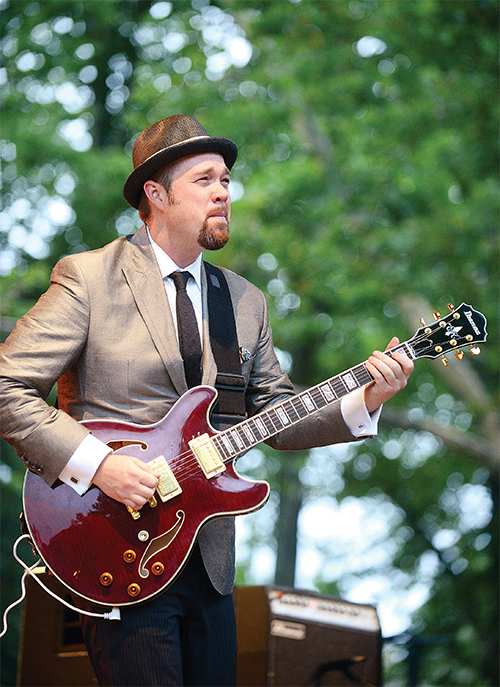 Eric Krasno is on a roll. The guitarist in the soul-jazz organ trio Soulive moonlights with the funk ensemble Lettuce, co-produced The London Soul's upcoming record, and lends his production talents, playing, and songs to a slew of other artists; he most recently produced a new album by Aaron Neville. Then, there's a new solo album in the works that, while still heavy with guitar, will feature him as vocalist.
Will the new solo record sound different than Soulive and Lettuce?
Exactly. It's also what I've been doing for a long time, but I've never put anything out under my name. It's always been for other people, like Derek Trucks. There's still soul and funk, but it's more rock-and-roll, a little more edgy.
People might be surprised to learn you come from a rock background.
I was always into funk, too. Hendrix and Stevie Wonder were huge for me, and I was into the funkier tunes on records like Led Zeppelin's "The Crunge." When I discovered James Brown and all the great rhythm guitar players, I was infatuated. Then, I got into guys like George Benson and Wes Montgomery, and started listening to more jazz. I was always into more funky jazz, like Herbie Hancock's Thrust and Head Hunters. When Lettuce started, that's what we were listening to. When we started Soulive, I was into that kind of music. I wasn't all the way into Grant Green and that – I discovered it as we were going. I got my first hollowbody guitar literally driving out to do the first record. I bought a beater and was like, "I should have one of these, right?" (laughs)
What were you playing before the switch to hollowbodies?
A Strat; that was my thing, early on. Switching to a semi-hollow helped me shape my own sound. I got into Ibanez guitars after I bought an Ibanez George Benson GB-200. After that, I met John Scofield and through him met the folks at Ibanez. Within a couple of years we started talking about a signature guitar, and after lots of ideas and prototypes, the Ibanez EKM100 is finally out. Derek Trucks gave me a Gibson '59 ES-335 dot-neck reissue that I love. I wanted to take elements of that guitar and make it edgy and a little brighter. They copied the measurements of the 335's neck, so the signature guitar's neck is big and thick. Because it has more top-end, it really pops out of a mix onstage.
What other gear are you using?
On the Lettuce tour, I'm using a Fender '65 Super Reverb and a '69 Fender Vibrolux. I also have a really awesome Mesa Boogie Lonestar. My effects are always changing; I have an MXR Carbon Copy, a Line6 DL4, and a Pigtronix Fat Drive and Class A Boost. My pedal board is becoming just gain and boost (laughs). I use a Boss Phaser and Tremolo because they're sturdy as hell and sound pretty good.
How often do you get to do solo gigs?
Not enough. I get my ass kicked hanging out with John Scofield. He makes me play better.
---
This article originally appeared in VG's April 2015 issue. All copyrights are by the author and Vintage Guitar magazine. Unauthorized replication or use is strictly prohibited.
---