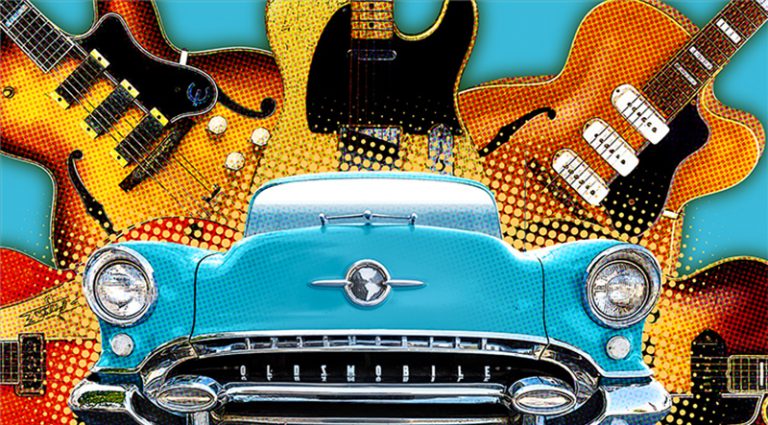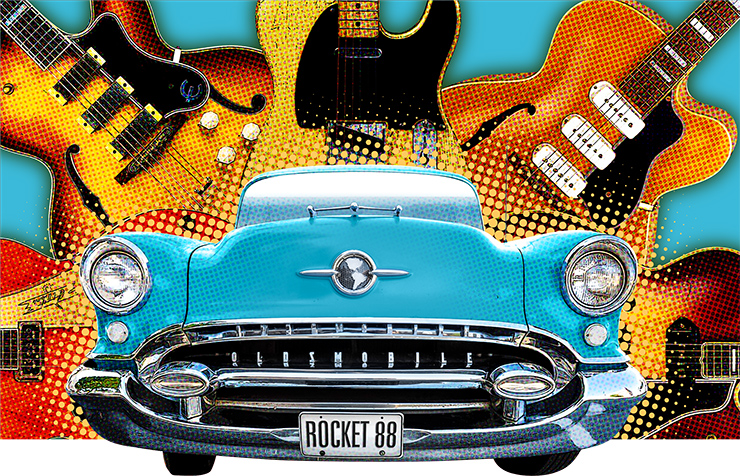 Fans often mark the beginning of rock and roll as either Elvis Presley's Sun Sessions or Bill Haley & the Comets' "Rock Around the Clock," both recorded in 1954. But three years earlier, in early March of 1951, Jackie Brenston & His Delta Cats were credited on a 78-rpm single called "Rocket 88." Played in a rollicking boogie-woogie style, it's also the track that many pop historians point to as the first official rock and roll song. If there's any Big Bang moment in rock history, that might be it.
The real genius behind "Rocket 88" was Ike Turner, later of Ike & Tina fame, while the backing band was his Rhythm Kings. Ike's piano work, Brenston's vocals, and Raymond Hill's tenor sax dominate the recording. However, it's the driving I-IV-V guitar figure played by the relatively unknown Willie Kizart that propels the song, and he even grabs a deliciously rude chord chop at the climax.
"Kizart had been deeply influenced by bluesman Earl Hooker," said blues historian Jas Obrecht. "As fate would have it, a fortuitous accident on the day of the session put Kizart at the very forefront of a classic rock-guitar sound – his amp fell from the roof of the car. Producer Sam Phillips told me that the impact broke the speaker cone. They couldn't get it fixed, so Phillips stuffed paper around the ruptured cone and proceeded with the session. As a result, Kizart delivered his boogie lines with a fuzzed-out sound years before fuzztones were invented. The resulting 2:47 of pure dynamite paved the way for much great music to come."
While the roots of rock and roll are older than this one recording, "Rocket 88" gives us a fixed historical point where we have proof of the genre's existence and, more important, one that includes the electric guitar. As a dash of perspective, keep in mind that the Brenston/Turner version of "Rocket 88" was recorded during the Korean War – not an era we normally associate with sexually suggestive, guitar-driven music. Harry Truman was president and the Cold War was raging between America, China, and the USSR. Yet at the same time, guitarists across the country were plugging archtops, pickup-fitted acoustics, lap and just-invented pedal steels, and newfangled "solidbody" guitars into little tube combos. Essentially, they were electrifying popular music. While most of us can recite the names of rock's first guitar pioneers – Chuck Berry, Scotty Moore, Bo Diddley, Buddy Holly, Duane Eddy – who were these early electric players pushing the envelope in the primordial ooze of the late 1940s and early '50s?
Welcome to the murky, early years of rockin' electric guitar.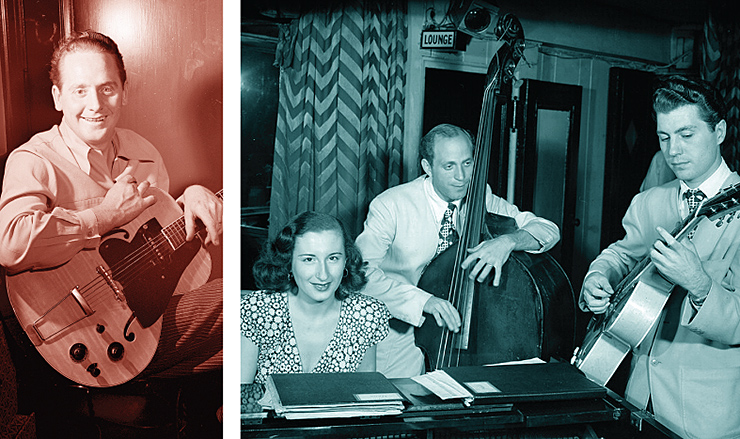 Rockin' the Blues
The realm of electric blues is an obvious starting point for our journey and, if we jumped in a time machine and went back some 65 years, the name T-Bone Walker would reign supreme. Walker's career began in the early '40s and hit a peak in '47 with "Call It Stormy Monday (But Tuesday Is Just as Bad)." A fluid soloist, Walker's single-note leads inspired a world of electric bluesmen, notably B.B. King, but, decades later, you hear these licks in recordings by Clapton, Hendrix, and Vaughan. As historian Pete Welding once wrote, Walker "almost single-handedly reshaped blues guitar into the agile, horn-like form that has become so familiar through the work of every blues guitarist who's put pick to string since."
"Without T-Bone, we'd not have Chuck Berry, B.B. King, and rock/blues as we know it," adds guitarist Greg Martin of the Kentucky Headhunters. "T-bone's approach on his Gibson ES-5 archtop – which he sometimes played sideways – spawned a tonal revolution."
For rock-and-rollers, we can look back to T-Bone Walker as the man who brought the electric guitar solo to the blues and, via Lonnie Mack, Mike Bloomfield and Jimi Hendrix two decades later, to rock. That's a big deal. We should also zero in on John Lee Hooker's early singles, "Boogie Chillen" (1948) and "Crawlin' King Snake" ('49). Powerful and intensely rhythmic, these records feature Hooker's driving electric style, inspired by North Mississippi "hill country" blues and its distinctively propulsive beat. You can't listen and not think about ZZ Top, Johnny Winter, George Thorogood, and even Hendrix's deeper blues cuts, such as "Voodoo Chile." Speaking of Jimi, we should at least briefly mention Lightnin' Hopkins. While the post-war Texas blues man was primarily an acoustic player, his flashy guitar work and dramatic style made a seismic impact. In fact, the more you listen to Hopkins and Hooker, the more you understand the playing of Jimi Hendrix and, by proxy, Robin Trower, Stevie Ray Vaughan, Frank Marino, and just about any heavy blues-rock guitarist.
Like Hooker and Howlin' Wolf, shouter/guitarist Muddy Waters was a man who helped bridge the span between acoustic Mississippi blues and the electric Chicago style he later helped nurture. Listen to "I'm a Hoochie Coochie Man" from January, 1954, to hear Muddy and co-guitarist Jimmy Rogers lay down mean blues licks rooted in the Delta style, but amplified to raw, aggressive perfection.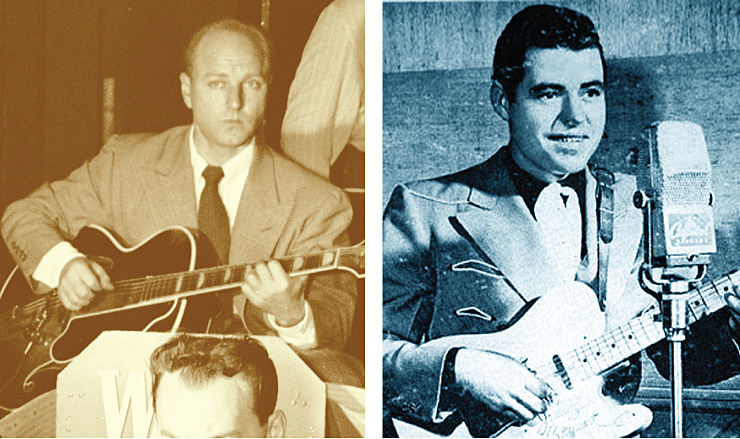 "Muddy Waters is the heaviest of the heavy," adds Martin. "Without Muddy, we'd have no Rolling Stones or Jimi Hendrix. Muddy was deep, Muddy was articulate, but most of all, Muddy Waters was real. From his jagged slide playing to his deep, soulful vocals, he took the Delta sound to Chicago and changed music history."
A quick survey of the era finds more of electric blues' first wave, including tenor-guitar ace Tiny Grimes, Slim Harpo, Earl Hooker, Howlin' Wolf, Robert Lockwood, Jr., and others who would become so important to white rockers of the '60s and beyond. In contrast to the powerful Chicago style, West Coast guitarist Lowell Fulson's "Reconsider Baby," also from '54, had more swing to it, as well as guitar solos rife with a fluidity rare for its day. As the Kentucky Headhunters guitarist sums up, "Fulson was an important practitioner of West Coast blues guitar. He's known for early work like 'Everyday I have The Blues,' and 'Three 'O Clock Blues,' but my favorite track is 1967's 'Tramp,' a funk tune later covered by ZZ Top and Otis Redding and Carla Thomas. Lowell had a big hollowbody tone in the spirit of T-Bone Walker, and was another big influence on later artists such as Eric Clapton and Junior Watson."
You can't talk about the transition from blues and R&B to rock and roll without mentioning Louis Jordan and his Tympany Five. Jordan's guitarist, Carl Hogan, and his double-stop licks on 1946's "Ain't That Just Like a Woman" directly inspired Chuck Berry's famous "Johnny B. Goode" intro, as well as "Roll Over, Beethoven." Berry said of his influences, "The first time I heard that riff was in one of Carl Hogan's riffs in Louis Jordan's band. We have T-Bone Walker; I love his slurs; he's bluesy. So I put a little Carl Hogan, a little T-Bone Walker, and a little Charlie Christian together… ain't nothing new under the sun."
Some rock critics hear the 1949 Louis Jordan hit "Saturday Night Fish Fry" and claim it as the first rock and roll song. In hindsight, the song's tight, swinging horn lines still keep it tethered to the world of jump blues or boogie-woogie, but thanks to its dirty electric-guitar licks – attributed a picker named James "Ham" Jackson – you can tell that rock music was just around the corner. In fact, this is perhaps a perfect transitional recording, featuring both swinging horns and electric guitar. Yet in just a few short years, the horn sections would fade away and, in their stead, kids would hear a whole lotta electric guitar.
Post-War Jazz
Like the electric bluesmen, jazz guitarists were plugging in the years after World War II, thanks to the brilliant Charlie Christian, who had died in 1942. A few years later, Christian-adoring guitarists like Oscar Moore, Barney Kessel (who had briefly met and even jammed with Christian), George Barnes, Jimmy Raney, Mundell Lowe, Billy Bauer, Mary Osbourne, and Herb Ellis were busy charting new harmonic possibilities on the fretboard. One early and underrated hero of this era was Chuck Wayne, who played with Dizzy Gillespie, Woody Herman, and the highly popular George Shearing Quintet. The guitarist swung like Christian, but added fast, 16th-note picking to Shearing's cocktail jazz, one that spoke of influences from Django Reinhardt and Eddie Lang, and probably some familiarity with flamenco guitar. Listen to the Shearing Quintet's take on "Conception" for a particularly blistering improvisation from Mr. Wayne.
You can't speak about post-war guitar without mentioning Johnny Smith. His 1952 album with saxophonist Stan Getz, Moonlight in Vermont, was a huge hit that helped spread the gospel of fatbody jazz guitar. Aside from framing his harmonically interesting guitar style, the album demonstrated Smith's command of the instrument.
"Johnny Smith was a true musician's musician," said jazz master Bruce Forman. "His technical prowess, harmonic awareness, and melodic approach to chord melody set the bar for how guitar could be played. Really, there isn't any contemporary guitar music that remains untouched by his genius."
For a primer in the Alabama guitarist's sophisticated style, listen to "Moonlight in Vermont" or, from the same album, the uptempo "Jaguar." The latter is even more fun when you compare Smith's central lick to Larry Carlton's obvious homage on "Strikes Twice," the title cut of his 1980 solo album. Smith is famous for two other achievements – penning "Walk, Don't Run" (big hits for Chet Atkins and, more importantly, the Ventures), and lending his name to Gibson, Guild, and Heritage Guitars to create their respective Johnny Smith models – all of which were great archtop designs. Smith even outlived most of the jazz guitarists of his era, passing away in 2013 at the fine age of 90.
Another towering figure was Les Paul, who threaded the needle between jazz and pop like no other guitarist of his day. His nimble, Django-fueled chops and penchant for flashy tricks and gimmicks made him one of the preeminent electric players of the entire post-war era. 1951's "How High the Moon" is the single recorded by him and wife, Mary Ford, but check out 1947's "Short Circuit" to hear Les tearing up on the fretboard with a few repetitive, rhythmic ideas and shred-like licks that, today, we might refer to as rock and roll.
Paul's influence on the rock era was enormous, not just for the ubiquitous solidbody that bears his name, but for inspiring countless rock heroes, notably Cliff Gallup, Jimmy Page, Steve Miller, and especially Jeff Beck, who became Paul's greatest acolyte.
"You can see why Beck became enamored of Les Paul; Jeff was one of the few players talented enough to understand – and build on – the complexity of Les' style," said H.P. Newquist, director of the National Guitar Museum. "It's also ironic that the actual Les Paul guitar became so popular among a younger generation of rock players, yet never caught on with Les' own jazz peers in the '50s. The instrument itself was why so many of Les' biggest fans were rock guitarists. Between his own playing and his association with the Les Paul guitar, he became one of the most important bridges between jazz guitar and rock and roll."
Country Pickers Plug In
The third leg of the musical tripod that gave us rock and roll guitar is the vast universe of country western music, where an extraordinary amount of electrified-guitar playing had a direct bearing on the rise of rock and roll in the mid '50s (not to mention the Texas-swing steel and Hawaiian lap-steel aces who plugged in even earlier).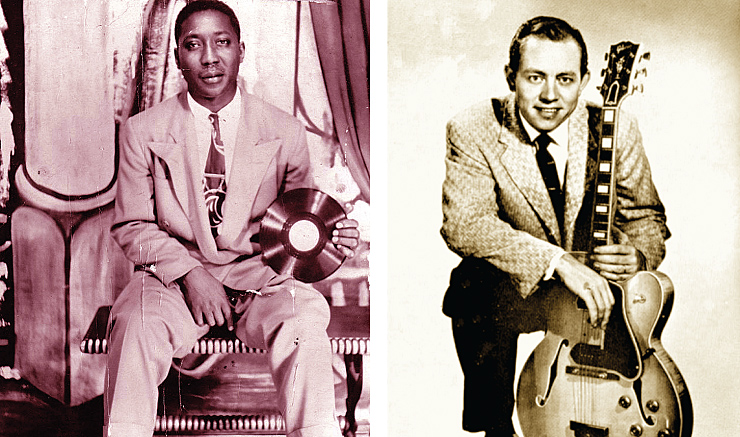 At the top of Nashville's plugged-in pyramid were Merle Travis and Chet Atkins, both important for teaching several generations of guitarists how to play proper fingerstyle guitar, with the melody played by the index and middle fingers and a thumbpick pumping out a root/fifth bass line – a style better known as "Travis picking." To it, Atkins added the banjo roll and other techniques from his flawless picking hand. Many of the early rock heroes were fingerstylists in Merle and Chet's tradition, such as Scotty Moore, Carl Perkins, James Burton, and Nokie Edwards. Even later rockers like John Cipollina (of Quicksilver Messenger Service), Yes' Steve Howe, and Mark Knopfler were heavily influenced by the Travis/Atkins school.
Travis wasn't just a technical innovator, but influenced the gear, as well.
"His attitude toward the instrument was, 'If you don't like something about your guitar, change it'," notes fingerstyle phenomenon Adrian Legg. "For example, he got Paul Bigsby to make a solidbody that any modern rock player would recognize. Why? Because he wanted it to sustain like a steel guitar. He also put the machine heads all on the same side to make restringing easier, and made a vibrato arm that worked properly."
One country paradox was the fact that Nashville studio cats like Grady Martin, Joe Maphis, and Hank Garland played electric guitar on early rock-and-roll hits by the likes of Elvis Presley, Ricky Nelson, and Jerry Lee Lewis. This helps us understand that 60 years ago, guitarists could – and would – slip easily between these genres, as many of the basic techniques and harmonies of each style are closely linked. Long before the over-categorizing days of music journalism, rock-history books, and Wikipedia, early electric music was fluid, dynamic, and exciting.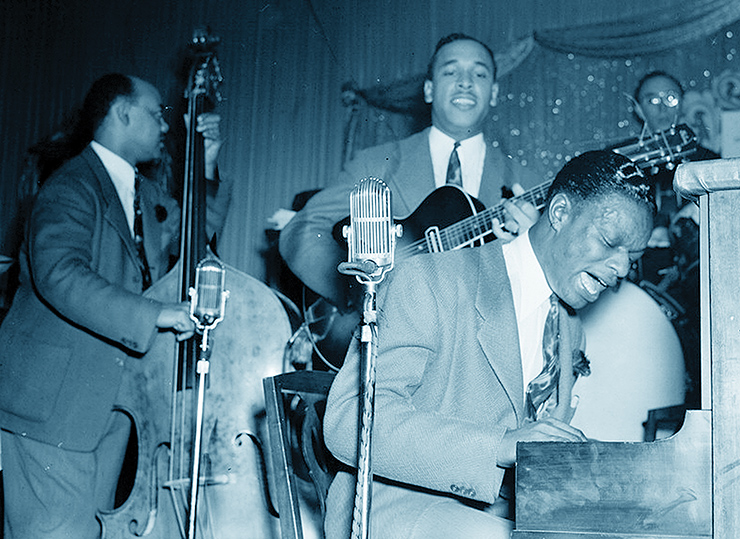 Another facet of electrified country guitar relevant to the rise of rock are the horn-like improvisations of jazz-loving flatpickers, such as Nashville session cats Maphis, Garland, and Phil Baugh, Western-swing players Junior Barnard and Eldon Shamblin, and Tele wizard Jimmy Bryant. This country/jazz hybrid would later evolve into everything from the interplay between Duane Allman and Dickey Betts to Jerry Garcia's ethereal jamming in "Dark Star," or even the jaw-dropping sight of Steve Morse tearin' it up in "The Bash" by the Dixie Dregs. Even John 5's country-inspired shred owes something to these twangin' post-war improvisers.
"Guitar Boogie" & More
As the threads of post-war guitar jelled into the rudiments of rock, the instrumental composition "Guitar Boogie," written by multi-instrumentalist and radio host Arthur Smith, was released in January, 1946. A fascinating combination of a blues riff played over a clackety-clack hillbilly rhythm on what sounds like a flat-top acoustic, Smith topped it with hot, single-note lead lines that speak to the horn-styled improv of Christian, Lang, Lonnie Johnson, and Django Reinhardt. It's a pivotal intersection of blues, jazz, and country music in a single piece that should not be overlooked for its cultural value.
That's not the end of the "Guitar Boogie" story. In short order, Les Paul and bandleader/guitarist Alvino Rey recorded jazzed-up versions that became hits. There are also blazing versions of the song featuring blind California picker Jimmy Pruitt, notably a 1946 session by "T" Texas Tyler & His Oklahoma Melody Boys and a TV clip from the late '50s featuring Pruitt on the then-new Fender Jazzmaster. Later recordings further perpetuated the I-IV-V gem, including covers by the Super-Sonics in '53, the Esquire Boys (featuring Danny Cedrone, who would play the landmark guitar solo in "Rock Around the Clock"), Britain's Bert Weedon, and in New Zealand a few years later, yet another band calling itself the Super-Sonics. Though we might listen to various versions of "Guitar Boogie" today and think of it as a quaint boogie-woogie vamp, the instrumental was a phenomenon in post-war music. More than anything, it spread the idea to thousands of guitarists that it was perfectly fine to mix blues licks into one's jazz, pop, and country vocabulary. The cauldron of rock and roll was beginning to boil.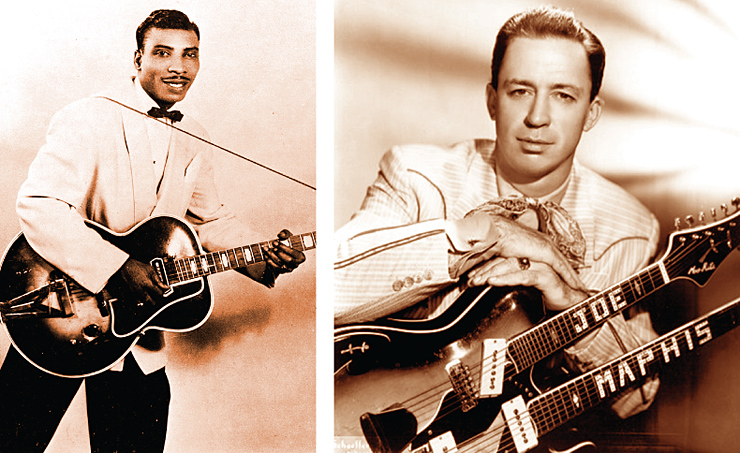 While rock itself became a huge revolution, the reality is that, on guitar, its roots were merely evolution. All the building blocks were present when Ike Turner led his band through those 1951 sessions for "Rocket 88," a fact he would not have been aware of at the time, but pervades this important event nonetheless. For our part, we should doff our caps to all the other electric guitarists of the day who unwittingly wove together jazz, blues, pop, R&B, boogie-woogie, hillbilly, and country into something new. Today, you can hear their direct descendents in contemporary masters like Duke Robillard, Ronnie Earl, Brian Setzer, Jimmie Vaughan, John Pizzarelli, Julian Lage, Johnny Hiland, and Gary Clark, Jr., all of whom reach back in time to this simpler, but just as powerful era of electric guitar.
You can further argue that, by the time early rock and roll guitarists began conquering the world, circa 1954-'59, much of the heavy lifting had already been done. Their job was to simply graft these complementary styles into something fresh and exciting. Indeed, if it hadn't been for the likes of T-Bone, Les, and Merle (as well as lesser-known, but critical innovators like the aforementioned Willie Kizart and Carl Hogan), rock-and-roll guitar might have turned out a completely different animal. Perhaps it might not have existed at all.

---
Thanks to Jas Obrecht, and the published works of Rich Kienzle, Mary Katherine Alden, Dave Rubin, Dan Forte, and Pete Welding.
---
This article originally appeared in VG's February 2015 issue. All copyrights are by the author and Vintage Guitar magazine. Unauthorized replication or use is strictly prohibited.
---