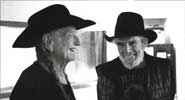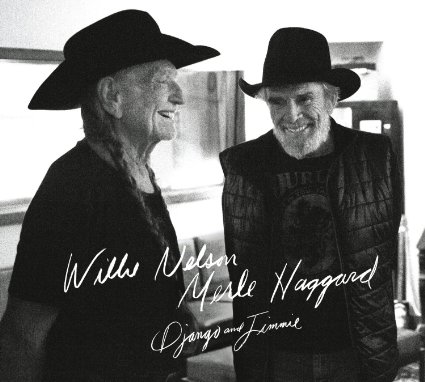 Whatever's changed in the 32 years since their duet album Pancho & Lefty, Willie Nelson and Merle Haggard continue to share vast musical common ground. The proof lies in this blend of new originals, covers, and classics.
The title song honors their common musical heroes: Reinhardt and Rodgers. The guitar-driven set features Willie taking an aggressive instrumental break on Trigger on "It's All Going To Pot," a wry-humored end-of-days number. Haggard's newly penned tribute "Missing Ol' Johnny Cash" comes complete with a vocal cameo from Bobby Bare and the appropriate Cash boom-chukka background. Laid-back steel guitar embellishes the quirky "Alice In Hulaland" (Dan Dugmore and Mike Johnson share steel duties) and guitarists Bobby Terry and Haggard's son, Ben, offer solid support on Dylan's "Don't Think Twice, It's All Right."
Willie was an obscure Texas singer-songwriter when he wrote the gospel tune "Family Bible" in the late '50s and had to sell the song to obtain needed cash. Haggard's '67 barroom hit "Swinging Doors" receives a twang-heavy arrangement inspired by the original, as does the ballad "Somewhere Between," from that same era.
The mood is loose throughout, perfect for two friends singing mainly for the fun of it.
This article originally appeared in VG's September '15 issue. All copyrights are by the author and Vintage Guitar magazine. Unauthorized replication or use is strictly prohibited.
<iframe width="560″ height="315″ src="https://www.youtube.com/embed/BZRrg8rorns" frameborder="0″ allowfullscreen></iframe>