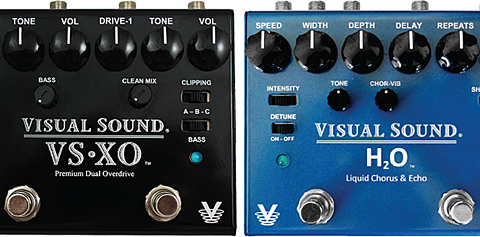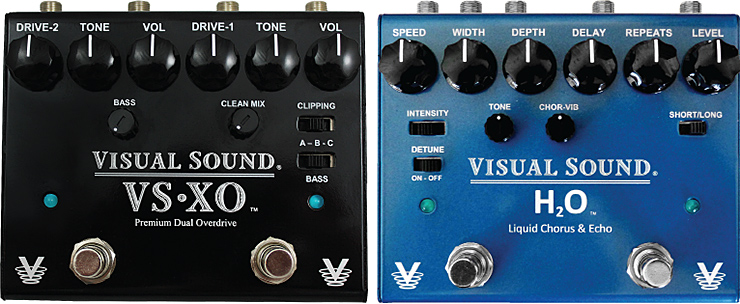 Visual Sound's H20 V3 Liquid Chorus & Echo and VS-XO Premium Dual Overdrive
Price: H20 V3 $199 (list); VS-XO $199 (list)
Contact: www.visualsound.net
Since bursting on the scene with its Visual Volume, Tennessee-based Visual Sound has earned a reputation for sounding great and for solid construction.
The company has introduced the next step in its series of redesigned dual-function pedals with the H20 V3 Liquid Chorus and VS-XO Premium Dual Overdirve.
Along with a new look/housing that takes up less real estate on a pedalboard come connection points that are well-conceived and make for a more-natural wiring flow and more flexibility than the bigger box. The H20 V3 also has significant updates in its chorus and echo sections. The chorus has Speed, Width, and Depth knobs similar to many chorusing effects on the market, as well as mini slider switches to control Intensity and Detune. The Detune function, in particular, is extremely useful for miming classic analog chorusing sounds of the '70s and '80s. The chorus section has mini knobs to control tone and chorus/vibrato, a welcome addition. Tones can even be dialed in between the sections for further sonic explorations.
The H20 V3's echo section also features some notable changes. In addition to Delay, Repeat, and Level knobs, there's a slider switch for short and long delays, while the controlled oscillation brings the echo effects to new heights. As with previous H20s, the V3 has individual true bypass switching for each effect. New separate inputs and outputs allow the effects to be wired in any order. Don't worry, though – there's a default connection point so that they don't have to be wired separately, thus saving on cabling.
The VS-XO Premium Dual Overdrive is similar in construction to the H20 V3 and also offers flexible inputs and outputs and true bypass switching for each effect. This is where the similarities end. The VS-XO is indeed a "premium dual overdrive." There are separate Drive, Tone, and Level controls for each side, and the right channel has a different EQ curve that makes it a bit more midrange-heavy without getting honky. There are also separate three-way switches for bass voicings and clipping diodes. The right channel has a Clean/Mix mini knob, and the left has a Bass knob.
The VS-XO's versatility stands out immediately because the EQ curve for each channel has a very different sonic voice. Players of virtually any genre will find these settings useful for the gentlest of breakup or full-on overdriven lust. The warmth on both sides summoned by just the basic knobs makes this a very useful pedal, but from there it just gets better. The three-way Bass switch adds welcome girth to the midrange for heavier sounds, and each position makes way for numerous possibilities. The different clipping settings also demonstrate that, in addition to guitars, this box is perfect for basses and analog keyboards.
The real bonus comes from the Clean/Mix knob. Roll the right channel all the way over to clean for a clean boost for leads. The left channel can be driven harder by the right channel for much higher gain overdrives. Use the clean boost for a unique tone or drive into Drive for a full-on freight train of tone. The left channel is the more useful side for a main bass overdrive setting as it can fur up while retaining the low end needed to drive a group.
All in all, Visual Sound is making strides without losing sight of what has made them successful. The new housing designs will please players, and the new sounds are all top-shelf. The H20 V3 is sure to continue its legacy as a classic, while the VS-XO should join the ranks of boxes to be reckoned with.
---
This article originally appeared in VG October 2014 issue. All copyrights are by the author and Vintage Guitar magazine. Unauthorized replication or use is strictly prohibited.
---