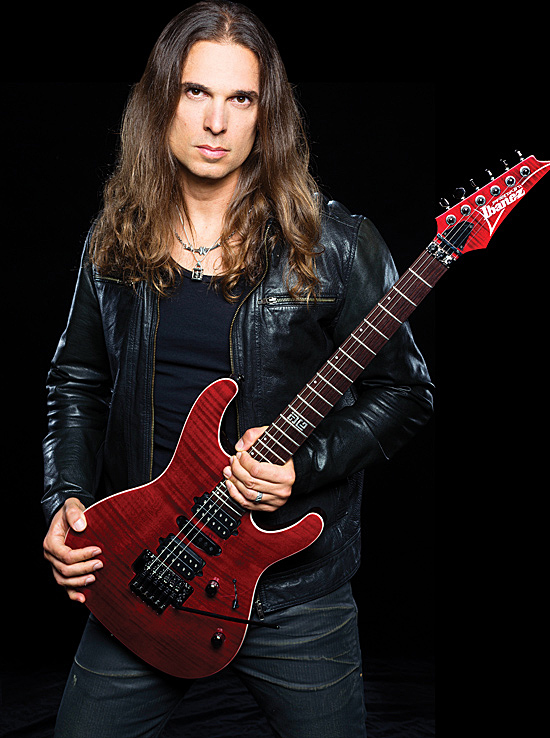 "When I would play with musicians from the neighborhood, I noticed that my passion for Brazilian music was making me different from other guys," explains guitarist Kiko Loureiro, a player who found his niche by combining his Brazilian heritage with his love of metal, shred, and fusion. His current album, Sounds Of Innocence, seamlessly blends these influences making for a unique listening experience. VG caught up with him after a recent sound check to get the lowdown.
What did you want to express on Sounds Of Innocence?
I'm finding myself as a composer with a concept. I love Carlos Santana representing Latin music. Al DiMeola could be a reference. Latin music with fast runs… but I don't think I sound like DiMeola. It's a Santana thing with Latin percussion, but I don't sound like Santana. I'm transmitting the Latin culture into rock; I'm not afraid to put a conga in some songs. I was raised listening to Led Zeppelin, and, being a teenager in the '80s, I was listening to all the Shrapnel Records guys and Steve Vai, but I was also playing acoustic guitar. I was listening to bossa nova and music in the Brazilian tradition, and I tried to mix it.
The first track, "Awakening Prelude" has some beautiful acoustic playing.
One of my dreams is to do an acoustic album. I've done a tour of acoustic playing, but I really have to focus on the instrument more. I already have the compositions ready for an album – real Brazilian stuff, a little bit like the intro of the album. More calm, not very technical. The harmonies of Brazilian music are rich and deep and sophisticated when it comes from Jobim or Villa-Lobos.
The Brazilian elements give your prog-metal compositions much more depth.
I was listening a lot and studying Brazilian music. The concerts I was going to had Brazilian music. The big metal bands weren't coming to Brazil so I wasn't seeing them live. I was seeing big bands like AC/DC or The Scorpions on TV. I was going to see people play Brazilian music live. I tried to accept this culture and blend it. I don't deny it.
A lot of rock guys from Brazil deny their culture. They decide what tribe they want to be in; if they're rock guys, they don't want to listen to traditional music. I was always accepting of that. I was trying to play like Hendrix or Clapton at home and my mother said, "The genius of music are the Brazilian composers." If I tried to play a rock song, it wasn't as difficult as the sophisticated harmonies of Brazil. I got passionate about it and tried to mix it, keeping the rock and not going to straight fusion or straight Brazilian music.
Will you continue playing metal with the band Angra?
For 20 years, I've played with Angra – two guitar players and a vocalist. We did a lot of great stuff and still do a lot of great stuff. We're going to do a festival in Mexico. It's a very important part of myself, and it's why I feel very comfortable doing fusion or solo acoustic. I like to do everything.
When I was a teenager, I practiced guitar a lot. I was obsessive. Then, when I would play with friends from the neighborhood, they were playing amazing pentatonic scales like Satriani or Jeff Beck. I could play that, too, but I could play Brazilian songs that they had no idea how to improvise over or groove with. I thought that was something I had to work on. It could be something that makes me different. There were all these guys trying to be the new Vinnie Moore. With Sounds Of Innocence, I tried to position myself as a composer more so than a guitar player who can play fancy licks. That's why I don't pose with the guitar on the cover.
It's a good way to position myself. I don't want to copy anybody. I really try to use what I have that's different from other people. When I play at clinics and I ask if anybody wants to know about Brazilian music, everybody says, "Yes!'
What is your main guitar.
It's my Ibanez signature model. I tried to combine the modern Ibanez models with a classic touch. The neck and body are thicker and it has an alder body. I can play heavier, but I can also do fusion. The pickups are based on DiMarzio PAF Pro pickups but made specifically for the guitar. They have a bit more gain.
Does your family appreciate your metal leanings?
If I want to have my mother come to a show, I'm playing acoustic guitar (laughs).
---
This article originally appeared in VG June 2014 issue. All copyrights are by the author and Vintage Guitar magazine. Unauthorized replication or use is strictly prohibited.
---