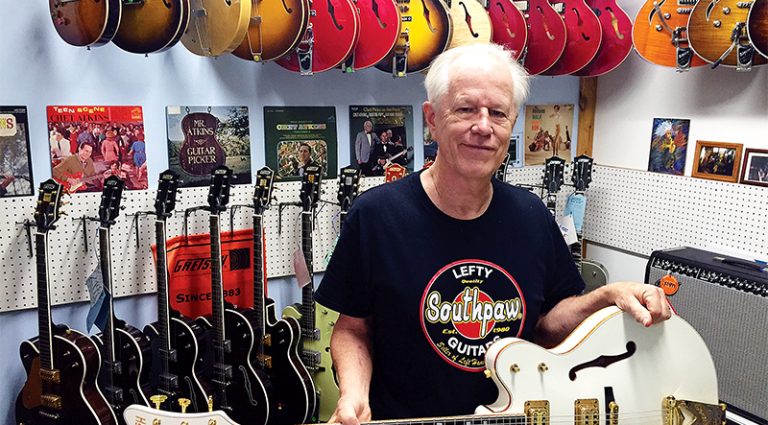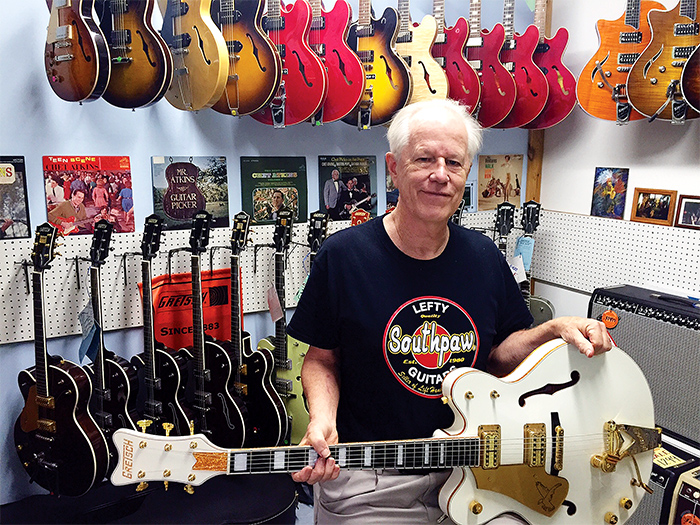 Even before they started jamming together on old Gibson acoustics in the mid '70s, Jimmy Duncan and Bill Townsend, co-founders of the lefty-dedicated Southpaw Guitars, were avid fans of music.
Longtime friends who spent their days working as carpenters in Houston, they caught dozens of live acts at venues ranging from the Astrodome and Summit to more-intimate joints like Anderson Fair, Sand Mountain, Rockefellers, Fitzgeralds, and the Island, where they'd catch everyone from Townes Van Zant and Guy Clark to then-local performers like Eric Johnson and Stevie Ray Vaughan along with harder-edged acts like Shake Russell and Mark May and the Agitators.
Immersed as they were, it was logical the two started talking about ways to break free of their day jobs and do something involving guitars. So, in 1980, they pooled a couple thousand dollars, rented retail space on the city's Southwest side and opened a second-hand store called Trader's Corner. Because its initial inventory was made up mostly of their personal instruments, they soon changed the name to Gold 'N Guitars. Things went well and it wasn't long before the walls were lined with classic instruments… "And nothing new," said Duncan, until… "Well-known Martin collector John Stringer told me that if I could wrangle an Alvarez-Yairi dealership, he would buy the first 12. So, our first new guitars were Alvarez Yairis and whatever else we could get from St. Louis Music, which included Sigma Martins, and we also got Ovations through Kaman." As business grew, Duncan credits advice from Bob Stowe, owner of a Houston store called Musicville, for helping him stay on track.
Early on, the shop also delved into repair work, Duncan citing Townshend's willingness to immerse himself in learning the fine points. To nobody's surprise, he soon after began building guitars.
"Billy really learned fast," said Duncan. "He'd watch Dan Erlewine tapes and bought most of his tools from Stewart-MacDonald. He could carve a Strat neck by hand, and would build guitars that looked more like a pre-CBS Strat than did the Tokais of the era."
Many local players bought Townshend's electrics, and he was one of the first guys in Texas – W.L. Van Zandt being the other – to wind their own pickups.
Meanwhile, Duncan – a left-handed player who knew all too well the struggles of finding suitable instruments – focused on bolstering the store's inventory of lefty models.
"We put a line ad in the back of Guitar Player, looking for lefties to buy, and it got a great response. At the time, guitar dealers generally viewed them as nearly worthless, so they would sell them to us at very low prices. We also attended all the Dallas shows, and we'd scour pawn shops for whatever was out there."
In 1982, the store moved to its current location on Bellaire Boulevard and changed the name again, this time to better reflect its "concentration." The strategy paid off, and before long, thanks in part to Duncan placing ads in Vintage Guitar and his early adoption of the internet as a marketing tool, lefty players from around the world were well aware of Southpaw Guitars. His client list grew to include high-profile customers like Elliott Easton (the Cars), Cesar Rosas (Los Lobos), Doyle Bramhall II, Ted Sablay (the Killers), David Cook ("American Idol") and even Sir Paul McCartney. Many well-known collectors who may not be lefties nonetheless appreciate having a few lefty guitars on hand, and make regular calls for vintage instruments or hard-to-find new offerings from the custom shops of Fender and Gibson. As a prime example, Duncan cites lefty-guitar collector "…and monster player!" Jesse Galesi, who has amassed more than 30 Gibson Custom Shop R9s from Southpaw.
"Probably our most memorable transaction was a lefty '64 Firebird we sold to composer and multi-instrumentalist Marc Bonilla, who plays in the Keith Emerson Band," Duncan added. "The guitar was so expensive – and rare – that we bought it a seat of its own on the plane when we delivered it to him in L.A."
Through the years, the store has taken on several lines of new instruments, and today carries virtually all major names and a handful of boutique brands. To celebrate the store's 35th anniversary this year, Duncan is working with Martin on limited-edition variations of the company's Custom Shop 000-35.
---
This article originally appeared in VG February 2016 issue. All copyrights are by the author and Vintage Guitar magazine. Unauthorized replication or use is strictly prohibited.
---