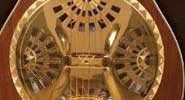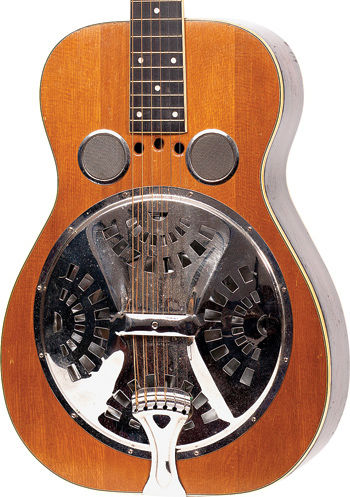 Hallelujah! At long last, a book on the Dobro.
No, Steve Toth's Dobro Roots may not be the complete, encyclopedic history unraveling the tangled tale of the Dobro concern from its contentious National spinoff through its Regal association, later retwining with National, and then its various postwar strands. And no, there's not a scrapbook of images of famed dobroists at work: Cliff Carlisle, Josh Graves, Bashful Brother Oswald, and kin. Leave that all for another book, sometime in the future – maybe.
Instead, Toth has focused on the guitars – and the guitars that are the most sought after, Dobro's prewar wood-bodied resonator instruments. And he's done things right, with simple yet stylish photography. As the subtitle emphasizes, this is "A Photo Tour," and a solid, organized one at that.
Toth makes sense of Dobro's curious model numbers that have long bewildered and beguiled enthusiasts. He separates the book into chapters based on the companies' catalog lines and series, starting in 1929 and running through 1941. The development and variations of models are well explained: for example, the difference between Model 27s built in California versus in Chicago by Regal, and then later National-Dobro developments. And he touches on Dobro's "badge-engineered" resonators, such as the Magno-Tone made for Montgomery Ward and others.
The collection of guitars that Toth has photographed is wondrous. He has a healthy respect for the lower-priced base models – the Model 27s and 37s, which are often some of the best-sounding Dobros despite their less-exalted appointments. At the same time, he has also amassed a fine selection of the flagship models and custom guitars, such as the Model 65/66/60 with its sandblasted scroll designs and the fancy black walnut-bodied 156 with gold-plated and engraved metalwork.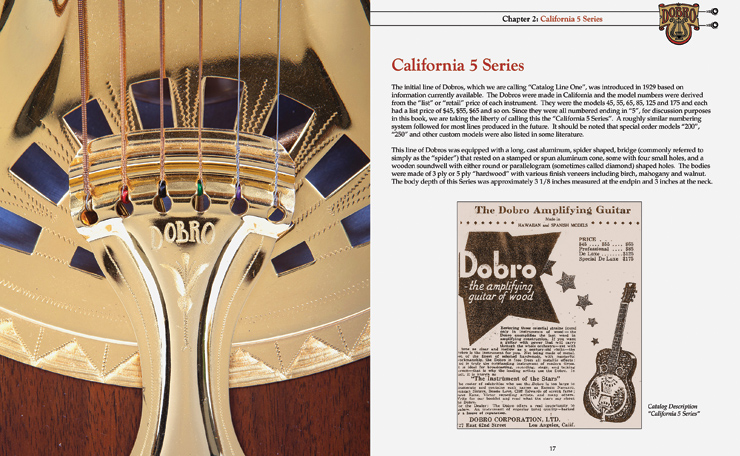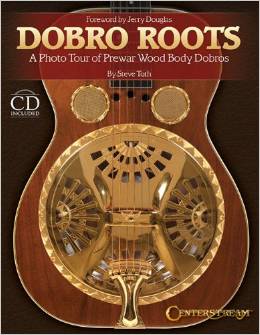 The selection, though, highlights Toth's personal interests, and unfortunately there are no ukes, mandolins, tenors, tenortropes, banjos, or any of the metal-bodied Dobros built at the same time. Nor does he get into Dobro's fascinating and little-known early experiments with electric amplification. But the book's subtitle makes no false promises – and again, that's all ripe material for a thorough history.
There are some technical details, however, that would have been good to elucidate on here. The photo tour ideally would have visited the build and design details of the spun versus stamped aluminum resonator cones, long versus short spider bridges, and the wooden soundwells with either round or parallelogram holes. But that's a minor quibble.
Toth also includes a CD entitled Sounds of the Prewar Dobros with 15 tracks played on guitars illustrated in the book – many of which, however, are fitted with later cones, mostly John Quarterman replacements.
Dobro Roots is well worth the wait. With a foreword by Jerry Douglas, this is a beautifully published volume that does these guitars justice.
---
This article originally appeared in VG's August 2014 issue. All copyrights are by the author and Vintage Guitar magazine. Unauthorized replication or use is strictly prohibited.
---